The Canadian Badlands cover a large swath of south central Alberta, equivalent to an area slightly larger than Hungary. From northeast of Red Deer south to the United States border and east to Saskatchewan, you'll find Canada's finest badland scenery. But that's not all.
]The Badlands are home to one of the greatest collections of dinosaur bones in the world, loads of super-cool geologic formations including hoodoos along with 35 provincial parks and natural areas. The badlands scenery is definitely one of the top attractions, but the landscapes you encounter are more diverse than the Badlands name might suggest.]
You could spend a week exploring the Canadian Badlands or bite it off in chunks, focusing on one area at a time. Over the past few years I have done numerous road trips through this part of Alberta, most recently from Calgary to Big Knife Provincial Park, then Horseshoe Canyon and south to Aspen Crossing to spend a night in a caboose, and back to Calgary via Wyndham Carseland Provincial Park. On these road trips I'm always on the lookout for a great hike.
Here are nine areas for hikes within the Canadian Badlands I'd recommend. My suggestions include both signed on-trail hikes and some that are off-trail that might appeal more to the intrepid traveler. The hikes start in the northern part of the region and head south. If you were to do them all, I think you'd need at least a week.
This post includes some affiliate links. If you make a qualifying purchase through one of these links, I will receive a small percentage of the sale at no extra cost to you. Thank you for your support.
Location map for hikes in the Canadian Badlands
Hiking in Big Knife Provincial Park in the

Canadian Badlands
There are two first rate hikes in Big Knife Provincial Park – the 5.9 km Lowlands Trail and the 5.8 km Highlands Trail. If you only have time for one, do the Lowlands Trail that includes two loops starting at the River Flats Trailhead. Be sure to include the side trail up to the hoodoos. The Highlands Trail is steeper but rewards with panoramic views of the Battle River Valley.
This may not look like bear country but it is so go prepared with bear spray. (There were bear warnings when I visited.) I also saw a huge moose in a farmer's field about 10 km before the entrance to the campground.
Where to stay overnight
There's a nice campground in the park for RV's and tents as well as some walk-in tent sites in the forest. It's first come – first served from mid-June until early September. The nearest town of any size with hotels is Stettler, a 40-minute drive away.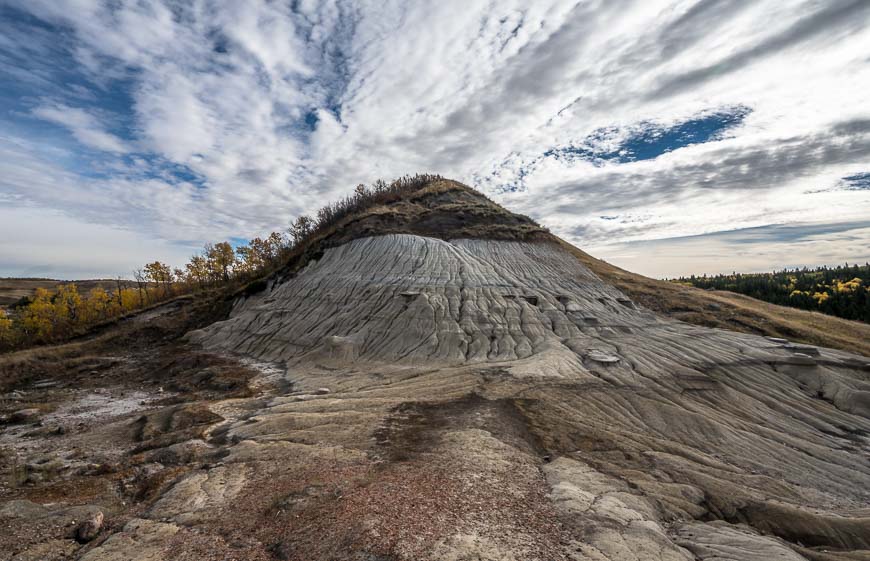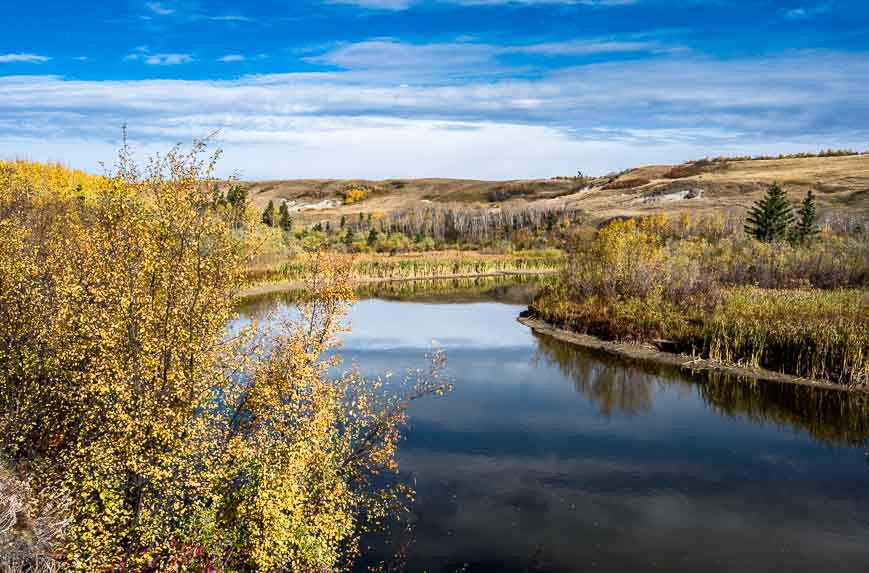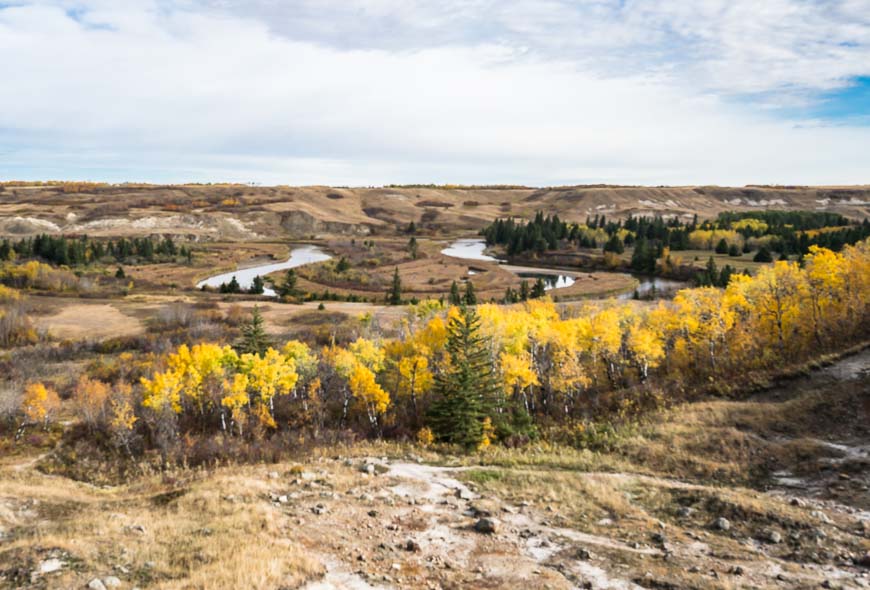 Dry Island Buffalo Jump Provincial Park
Head to Dry Island Buffalo Jump Provincial Park, about an hour's drive from either Red Deer or Drumheller. The main road down to the Red Deer River is currently closed because of heavy rains – and hence sink holes. But you can still walk down the road and forge your own trail. Take your sense of adventure with you and perhaps a GPS.
The park is particularly stunning in the fall. And birders will love it, as more than 150 species of birds have been sighted.
This is a day-use only park so if you're not from the area plan to overnight in either Red Deer or Drumheller.
Read: A Trip to Visit Dry Island Buffalo Jump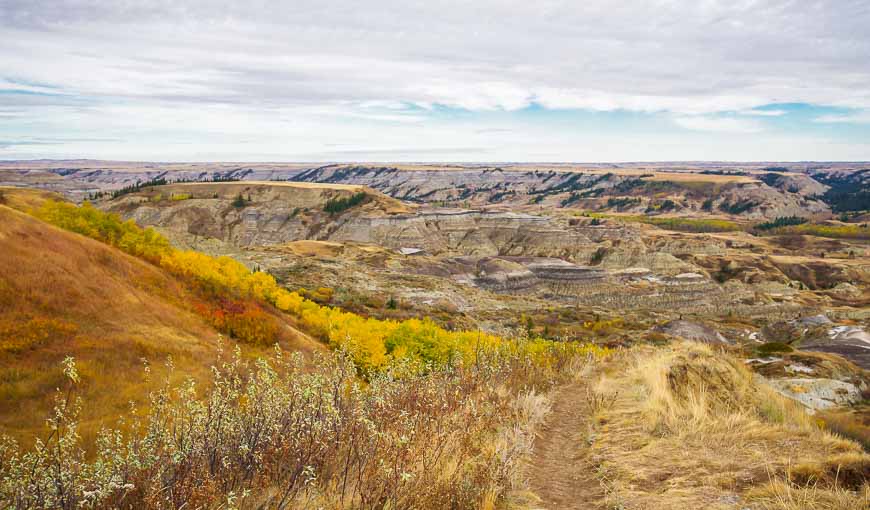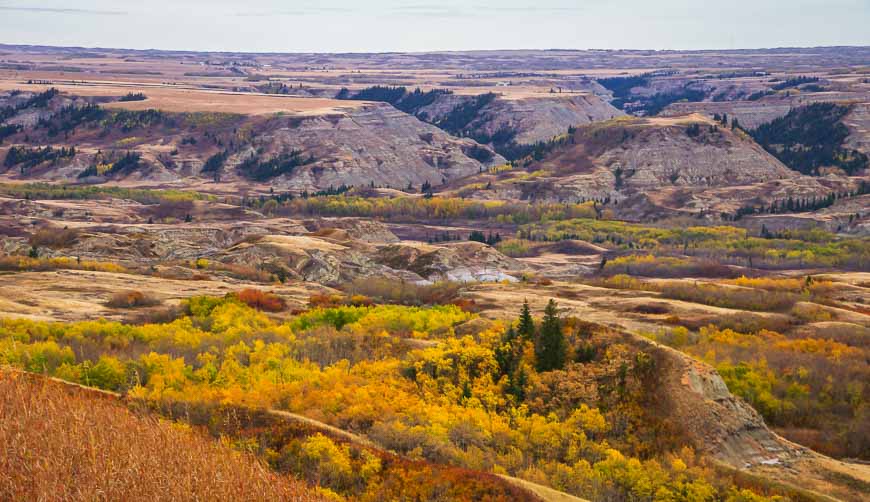 Hiking in Dinosaur Provincial Park
One of the top places to see in the Canadian Badlands is Dinosaur Provincial Park – a UNESCO World Heritage site owing to the fact it is home to more complete dinosaur skeletons than any other place on the planet. Take a walk back in time on one of the five named hiking trails. They are all short, easy and family-friendly with the longest one being the 1.4 km Cottonwood Flats Trail.
There are also two options for guided hikes – the Badlands Explorers Hike and the Centrosaurus Bonebed Hike – which I'd highly recommend. These hikes must be reserved.
Where to stay
There is camping in the park under the shade of cottonwood trees, with many campsites backing onto a creek. Be sure to reserve in busy periods. If this park is full, try camping in Kinbrook Island Provincial Park or at a hotel in nearby Brooks.
One of the better rated ones is the Heritage Inn & Suites.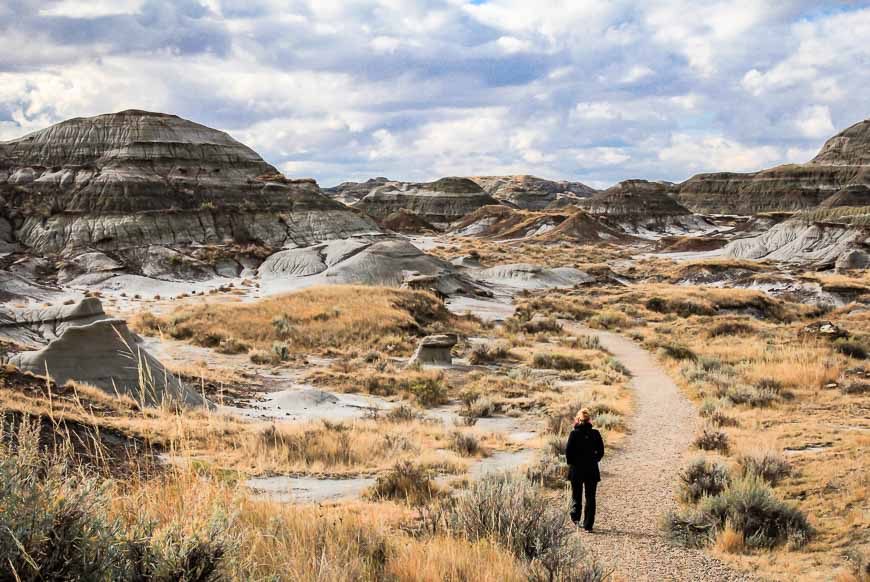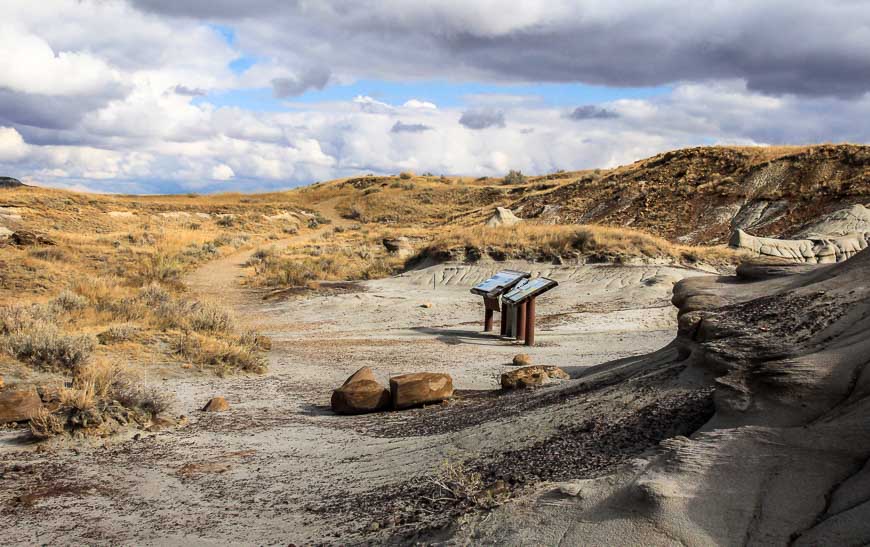 Marsh Trail hike in Kinbrook Island Provincial Park
Kinbrook Island Provincial Park is home to the 6.4 km Marsh Trail which can be done as a loop via the access road into the park or via an out and back trail. I did the easy loop hike one summer evening, thoroughly enjoying the abundant bird life and the beautiful lighting. There wasn't much traffic, so my husband and I felt very safe on the narrow shoulder. Give the loop a pass and stick with the out and back trail if its a busy summer weekend with lots of cars on the road.
Where to stay
Reserve a campsite ahead of time – preferably near campsite I-136, the start of the trail. For a roof over your head and indoor plumbing head to nearby Brooks.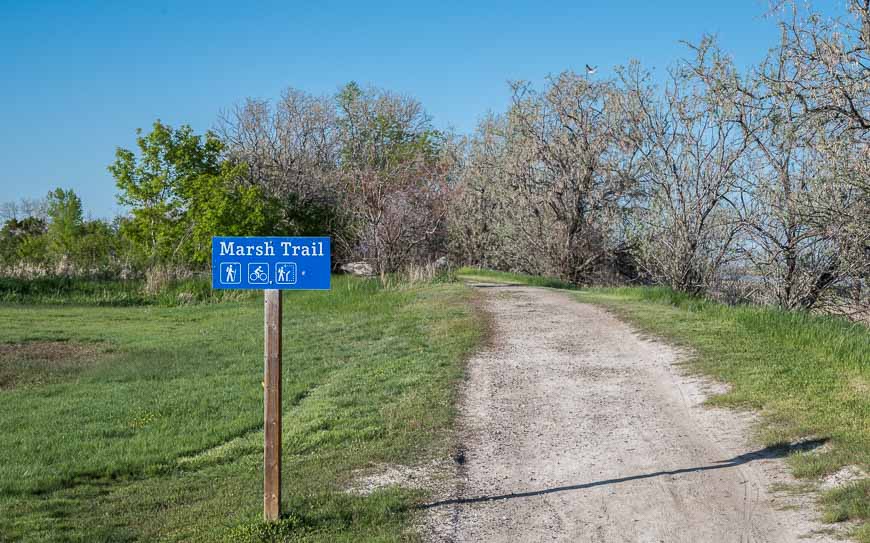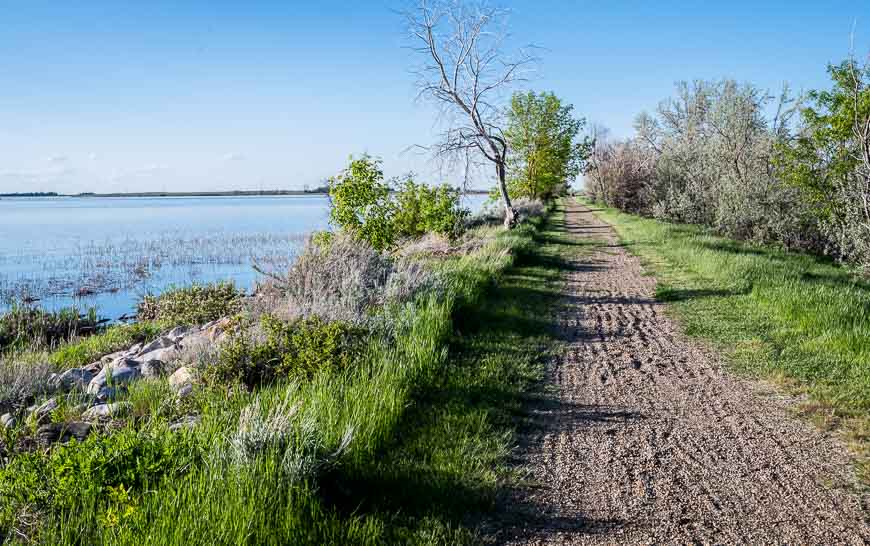 Horseshoe Canyon hike near Drumheller
Scenic Horseshoe Canyon close to Drumheller, is easily accessible as a day trip from Calgary. From the parking lot check out the viewing platforms to get an overview of this badlands landscape. Then head for the stairs to descend to the canyon floor. From there a gravel path leads you some distance into the canyon before dying out. That's where the fun begins.
Note: Reportedly plans are in the works to start charging for parking when a café goes in.
You won't find any signage going forward from the end of the gravel travel though you will find numerous boot-beaten tracks. Explore in any direction paying close attention to landmarks. Use common sense, staying off crumbly rocks and always taking note of your location. You can spend anywhere from an hour to a full day hiking in Horseshoe Canyon.
Be careful in the harsh canyon environment as it seemly sucks the water right out of you. Be sure to drink often and a lot! In summer, when it's brutally hot, don't forget the sunhat and sunscreen.
Read: The Horseshoe Canyon Hike Near Drumheller, AB
Where to stay nearby
Drumheller is an excellent base to explore the Canadian Badlands. There are B&B's along with numerous hotel options. Some suggestions include the Heartwood Inn and Canalta Jurassic Hotel.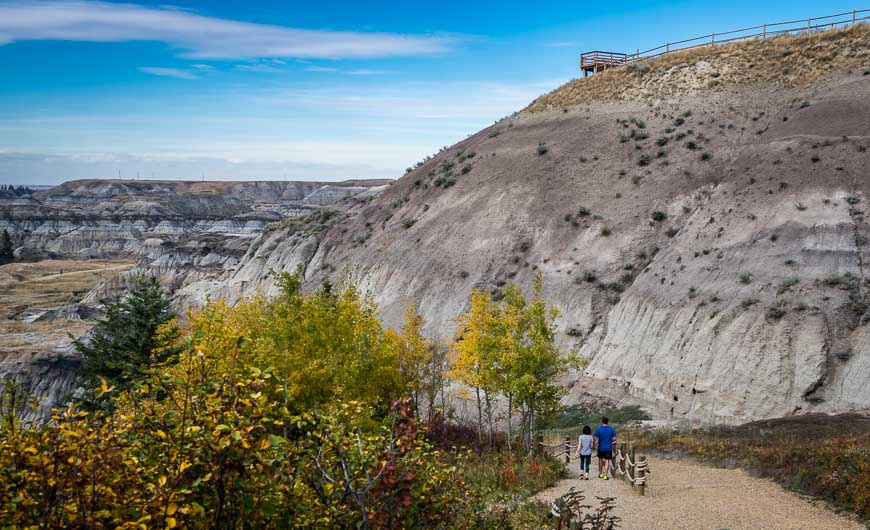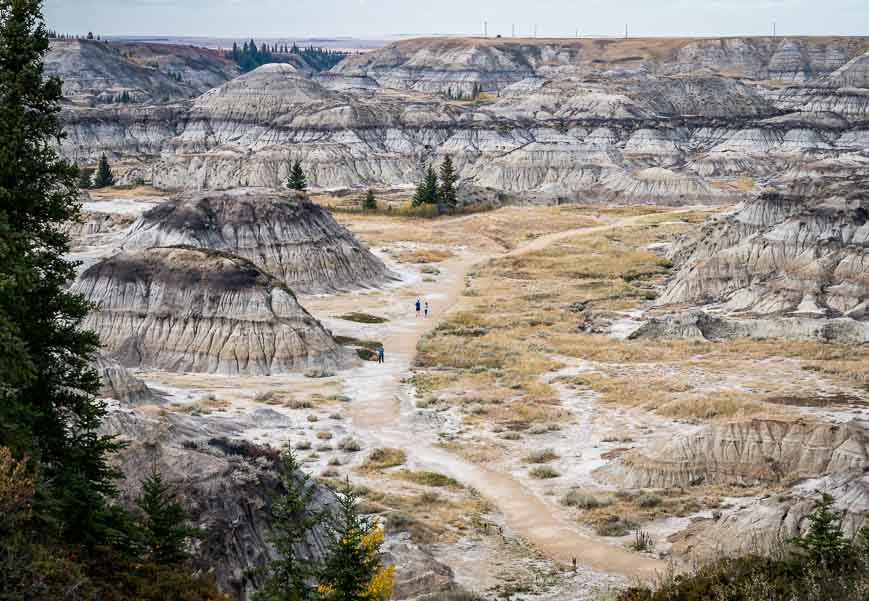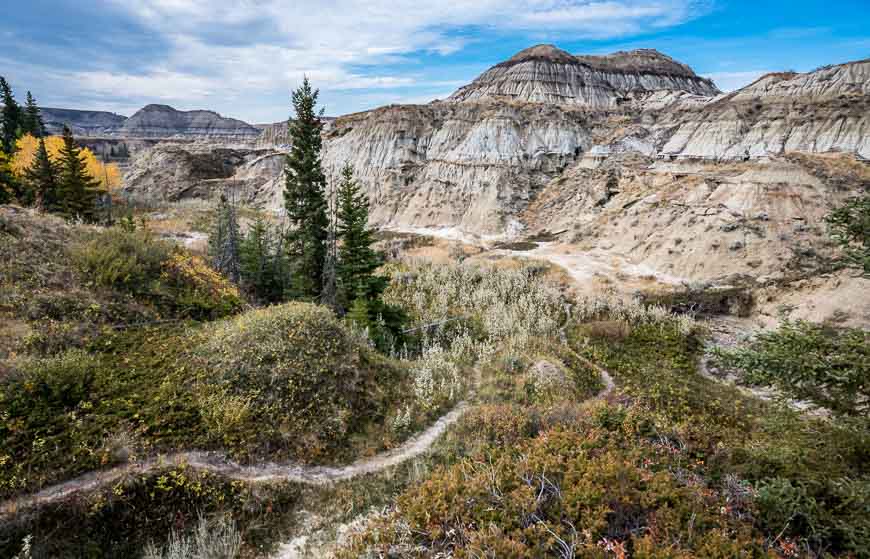 Hiking in Wyndham Carseland Provincial Park
Wyndham Carseland Provincial Park is within spitting distance of south Calgary.
There is one hiking trail in the park that parallels the Bow River. I drove to the end of the furthest parking lot to hop on it. It's about 2.5 km one way. You'll barely break a sweat on this flat trail but that's okay. Instead enjoy the abundant birdlife and the pretty scenes along the Bow River.
Where to stay
There are some really nice campsites along the Bow River in the park – but are they ever noisy! I personally wouldn't recommend them but instead would suggest a stay in an equipped caboose, just 15 minutes at Aspen Crossing. Its open year-round and a fun place to take the family.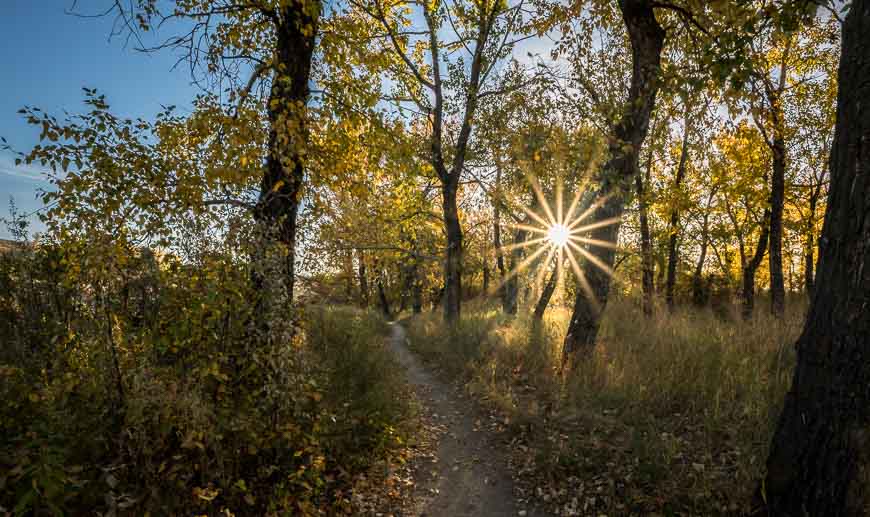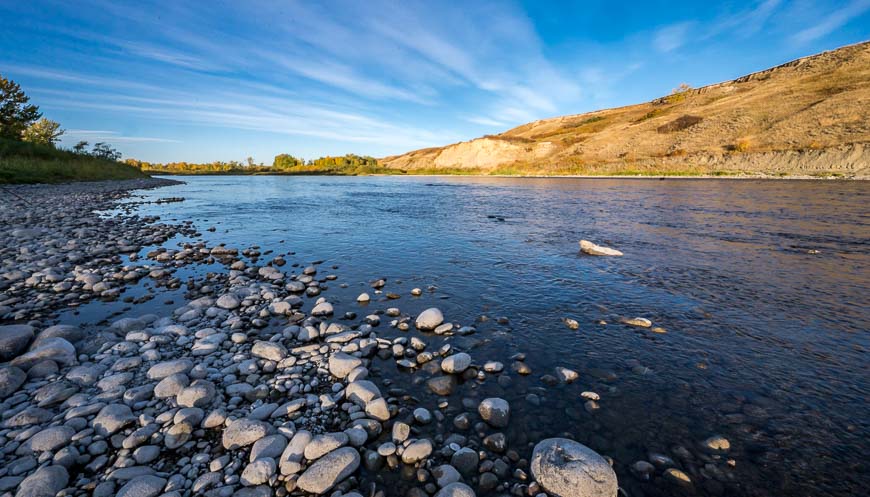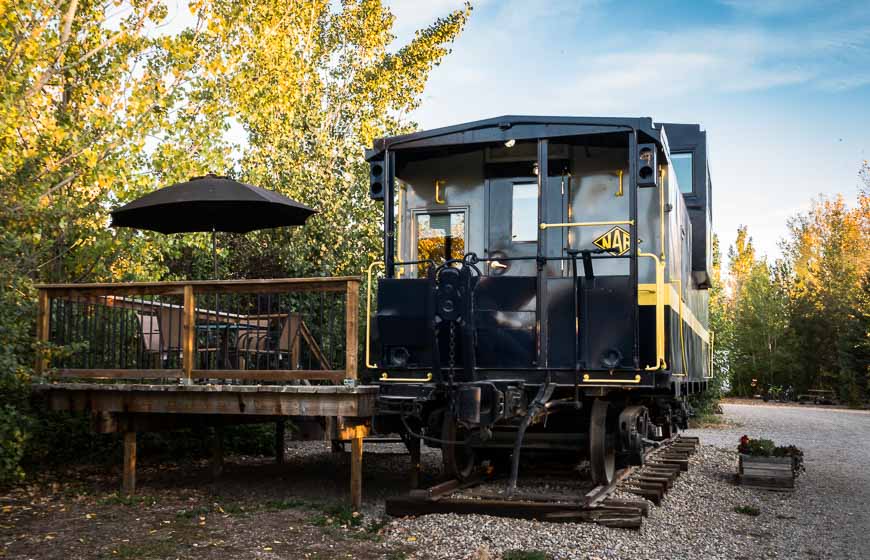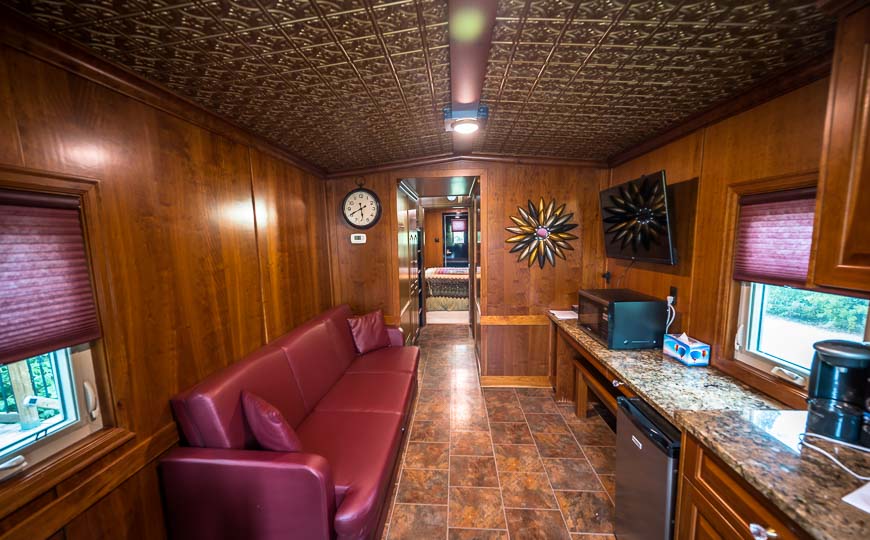 Hikes in the Red Rock Coulee Natural Area
Red Rock Coulee Natural Area sits out in the middle of seemingly nowhere, though it's only 60 km from Medicine Hat. It's a good place to see some of the world's largest red rock sandstone concretions. There is also lots of hiking to do, but this is another area where there are no formal trails. Go prepared with lots of water and a sun hat, particularly if you visit in the summer.
Where to stay overnight
There is no camping here. The closest centre with hotels is Medicine Hat.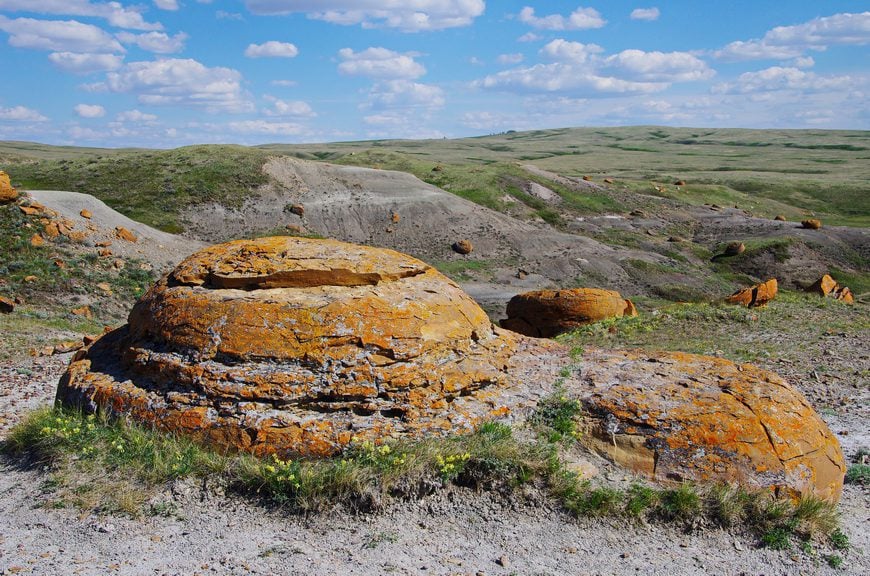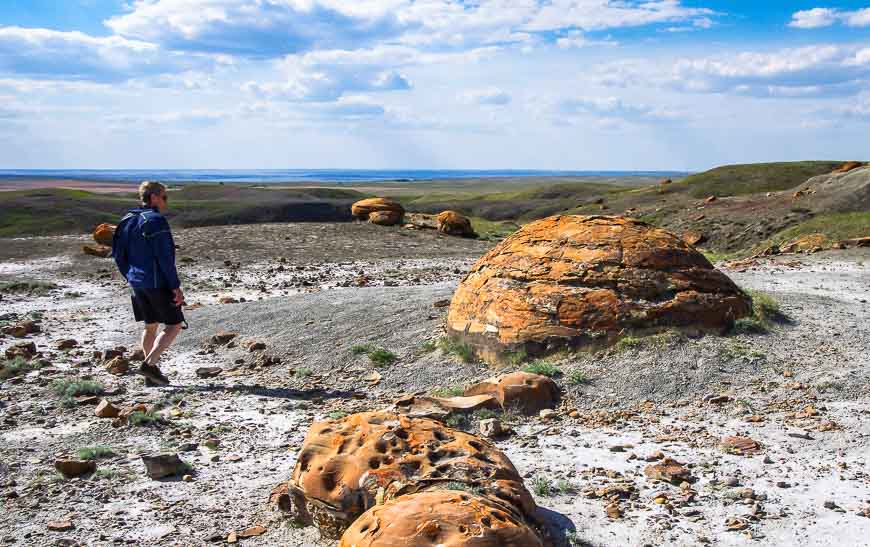 Cypress Hills Provincial Park hikes
You'll find more hiking trails in Cypress Hill Provincial Park than in any other area of the Canadian Badlands. Most of the 21 hiking trails covering 50 km are shared with bikes in the summer. Come winter, snowshoers and cross-country skiers can make use of them.
Trails vary in length from 0.4 km one way to 8.4 km one way – and cover quite a diverse landscape including grasslands, prairies and lodgepole pine forest. Considering the hills are the highest between the Rocky Mountains and the Torngat Mountains in Labrador, you're assured of some great views – and sunsets!
Where to stay
In the park you have the choice of camping, comfort camping or staying at the Elkwater Lake Lodge & Resort.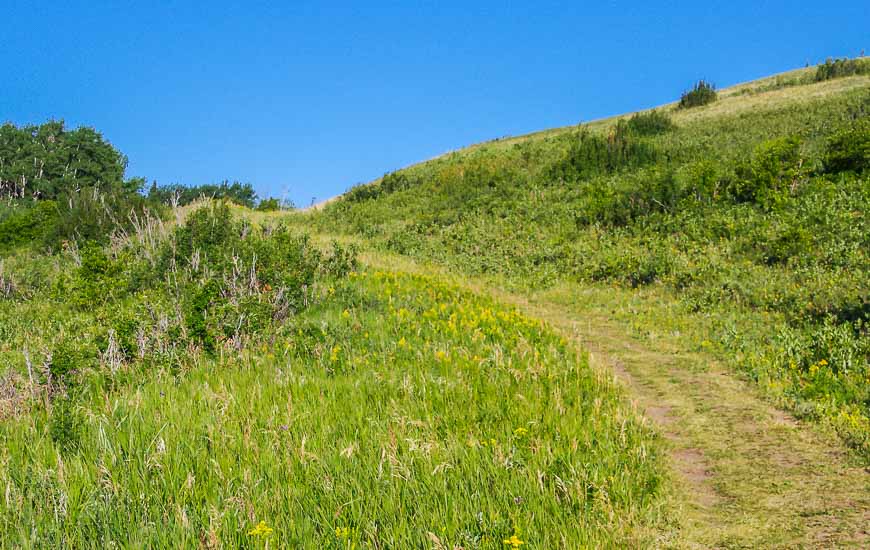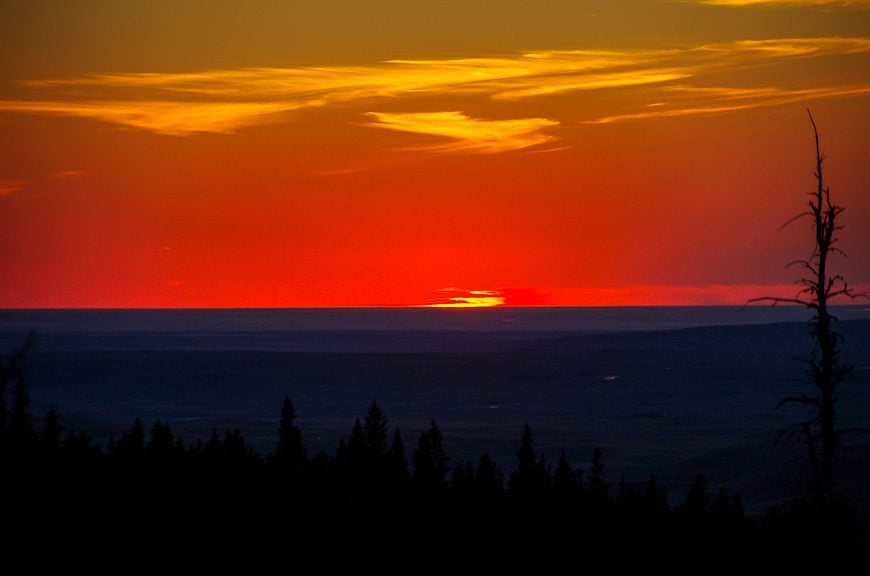 Hoodoo Trail hike in Writing-on-Stone Provincial Park
The must-do trail in Writing-on-Stone Provincial Park down in the southeast corner of Alberta is the easy, family-friendly 4.4 km Hoodoo Trail. Along its length, if you start at the campground, are a dozen interpretive stops following the Milk River. There's also a short side trail through spectacularly beautiful hoodoo country to the Battle Scene petroglyph. The formal trail ends at the Police Coulee Viewpoint – and from there you simply retrace your steps.
This part of Alberta gets hot in summer. Be sure to take lots of water, even though it's a short hike.
Where to stay overnight
There is camping and glamping in the park that can be reserved. Otherwise look for accommodation options in Lethbridge and Medicine Hat, 90 minutes and two hours away respectively.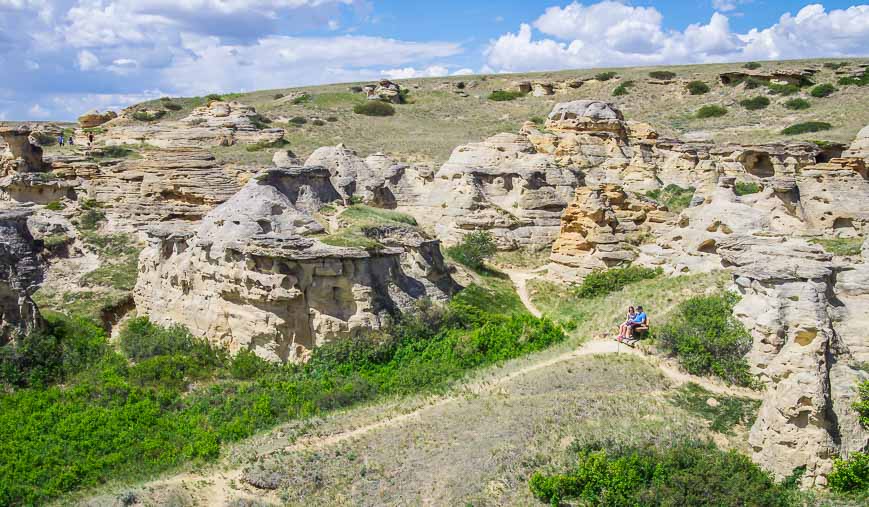 More provincial parks in the badlands with hiking trails
There are still numerous provincial parks in the badlands I would like to explore that I know have hiking trails. Some others for you to consider – keeping in mind many of these are closed from mid-October until early-May are Rochon Sands, Park Lake and Gooseberry Lake Provincial Parks along with the Kennedy Coulee and Rumsey Ecological Reserves.
Thank you to Canadian Badlands for hosting my stay. It's always a treat to visit this part of Alberta. For more information you can visit their website.
Click on the photo to bookmark to your Pinterest boards.