I had high hopes for my stay at Assiniboine Lodge. Years ago I met the Renners (a couple who ran the lodge for decades) while trekking around Manaslu in Nepal. They handed out pamphlets about the lodge – and mine stayed with me for years, moving with me as I moved. Every so often I'd find it, gaze longingly at Mount Assiniboine on the pamphlet and dream about a stay in the mountains.
That dream finally came true in September. The last of 100 adventures for my book was to be a backpacking trip to the Mt. Assiniboine area. But come September, I was running out of time for a good weather window and for finishing the writing of the book. I decided to see if there was any last minute availability at Assiniboine Lodge. I also have to admit that a stay in a lodge had far more appeal than my tent, considering how low the thermometer dipped at night.
Assiniboine Lodge – Scoring a night and flying from the Mount Shark helipad
I checked availability and on the first pass, a few weeks before we actually went, there was none.
I didn't give up and eventually scored a mid-week cancellation at the lodge. Though not ideal, it would have to do.
On the day we were to meet at the Mount Shark helipad for the eight minute flight to the lodge, an early season snowstorm swept across much of Alberta causing trees to crack and fall, blocking driveways and roads. The highways were a mess and it looked the trip wasn't going to happen at all.
But happen it did, with a window of weather that cleared enough for the helicopter to fly – and for us to drive the treacherous roads. In the end we flew in three to four hours later than what was initially scheduled.
Unfortunately, the helicopter ride wasn't as beautiful as it would be with clear skies, but it was still a heady feeling to be whisked into the wilderness in such short order. The alternative is a very long 25 – 27 km hike in, which many people take two days to accomplish.
Lecture time
Before heading onto the helicopter, our bear spray and bear bangers (basically noise makers) were taken and put in a separate part of the chopper for safety reasons.
That was fine but what wasn't fine was the cool, verging on cold reception I got when I inquired as to their whereabouts of said bear repelling devices once we were at the lodge. In fact I was admonished by one of the staff – before even being welcomed – and told that I shouldn't use bear bangers at all. (They didn't find them until the next morning.)
In my books, everyone is entitled to their opinion. I have never actually had to use bear spray or bangers but as we were planning to hike the 25 km out, and this was bear country, I did want to have them with me. What I didn't expect was a lecture. That set the tone for our stay. I know in speaking to others, that they weren't too happy with the lecture either.
Nonetheless, John and I were in one of the most magnificent landscapes in the world and I didn't want the experience to be spoiled. We did what most guests do; congregate by the fire and chat with people from all over the world (especially Germany and Switzerland); we read and we hiked; we ate well and we marveled non-stop at the landscape.
What you get at Assiniboine Lodge
The lodge offers basic rooms – two single beds, a few cubbies for your clothes and a wash basin. Toilets are outside in an outhouse, except for one inside toilet reserved for night-time use.
Many people stay in cabins, and as you can see the setting for all of them is first rate. There is a building with a sauna and a couple of showers – with lots of hot water. That was a treat after a day of hiking.
There are three meals served, including a make your own lunch. You can purchase wine. Meals are good, some very good but their afternoon tea is not of the same caliber of any other backcountry lodge I've visited including Skoki, Shadow Lake, Lake O'Hara and Mt. Engadine – though it's not a true backcountry lodge.
What you can do at Assiniboine Lodge
After breakfast, there are guided hikes offered every day – and they'll accommodate all levels of hikers. In the winter, the same thing happens with skiing.
We chose not to do the guided hike as it was going to an area we'd see the next day while hiking out. Instead, we went off exploring by ourselves and had a superlative day hiking the Nublet and beyond as well as checking out Lake Magog.
I wish we'd had more time for hiking as there are plenty more of them that I'd like to do. We'll just add them to our wish list for another summer.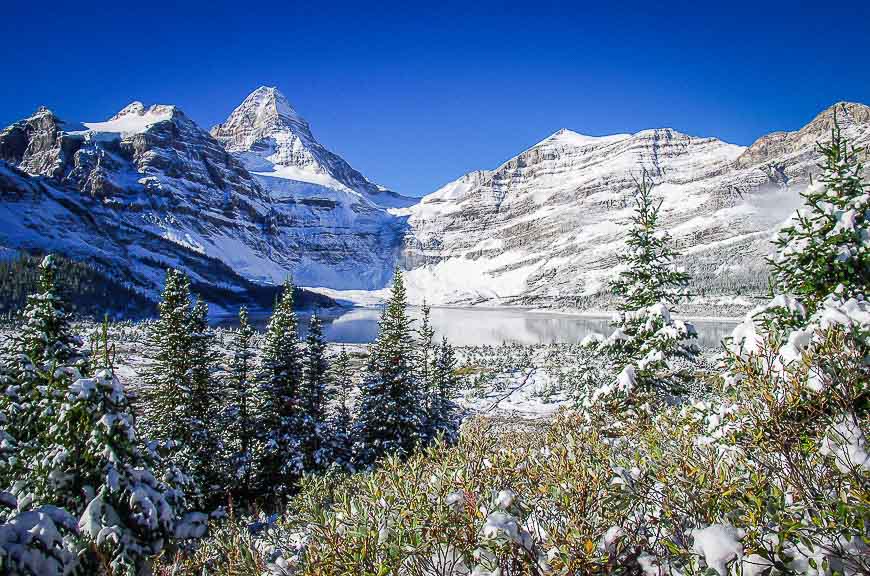 Getting to the lodge
Most people who stay at Assiniboine arrive via a helicopter, either from Canmore or from the Mt. Shark helipad, an hour's drive up from Canmore along the Smith Dorrien Road.
As a passenger in the helicopter, it's great fun. As a hiker walking down the valley, listening to the helicopter on the days they fly, it's a little tiresome though I can hardly complain if I've availed myself of the ride.
Would I go back to the lodge?
The lodge is not inexpensive. A rustic lodge room is now (in 2022) $395 per person per night plus 6.2% tax. Shared cabins are $395 per person per night plus tax. As a treat, John and I will occasionally pay this sort of money – and this was my treat to myself for completing all 100 adventures. The helicopter flight is extra.
The lodge is booked solidly, and in fact it's hard to even get a reservation.
Would I go back after my experience? I wouldn't – as I want to be warmly welcomed and made to feel like a valued guest. Neither John nor I got that feeling.
But, if you're not a backpacker and you really want to see this world-class landscape, then this is the way to go. Reviews on Trip Advisor are nothing but excellent. Perhaps, we were just unlucky. Let's hope so.
For more information on the lodge you can visit their website.
Further reading on backcountry lodges and hiking
Click on the photo to bookmark to your Pinterest boards.