If you want to experience a completely different side of Vancouver Island's Comox Valley – one that engages your senses and shows off a side more familiar to locals than tourists, sign up for a bike ride with Island Joy Rides. Owner, Laurel Cronk and I spent a wonderful summer afternoon cycling the Comox Valley on a mixture of off-road trails and quiet backroads before trying out various culinary delights in the Courtenay area.
This post includes some affiliate links. If you make a qualifying purchase through one of these links, I may receive a small percentage of the sale at no extra cost to you. Thank you for your support.
A local bike company that offers a mix of Comox Valley biking and kayaking options
Island Joy Rides is now finishing its sixth successful season – testament to all the love, attention to detail and hard work that has gone into designing truly exceptional cycling itineraries on Vancouver Island that have struck a chord with visitors.
While I only got a taste of what Laurel offers, the afternoon was enough to whet my appetite for one of her multi-day self-guided trips.
For many of the itineraries, including ours, the bike ride begins at the Kingfisher Oceanside Resort and Spa (where I stayed and would highly recommend) located just minutes from Courtenay.
Our bike ride starts with a short section along the highway before we turn off to enjoy quiet backroads with the ocean as our backdrop.
As we make our way towards Courtenay, we take the time to stop so we can ooh and ah at the fabulous (empty) beaches. We also stop to admire a great blue heron surveying its domain along the estuary.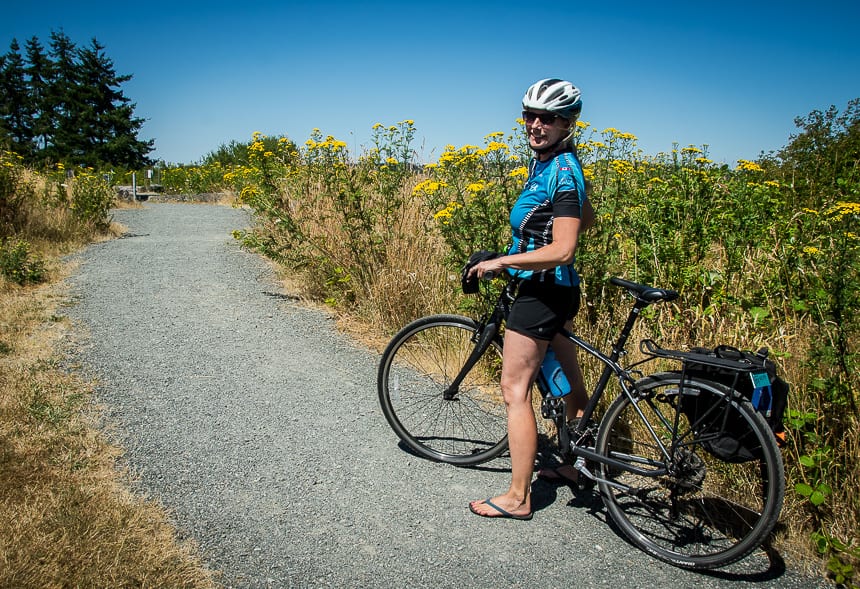 Courtenay restaurants and foodie stops
Then we're off again, continuing to the first of three culinary stops – Locals Restaurant. I only felt mildly guilty for chowing down mid-afternoon on three small plates offered, showcasing the freshest produce from the area.
On route to our second stop – Hot Chocolates in downtown Courtenay, we cycle over the 5th Street Bridge and through Lewis Park, a busy spot on a hot summer's afternoon before heading past the Courtenay & District Museum and Paleontology Centre, world-famous for its fossil tours and displays.
Once at Hot Chocolates a couple of their hand dipped truffles are offered – and willingly accepted. This place, a local hot spot that has been around for over 30 years, focuses on quality of ingredients and friendly service.
Our last stop is at the Wayward Distillation House – makers of unruly gin and vodka as well as other spirits. I'm a wine girl myself so I was less enthusiastic about a stop here but after trying Krupnik, a Polish spiced honey liquor, I'll admit to being a quick convert.
Though I was traveling with only carry-on I should have ponied up for the $25 luggage fee so I could take a bottle home with me.
Though the biking in the Courtenay area was easy by my Rocky Mountain standards, at the same time it was a real treat to cycle beside the ocean, smell the salty air, and try some delicious food.
Even better, post bike ride I was able to enjoy some lounging time by the ocean as well as an hour taking the waters that are part of the Pacific Mist Hydropath spa treatment at the Kingfisher Oceanside Resort.
Further reading on cycling Vancouver Island
Click on the photo to bookmark to your Pinterest boards.
This is a sponsored post written by me on behalf of Tourism Vancouver Island. All opinions and text are mine.