I traveled to western Ireland in late April as a guest of Wilderness Ireland to do six days of hiking in Ireland – specifically the Connemara and Mayo region. It's an area that's famous for its mountains, bog wilderness, big views and savage beauty – and one where it's surprisingly easy to get lost, especially if the weather heads south.
While I had traveled through much of the Connemara region before on a bike, I had never been hiking in Ireland in these mountains. I was keen to do so, especially early in the season when hiking is difficult in the Rockies because of all the snow.
Galway is a great place to start the trip
Our trip started in Galway with a van pickup and shuttle to Roundstone, a beautiful town on Ireland's Wild Atlantic Coast.
Over the 90-minute drive we got through the basics with each other – where we came from (3 Brits, 1 American and 3 Canadians), professions (the bulk toilet paper marketing job won the most unusual award and was a big part of the reason for an emergency vacation) and small talk about travel.
Although I didn't know it at the time, this group would turn out to be one of the best I've ever traveled with and as Ged our guide said, "there was never a lull in the conversation."
After availing ourselves of a cup of tea and freshly baked scones in Roundstone, we poured over the map and had a look at the plan for the coming week.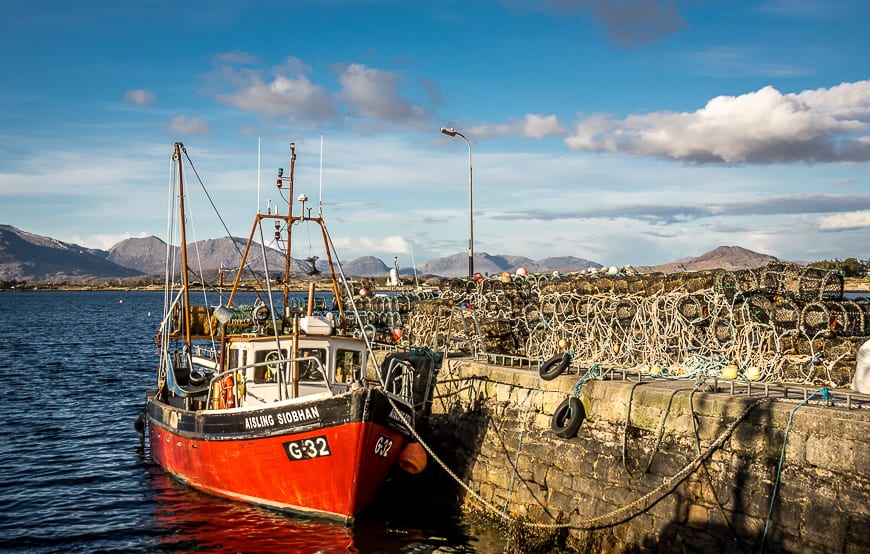 Hiking to the summit of Errisberg near Roundstone
Then it was off for our first hike in the late afternoon to the summit of Errisberg. While it and other mountains we climbed don't look that difficult from afar, without the help of trails you end up on a lot of slick, muddy, tussock filled, ankle breaking terrain. It can be slow going.
While it was only about a 6 km hike it still took about three hours, partly because of the terrain but mostly because as the magic hour unfolded, we stopped constantly to admire the views – and catch our breath.
By the time we returned to Roundstone, stomachs were rumbling and we were ready for our pub dinner in Clifden, our base for two nights.
The Twelve Bens hike
We scored with a stay at the Quay House in Clifden. With their scenic location on the water along with their fabulous breakfasts it was hard to get our group moving in the morning. I don't think we hit the trail till about 11:30 but once we got going we made good time.
The plan was to hike two of the Twelve Bens, sharp quartzite peaks that dominate the Connemara landscape. There are some crazies out there knocking them all off in one epic day but we were there to enjoy the hike and the scenery.
The hike started on land owned by Kylemore Abbey so for much of the first part of the hike the ever moody looking abbey remained in view – as did a couple of gorgeous lakes. We passed sheep – of course – and an old lime kiln before starting the real climb. I think it was in here that someone said "Follow Roger. Whatever you do don't follow Svend."
Although the comment was said in jest there was a ring of truth to it as Svend even admitted to being directionally challenged whereas Roger was an old hand at mountaineering, having summited major peaks in South America and Europe.
After a solid few hours of hiking, a lot of heavy breathing and a lunch stop we reached the first summit. Views of the other Bens and over to the Atlantic were nothing short of glorious. From there it was an easy descent and a quick climb to the next Ben.
The clouds were building by late afternoon and the final bit of hiking, though flat, got interesting. We had to traverse farmer's fields, crossing under and over barbed wire fences.
For a few moments we got stopped in our tracks when a large bull appeared out of nowhere – guarding his harem. From there we quickly hopped a stone wall, slogged through inches of watery manure to reach a road and eventually the van.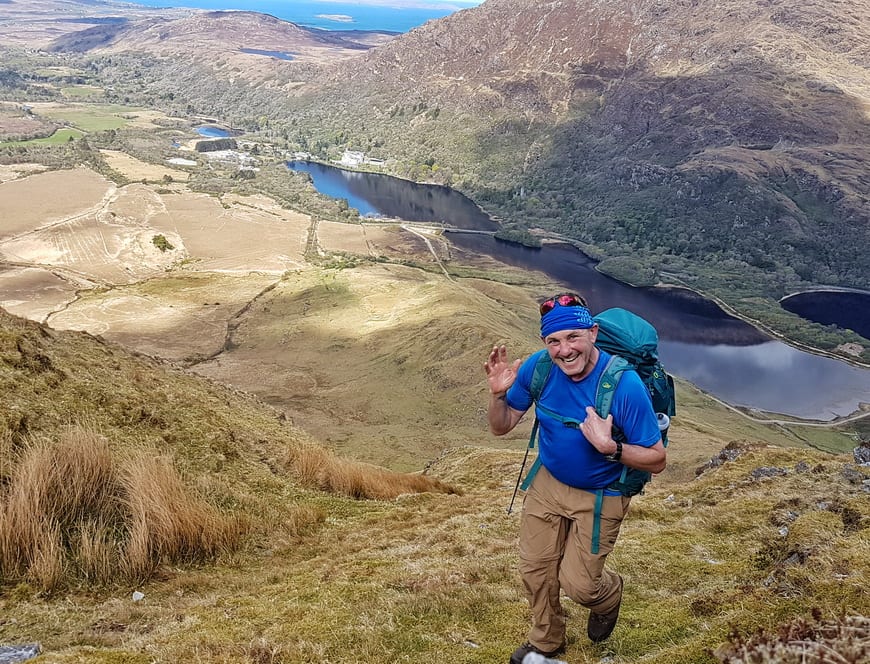 Mweelrea Mountain full day hike
Our third day dawned bright and sunny – a real bonus as anyone who's traveled to Ireland knows. Plans were altered so we could climb western Ireland's highest mountain, Mweelrea Mountain, in good weather.
As a result there was a bit more driving to do and we had to leave the Canadian couple – Karen and Keith behind. Keith had been knocked down by some weird stomach bug and Karen, a much nicer wife than I, stayed behind to make sure he was alright.
The hike up Mweelrea was my favourite day in Ireland. It was harder than anything else we'd done or would do, especially the descent where I fell five times and I think Svend did an almost perfect pirouette to land flat on his butt.
Views were stunning; there was exposure but not too much and we were able to do it as a one way hike.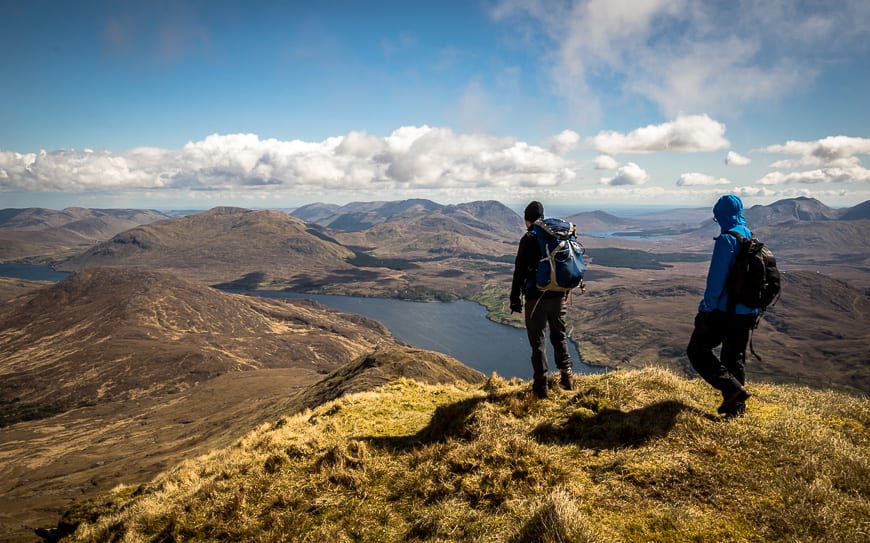 Day four hiking in Ireland
The plan was to do the pilgrimage of Mám Éan, also called the Pass of the Birds. Reportedly there is a statue to St. Patrick, Ireland's patron saint at the summit. But it poured rain so plans were scuttled and I understand the group did an easy hike on Omey Island instead – but it only lasted for about 90 minutes.
I was rather indisposed. Somehow I managed to pick up Keith's bug and spent 30 hours either on my back or racing for the bathroom. It's not how anyone wants to spend time, let alone when you're not home but at least we weren't moving hotels and it was raining.
By all accounts in mid-afternoon, Karen, Keith's wife was so sick she had to be taken to the closest hotel in another town. And then Roger got sick so four out of seven of us ended up with the bug. It wasn't food poisoning but likely norovirus and as Ged said – "nothing like this had ever happened while I've been guiding before."
A hike beside Killary Fjord
Our numbers were down with four out of seven staying back in the hotel while I, Svend and Jessica – the one millennial on the trip joined Ged in what would be a lovely day of hiking, largely alongside Killary Fjord. It was to be a relatively easy coastal walk, but about 15 km in length.
A good part of the route on the south side of the fjord followed an old grassy covered road called the Famine Trail – a 19th century famine relief project. We passed roofless ruins of cottages where it was hard to imagine the living conditions, especially on a cold, wet winter day.
If you looked off into the hills, you could see the outline where potatoes were cultivated in a land that was less than fertile. And for most of the length along the fjord as we dodged massive mud puddles we couldn't help but notice the mussel rafts; great for the economy but not so much for the beauty of the landscape.
Once we reached the small fishing community of Rosroe at the western end of the fjord we turned inland, but first we checked out the home of Ludwig Wittgenstein, a well-known philosopher who spent time here after World War II. From there it was easy walking on a road – for the first and only time, all the way back to the van.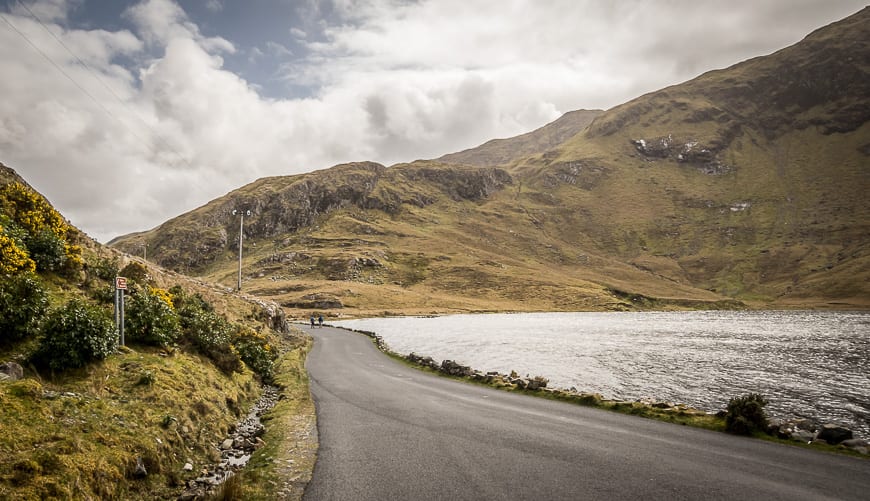 Ballycroy National Park
On our sixth and final day of hiking we made a decision to hike in Ballycroy National Park instead of hiking up Croagh Patrick, again on account of the rain though a couple of us weren't feeling 100%. Yet looking back I wished I'd just "sucked it up" and cast my vote for the summit as its peak bagging I really love.
Instead we did the Lough Aroher loop, about a 12 kilometre hike that took us in what Ged described as the Irish wilderness with very few people ever about. We were the only people on the trail that day, probably because of the weather.
While it was pretty, and it felt remote, it wasn't a summit hike. I felt badly for Roger as it was his birthday and he had really wanted to climb Croagh Patrick.
We probably wouldn't have seen anything from the top but there's always the sense of accomplishment when you summit. Still everyone was very congenial about the change in plan, and it did allow us the time to stop in a traditional pub on the way back to the hotel.
And so the hiking portion of our trip ended, though the trip was far from over. On our last evening we celebrated Roger's birthday with a great meal and an intimate magic show put on by a friend of Ged's and his partner Georgia, both members of The Magic Circle, the world's premiere magic club.
What a way to finish a hiking trip! While there had been lows while I was sick, it was certainly out of the hands of Wilderness Ireland and yet Ged was kind enough to look out for me (food, drinks, rehyration salts, pills, kind words).
Kudos to Wilderness Ireland for a great trip. You've turned me into a big fan of small group (no more than 8 people) hiking trips. Also thank you to Paul, another guide who was with us for the first few days and wisely had to leave when people started getting sick. You were an utter delight and I'm sorry you weren't with us for the entire week.
Further reading about Ireland
Click on the photo to bookmark to your Pinterest boards.