Galway has been the starting point of a couple of trips for me including a recent six day hike with Wilderness Ireland and a self-guided bike ride with John in Ireland's Connemara region a number of years ago.
Galway is a great jumping off point to explore western Ireland. And it's a snap to reach by train or bus from the Dublin airport (it takes about three hours). Once you're in Galway, the only time you'd need or even want a car is for side-trips.
These five things to do in Galway (and nearby) will keep you busy for a couple of days. I haven't included castles, museums or churches.
Walk along the River Corrib
Galway is a city that is meant to be explored on foot. Head down to the River Corrib, one of the shortest rivers in Europe for a pretty walk along part of its length.
It's a good walk to escape from the masses of summer tourists. If you make it as far as the Waterside Boat Club in Galway's Woodquay area you'll get a great view of the Galway Cathedral. Depending on the season you might see people fishing for salmon.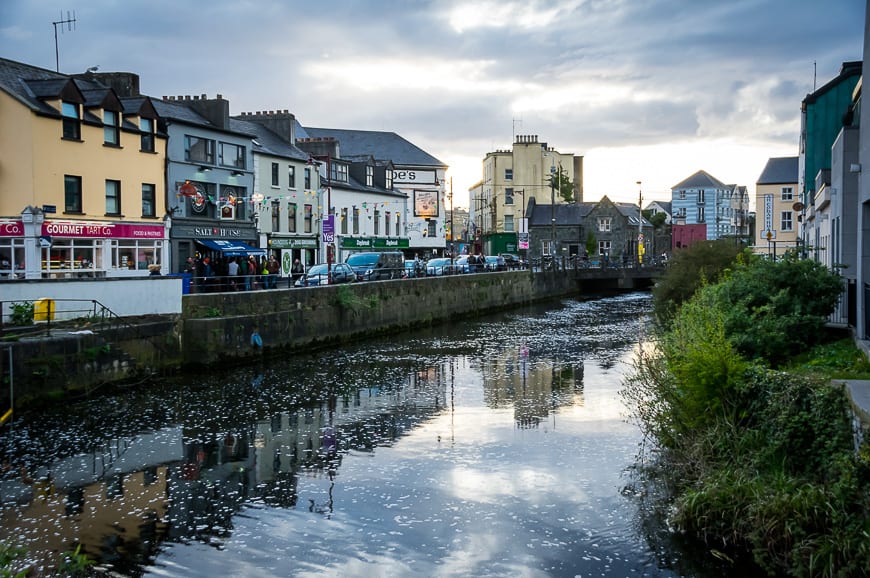 Visit the Claddagh Quay
The Claddagh Quay is especially pretty at sunset. Photographers will love this walk especially with the views over to the colourful houses on the Long Walk.
Continue all the way to the end of the pier to enjoy views of the ocean and islands.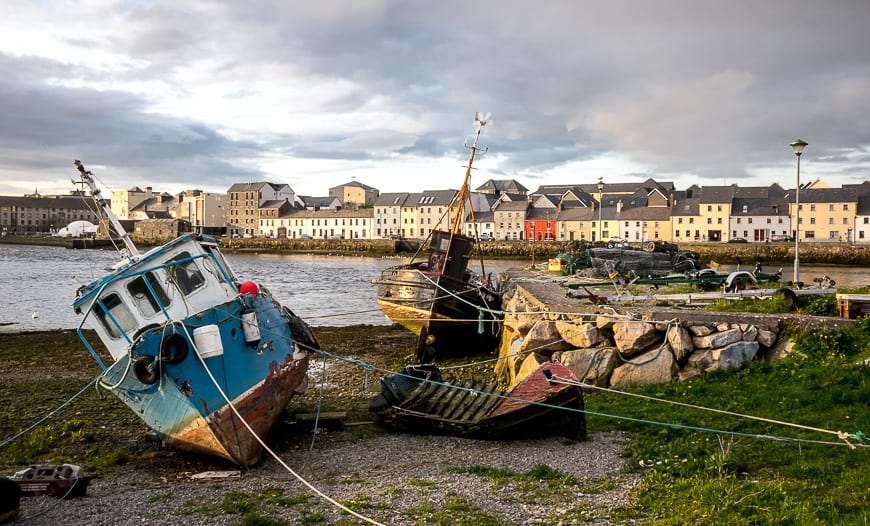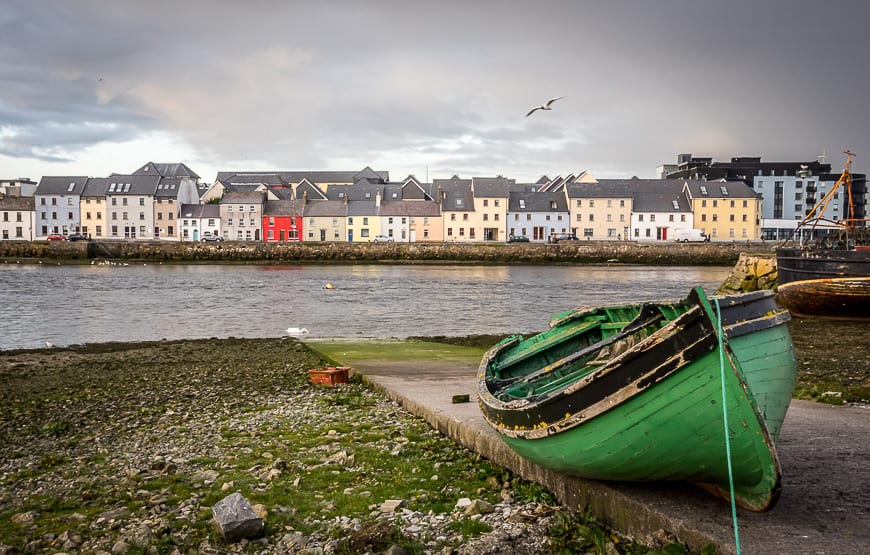 Walk the causeway to Mutton Island
While Mutton Island is home to a lighthouse and a sewage treatment plant, it's the walk along the causeway – somewhere between 1 – 1.5 km one way that you'll want to do especially at sunset. Reportedly it's a popular place for wedding proposals. And when I walked it there was no sewage smell!
Explore the core of downtown Galway especially on the streets running off of Eyre Square
Head to bustling Eyre Square with its young, energetic vibe for people watching, shopping, pubs, restaurants, cafes and music. Need a break from all the walking? Stretch out on the green space in the middle of Eyre Square. Note that the train station is just a few minutes' walk from the square.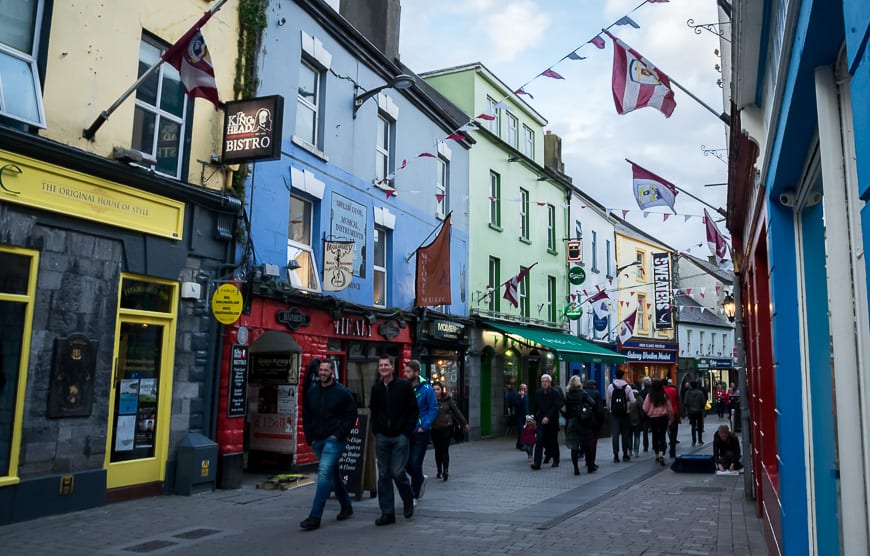 Do a day trip to the Aran Islands
Unfortunately there are no ferries to the Aran Islands directly from Galway. But there are two passenger only ferries to Kilronan – the biggest town in the Aran Islands from Doolin in County Clare via the small Doolin Ferry or out of Rossaveal, about a 40 minute drive or shuttle away from Galway.
The Rossaveal ferry is a bigger boat with a smoother ride that takes less than half the time of the Doolin ferry. Make reservations.
When you get to Kilronan you can rent bikes but don't expect fancy roads.
Try to visit Dun Aengus, a famous prehistoric fort built around 2,000 BC. The fort's location is at the edge of a precipitous 100 metre high cliff so be extremely careful. The fort consists of four concentric stone walls with the outermost wall enclosing about 14 acres.
You might also want to see the Church of St. Benan, reportedly the world's smallest church. Birding on the Aran Islands is also pretty darned good.
Allow time to check out the sweater market. Here you'll find the complete background and examples of all the clan's sweater patterns. Each family historically had its own carefully protected pattern with a unique combination of stitches. When fisherman drowned their sweaters were one of the ways of identifying them.
Where to stay in Galway
This post includes some affiliate links. If you make a qualifying purchase through one of these links, I may receive a small percentage of the sale at no extra cost to you. Thank you very much for your support.
For a hotel with a great location and good value you can't go wrong with the Eyre Square Hotel.
The Harbour Hotel is consistently rated as fabulous.
I stayed at the Eyre Square Townhouse – nothing fancy but friendly and comfortable with my room on the small but serviceable side.
Further reading on things to do in Ireland
Click on the photo to save to your Pinterest board.