The hikes described below are some of the very best hikes in Ireland. Some of these hikes will take you a day, others a week. All with give you a great sense of the country. Even though Ireland is famous for its rain, don't let that stop you from hiking here. I found it rarely rained for the entire day. On the occasions that it did rain all day, I found it exhilarating to have survived the inclement weather. Remember there are no such thing as bad weather – just bad clothes. (I learned to stuff my wet hiking boots with newspaper to speed the drying process while hiking the Dingle Way.) Go prepared and you'll have one heck of a good time on this sampling of the best hikes in Ireland.
My favourite of the best hikes in Ireland – Mweelrea Mountain as a day hike and the Dingle Way as a multi-day hike. No matter what hike you do, go prepared with the 10 hiking essentials and let someone know where you are going and when you are expected to be back.
Map showing approximate locations of the best hikes in Ireland
7 of the best hikes in Ireland
1. Croagh Patrick
Croagh Patrick is a sacred mountain not far from Westport in County Mayo. On the last Sunday in July, Reek Sunday, upwards of 15,000 pilgrims hike the mountain and some of them do it barefoot. While it's not a particularly difficult mountain to climb, appearances can sometimes be deceiving.
When I tried it the first time I basically got blown off. After hiking for 90 minutes bent over at the waist John and I called it a day. The mountain was on the itinerary of my recent Wilderness Ireland trip. Although we could have hiked it in theory, it was pouring rain and it would have been a miserable day without any views to speak of – and that of course is one of the main reasons to hike it.
Croagh Patrick is just 764 m (2,507 feet) tall. The trail is wide and the grade is reasonable for the first part of the walk. Then it steepens considerably and becomes a rock strewn path with uneven footing.
At the summit a chapel has been erected. It is on the summit that Patrick is purported to have spent 40 days and 40 nights fasting and in prayer back in 441 AD.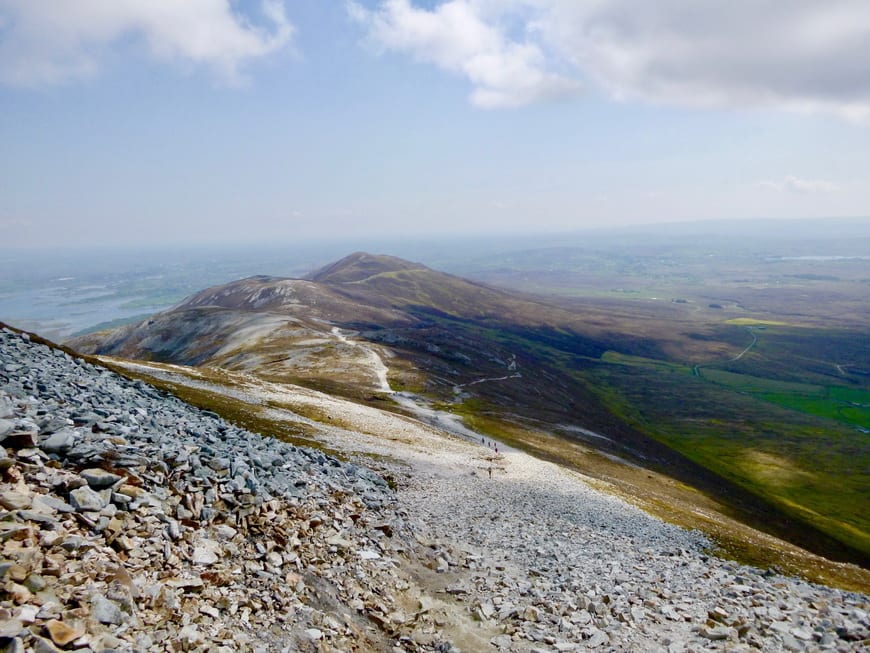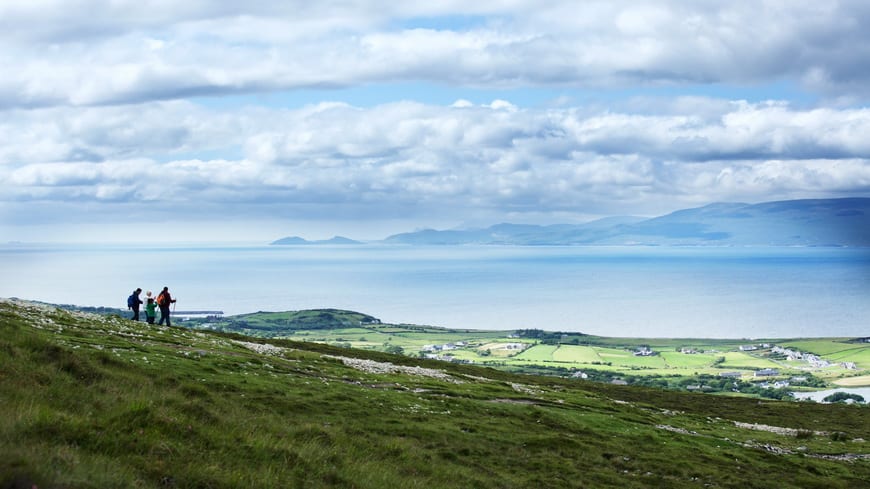 2. Cliffs of Moher Cliff Walk
While the majority of people just walk from the parking lot to the Cliffs of Moher (Aill Na Searrach) there is the option for experienced hikers to do a 20 km coastal walk from Doolin in the north to Liscannor in the south.
Along the way enjoy superb views of the cliffs, Galway Bay and over to the Aran Islands on a clear day. There are other possibilities if you are short on time and/or energy.
From the Cliffs of Moher Visitor Centre it's 5 km to Hags Head, 12 km to Liscannor and 8 m to Doolin. Exercise extreme caution near the cliffs and be aware that fog, winds and rain can blow in and up at any time. Even though this is one of the best hikes in Ireland, you should know that it's a challenging one with steep ascents and narrow steps.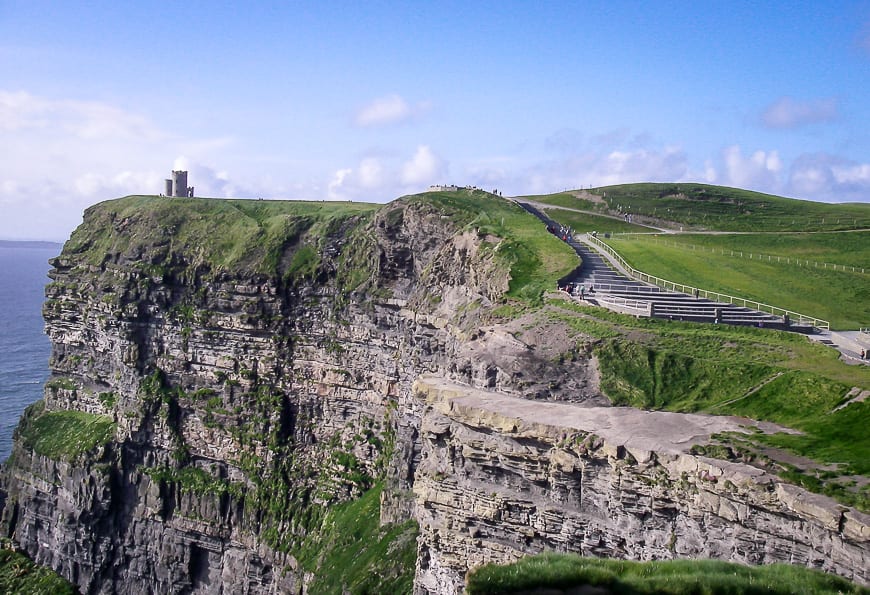 3. The Wicklow Way
The Wicklow Way is Ireland's oldest way-marked long distance hiking trail and one of the best hikes in Ireland. It starts in Dublin and travels southwest through the hills of County Wicklow for 127 km to finish in Clonegal.
To do the whole trail most people allow 8 – 10 days. The Wicklow Way trail passes through a variety of landscapes including parkland, forest, rolling countryside and even mountains. Do it self -guided (order a hiking guide beforehand with detailed route finding instructions) or with a tour company.
Here's a look at the self-guided itinerary with Wilderness Ireland to give you an idea of what a day looks like on the trail.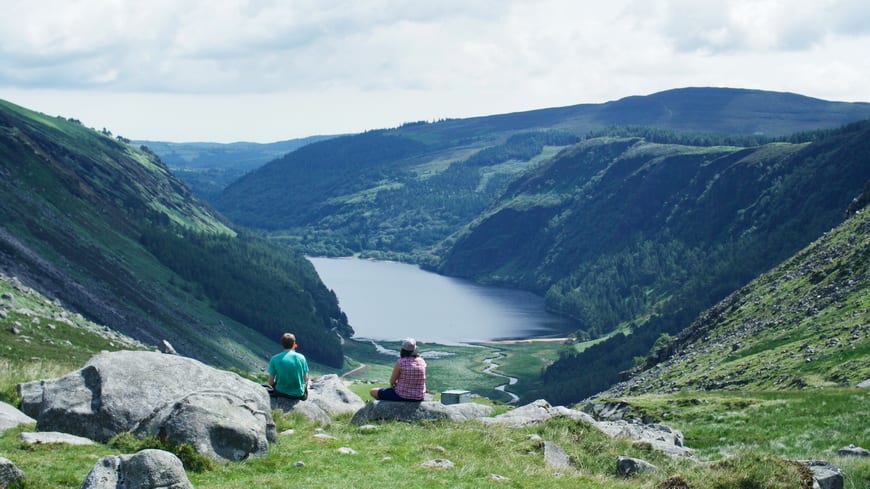 4. The Kerry Way – one of the most beautiful hikes in Ireland
The Kerry Way is Ireland's longest and best known sign posted walking trail with a total length of 203 km (122 miles). It mirrors the Ring of Kerry, the driving version, but rarely does the Kerry Way reach the ocean.
It is primarily an inland route starting in the town of Killarney in southwest Ireland. Most people hike it in a counter clockwise direction and allow 8-10 days. Generally towns are nicely spaced and offer a variety of accommodation and restaurants choices though the selection is limited on the first few days out.
Enjoy diverse scenery ranging from dramatic peaks including MacGillycuddy's Reeks, isolated valleys, beautiful lakes, wild moorlands and some spectacular coastal vistas. That's what makes the Kerry Way one of the best hikes in Ireland.
The trail is generally well signposted and efforts are in place to fix areas of ambiguity. If time permits, a day off in Cahirciveen to visit the Skellig Islands might become the highlight of your trip. It was for me.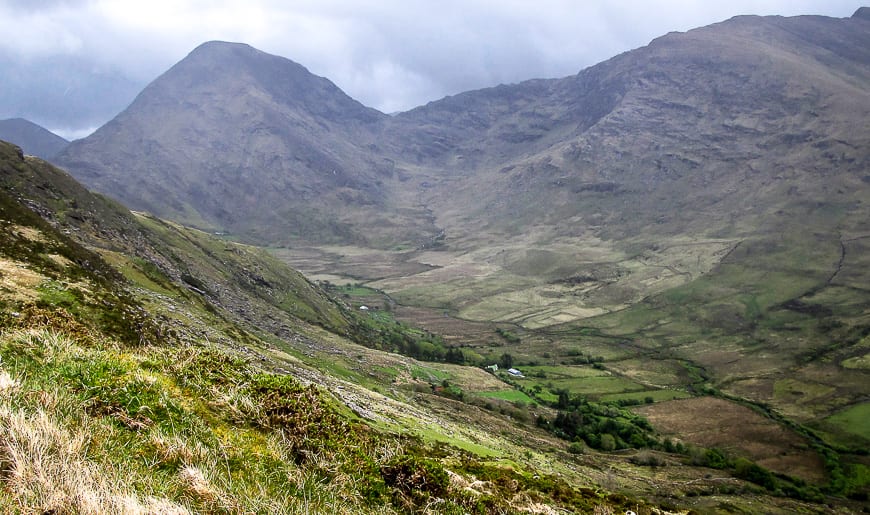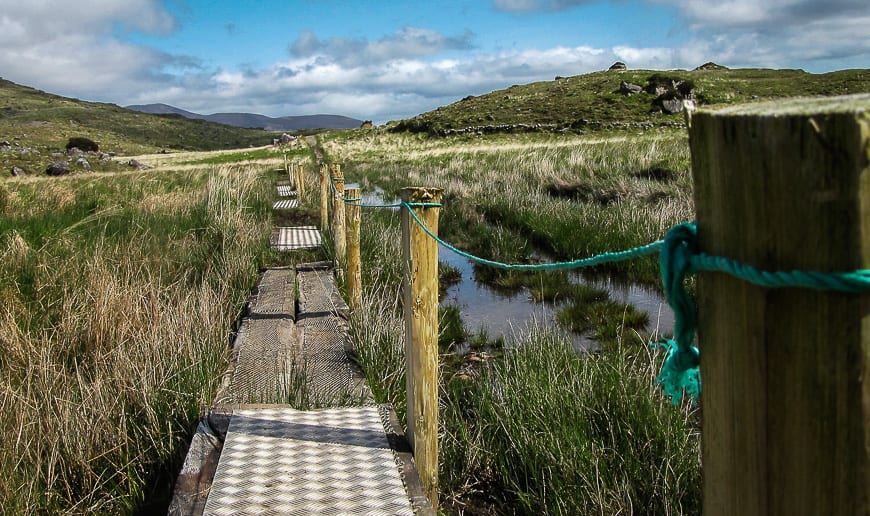 5. The Dingle Way – one of the top multi-day hikes in Ireland
The Dingle Way is one of Ireland's premier long distance walking paths that offers some of the country's best scenery. The 179 km (112 mile) trail combines peaceful countryside with wild ocean vistas, cliff-tops and quaint towns.
The starting point is the town of Tralee in County Kerry. From here one heads out to Camp and then the rest of the Dingle Peninsula, typically in a clockwise fashion with some retracing of steps on the last day as you return to Tralee from Camp.
The walk is best done over seven or eight days so you can actually appreciate the experience. Expect to walk anywhere between 17 – 29 km a day.
The hike over the side of Mount Brandon has the only serious elevation gain (650 m) though there are plenty of minor ups and downs along the way. Signage is pretty darned good.
Read: What's the Better Hike – the Kerry Way or the Dingle Way?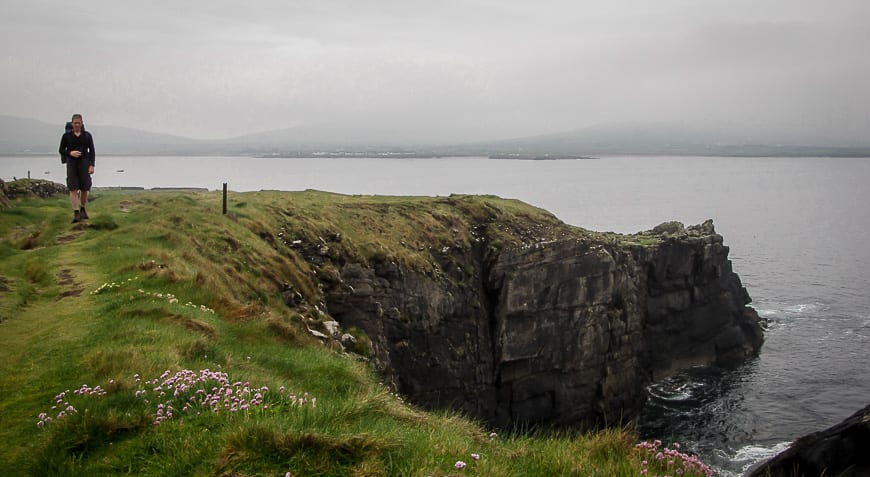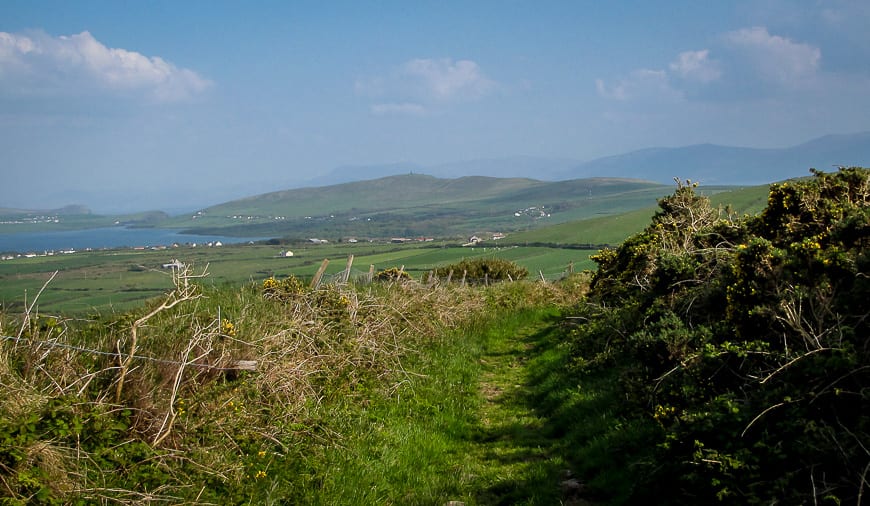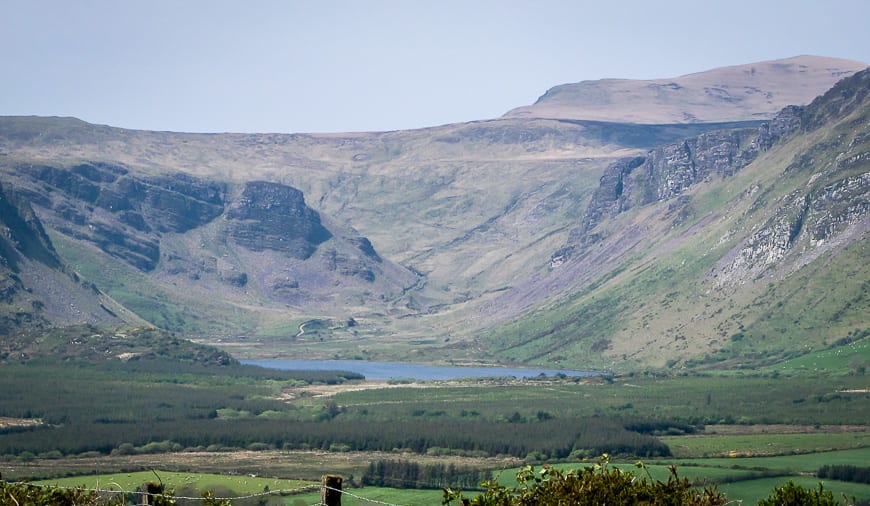 6. Mweelrea Mountain – the highest mountain in western Ireland
You'll find Mweelrea Mountain near the village of Leenane. Topping out at 814 m (2,700 feet) ensures there's no risk of altitude sickness and in this part of the world you don't have nearly the risk of thunderstorms that you do in the Rocky Mountains for example.
And yet this mountain needs to be taken seriously, especially when the fog rolls in. It doesn't take long to get disoriented when you're surrounded by a cloud of white.
On Mweelrea Mountain, it's very dangerous on account of sheer drop-offs near the summit. Even though the mountain looks innocuous in the photos, people have died up here. And without a formal trail to follow in any direction, navigation can be a challenge at any time.
Read: Climbing Mweelrea: Western Ireland's Highest Mountain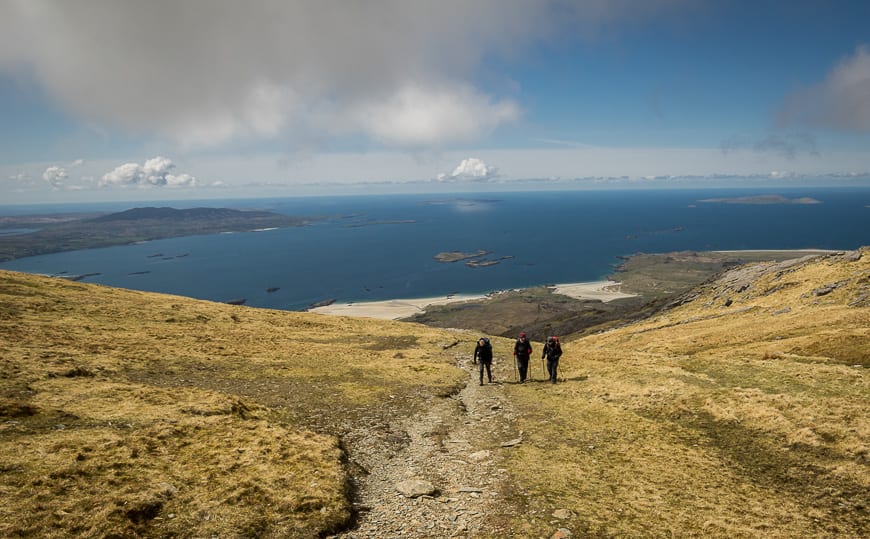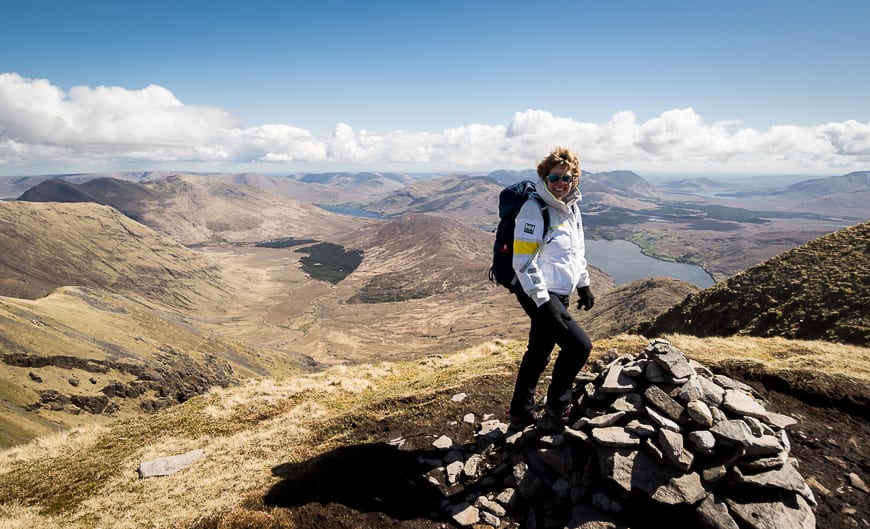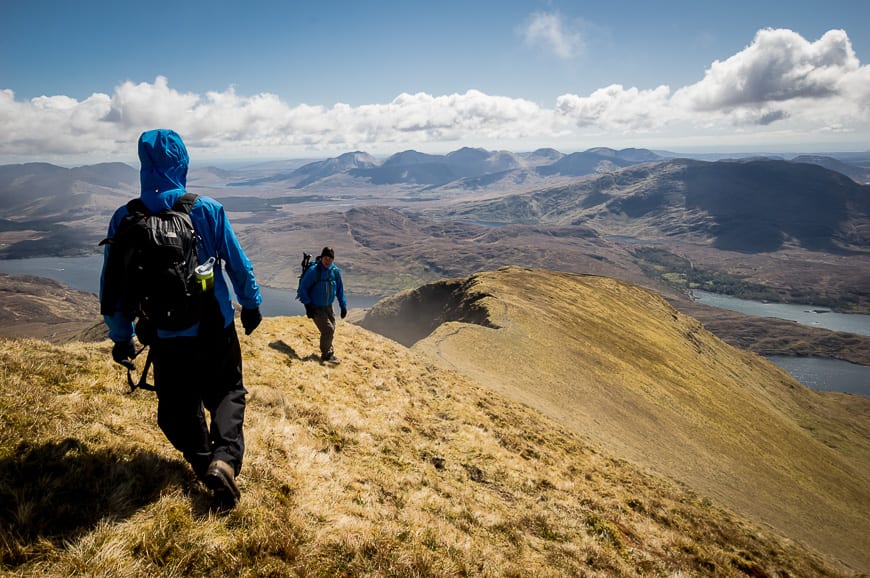 7. The Twelve Bens
While there are serious hikers who aim to hike all Twelve Bens, quartzite peaks in the Connemara district of western Ireland, there is the option for mere mortals to comfortably knock off two or three Bens in a day. That's exactly what our group from Wilderness Ireland did in late April.
We parked a short distance away from Kylemore Abbey, then started up a track that took us by an old lime kiln. From there it was a couple of hours to summit the first Ben, Benbaun – if I've got my map reading skills right since my phone decided to eat my notes.
From there it was an easy descent with a minor ascent to Benbrack, then a minor climb up Cnoc Breac before descending down to the N59 with a short walk back to the car.
Don't expect well-marked trails with maps pointing to You are here markers on this walk. A detailed topographic map is a must in case the fog moves in. But these mountains deserve to be on every peak bagger's bucket list.
Visit: Hiking the Mountains of Connemara and Mayo for more information.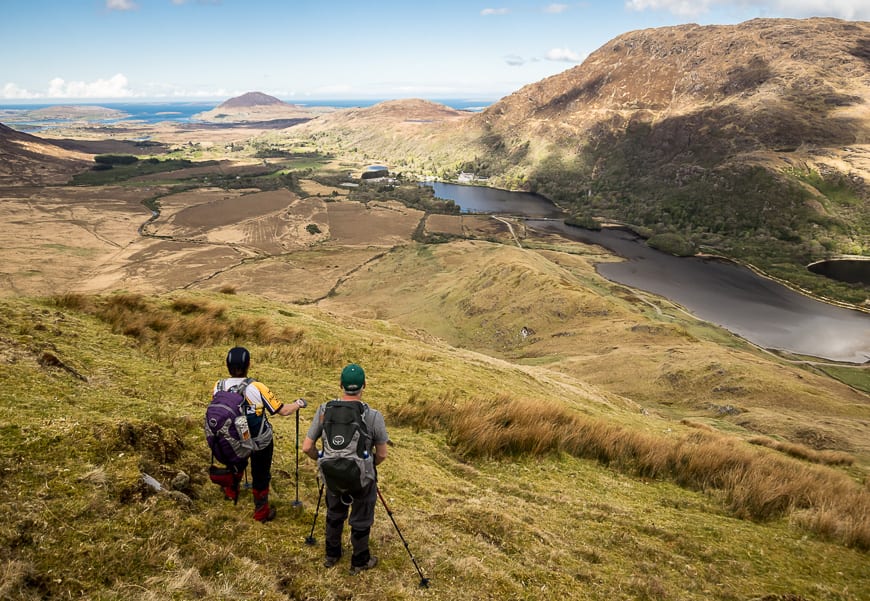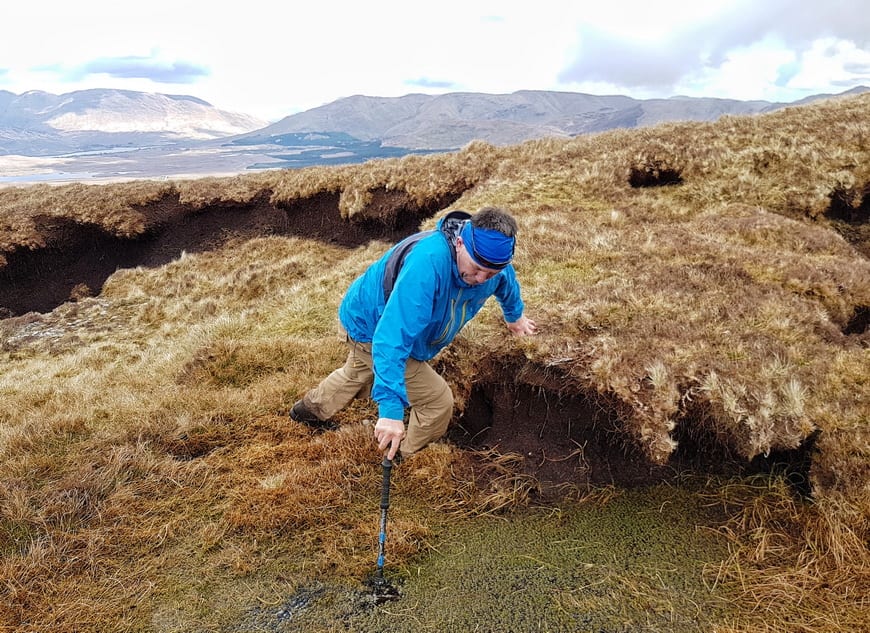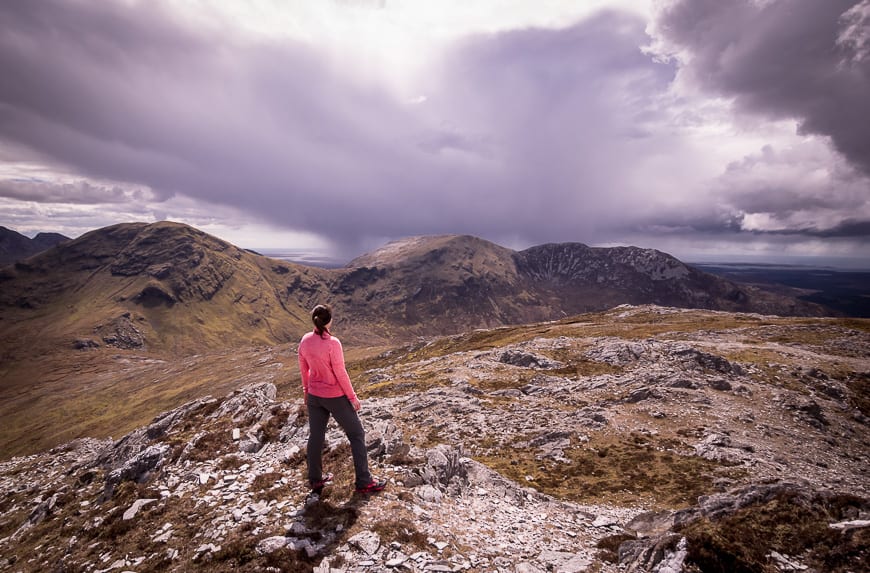 Other ideas for hiking in Ireland
Another area that should be on your radar – and is now on mine is the Ring of Beara. While you can hike it – and perhaps combine it with the Kerry Way – you can also drive it. Paula from Contented Traveler said she enjoyed it far more than either the Dingle Way or the Kerry Way.
You're going to need to eat too – right? Check out Irish Food reinterpreted for ideas on what to drink instead of Guinness and what to eat in lieu of Irish stew.
Ireland is a great country to visit if you're into hiking. There are tours you can join though there are plenty of self-guided options as well. After my positive experience with Wilderness Ireland I'd recommend them in a heartbeat.
More hikes in Europe you might enjoy
Click on the photo below to bookmark to your Pinterest board.