Climbing Mweelrea Mountain, the highest peak in western Ireland, was the highlight for me of a week-long hiking trip with Wilderness Ireland, a local Irish company focused on outdoor adventures. There's something about the feeling you get deep inside you when you make it to the summit of a peak. And it doesn't have to be Everest to get that sense of accomplishment. Climbing Mweelrea gave me that feeling too.
Mweelrea Mountain, located near the village of Leenane (near Westport), tops out at 814 m (2,700 feet). There's no risk of altitude sickness and thunderstorms are a rarity when you're climbing Mweelrea. And yet this mountain needs to be taken seriously.
When the fog rolls in which it is apt to do in Ireland, you can lose your bearings in short order. That's not a good thing at any time, but especially on a mountain with craggy cliffs around the summit. Even though the mountain looks innocuous in the photos, people have died up here.
Without a formal trail to follow in any direction, navigation can be a challenge at any time.
Going on a guided hike on a sunny day ensured that the risk of accidents and getting lost was greatly reduced. Our Wilderness Ireland guides actually changed the hiking schedule to take advantage of the good weather window – and even at that we had fog roll in just below the summit along with some big winds.
But our group of seven and two guides all comfortably made it. We didn't dash up the mountain, breathing heavily and sweating profusely. Instead we tackled it at a pleasant hiking pace with lots of time for breaks.
And what a view when we stopped with the spectacular Irish coastline littered with islands and beaches below us including Glassilaun Beach, "the prettiest beach in all of Ireland" according to our guide Paul Quinn.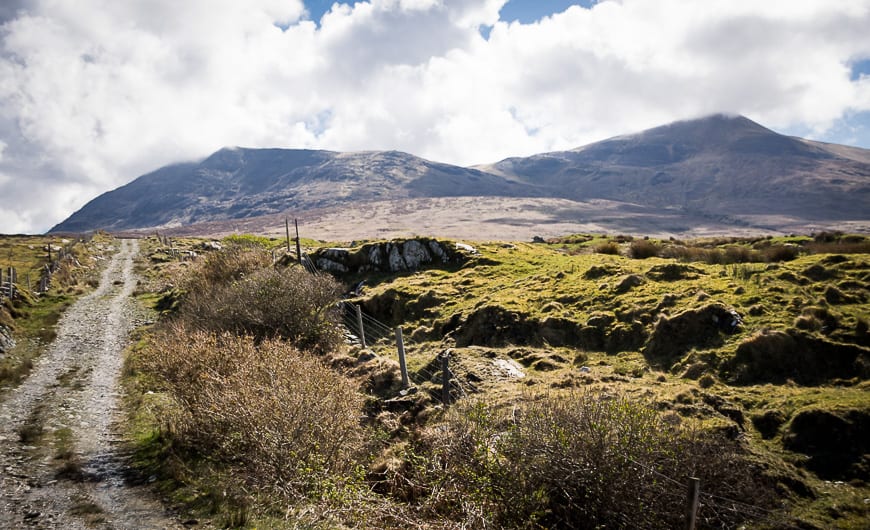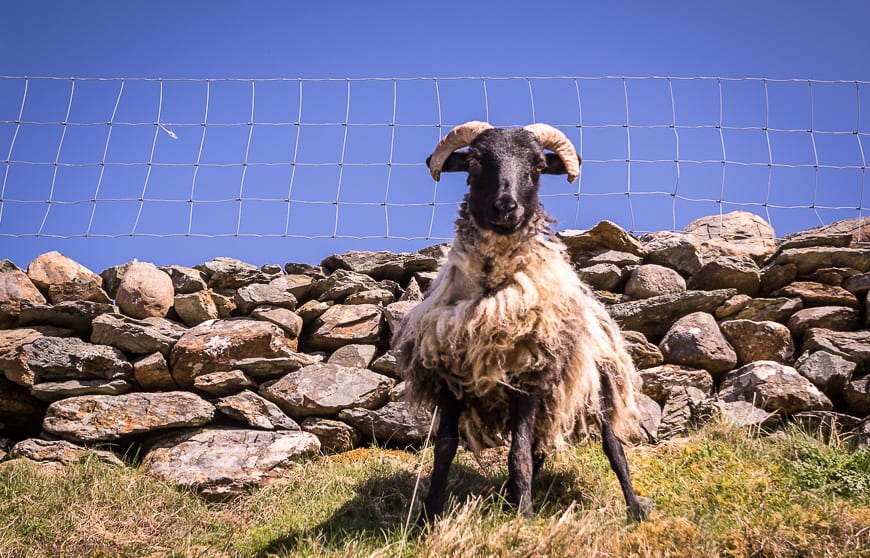 As mentioned in a previous post about this hiking trip, we got off to a slow start (dropping off sick guests) and didn't hit the trail until about 11:30 AM. But once we got going hiking was straightforward and all up for several hours.
A lunch break was called a few hours in, a good thing as everyone needed the fuel to keep going. From there it was still a solid hour to the summit but I felt like the grade had moderated and it was easier going.
Read: Hiking in Ireland: The West Coast Experience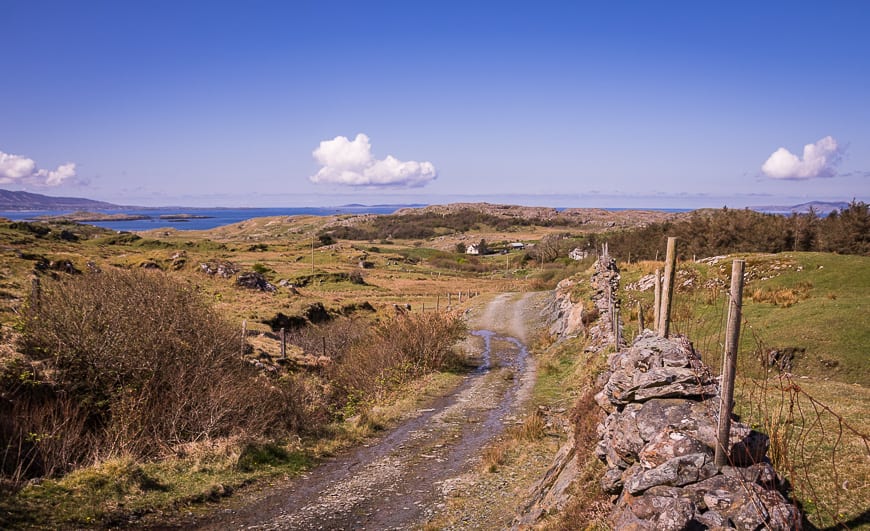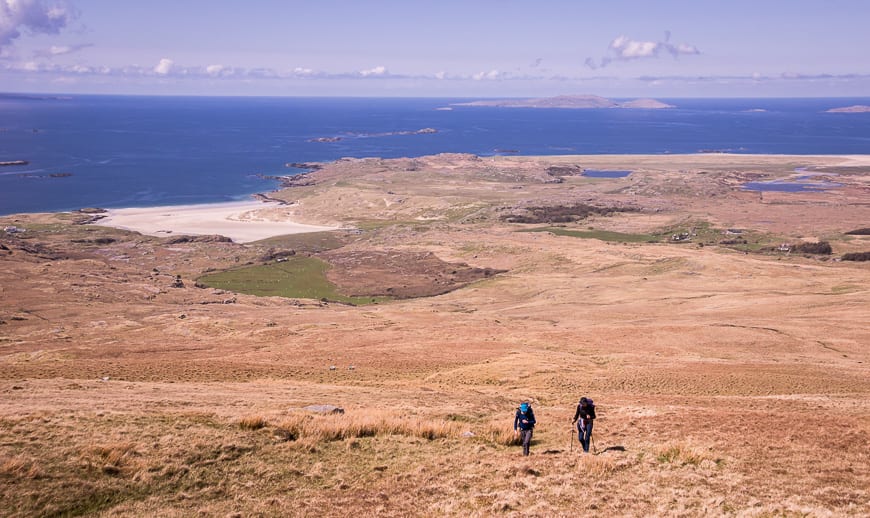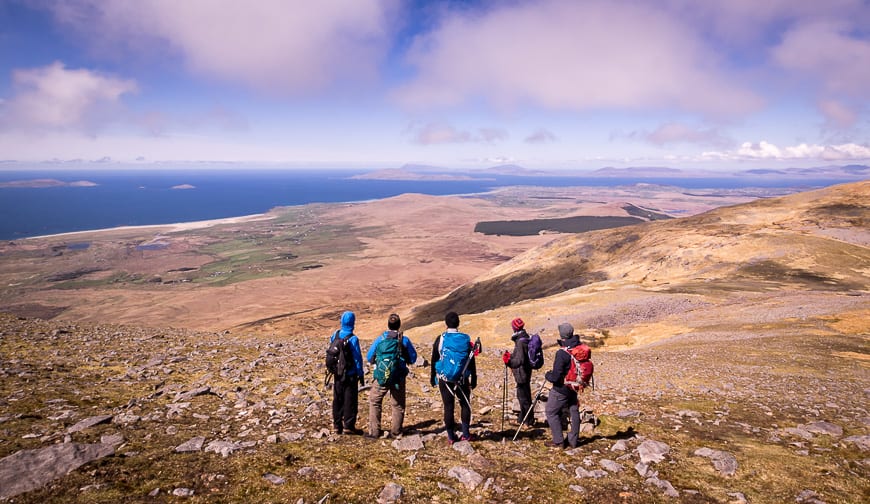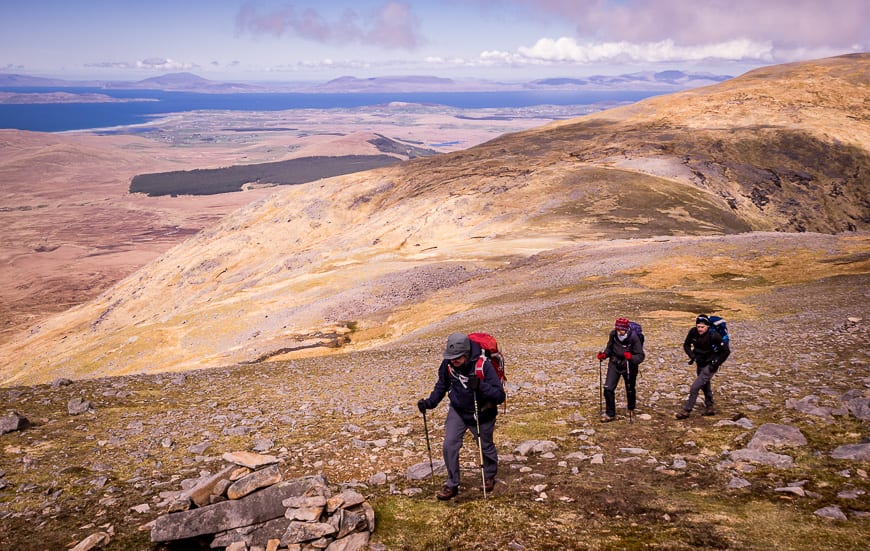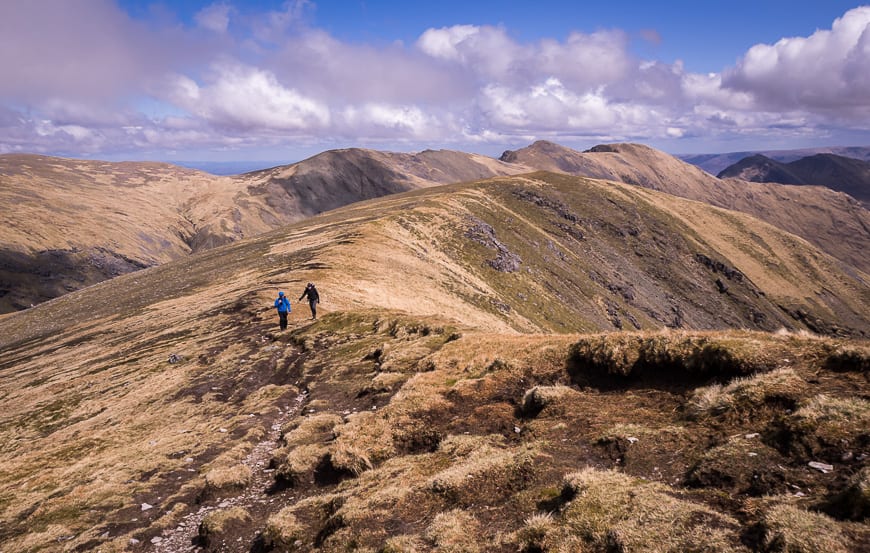 The descent off Mweelrea Mountain
We hung about the summit for about 15 minutes, taking photos and getting tossed about by the wind before setting off for several more hours of hard hiking.
The initial descent off the top of Mweelrea Mountain might be intimidating for those scared of heights. While there is a nasty drop-off, it's easy to descend well away from the edge. And as is often the case, I found the descent to be far harder than the ascent. Once off the steepest section of the mountain we were into grasses – that were as slippery as ice. I fell FIVE times.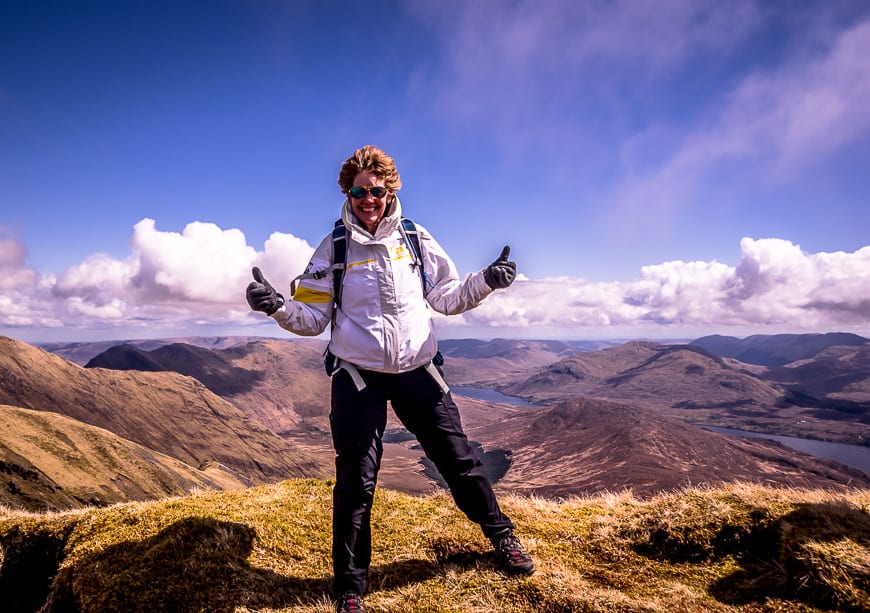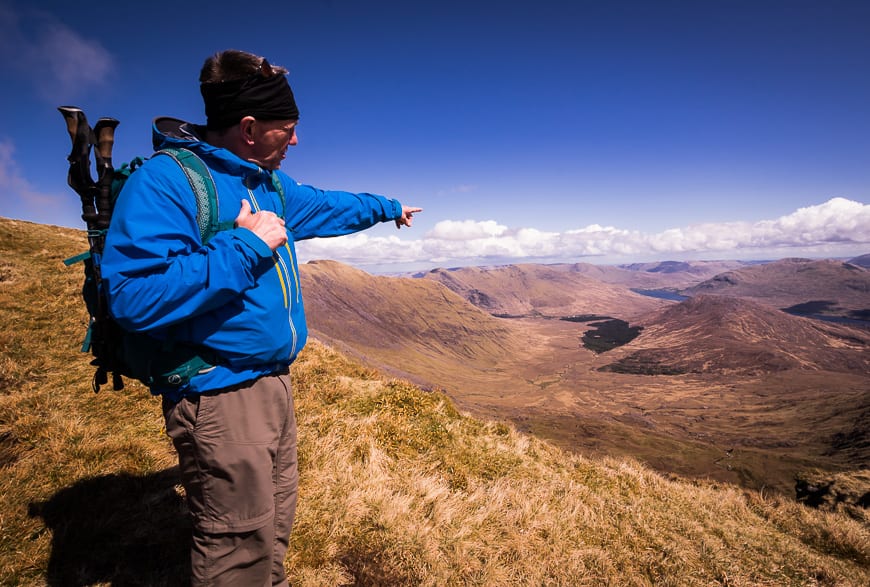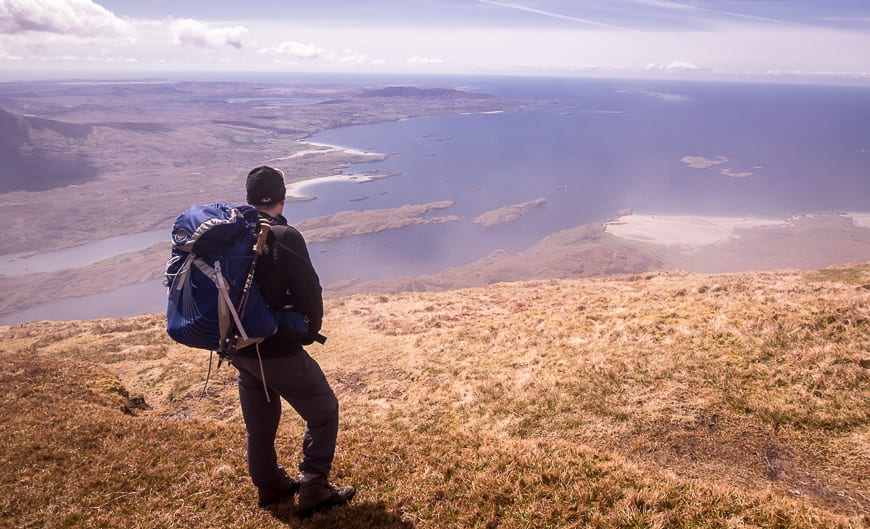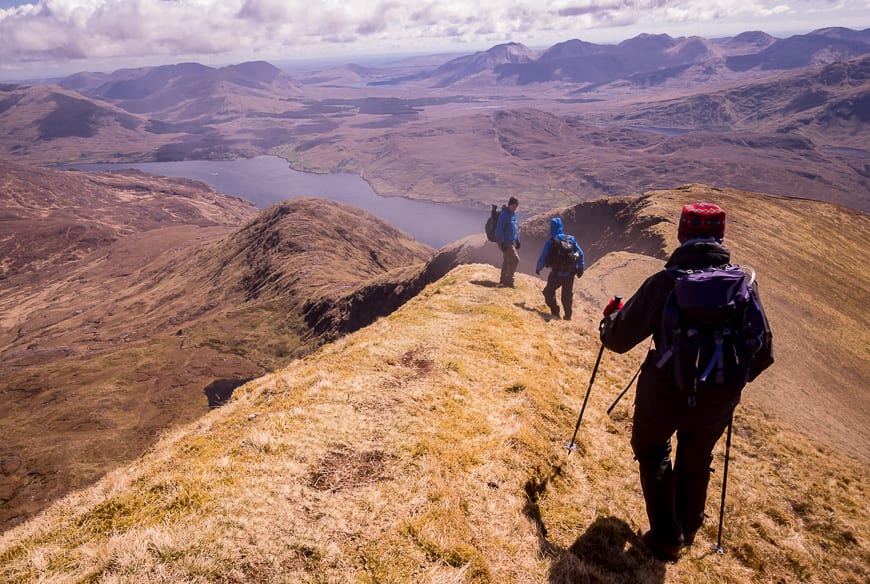 By the time we made it through the barbed-wire fence, which entailed climbing a small hill and staying wide of great swaths of boggy ground, we felt like we were home free. The rest of the hiking was along a country road on mostly flat ground.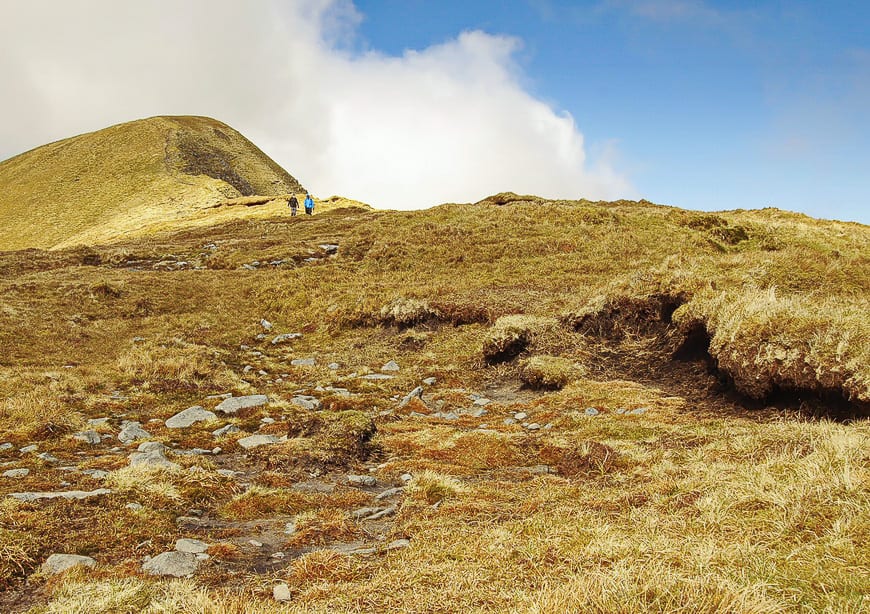 Though tired we were all smiles at the end and even more so at dinner after a hot shower and with a glass of wine in our hands.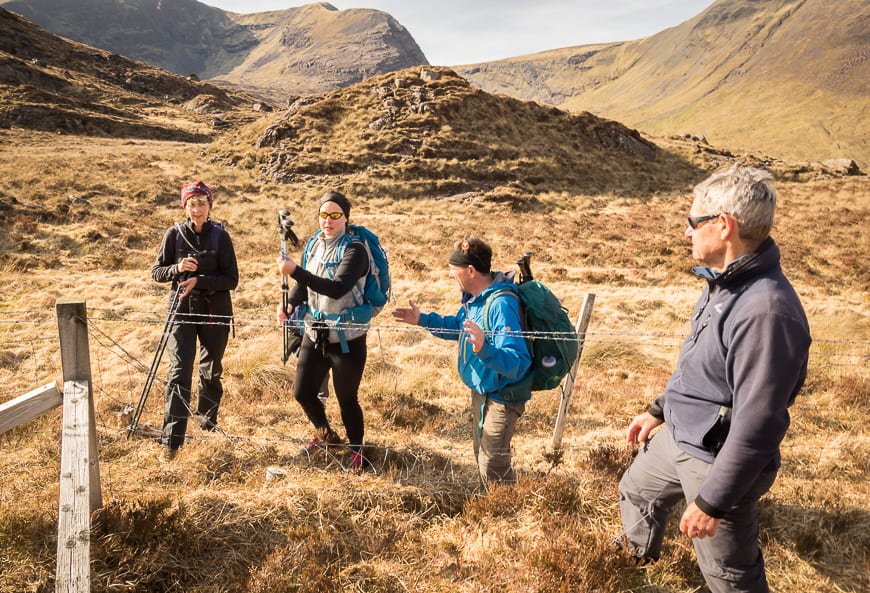 You need a strong set of navigation skills to attempt Mweelrea Mountain without a guide and you need to go prepared for whatever the Irish weather Gods throw at you.
This was just one of six well-chosen, truly off the beaten path hikes on my week long trip as a guest of Wilderness Ireland. Check out their trip details for more information.
Further reading on Ireland
Click on the photo to bookmark to your Pinterest boards.