Sometimes it's the adventures you don't plan that turn out to be highly memorable. The Siffleur Falls hike in David Thompson Country was one such adventure. It was totally unplanned – and even in early March, a highly worthwhile hike.
The trailhead to Siffleur Falls is accessed from Highway 11 – a scenic section of highway that runs east from Saskatchewan River Crossing to connect with Highway 12 west of Settler, Alberta.
John and I had other ideas for the day but because of my wimpiness when it comes to driving on deserted, snow covered roads, we chose to return to Calgary via Lake Louise and Banff instead of Rocky Mountain House – where we'd spent a delightful couple of nights.
This post includes some affiliate links. If you make a qualifying purchase through one of these links, I may receive a small percentage of the sale at no extra cost to you. Thank you for your support.
Superb scenery in David Thompson Country
I'd driven this section of highway years ago on the way to Aurum Lodge, but I must have been too busy chatting in the car to have noticed the scenery. It's almost Icefields Parkway kind of spectacular!
The trailhead to Siffleur Falls on the south side of the highway is well marked. I never did see any information about the length of the trail but perhaps I wasn't looking in the right spot. I originally thought it would be a 15-minute sort of hike. It's not!
Siffleur Falls hike description
Total distance: 8.0 km return to the first waterfall; continue for 2.5 km to reach the second set of falls and a further 1.5 kilometres to reach the final waterfall.
Elevation gain: Approximately 70 metres to the first waterfall
Rating: Easy to moderate
Dogs allowed: Yes on a leash
To get to the first set of falls, it's 4 km one way – on an easy trail but it's likely to take you at least an hour, especially if you're a photographer.
From the Kootenay Plains cross the suspension bridge over the North Saskatchewan River – enjoying superb views in either direction. Continue on a long wooden boardwalk, put in place to protect the area that is incredibly sensitive to wind erosion.
At the end of the boardwalk, continue along a gravel road to reach the Siffleur River Bridge. Continue up the trail – that can be muddy or icy in sections, depending on when you visit. Reach the first set of falls at the 4 km mark.
Had we known the state of the trail, I would also have taken microspikes with me – those grippers you attach to your shoes or boots to make walking easier. You can buy them here.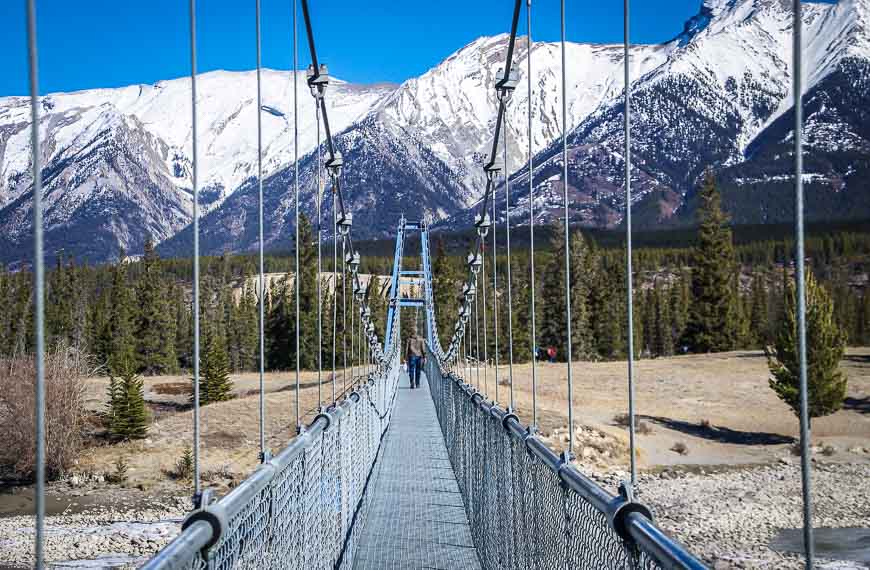 What does siffleur mean?
When we arrived at the gorge area, a sign explained where the name Siffleur originated. In French, siffleur is the word for whistling.
I guess there are (or were) a lot of hoary marmots in the area. Known for their particularly loud whistling, Sir James Hector in 1858 decided to name Siffleur Mountain and Siffleur Falls after the marmots.
John and I went only as far as the first set of waterfalls. There are two more waterfalls – the next set another 2.5 km up the trail and the third set a further 1.5 km. I understand that there's a small campsite at the final set of falls.
This would be a delightful hike to do again in the summer. To see the water roaring through the gorge would be quite the sight. Until all the snow melts, exercise extreme caution on the sections of icy trail that are adjacent to any drop-offs. Kids and dogs were on the trail. Keep an eye on both as a few unfortunate people have lost their lives here.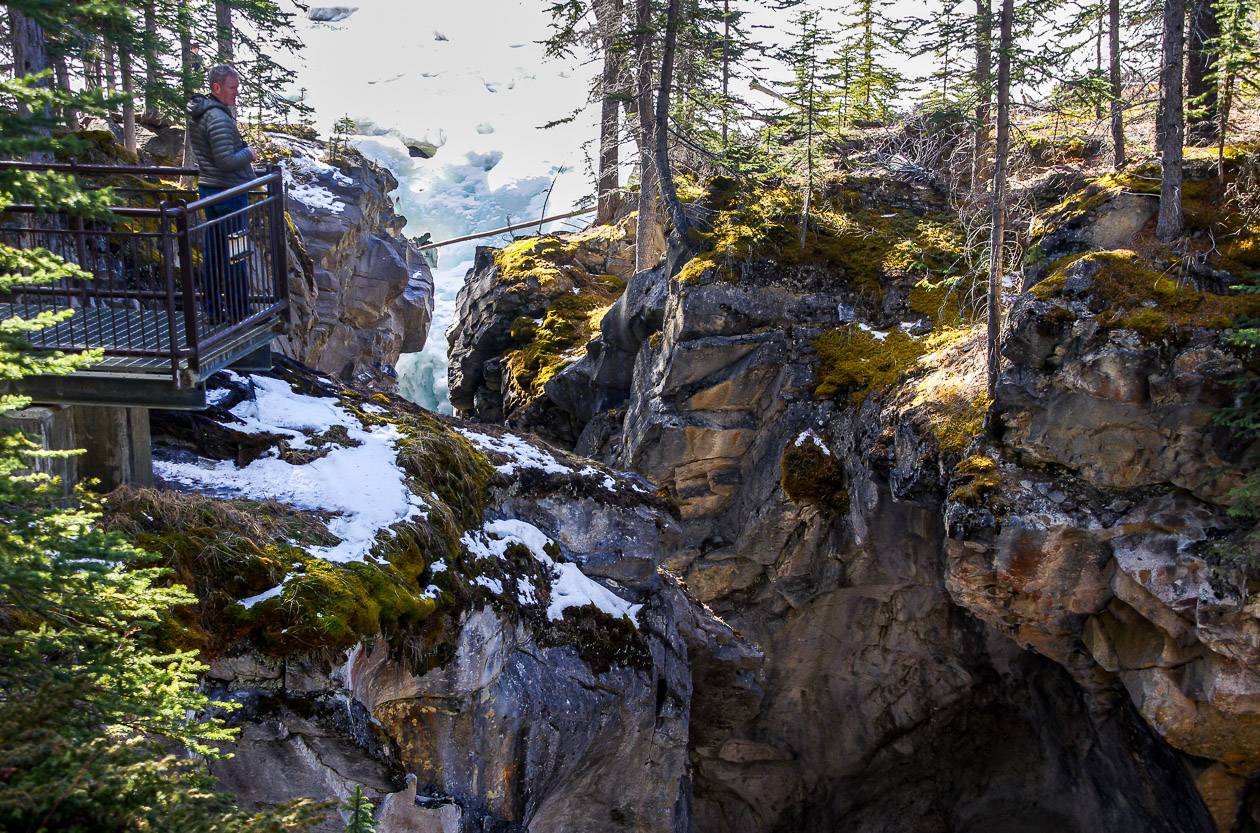 Location map of the Siffleur Falls trailhead
Further reading on things to do in Alberta
Click on the photo to bookmark to your Pinterest boards.