For many people the hiking season ends when the snow starts to fly. But it doesn't have to be that way. Here in Alberta, we're spoiled for choice when it comes to winter hikes – where the only additional equipment you need is a pair of traction devices or icers. Getting out on a winter hike is a perfect way to improve your mood and perhaps give your mental health a much-needed boost. Described below are my top winter hiking tips along with plenty of ideas on where you can go on a winter hike in Canada.
You might be surprised at how many great winter hikes there are across Canada. I always pack a warm pair of winter hiking boots, my icers – and a pair of snowshoes – just in case but for most of the winter hikes I've listed, you can get by with just traction devices unless there's been a fresh dump of snow.
This post includes some affiliate links. If you make a qualifying purchase through one of these links, I will receive a small percentage of the sale at no extra cost to you. Thank you very much for your support.
Practical Winter Hiking Tips
Fifteen practical and possibly lifesaving winter hiking tips are described below. Plan for all outcomes, use common sense – and then chase away those winter blues.
1. Let someone know what hike you're doing
Before you go let someone know what trail you're heading for and your expected time home. Sometimes plans change on the fly so provide any options you're thinking of. If possible, text your plans if they change at the last minute. Providing your license plate number can also be helpful – should you ever get lost – a worst case scenario!
2. Always pack the hiking essentials
Take the 10 hiking essentials. They are the same as the summer with the addition of more warm clothes and more food. Don't forget to include a first aid kit and a headlamp.
3. Winter hiking tips – Hike in daylight
With short days in winter, you must plan accordingly. Get an early start – and choose a trail you can complete in daylight hours. Try to find a hike that is in the sun – as it will be significantly warmer than any others. On windy days look for hikes at lower elevation in the trees.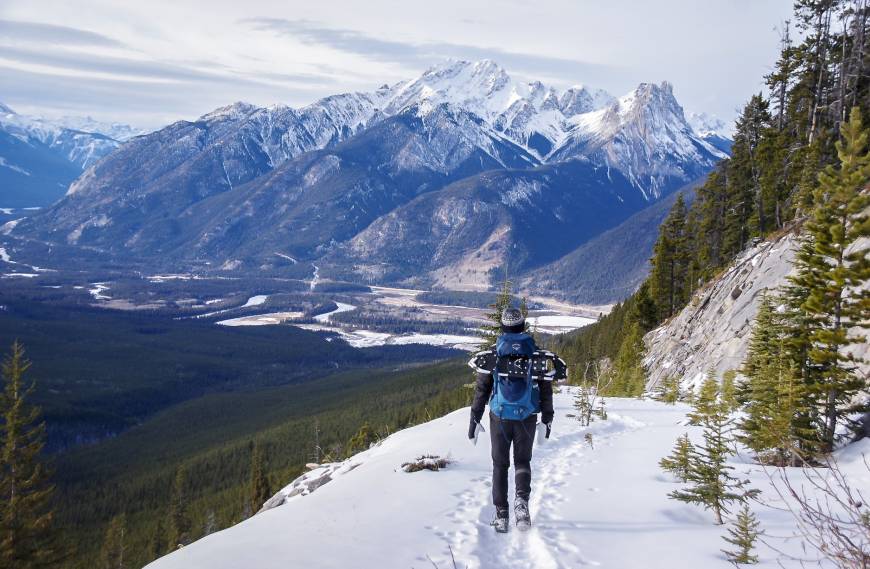 4. Look for a trail that will warm you up quickly
One of the winter hiking tips that relies on common sense is to pick a trail with some uphill like Prairie Mountain – a favourite trail of mine near Bragg Creek, that will warm you up in short order, even on a -25°C day. You'll get warm quickly and may need to peel off layers until you stop or start the descent.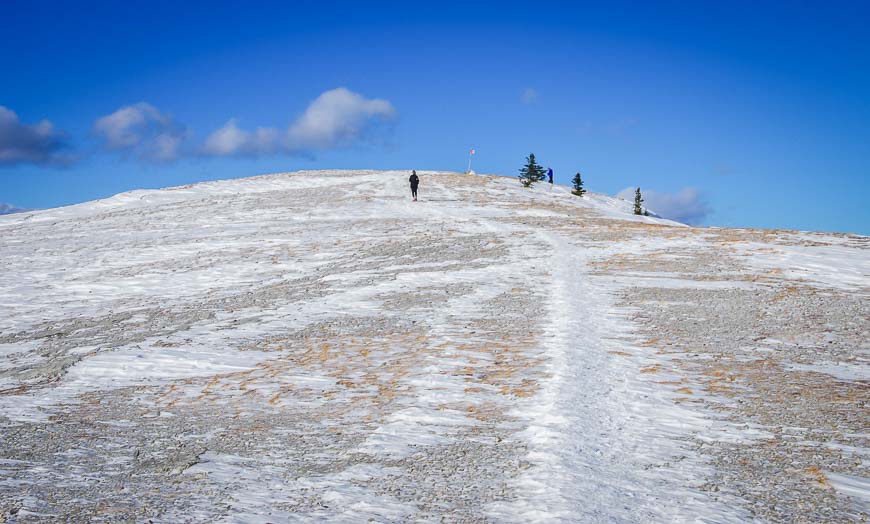 5. Winter hiking tips related to avalanches
For winter hiking safety you need to be avalanche safe. I prefer to stay away from avalanche terrain altogether as forecasting is a bit of an art and not strictly science. If you plan to travel in avalanche country, you and your fellow hikers should know what to look for and what to do in case of an avalanche. You should also carry all the right avalanche gear and know how to use it. Ideally, you should take an avalanche safety course, so you are armed with the latest knowledge regarding best practices.
Check out Avalanche Canada for the latest information.
6. Winter hiking tips – keep your electronics warm!
In cold weather, batteries die quickly. Keep all your electronics warm – especially if you're relying on them for navigation purposes and take extra batteries or a back-up phone charger.
This sleeping bag for cellphones will keep your battery going up to three times longer!
7. Carry a paper map on a winter hike
Even though you're hiking, be aware that directional signs and markers may be hidden beneath the snowpack. Always carry a map and know how to read it. This is one of those winter hiking tips that many with hiking apps might ignore, but "old school maps" have their place.
8. Eat high calorie foods for energy and warmth
This is your chance to consume high calorie foods. You burn more energy trying to stay warm in winter, so you need to keep eating – but keep it simple. Pack easy to eat food like peanut butter sandwiches. If you rely on energy bars, keep them on your person so you don't crack a tooth or buy the softer versions. Some are so brittle when they're frozen.
9. Keep drinking on your winter hike
Stay hydrated and avoid alcohol. I would recommend taking one thermos per person with something hot to drink along with an insulated wide mouth water bottle that is kept in the warmest place in your backpack. I have taken small mouth water bottles on one too many occasions – and I can tell you that the top part of the bottle freezes quickly so you can't get at the liquid.
Be wary of bladders in winter too unless you take an insulating hose. I'd also suggest leaving drinks and extra food in a cooler in your car so you can rehydrate some more on the drive home.
10. Winter hiking tips – Layer up with the right clothes on a winter hike
Layer up when it comes to clothing – and leave the cotton for summer. The idea is not to sweat so try and start off hiking cold.
I always bring a neck gaiter, extra socks in case mine get wet, a pair of gaiters for deep snow, extra winter mitts and a down coat which I throw on at lunch time. Always take hand warmers and toe warmers as well.
When dressing be sure to include a base layer like long underwear for top and bottom, an insulating layer like a down jacket and a shell to break the wind. You will always need a warm winter hat. For winter hiking boots, I swear by my Solomons that are now 12 years old and are still keeping me warm.
Read: What to Wear in Canada in Winter on a -20°C Day
11. Take gear you need for the conditions you'll encounter on a winter hike
One of the top winter hiking tips is to be sure to bring the right gear for the winter conditions you're likely to encounter – but having said that, know how to use the gear too. One of my top winter hiking tips is to take a pair of icers or traction devices with you – as it's often hard to know before you're on the trail how icy it is. I would also suggest carrying a lightweight pair of collapsible hiking poles.
12. Winter hiking tips – check weather and trail reports before you leave home
Check weather forecasts, highway conditions and winter trail conditions before you leave home. The national parks update their list of trail conditions regularly as do most of the provincial parks, particularly Kananaskis Country in Alberta.
13. Winter hiking tips – Tune your car for winter
Coming back to a car that is ready for winter driving is also important. Be sure you've got an emergency kit in your car, along with a snow scraper. I also like to carry a set of jumper cables and a small snow shovel. Keep your windshield fluid topped up too.
Don't forget to carry an extra set of keys! We have car keys somewhere along the High Rockies Trail.
Read: How to survive a winter drive: 15 tips for safety
14. Winter hiking tips related to frostbite
If it's a brutally cold day, especially if its also windy, check your partner or friend often for frostbite on their face. This is one of those winter hiking tips that you often forget about until it suddenly becomes noticeable.
Frostbite shows up as white patches on the face. Immediately take a glove off and warm the spot with body heat but never rub it. If you catch frostbite early, you can resolve it quickly. Sometimes you will get frostbite on your hands and feet as well. Again, warm with body heat but don't rub.
14. Winter hiking tips for dogs
I love to take my dog on a winter hike but I do choose the day. If its too cold (below about -18°C) I just won't take her as the chances of her ears getting frostbite are high. On the other hand, my grand-dog – a Bernese Mountain dog – loves the cold weather and has no problem hiking on the coldest of days.
I would suggest carrying dog booties and a coat for your dog if they are prone to getting cold. Don't forget to bring dog treats and extra water for them as well. I like to carry a collapsible dog bowl.
15. Winter hiking tips: Allow more time to do a winter hike
It's slower going hiking on snow than it is on a dirt trail, especially if there is several inches of the fluffy stuff. Every foot you lift requires more effort – so allow extra time. Also consider doing a shorter hike if there is lots of snow as it can be very tiring.
A sampling of winter hikes across Canada
Put those winter hiking tips to use on one of these winter hikes across Canada. Below are suggestions for most provinces and the Yukon Territory.
Alberta winter hikes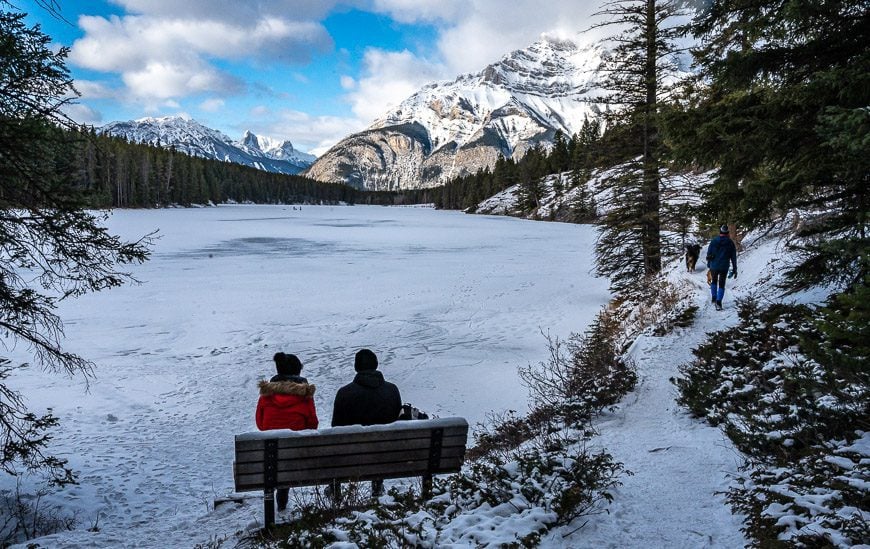 British Columbia winter hikes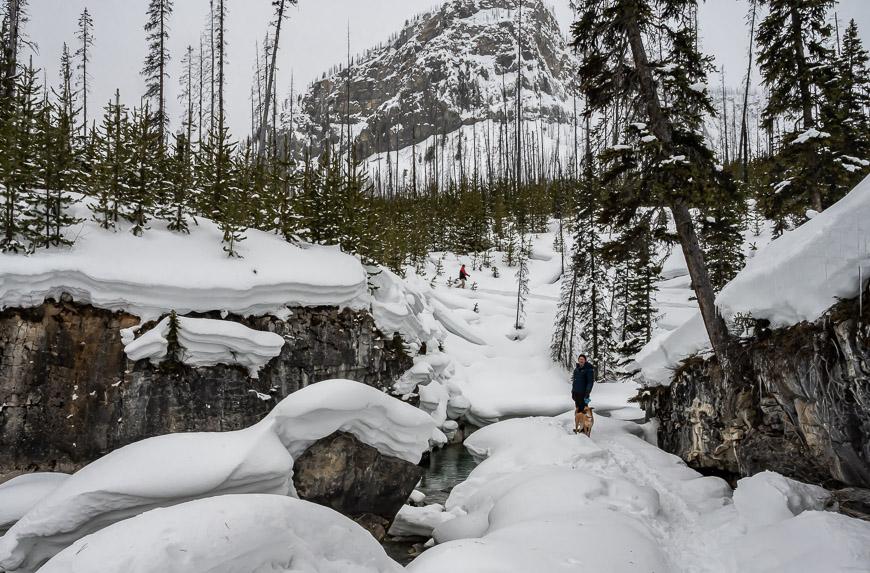 Manitoba winter hike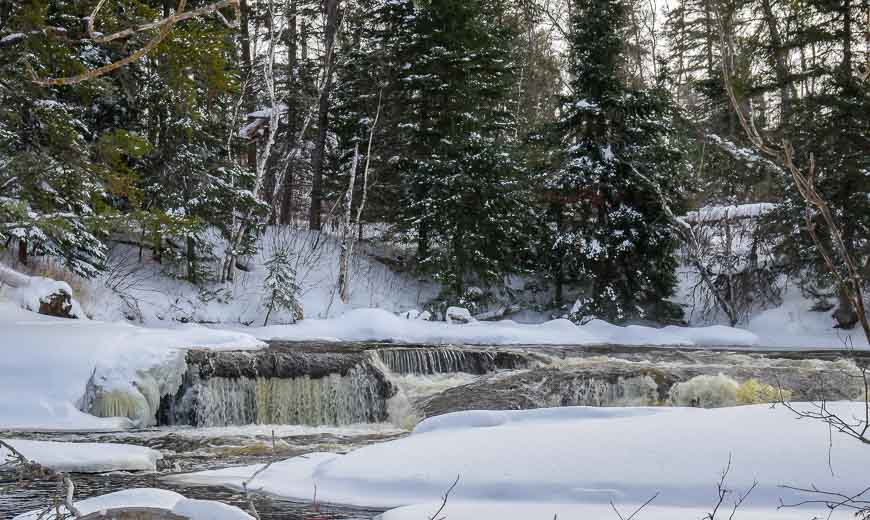 Ontario winter hikes
Rouge National Urban Park just outside of Toronto
Trout Hollow Trail near Meaford
Bon Echo Provincial Park ice falls and the legendary Mazinaw Rock
Crawford Lake – Rattlesnake on the Niagara Escarpment
Any of the Loops and Lattes series of books by Nicola Ross will give you more ideas
New Brunswick winter hikes
Midland Ice Caves Trail
Fall Brook Falls Trail near Boiestown
Sugarloaf Park in Campbelltown
Caribou Plain Trail, Fundy National Park
Prince Edward Island winter hikes
Greenwich Beach Trail
The Homestead Trail
Nova Scotia winter hike
Newfoundland winter hike
Yukon winter hikes
Hidden Lakes Loop in Whitehorse
Click on the photo to bookmark to your Pinterest boards.