Every spring and fall new products hit the shelves of outdoor stores. Some are completely reimagined products whereas others seemingly showcase the colours that are on trend – which from what I've seen this spring are in the peachy or "tea rose" colour category as SmartWool calls it. Spring is also the time new books are released. Two described below coincide nicely with hiking season and another is ideal for any national park lover. I've also included a couple of my favourite pieces of camping gear in this spring product guide round-up.
This post includes some affiliate links. If you make a qualifying purchase through one of these links, I will receive a small percentage of the sale at no extra cost to you. Thank you for your support.
Smartwool products
I received two products to try from Smartwool – a pair of Smartwool Performance Light Mountain Crew Socks and a Smartwool Seamless Racerback Bra. Smartwool is made from responsibly sourced Merino wool. I'm a complete convert when it comes to Merino wool as its soft, comfortable and doesn't stink even after a few days of sweating and hiking.
I took my socks on a four hour hike up and down Ha Ling Peak a few weeks ago and positively loved them. My feet tend to overheat – and that didn't happen but even better, it felt like I barely had a sock on. For me and my terrible feet, they are seriously one of the most comfortable socks I have ever worn. (I have Morton's neuroma and even with orthotics my feet can get excruciatingly painful after a few hours in any shoe or boot, and a lightweight sock makes all the difference,)
For all of you women out there looking for a super comfortable sports bra, look no further than the Smartwool Racerback Bra. It's super comfortable next to your skin and fits true to size. Engineered knit cups have removable padding.
HydroFlask Insulated food Jar
If you're familiar with the HydroFlask brand, you already know how durable and well-made their products are.
This spring they have a couple of new additions – the Insulated Food Jars and Insulated Soft Coolers and Dry Storage Bags that come in various sizes with the ability to keep food or drinks cold for up to 36 hours.
John and I each took a 12-ounce insulated food jar on a hike up Mt. Burke. Inside I'd made a muesli mixture with berries, a nice change from our usual peanut butter sandwich. The jar is leak proof and keeps everything cold so it worked like a charm. It would also be a good vessel for hummus, guacamole, or baba ghanoush. Just add crackers and/or cut-up vegetables and you have a delicious lunch.
The food jars also come in a 20- and 28-ounce size which would work well for car camping. They carry a lifetime warranty and are BPA free. Reportedly they can keep ice cream cold and soup hot for many hours. How cool would that be – an ice cream break at the top of a mountain on a hot, sunny day?
You can buy some of the jar sizes at MEC, Altitude Sports and Sport Chek.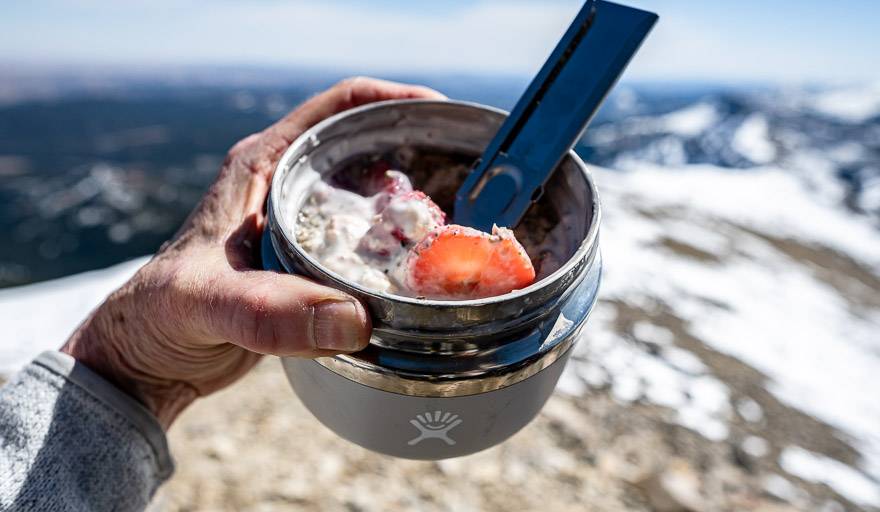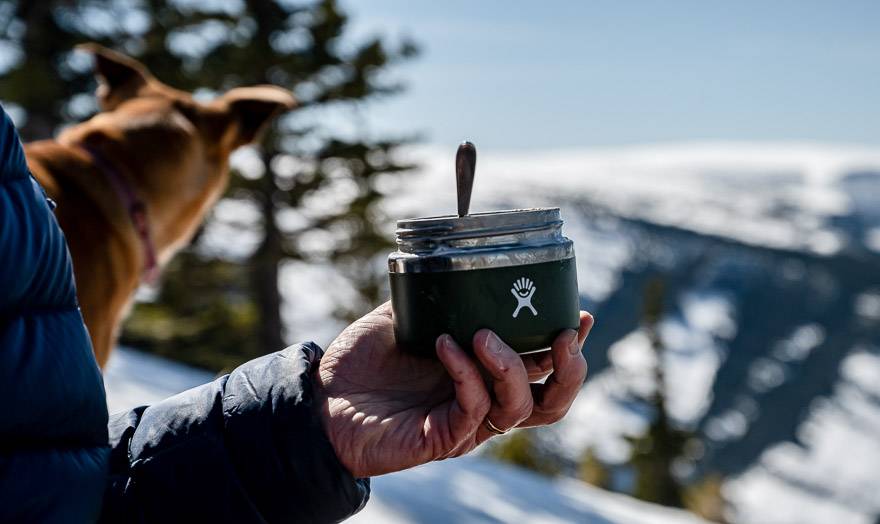 HydroFlask Soft Cooler Totes and Dry Storage
HydroFlask has a couple of new products that will appeal to everyone who loves picnics, camping, and mingling with friends for good times outdoors. (Soon we'll be doing this!)
The soft cooler totes come in 18 L (2.5 pounds and 24 cans without ice) and 26 L (3.4 pounds and 42 cans without ice) sizing. There's a similar product called a 20 L soft cooler backpack that you can carry on your back. It weighs 3 pounds and can carry 36 cans.
The idea behind all of these totes is cold storage for up to 36 hours – and all are waterproof with FDA approved, BPA-free food grade liners.
The fully waterproof Dry Storage bags come in small, medium and large sizes. They can be used for carrying snacks and small items. The largest weighs in at just 7.8 ounces. All boast a touchscreen window so you can use your device should you want to stay connected.
KEEN Footwear
KEEN's Tempo Flex hiker-sneaker is a lightweight choice for casual hikers or anyone who is just looking for a comfortable city walking shoe. And when I say comfortable, I really mean it. However, I did have to wrestle my foot into the shoe, but that entry point should stretch with usage.
What's different about this shoe than other KEEN's is the KEEN. BELLOWS FLEX technology. The bellows are flexible and act like an accordion so in theory you're supposed to use up to 60% less energy for every step because it takes less energy to bend your foot. I think on a short hike, I wouldn't notice the difference, but if I was out for a full day, I would.
The shoe has smaller lugs than a traditional hiking boot, but they still provide plenty of traction without the weight. The shoes are waterproof and breathable. What I particularly like is their styling. KEEN is known for its big toe bumper – and though it's still there, its muted. I prefer this version.
I will almost always take lightweight hikers over heavy hiking boots as they are far less energy zapping over the course of a long day. The only place I probably wouldn't hike with these shoes – knowing my hiking history – is scree-filled trails that have a nasty habit of ripping even the most durable material.
These are a terrific lightweight hiker and a terrific stylish city shoe too.
Point 6 socks
Point 6, a Colorado based company, has done a fine job in the Merino wool world. They are the only company at least in the US, that uses a clean process called Naturetexx, instead of chlorine to clean the wool. With third party testing, they came out with top marks for breathability, thermoregulation, and evaporation speed.
Point 6 makes long and short-sleeved t-shirts, long underwear and all types of socks from ultralight to expedition X-heavy cushion for men and woman. They also have a kid's line.
I tried several of their socks – but not their ultra-lights. The ones pictured below – the Mixed Stripe Light Mini Crew were excellent on a hike to Windy Point – super comfortable and breathable. I also love the range of colours they offer. (The Americans excel with colour options.)
For me their medium cushion socks are ideal for camping when I want to keep my feet warm. I'll pull a pair of these on in my Crocs and use them post hike. They would also be my go-to socks on cold nights in sleeping bags.
Everyone is different with the thickness of sock they like so it's worth trying a cross-section of them. My husband only wears medium or heavy socks and likes the added padding. Sometimes, it also depends on the fit of your ing shoe, so keep that in mind when purchasing.
New books you might enjoy
If you ever plan to visit southern British Columbia and you love backpacking, I recommend a copy of Taryn Eyton's book – Backpacking in Southwestern British Columbia: The Essential Guide for Overnight Hiking Trips. The book is packed with information including pre-planning advice, time and distance, trail maps, route descriptions and tips on where to find water.
Taryn covers Pemberton/Whistler, Squamish, the Sunshine Coast, Fraser Valley and Canyon, Coquihalla, Skagit & Similkameen and even Metro Vancouver. Described are 40 backpacking trips – with loads of fresh ideas for me. In it there is also a great chart outlining fees, reservations, huts, dogs, food storage – basically all the questions you want answered before you go.
For Albertans who love to hike and explore new areas, I really think you'll enjoy Andrew Nugara's latest book – Popular Day Hikes – The Castle and Crowsnest. You'll find loads of fresh hiking ideas for the summer. I found quite a few hikes described offer the option of biking part of the trail. After looking through the book I'd like to do Livingstone Ridge, any of the larch hikes but especially Haig Ridge and North Kootenay Pass on the Alberta- BC border – and that's just for starters.
For anyone who loves Canada National Parks, I think you'll enjoy Park Bagger – Adventures in the Canadian National Parks by Marlis Butcher. She is the first person to visit all of them (I'm a little envious). According to Doug O'Neill who reviewed the book on my website, it's a great read with wonderful storytelling and photos.
For anyone backpacking, camping or paddling in bear country
One of my smarter purchases over the years has been a bear vault. It's small enough (11.5 L) that it can fit in a large backpack – and you can head off into the backcountry with some assurance that your food won't be lost to the bears. There have been times when John and I have camped above treeline and there is nowhere to hang our food. The same goes for rocky places like the Arctic. Sometimes the rocks are too big and heavy that you can't bury your food under a cairn. That's where bear-proof storage can be really handy.
We have also used the cannister on camping and canoeing trips – as an adjunct to a barrel that you use for portaging. It also makes a handy seat in wet weather though you might want to put a blow-up seat cushion on top of it.
A lightweight, portable camp chair
John and I have been carrying Crazy Creek type camping chairs on backpacking trips for as long as I can remember. But there has been a move to more portable, comfortable, and lightweight chairs. The Helinox brand does a fine job (no product received but love what they offer!) of providing a backpacking option in the Helinox Chair One. It weighs 960 g and can hold up to 145 kg. It comes in its own stuff sack and even fits into the side pockets on our backpack.
Do you have any new outdoorsy oriented books to recommend? Or a must have piece of camping gear that you can't live without?
More reading on hikes and places to camp