What a delight the Pigeon Mountain hike near Canmore turned out to be. Once you get away from the powerline and break through the trees, views are superb. The same goes for wildflowers. They're excellent in the meadows in summer and even in early fall when there are plenty of reds and yellows to enliven the landscape. Although the climb to the summit is a stiff one, it modulates often enough that you can catch your breath. For stretches you can even see your ultimate destination – no disappointing false summits on this hike.
Fun fact: In 1858 when the Palliser expedition went through, Eugene Bourgeau named the mountain, Pic de Pigeons, despite the fact pigeons were not in the area. And at one point the mountain was home to a ski hill with two poma lifts. According to the Calgary Herald, 500 children received free ski lessons here every year for about three years. It permanently closed in 1983 and the equipment was sold off.
This post includes some affiliate links. If you make a qualifying purchase through one of these links, I will receive a small percentage of the sale at no extra cost to you. Thank you very much for your support.
Pigeon Mountain hike summary
Distance: Approximately 15.5 km or 9.6 miles return
Elevation gain: About 1,000 m or 3,281 feet.
Time needed: Allow 5 – 7 hours depending on your hiking speed and how much you like to linger on summits.
Level of difficulty: Hard, primarily because of the elevation gain.
Dogs: Allowed on a leash.
Water: Carry lots of water as there are only a few places along the fire road for dogs to drink or for people to refill water bottles.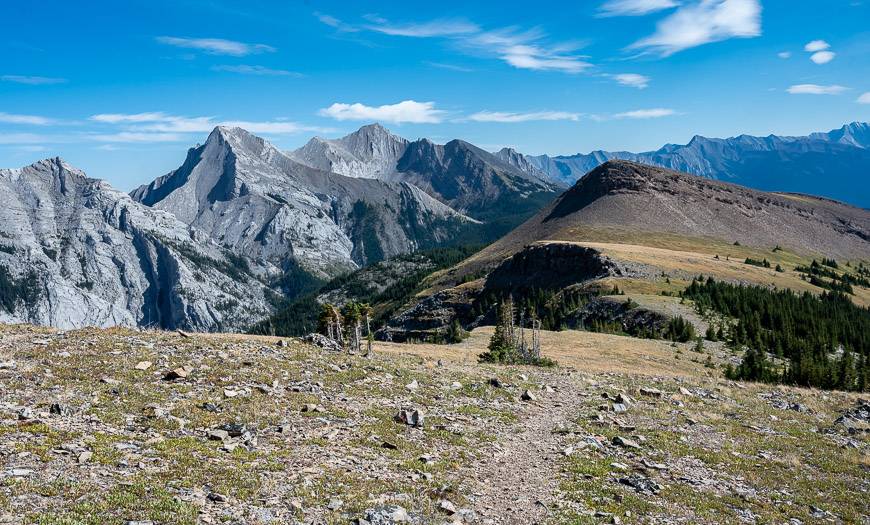 Finding the Pigeon Mountain trailhead
A real bonus to doing the Pigeon Mountain hike is the relative ease of getting to the trailhead. It is accessed from Dead Man's Flats, just an hour's drive from Calgary or a 10-minute drive from Canmore.
Drive west on the Trans-Canada Highway from Calgary to the Dead Man Flat's exit. Go south on the overpass and drive up a gravel road to a parking lot located just past the Banff Gate Mountain Resort. If it's busy, you may have to park on the road.
The trailhead is also used for hiking up the Wind Ridge Trail, and Centennial Ridge. (One year we did it as a one-way hike and descended the trail from Mt Allan to the parking lot used for this hike.) In theory, you could hike to Skogan Pass too though it's better in winter when you can ski it, at least if the snow is good.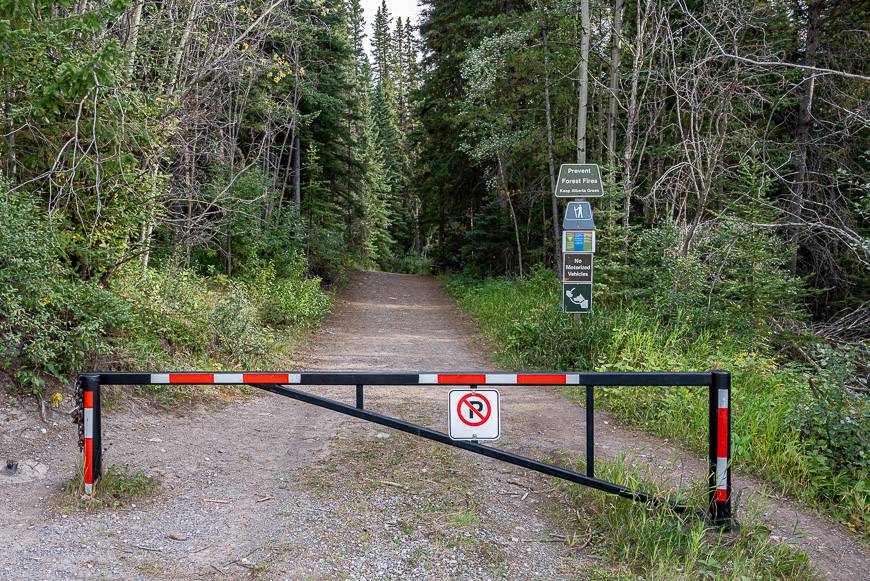 Pigeon Mountain hike location map
Pigeon Mountain hike description
From the main trailhead, hike about 100 m to reach the intersection pictured below. Go left and start hiking under the powerline. Follow it towards Skogan Pass for about 4 km. You may be sharing the trail with mountain bikers – and in fact you could cycle up to the turnoff and lock your bike in the woods. It would make for a fun, fast descent on the road.
The trail weaves away from the powerline and into the woods on three occasions – which was a treat in the heat as it was shaded. It took us 1 hour and 20 minutes to reach the trail to Pigeon Mountain proper.
If you kept going you would reach Skogan Pass. From there you can to a long descent to the parking lot used for the Troll Falls hike.
From the turnoff at the Skogan Pass Trail you can count on a lot of steep climbing – though with great views. In total you have another 535 m (1,755 feet) to climb over approximately 2.8 km.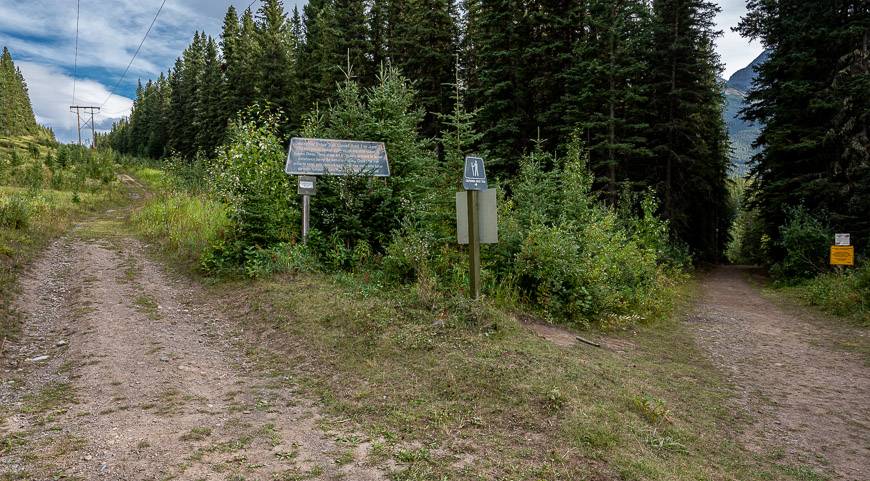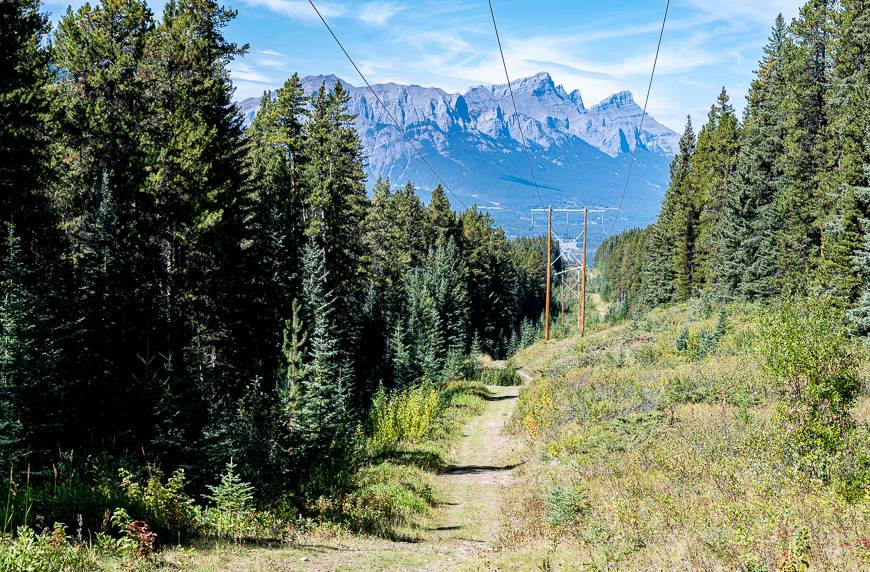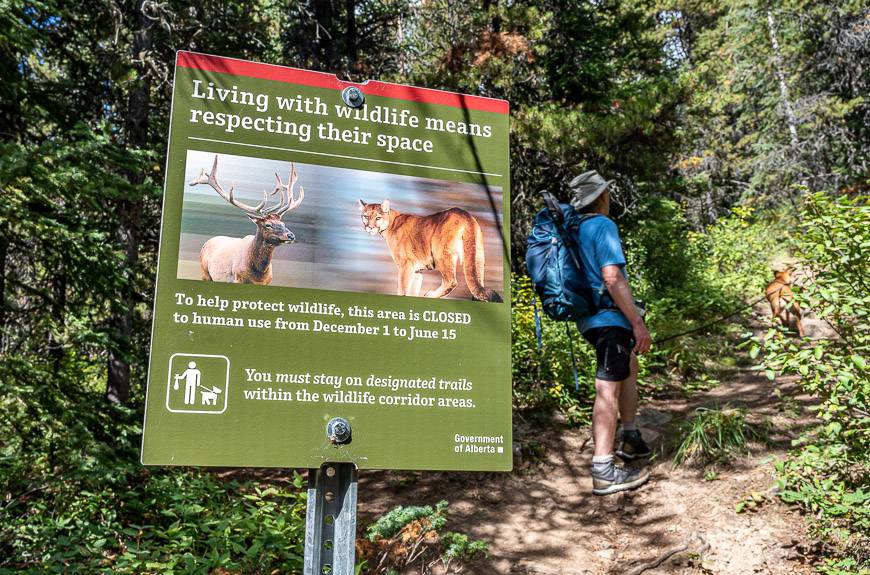 Once you turn off onto the Pigeon Mountain trail, hike steeply up through the trees for about 10 minutes to reach an open area. Catch your breath before continuing – as you can see what's in store for you. You're into the steep section on the Pigeon Mountain hike now.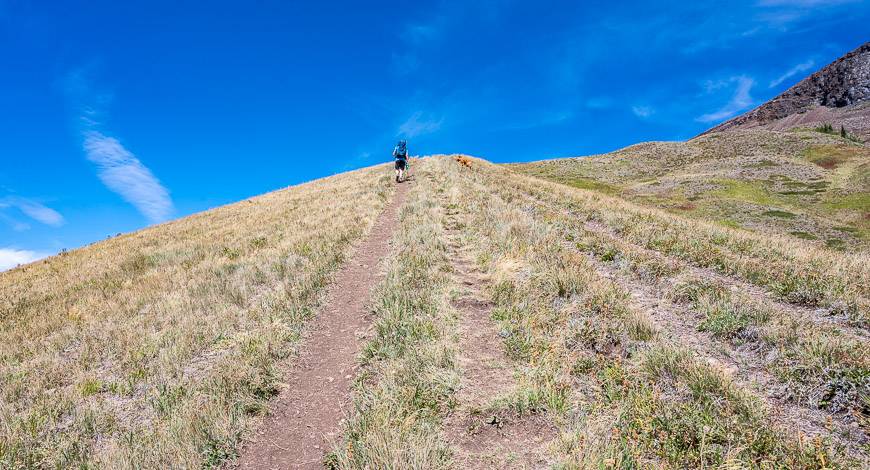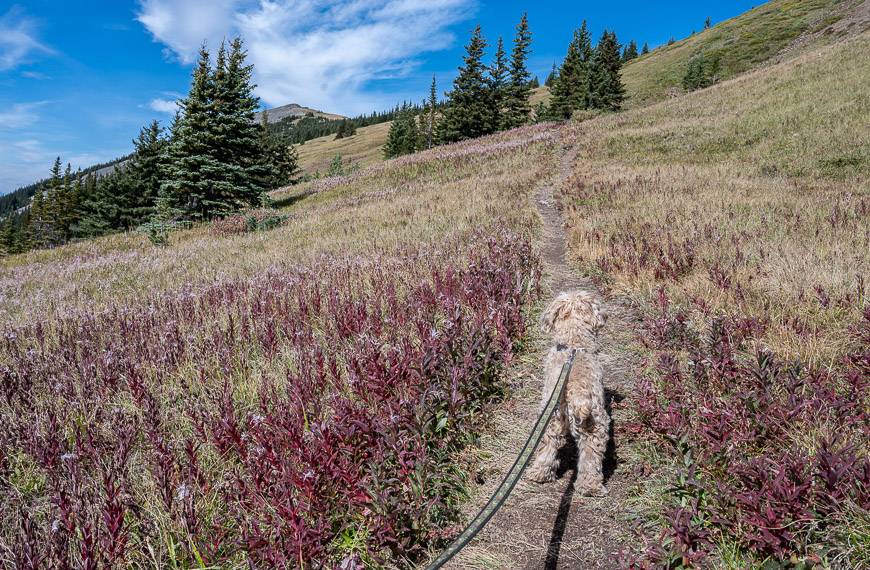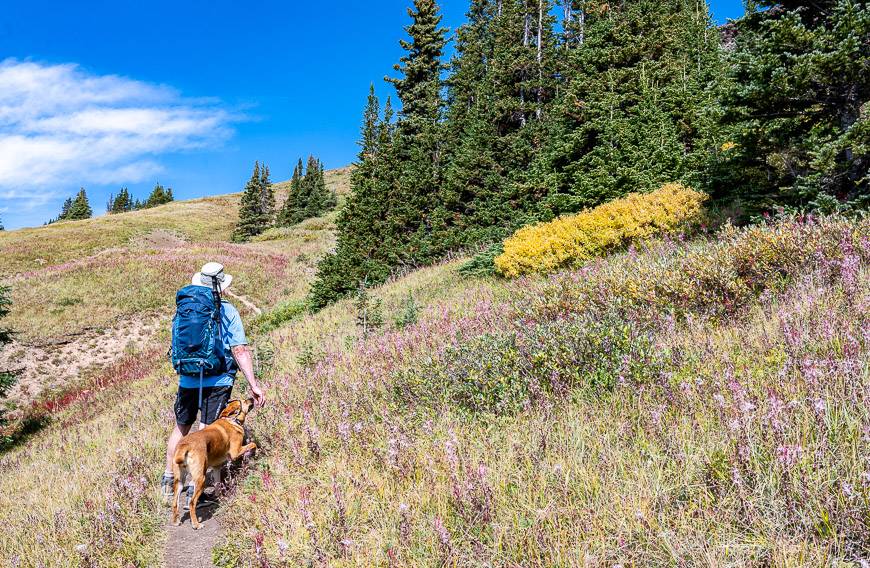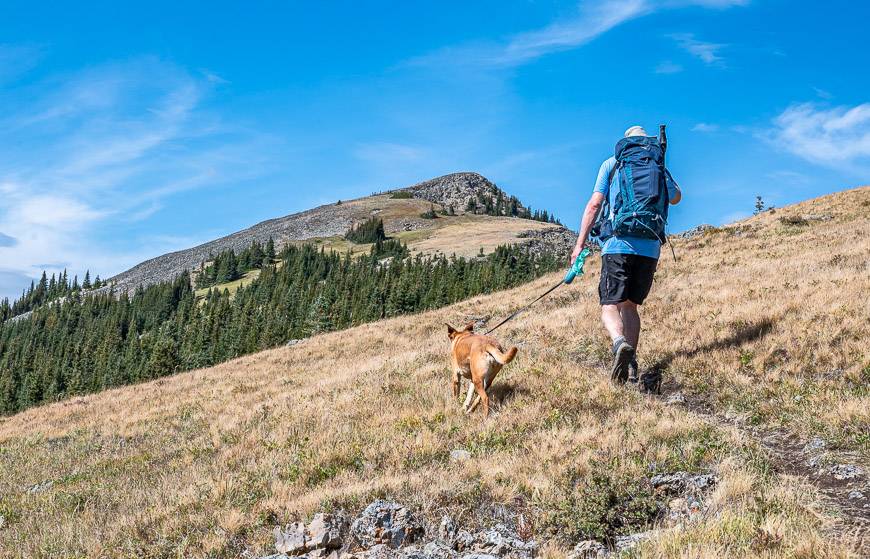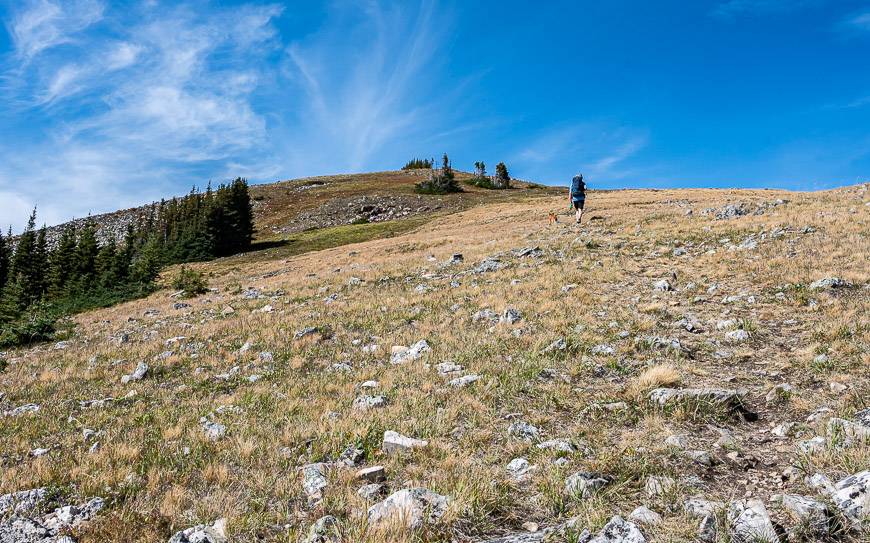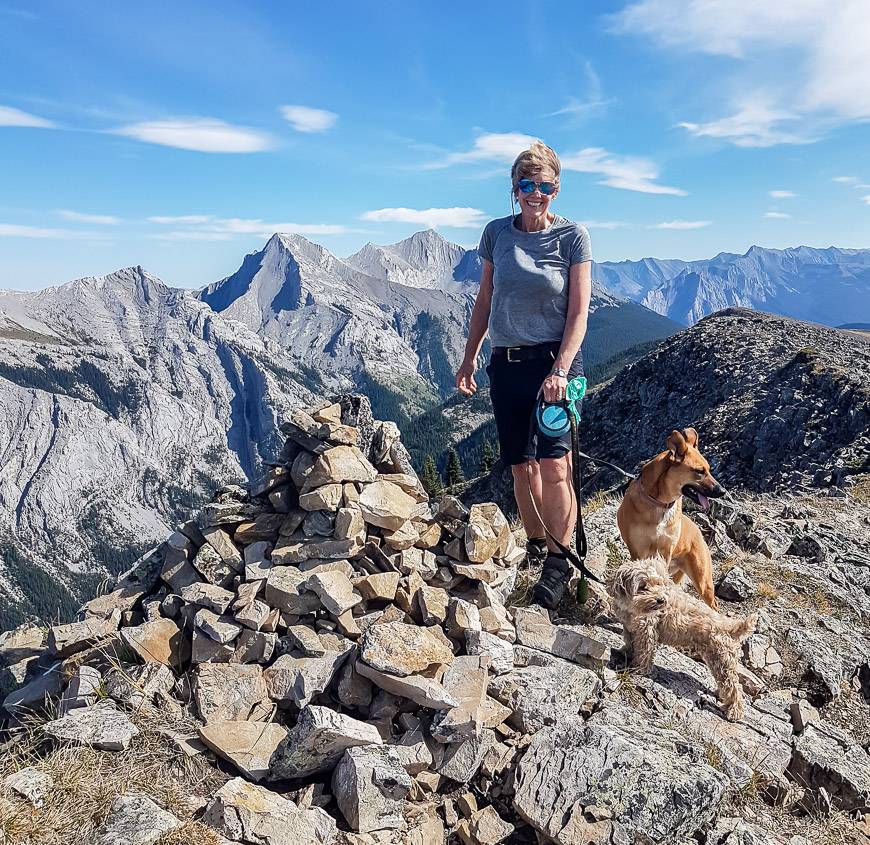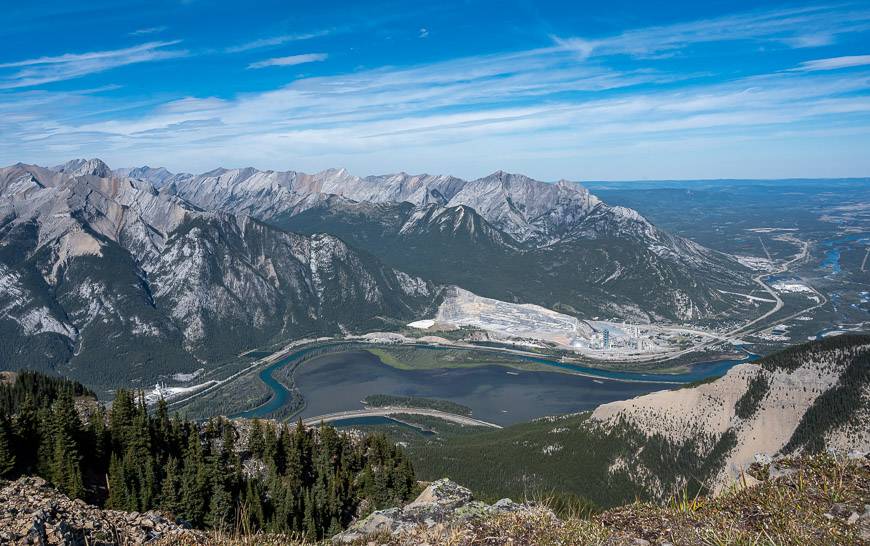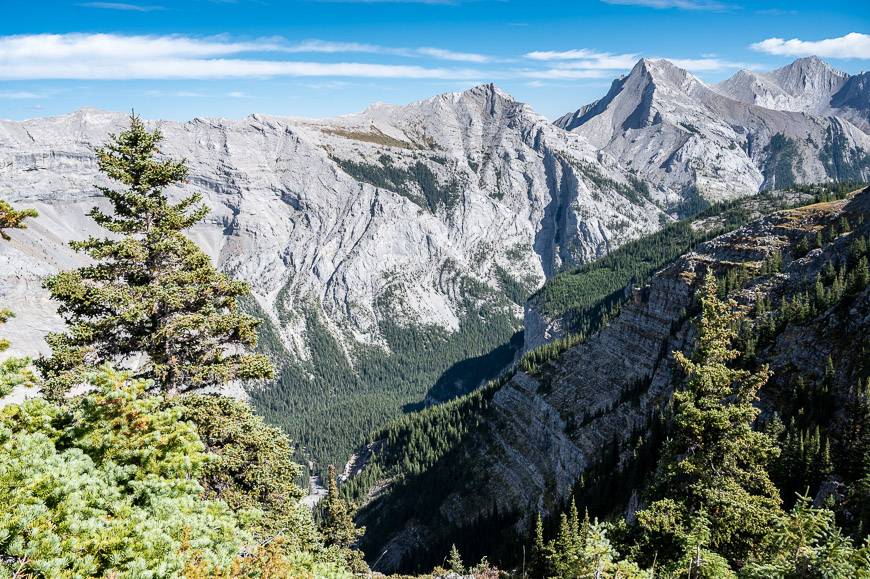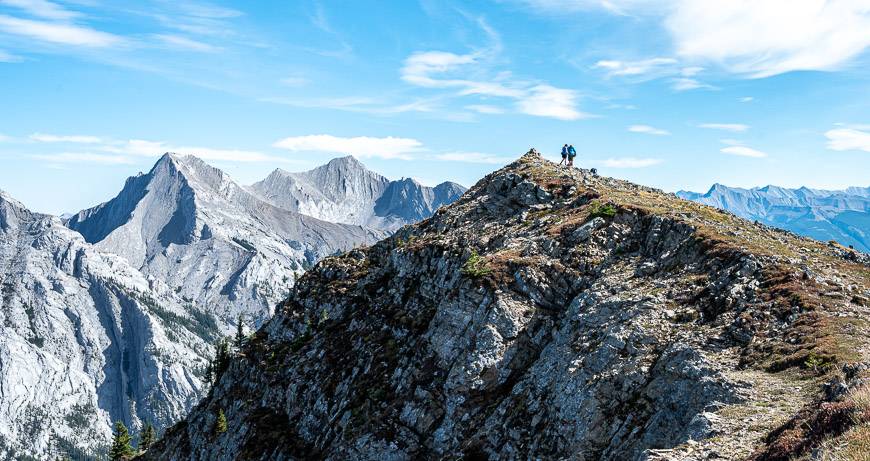 The descent from Pigeon Mountain
It was a treat to focus on the landscape and not my heavy breathing on the way down. It took us just an hour to get back to the junction with the Skogan Pass trail. The mountain scenery was excellent the whole way down to the trees. I think a lot of you might like hiking poles in this section. They'll save your knees.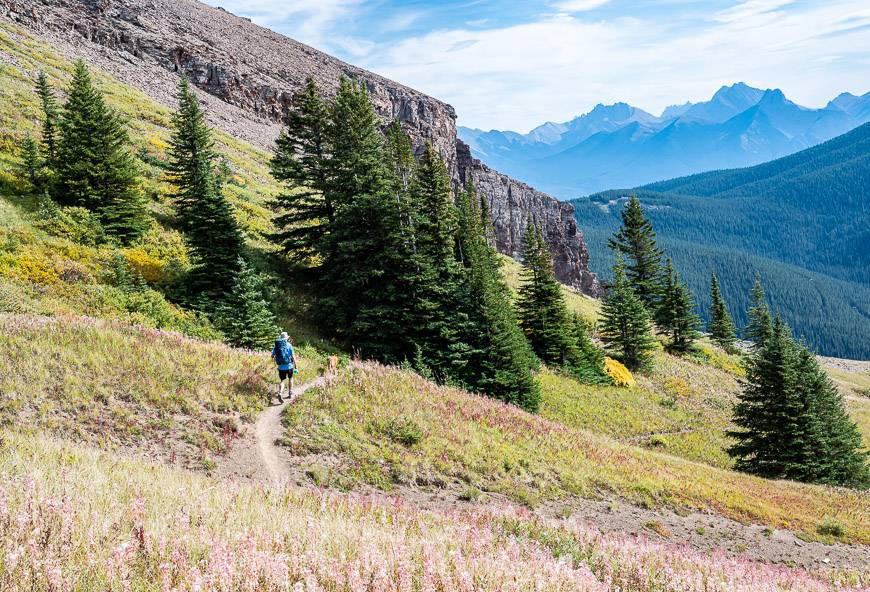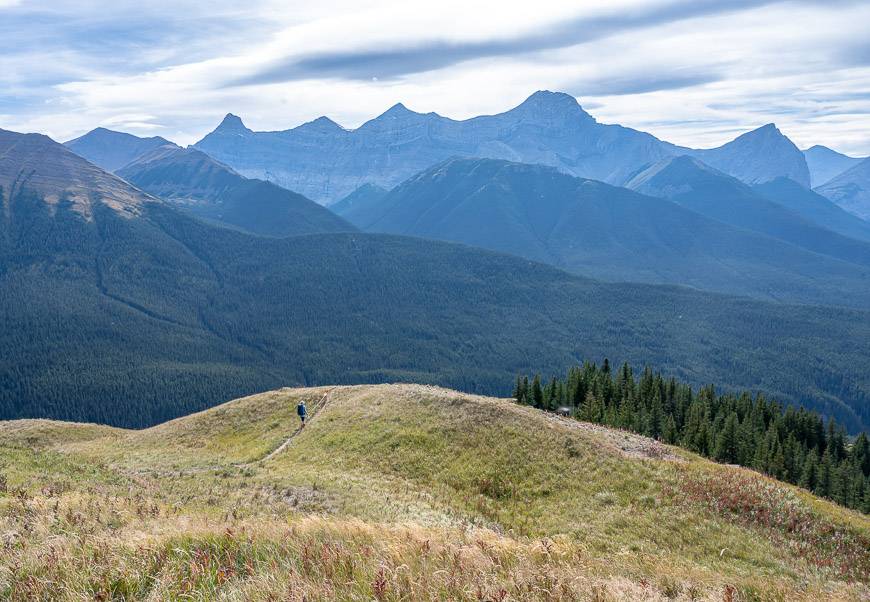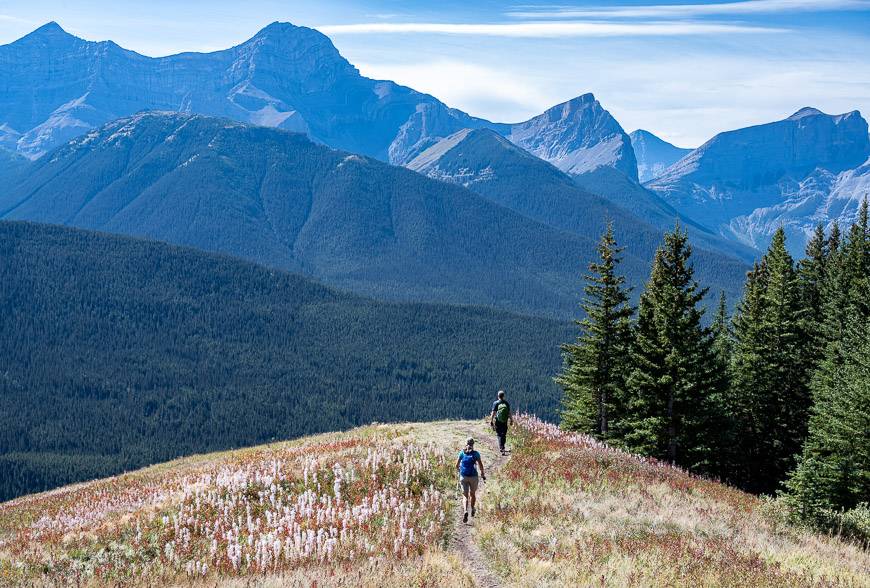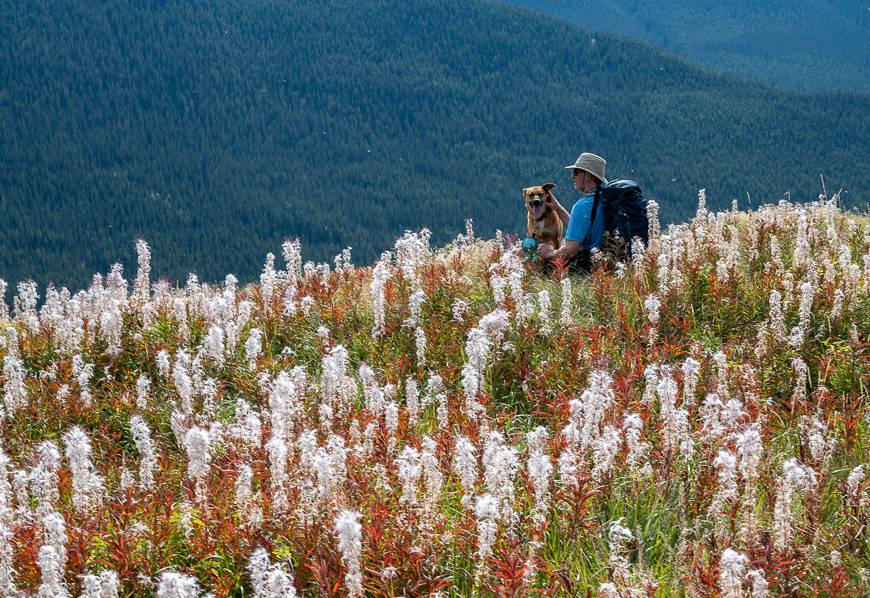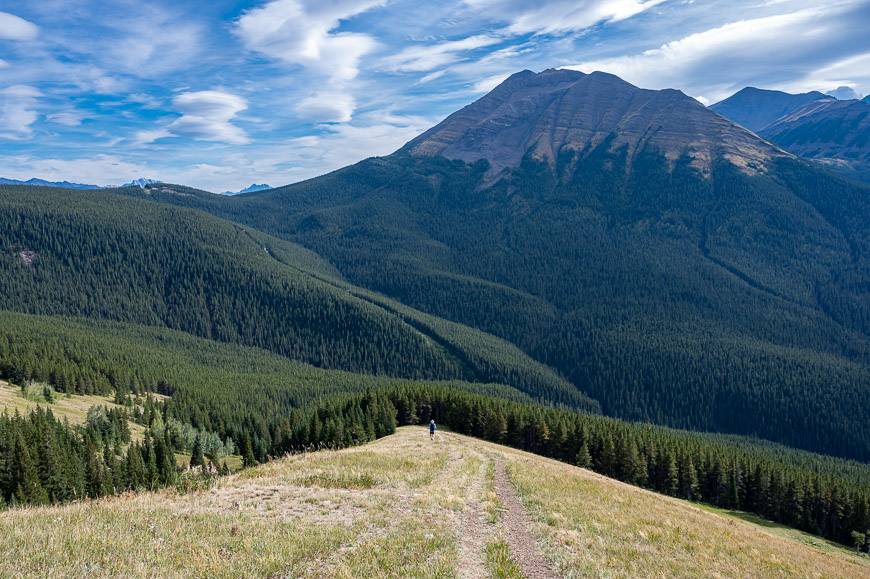 A few things to take on the hike
Take lots of water for you and your dogs as there is only one place to get it – and that's about 20 minutes in from the trailhead. I like carry a dog water bottle with me that is easy for them to drink from. You could also carry a collapsible bowl.
It can get blowy on top so pack a warm coat. I love the Patagonia down sweater and take it even in summer.
An inflatable seat cushion is a treat to sit on at lunch time.
Interested in more hikes nearby?
For a tough hike with a short section with exposure and chains, check out the Yamnuska hike.
Try Ha Ling Peak (reopening sometime in 2023) or the Sparrowhawk Tarns – though do it earlier in summer when the tarns have more water.
For a short and unusual hike try the Heart Creek Bunker Trail.
Where to stay near Pigeon Mountain
The closest place to stay – The Banff Gate Mountain Resort, is just a few minute's drive from the parking lot.
Nearby Canmore has options for all budgets.
The Basecamp Resorts (a self-check-in hotel) is an excellent choice if you want to be able to cook a meal or two. They have a great outdoor hot tub with a view.
For an upscale experience check out the Malcolm Hotel.
For a B&B option in Canmore I have enjoyed a few stays at A Bear and Bison Country Inn.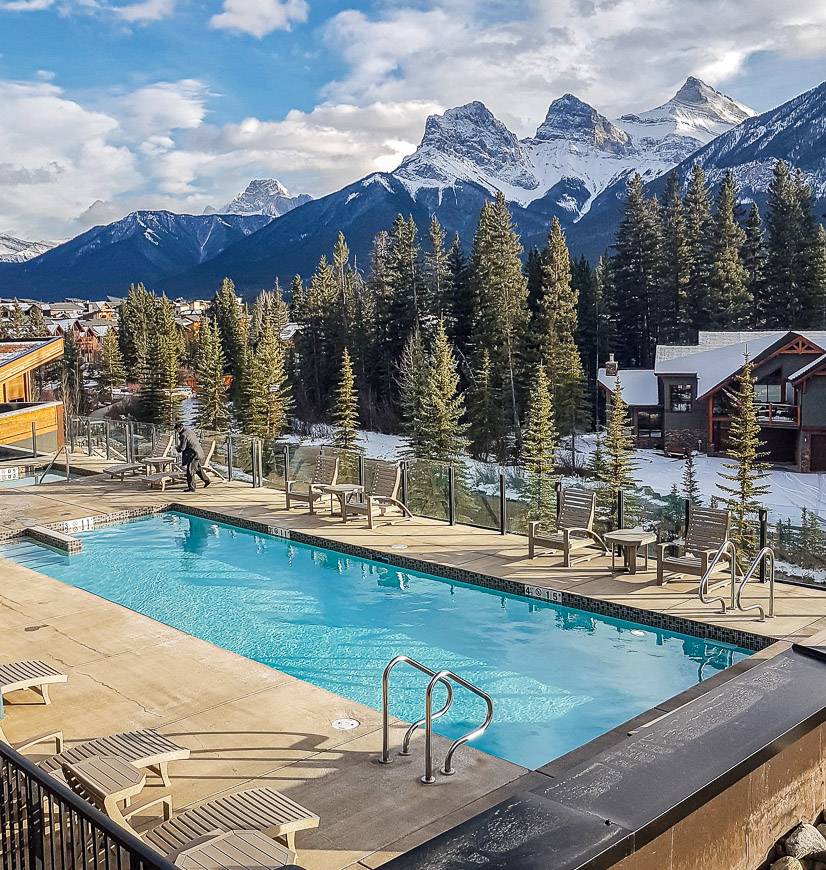 Click on the photo to bookmark to your Pinterest boards.