Mount Yamnuska stared me in the face for long enough. I decided that it was time to stand on its airy summit – elevation of 2,240 m or 7,349 feet but little did I know what I was in for. The demanding Yamnuska hike is full of surprises. The hike is not one for novice hikers, young families, or people who are completely risk adverse to any exposure. But you can do the hike to the chimney without any fear of exposure – though even that is a stiff climb. Still it offers some great views.
Mount Yamnuska hike summary
Purchase a Kananaskis Conservation Pass before beginning the hike. If you plan to hike a lot in Kananaskis, purchase the year long version, good for two vehicles registered at the same address.
Check the weather forecast before heading out.
The family-friendly (older kids) Raven's End hike on Mount Yamnuska takes you to the cliff base at the eastern edge of Yamnuska. This hike climbs 430 m or 1,411 feet over a distance of 3.5 km (2.2 mi).
The loop trail to the summit of Mount Yamnuska and down is 9.8 km (6.1 mi) with an elevation gain of 887 m or 2,911 feet. It is rated as difficult because of the scree and chain section. It has the potential to be dangerous if the weather deteriorates, you get off course, you freeze on the chain section, or any number of other issues. Hikers have died on this mountain.
The Yamnuska hike is best done after the snow leaves – which can be in late April some years and in May other years. The summer and early fall are ideal for hiking though you'll need to carry lots of water.
As a precautionary measure take microspikes early in the season and an

ice axe

, if you know how to use it. There's no harm in turning back if its not a comfortable hiking experience.
Always take the hiking essentials, especially as weather can change quickly.
Some people take dogs but I personally wouldn't advise it.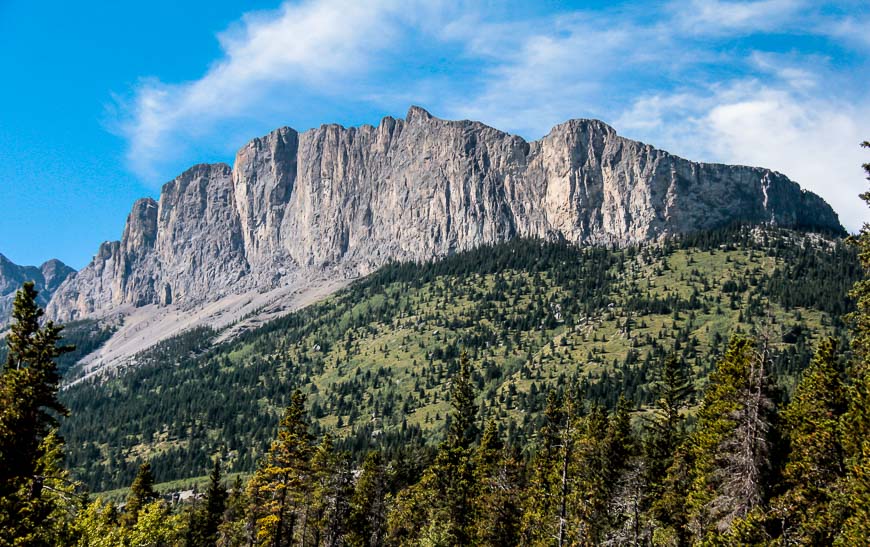 Mount Yamnuska hike upgrades
The trail reopened in 2022 after the following upgrades were made.
The original hiker's trail up the east shoulder has been improved and moved.
The previous climber's trail up to the rock has been improved and moved.
A new trail has been added that avoids the scree descent.
This is what a hiking friend that did Yamnuska after if reopened had to say about the section from the summit down:
"From the summit it's pretty loose and nasty until you reach the shoulder. I think they re-routed the trail through this section and the good scree that used to be on this section is lower down than the official trail. Now, it's this ball-bearing scree over slabs and hard clay from the summit to the shoulder. Once you reach the shoulder though, you either go left to do the scree run down the front, or you go right to take the new hiking trail down, which is lovely!! It's gentle, firm, and not loose. No scree. Loved this trail."
Interesting facts about Mount Yamnuska
In June 2018 Indigenous plaques were put in place in a number of locations in the Bow Valley. There is a plaque at Mount Yamnuska that explains to readers "that in Stoney the mountain is called Îyâ Mnathka, which means flat-faced mountain." I also learned that the Stonery Nakoda people don't usually climb mountains because they are seen as sacred places.
Yamnuska's sheer cliff faces are approximately 500 million years old.
You can see Mount Yamnuska from the Trans-Canada Highway
You can't miss Mount Yamnuska's impressive rock face on a drive from Calgary west towards Banff National Park, especially when it's bathed in the light from the golden hour. It's the first major mass of rock you see. And it is just 45 minutes from the western outskirts of Calgary.
The mountain is famous in climbing circles for its multitude of routes including Blue Jeans Direct – the hardest climbing route on the wall with an impressive 5.14 rating.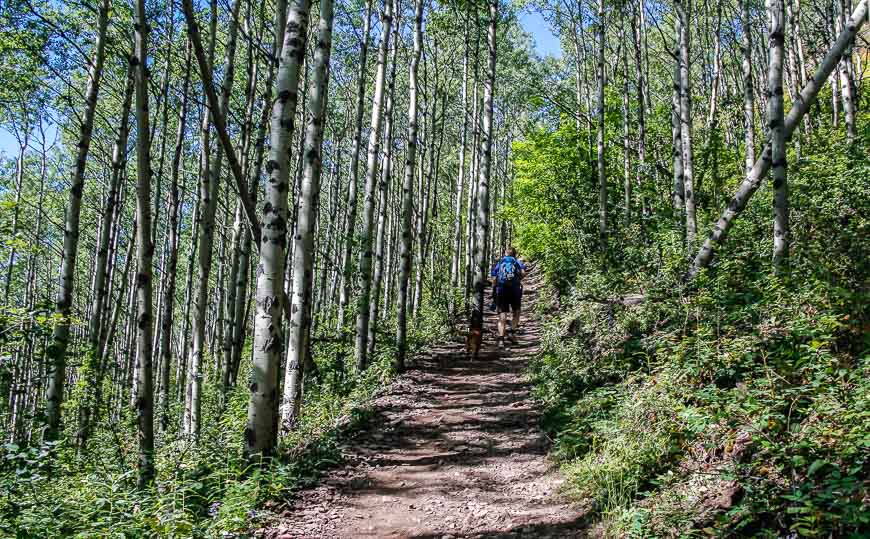 3 areas that can be a problem for some on the Yamnuska hike
Most people hike to the summit rather than climb but go prepared for some scrambling – and exposure. The 9.8-km hike gains 887 m or 2,911 feet.. Except for a few short sections, the hike is almost always going up – and very steeply at times.
The first problem area is the chimney, reached after a solid hour of hiking. It's not that difficult but it does require a few moves and a bit of muscling to make it through the narrow gap.
Then there's a mix of trail covered in scree and rock ledges to reach the real crux of the hike – a narrow exposed ledge with a bulge. It's made safer with chains bolted into the rock. Many people turn back at the chains because of the exposure. Some people bring a harness and a few carabiners and clip in while others – like myself – move forward with concentration.
The section is short – perhaps 50 feet long in total, and the drop-off isn't big but it's enough to be unsettling. To get through it, hold onto the chains tightly and move your feet from toe hold to toe hold. It's entirely doable but it can be nerve-wracking for many people.
The summit is reportedly only 300 metres from the chains, but it feels much longer. A few airy steps and some more climbing will have you on top 2.5 – 3 hours from leaving the parking lot.
I think the worst part through here is the possibility of rockfall, and I can see the value in a helmet. One girl dislodged a medium sized rock near my husband – and a collective "ROCK" rang out, though you really don't have much time to react.
The summit isn't big. On a sunny weekend for a good part of the year you will be sharing it with a dozen or more hikers, and even the occasional dog. From the top you can see the initial route down through the scree – the third problem on the hike.
The scree is actually quite fun – if you stick to the main route. Head through the thick scree – not the pebble sized stuff that will roll your ankle in a second's break of concentration. I personally love scree when it's thick and you can bound down it but if the scree is thinning that's a whole other "kettle of fish" and one of my least favourite parts of hiking on mountains. If that's the case I literally pick my way down a mountain slowly and don't worry about what others might think of my hiking pace.
Note that in 2020 several people have been injured in the scree section. In fact in July 2020 one man in his 30's died in the scree section after a boulder dislodged and hit him. So treat this hike with the respect it deserves. Go prepared. Be supremely careful on the scree – and should you ever inadvertently dislodge a boulder (Heaven forbid!) YELL "ROCK".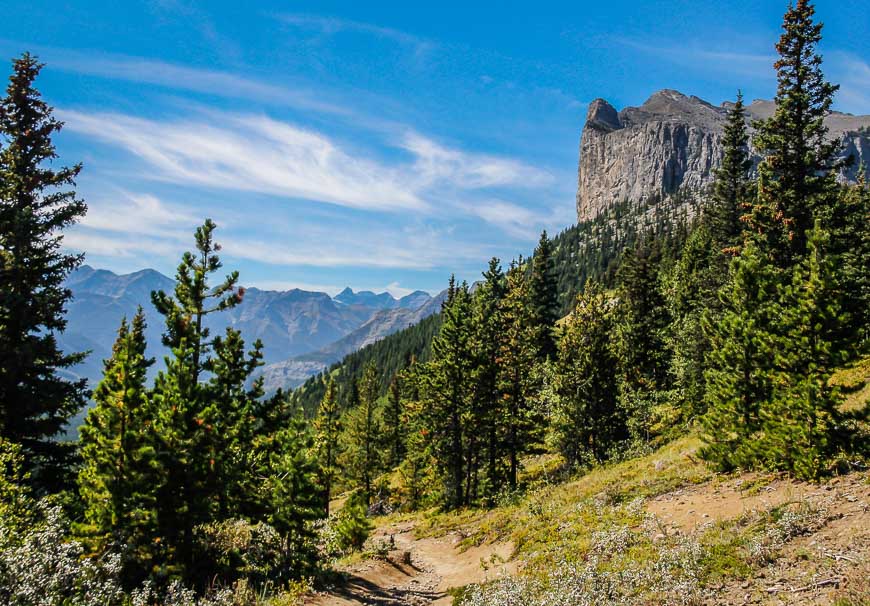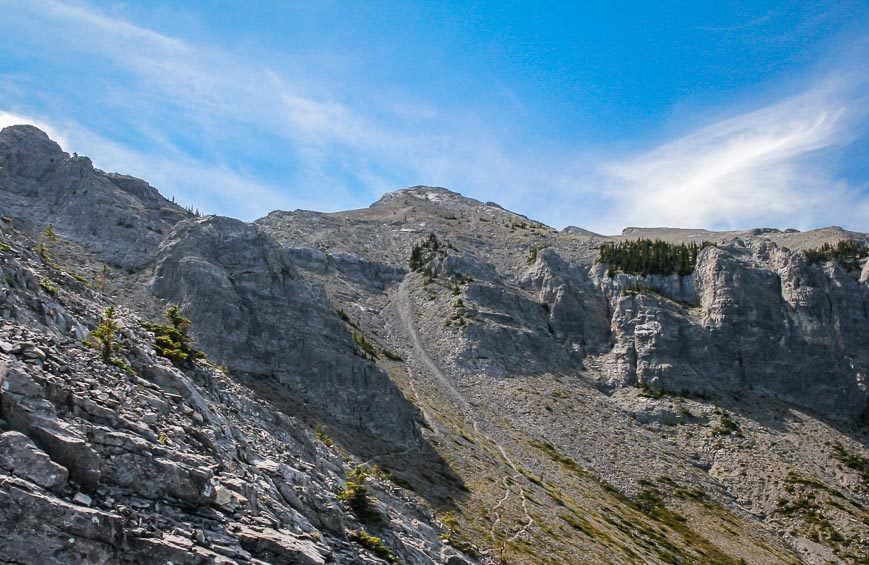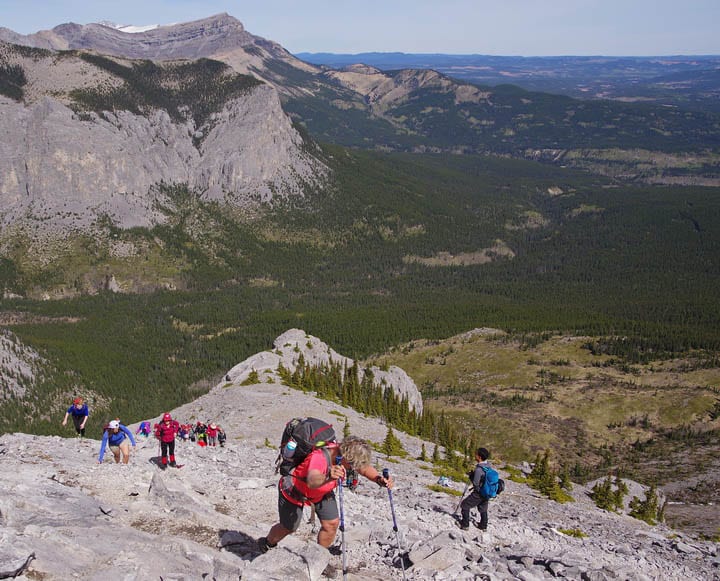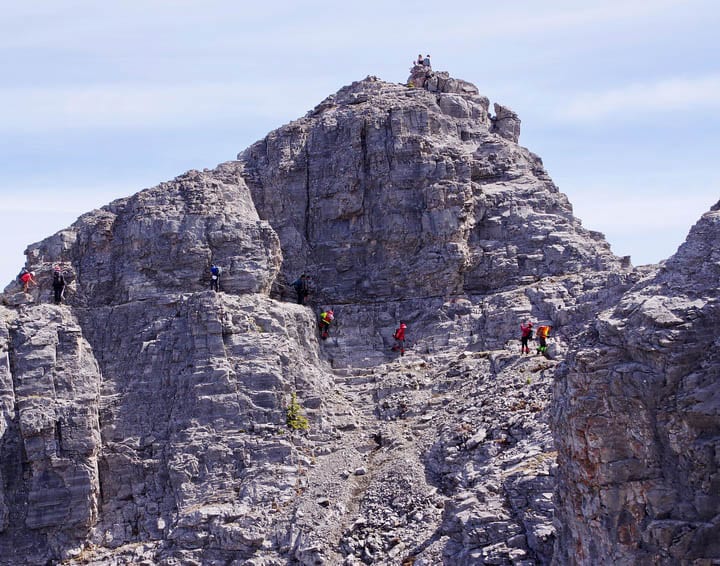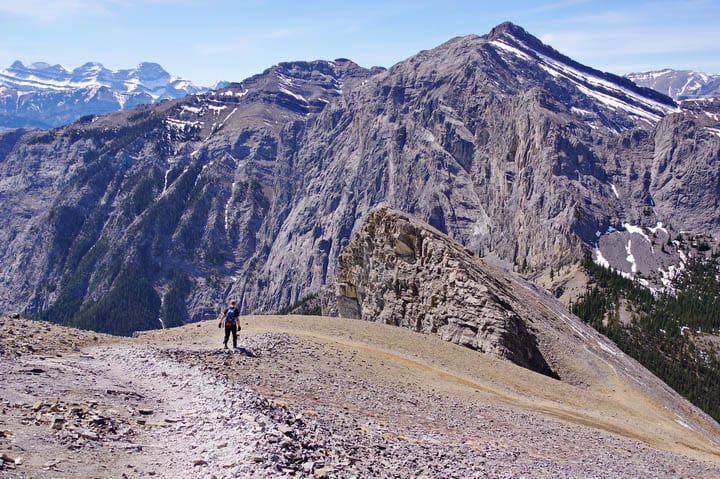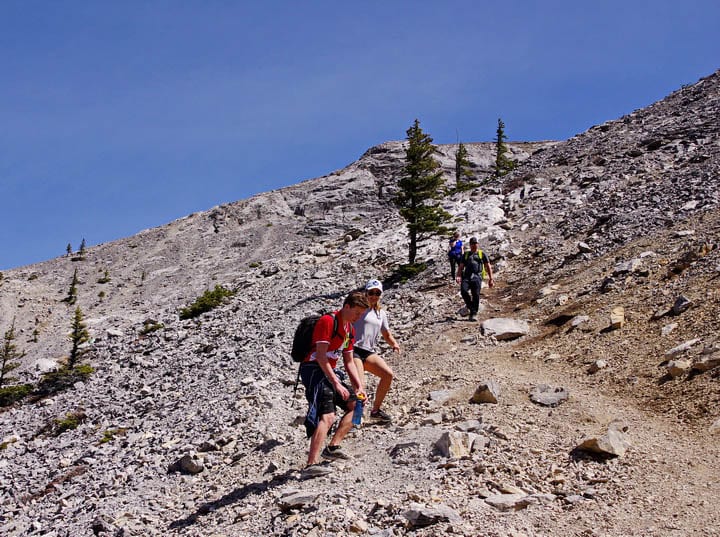 The descent off Mount Yamnuska
The descent feels long and hot (bring two litres of water minimum on this hike) but parts of it are a whole lot of fun – especially the final big descent down the scree field you can see from the highway. John and I have both said we'll never look at the mountain in the same way now that we've been down that slope.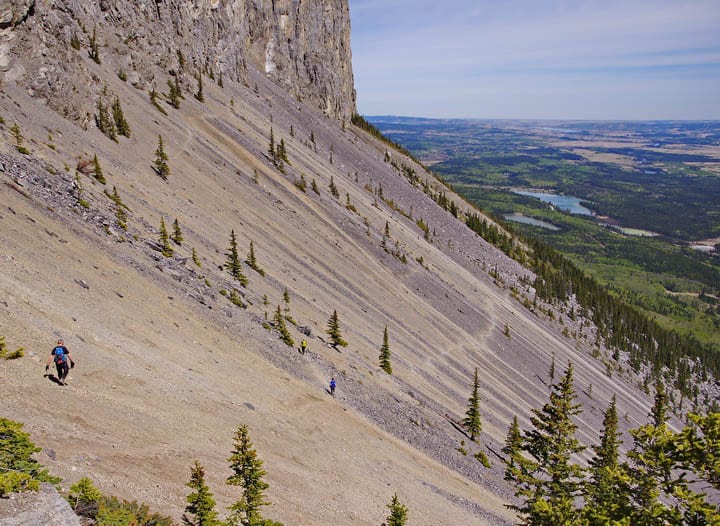 I always find the last kilometre at the end of a hot day the most tedious. Although it felt good to be back on an easier trail with some shade, all I wanted was a cold drink and a pair of sandals by day's end.
What should you bring for the Yamnuska hike?
Real hiking boots as opposed to running shoes with no tread are highly recommended.
Gaiters would be good in the scree.
Mountain weather can change quickly so always carry extra clothes and rain gear, even on a hot sunny day.
Water – a minimum of two litres per person. If you take your dog on the Yamnuska hike, bring lots of water for them as well.
A helmet and harness would be optional but recommended. Helmets are less of an issue on weekdays when there are fewer people hiking.
Where is the Mount Yamnuska Trailhead?
Drive the Trans-Canada Highway west from Calgary to Exit 114 signed to Seebee. Head north on 1X to Highway 1A. Turn right (east) and follow the road about 2 km to the parking lot on the north side of the highway. It is signed "Yamnuska."
From Canmore, drive 35 km east to the Highway 1X. Again head north to Highway 1A, turn right and drive for 2 km to reach the parking lot signed for Yamuska.
Final thoughts
The Yamnuska hike is more challenging than many. Fortunately it's also fun as it offers a variety of hiking experiences. Before you go, ask yourself how you do with exposure. If uncomfortable wait till you gain more experience.
Where to stay in the area
There is camping in Bow Valley Provincial Park and along Highway 40 south of the Trans-Canada Highway.
Recommended reading: A Complete Guide to Camping in Kananaskis
In Canmore there is everything from B&B's to hostels and high end hotels.
On the B&B front, I can recommend A Bear and Bison Country Inn.
A higher end hotel option is the Malcolm Hotel with its beautiful outdoor pool and hot tub.
The Alpine Club of Canada runs the Canmore Hostel.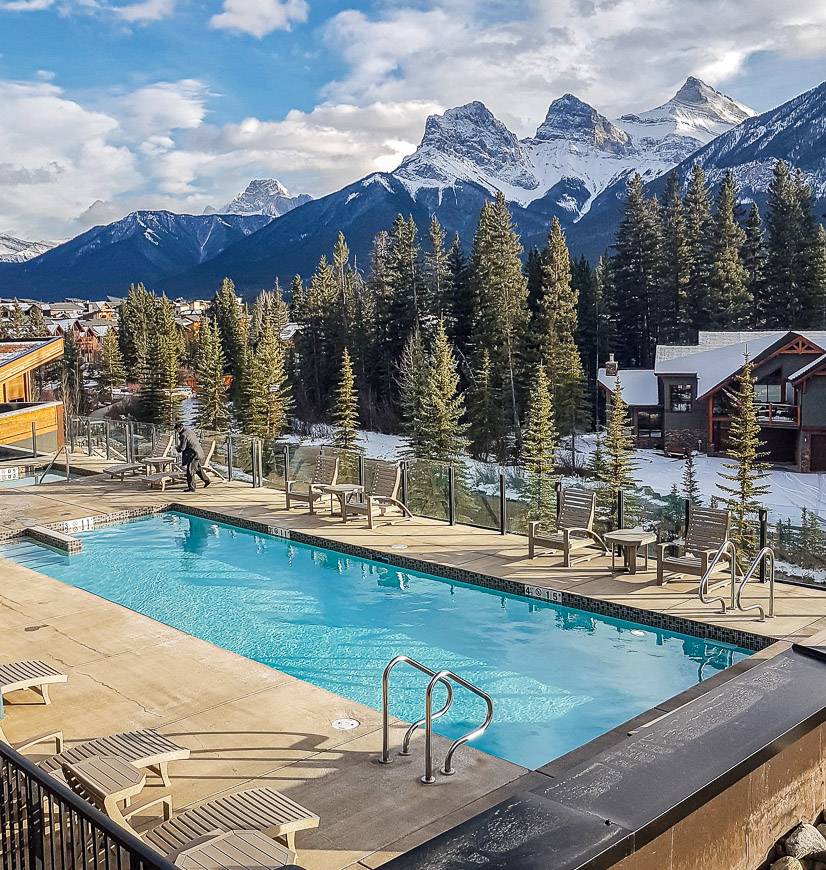 More mountain hikes that are close to Yamnuska
Click on the photo to bookmark to your Pinterest boards.