If you're visiting Vancouver or anywhere in the North Vancouver – Whistler corridor – and you're looking for fun Vancouver day trips then put the sea safari out of Sewell's Marina in Horseshoe Bay on the must-do list. As far as day trips in Vancouver go, it's one of the most interesting and rewarding ones out there. And kids will love it too. Here's why!
Sewell's Marina, a long time business located in the Village of Horseshoe Bay, is known for renting boats for day use (you can take a safety course on the spot) so you can explore Howe Sound. They also offer organize guided fishing trips but best of all they operate a seasonal sea safari.
I have no excuses for why I waited so long to take this tour – but it's probably because when I lived in West Vancouver it was so close to home that it didn't feel exotic enough. Was I wrong!
The Sewell's sea safari tour goes like this
Show up thirty minutes before your tour begins so you can sign all those nasty liability forms. Then pull on one of the not so pretty survival suits. Even if you're the fashionista type. They're supposed to act as a life jacket and will help you stay warm…for a while.
Then its the requisite safety talk but thankfully its short. In no time you'll be in the boat.
I joined another family from Burnaby who have also lived here for more than a decade but never explored the area. It took a visit from out of town Toronto relatives to get them out too.
We left the harbour, heading north towards Lion's Bay. This was our first chance to see what the boat can do. Plenty as it turns out which is what one would expect with two 225 horsepower motors. And it's incredibly maneuverable – as aptly demonstrated on several occasions by our guide Darren.
Affiliate links ahead, which means I receive a small percentage if you purchase anything through them at no extra cost to you. This helps me provide free content on this site.
NOTE: If it's whales you're after you'll likely be disappointed in the sea safari. However I have gone whale-watching out of downtown Vancouver and highly recommend the experience. You can book here with GetYourGuide.
You can also book the Howe Sound sea safari here.
Darren is keen to share his considerable knowledge of the area. He'd stop the boat to give us a geology lesson as he pointed up the mountains.
Then the next second he'd have you hanging on for dear life as he swung the boat in tight circles, creating a great big wake. That was a surefire way to get everyone smiling.
Stops at Christie Island and Pam Rocks
Christie Island and Pam Rocks are the next stops on the itinerary. The bird life and the countless number of seals to see are definitely the highlight of the family I've joined, especially for the little girl.
Darren also knows his birds – and their habits. He can tell you the difference between the double crested and pelagic cormorants and point out where they nest. He shows us the harlequin ducks and we spend some time gawking at one of my favourites – the oystercatcher. A pod of harbour seals lie lazily on the rocks with only a few concerned enough to actually move into the water.
See Bowen and Gambier Islands
Next we head for the passage between Bowen and Gambier Islands. This is all new territory for me. I've had peek a boo views from the ferry but I get close-ups on this boat. I just wish we'd had more time to gawk – because there are beautiful little islands, especially in the Pasley Group, that I'd like to explore.
We do a few more donuts on the water to get everyone's attention before heading for the much rougher water in Georgia Strait. Then it's the hold on for dear life feeling all over again as we get slammed with wave after wave.
More birds show up – this time as part of a giant raft of about 1,000 surf scoters. Darren says – that's nothing – we see rafts with 10,000 birds soon. Now that would be incredible.
Since we've rounded the top of Bowen Island the ferries plying the Horseshoe Bay – Nanaimo route come back into view – as do the freighters, sailboats and all the other watercraft that make this area so interesting.
Lighthouse Park
Just before we head north again, we get an interesting perspective of downtown Vancouver from the water. Then to top it all off, we roar by Point Atkinson Lighthouse in Lighthouse Park – which is worth exploring on foot I might add – and finally by some of the priciest real estate in all of Canada.
That's a lot of territory to cover in just two hours but does it ever give you a sense of the place.
If you are really lucky, you might now see pods of dolphins on this tour. They've returned after a very long absence (at least nine years), on account of a resurgence in herring numbers. It's nice to have a good news story for a change.
Orcas are sometimes seen
Interestingly there is a young humpback whale that has been spotted in 2017. And the orcas are replacing dolphins though there are now harbour porpoises. Reportedly anchovies are in abundance and that is helping to bring in the orcas.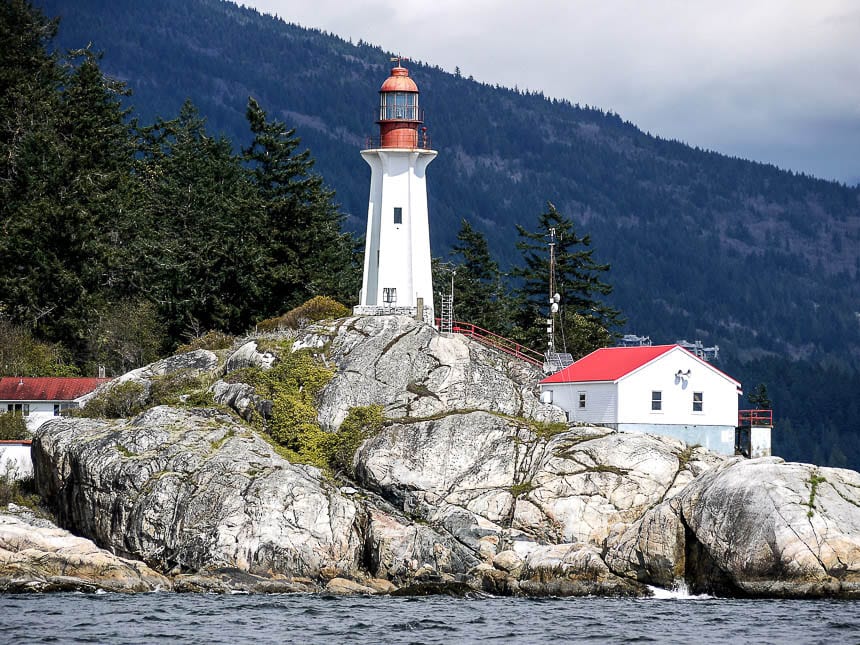 Useful information to book a Sea Safari – 2021 Update
Trips run from April 1 through October 31st only.
Departure times are 11:30 AM, 1:30 PM and 4:30 PM daily. Reserve in advance, particularly on weekends.
Prices are $96.00 + GST for adults, $63.00 + GST for kids under 12 and $86.00 + GST for a student or senior.
You can phone to book at 604-921-3474.
They have a container to leave valuables.
Parking is free for three hours if you park about four blocks up from the water on Royal Avenue.
Sea Safari routes
There are three different routes now. The one described is the Circle Tour. They've added a Deep Fjord Tour and a Bowen Explorer tour – with the option to eat dinner at Doc Morgans on Bowen Island and fly by seaplane back to Vancouver.
The Deep Fjord Tour takes you past hanging valleys, often with a fog rolling down them all the way to Britannia Beach.
These tours are a Canadian Signature Experience – which means they are the best of the best.
If you're new to the west coast or you haven't explored your own backyard yet, don't be like me and wait nine years. Join a sea safari tour and have a whole lot of fun in two hours. I think you'll agree after you've done it that it's one of Vancouver's top day trips.
Further reading on things to do in Vancouver
Click on the photo to bookmark to your Pinterest boards.