The EEOR hike (short for east end of Rundle) near Canmore is an out and back scramble that will test your mettle. It's steep from the get-go with an elevation gain of 875 m over just 3.8 km.
For many people the EEOR hike will be a challenge. It's got lots of loose rock which is unsettling for some – and a cliff band with rock ledges along with some exposure near the top to negotiate. The good news is that there are occasional breaks in the steepness of the hike. And superb views for most of its length.
This post includes some affiliate links. If you make a qualifying purchase through one of these links, I will receive a small percentage of the sale at no extra cost to you. Thank you very much for your support.
EEOR Hike (East End of Rundle) summary
Distance: According to Alberta Parks, it's 3.5 km (2.2 miles) one way to the saddle and another 400 m (0.3 miles) to the peak.
Elevation gain: 875 m or 2,871 feet
Level of difficulty: The EEOR hike is difficult because of lots of loose rock.
Time needed: Allow four to six hours to do the return EEOR hike.
Best time to hike: Sometime in May until early October. Wait for the snow to leave before attempting unless you have a lot of experience on steep snow.
Always check the Alberta Parks report. As of February 2023, the trailhead has reopened.
You will need a Kananaskis Conservation Pass to do the hike. You can purchase online for $15/vehicle/day or $90/year – good for two vehicles at the same address.
Top out at 2545 m (8,350 feet).
The map for this hike is Gem Trek Canmore and Kananaskis Village.
I personally wouldn't take my dog on this hike but I believe they are allowed. On hot days, your dog will need a lot of water!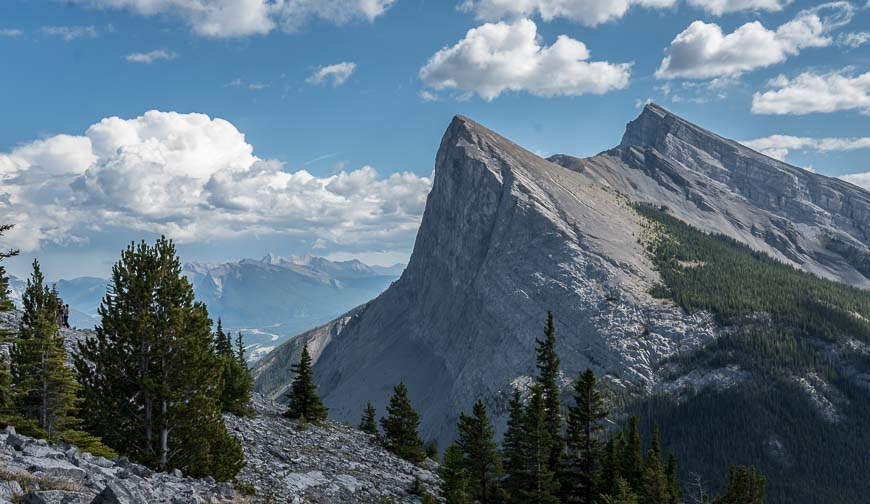 EEOR hike and why you should do it
The east end of Rundle hike (EEOR hike) – while tough rewards with superb views of Ha Ling Peak, the Spray Valley, and Canmore. You top out at an elevation of 2545 m (8,350 feet) and will actually be looking down to Ha Ling.
The hike is also part of the Triple Crown of Canmore hikes which in theory are to be completed in a day. Lots of people though, are happy to knock the three hikes off over the course of a summer. The other two hikes are Ha Ling Peak and Mount Lady MacDonald. Do them all in a day and you will ascend and descend 2400 m!
If you do the hikes and post summit pictures of each peak on the Georgetown Inn's Facebook page then you can claim your prize – a beer mug and discounts on refills. All details are on the Inn's website.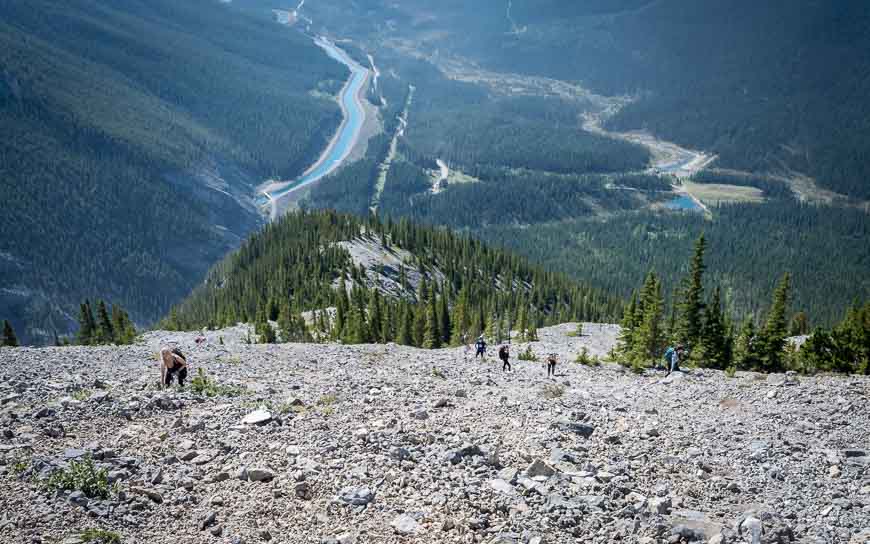 EEOR hike (East End of Rundle) description
The EEOR hike starts by the Smith-Dorrien Road (described at the bottom of the post) and climbs steeply on a trail along the southeast ridge of Mount Rundle. But finding the right trail can be problematic for some.
There are lots of unmarked trails winding through both the woods and the scree to the rock ledges at the base of the cliff face on the east end of Rundle. There is generally no right or wrong way – but there is easier and less steep as I found out on the descent. Many of the trails are climber's trails so if something doesn't feel right, retrace your steps.
Note that there is one very short section of ledges early on in the hike. Always be sure to keep left of the exposed cliff edge.
Once you're above the first scree section you can see the trail up EEOR as it winds up through even more scree towards the rock bands.
Because it's a popular trail, you'll probably see lots of hikers unless it's very early or late in the day.
We did see one blue marking painted on a rock near the end of the tree section and a "No Rock Throwing Sign." That was it for signage. Be extremely careful with your foot placement. You absolutely do not want to send a boulder flying down the mountain. If you ever do, scream ROCK.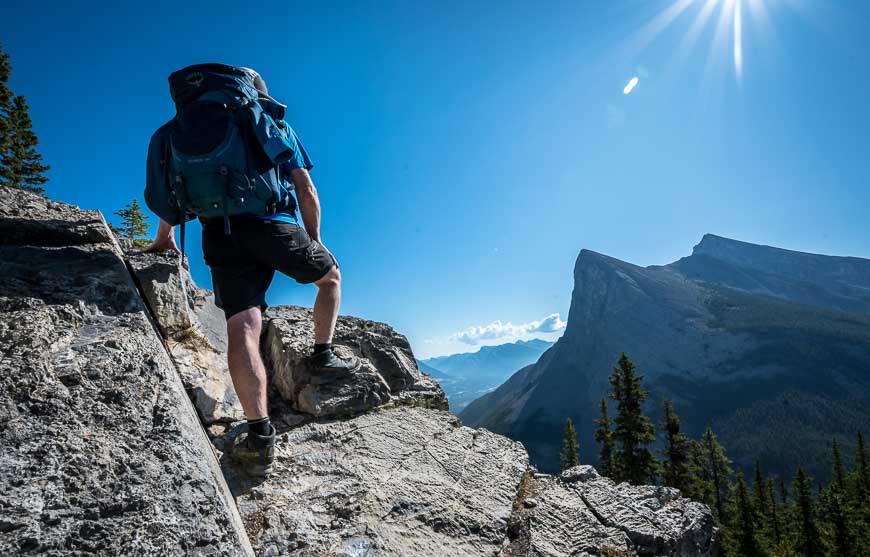 The EEOR hike from treeline to the cliff bands
Once you're through the trees there's a long scree section with multiple trails running through it. Find a trail that works for you. Emerge at a lovely large meadow where the grade moderates for a very short while. Reportedly you may see mountain goats around here. Head for the next scree slope which ends at the rock ledges at the bottom of the summit's cliff face.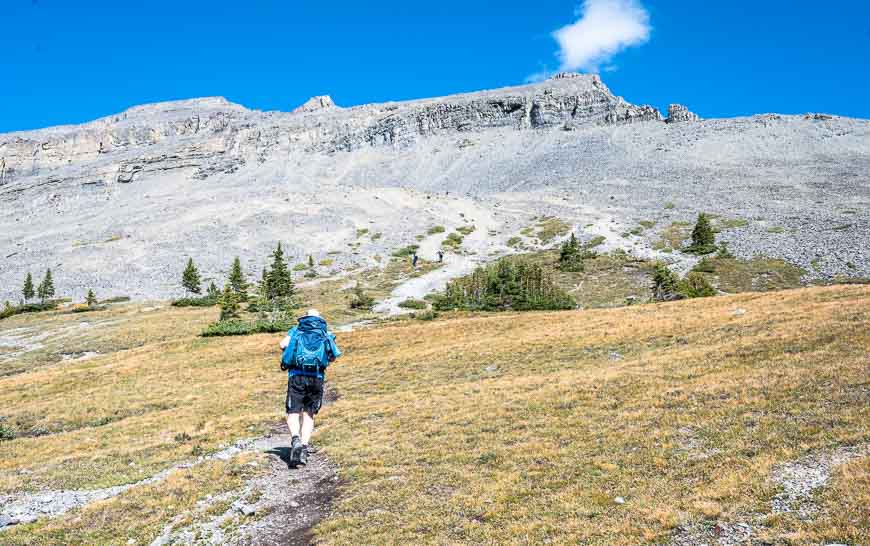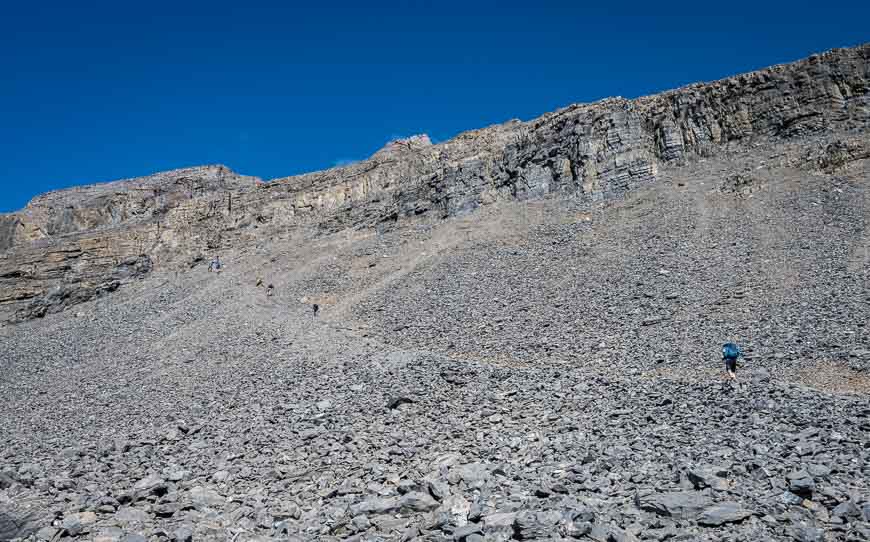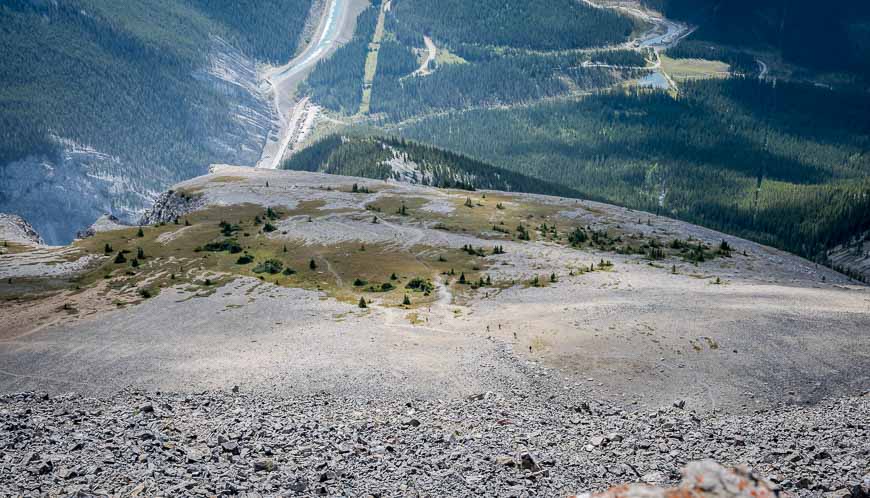 The crux of the EEOR hike
Not everyone who starts out to hike to the top of the East End of Rundle makes its. Many turn back in the steep scree or before the rock ledges. Do what feels right for you.
When you reach the rock ledges turn RIGHT and follow them for approximately 50 m to a trail that leads to the summit. Some of the rock ledges are narrow, which can be unnerving. Take your time and don't be rushed. Go through them at a pace that is comfortable for you. There are lots of good handholds on the way up. The final trail to the top after the ledges is a piece of cake.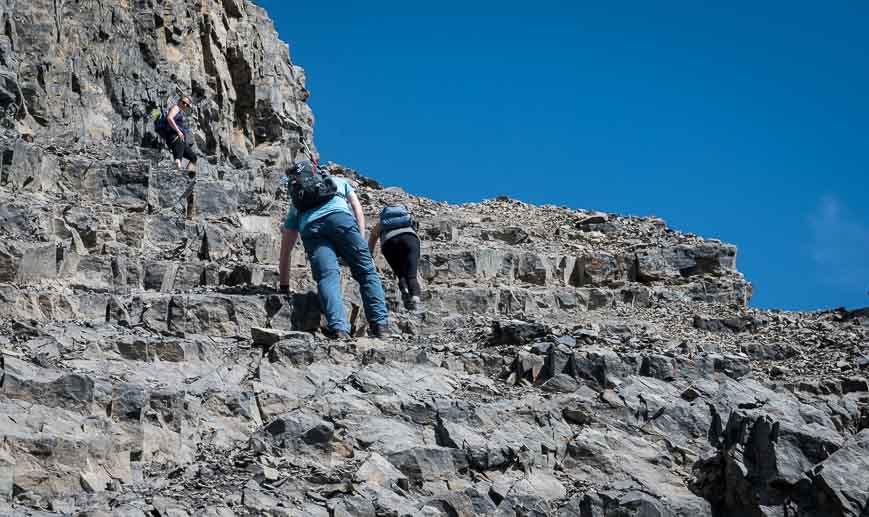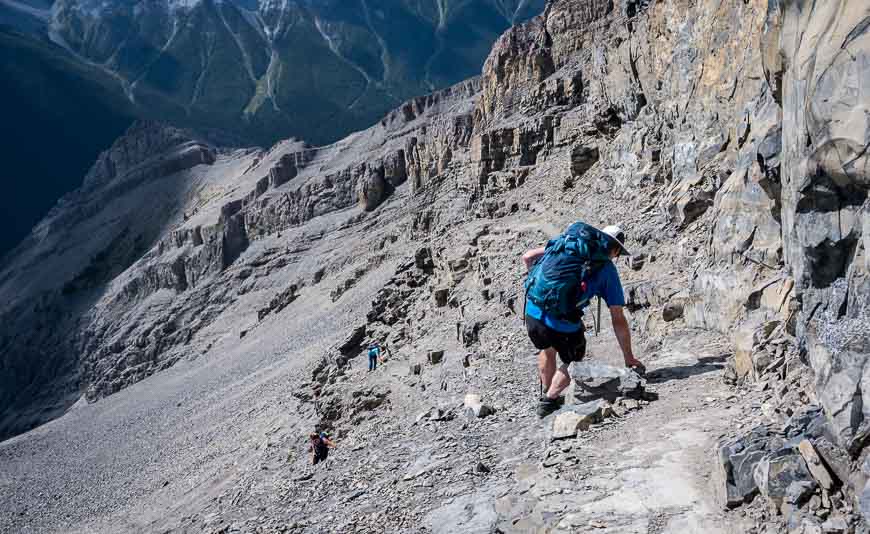 The EEOR summit
What a treat to be on the summit of EEOR. The views are sublime in all directions. If it's a clear day, you may even be able to see Mt. Assiniboine to the southwest. Join the throngs on the top, carve out some space, as it can get crowded and enjoy a well-earned lunch. But keep an eye on the weather. This is no place to get caught in a storm.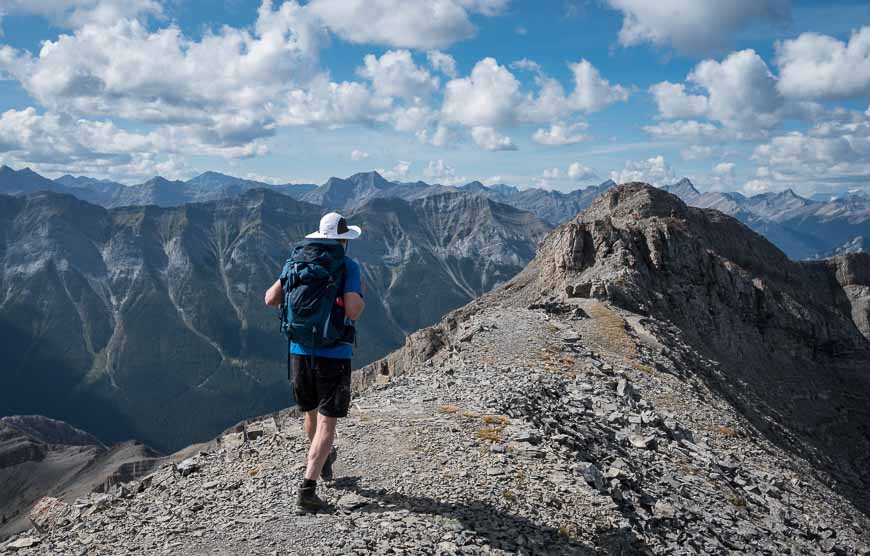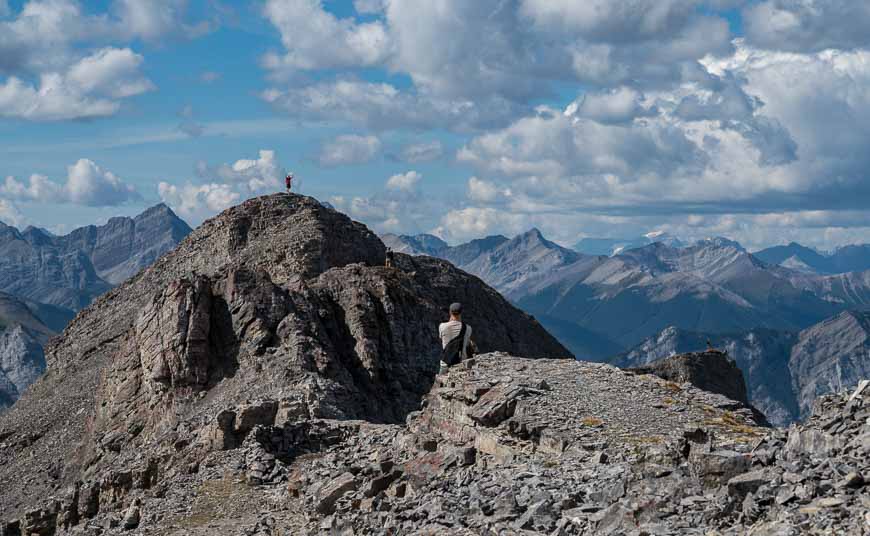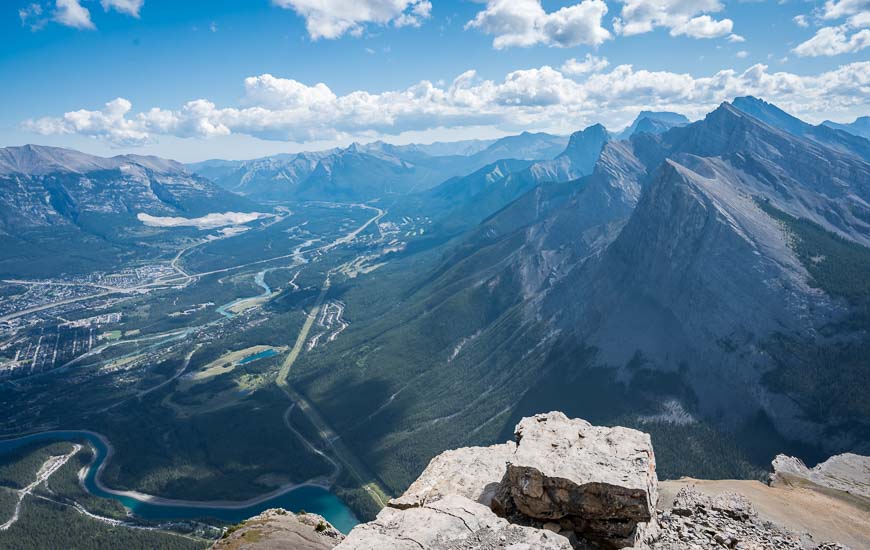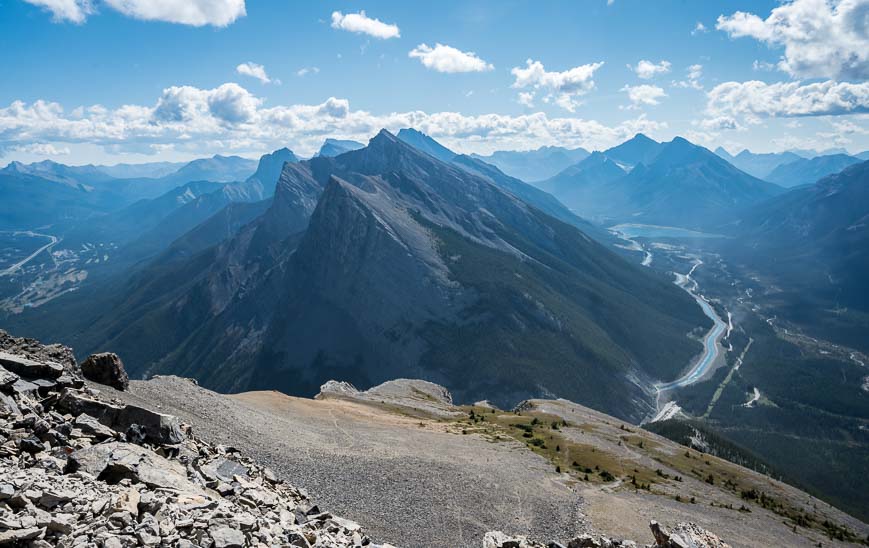 The descent off EEOR
I found the descent off EEOR to be tricky in several places – partially because I was so focused on my feet I didn't pay enough attention to the trail. You should descend exactly the same way you came up.
Surprisingly, I found descending the rock bands easier than the ascent. Be careful with your foot placement so you don't dislodge any rocks from here. You'll be through it in five minutes.
Be sure to look up occasionally to get your bearings so you don't head too far west (right as you're looking down). We ended up following a couple of ladies into a deep gully and had to carefully work our way east, sometimes sliding on our butts, to get back to the main trail.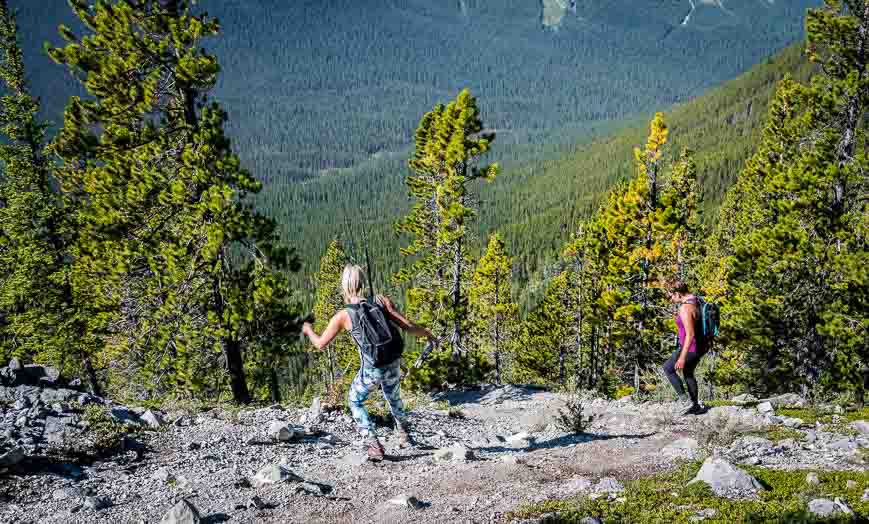 EEOR hike trailhead
The EEOR hike trailhead is easy to find once you know what you're looking for. From the turnoff to the Canmore Nordic Centre drive south on dusty Highway 742 (also called the Smith Dorrien – Spray Lakes Road) for approximately 4.8 kilometres. Look for vehicles pulled off on your left by Whitemans Pond BEFORE you reach Goat Creek Trailhead. Park here if there's room.
Otherwise continue down to the Goat Creek Parking Lot – or on the road if it's a busy weekend. For the trailhead itself, look for a piece of pink flagging tape on the west side of the highway across from Whitemans Pond near two large hydro poles. That's your starting point.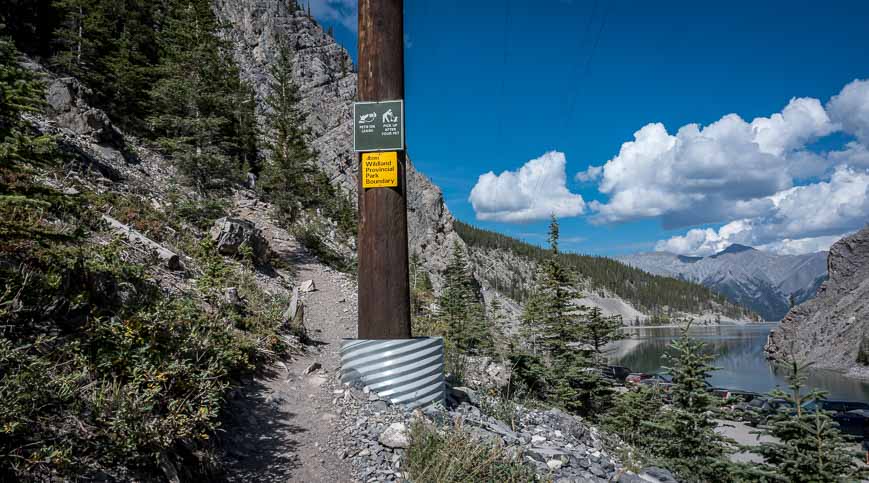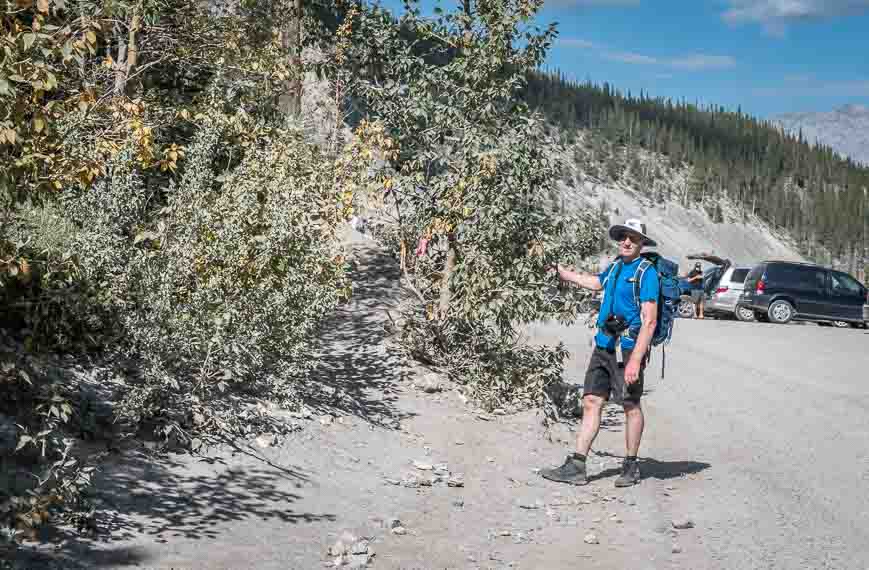 Location map of the EEOR hike
What is the best time to hike EEOR (East End of Rundle)?
Plan to do this hike after the snow has left, usually by early May. The hike should be doable into early October. Once the snow starts to fly give it a pass unless you've got experience on snow and ice. Then you'd need to go prepared with crampons and an ice axe.
How long does it take to hike EEOR?
Allow anywhere from four to six hours depending on your speed. We did it in four hours return.
What to take on the hike up EEOR
Good footwear is important. Be sure you are wearing good hiking boots with traction. I have been a fan of Salomon hiking boots for a long time.
Be sure to carry lots of water. If you take your dog this doggie water bottle helps.
I highly recommend Compeed for blisters. It does a far better job than any regular bandaid.
A pair of collapsible hiking poles could come in handy, especially on the descent from EEOR.
Where to stay near the East End of Rundle hike
If you're into camping, the nearest place to camp will be the Spray Lakes West Campground.
For more ideas on where to camp in Kananaskis read A Complete Guide to Camping in Kananaskis.
If you want a roof over your head in Canmore, there is plenty of choice.
I have always enjoyed my stays at A Bear and Bison Country Inn. Included is a delicious breakfast.
The Malcolm Hotel within walking distance of downtown Canmore is a great choice is you also want a beautiful outdoor pool with a view.
For an affordable hostel option check out the Alpine Club of Canada Alpine Hostel.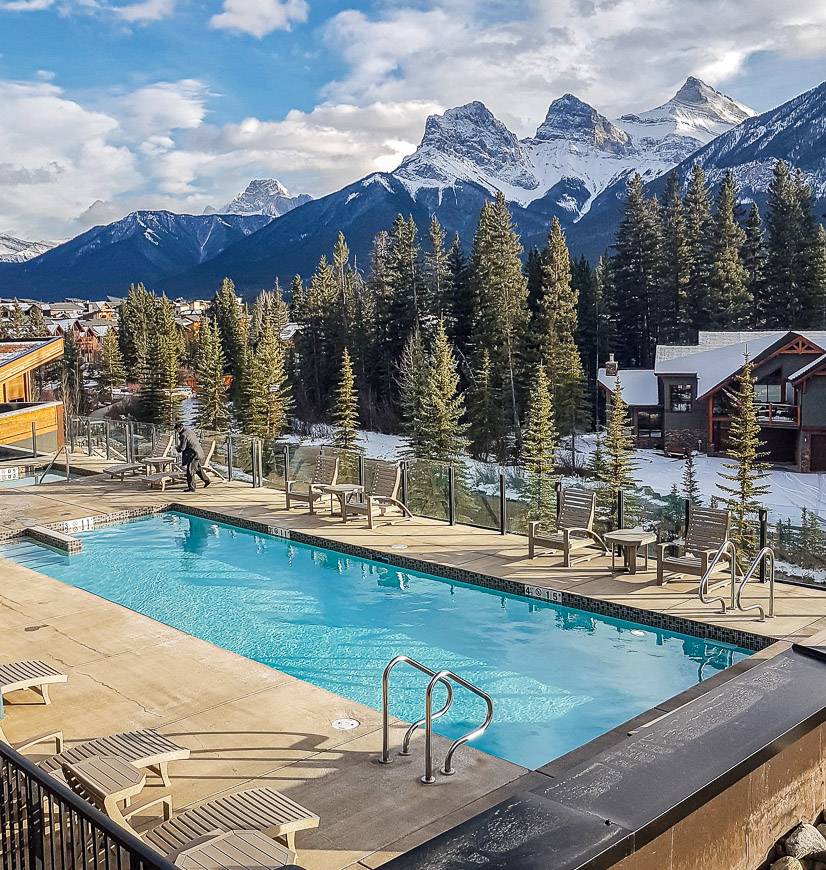 More reading on hikes near Canmore
Click on the photo to bookmark to your Pinterest boards.