If you're looking for an excellent mountain hike close to Canmore that doesn't take all day, consider the easy but steep hike to West Wind Pass. The return distance is just 4.2 km and you gain only 378 metres, so most people will be able to knock the full hike off in 1.5 – 2.5 hours. It's a great alternative to the nearby but busier Ha Ling Peak.
As you survey the scene from the top of West Wind Pass, you'll see a pretty view of Wind Ridge (a top hike to do from Deadman's Flats), one of Canmore's Three Sisters and Pigeon Peak. If you look up you'll see Windtower on your right and the soaring Rimwall on your left.
West Wind Pass hike summary
Distance: 4.2 km (2.6 miles) return
Elevation gain: 378 metres or 1,240 feet
Difficulty: Easy if you're a regular hiker.
Time needed: 1.5 – 2.5 hours return
Dogs: Permitted on a leash. Carry extra water for them, particularly on hot days.
You'll need a Kananaskis Conservation Pass to hike to West Wind Pass.
Check trail reports before you head out, no matter what the weather forecast is like. Trails regularly get closed for construction and wildlife.
From the West Wind Pass trail you can pick up the trail to Windtower at the pass. This hike offers incredible views up and down the length of the Spray Lakes. There is also a turnoff to The Rimwall trail – a much harder and longer hike.
Near the beginning of the hike you'll see an Alberta Parks sign that mentions a seasonal trail closure for Wind Valley – but this does not apply to the West Wind Pass hike. Be respectful of the closure as it's in place to protect important grazing areas for wildlife. In the protected area bighorn sheep are lambing. Apparently, grizzlies time their visits with lambing season too.
The closest washrooms are in the Driftwood Day Use Area.
The area around both West Wind Pass and Windtower are notoriously lose-your-hat windy though the pass is not named for the wind but West Wind Creek.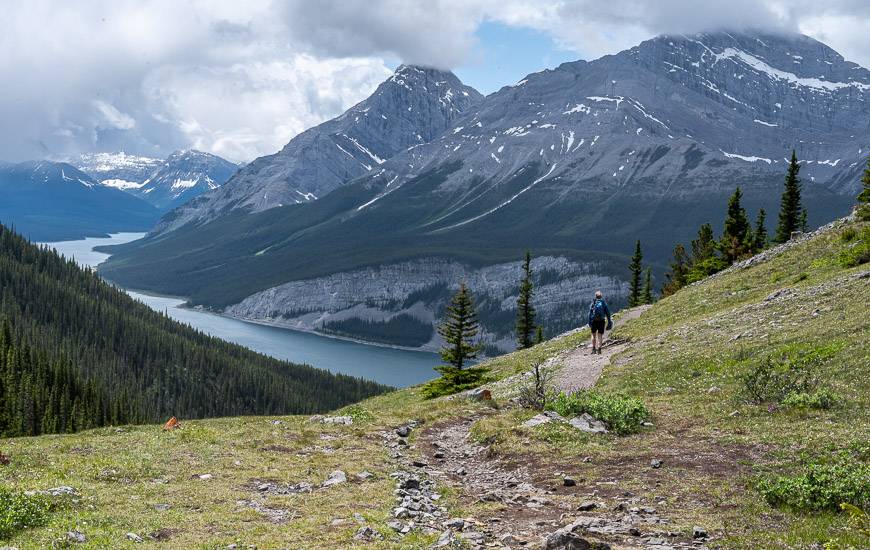 This post includes some affiliate links. If you make a qualifying purchase through one of these links, I will receive a small percentage of the sale at no extra cost to you. Thank you very much for your support.
West Wind Pass hike description
Once you find the main turnoff, the trail is a snap to follow. However, more than a few people have ended up on the Rimwall Trail – a longer, more ambitious, and difficult hike. As an aside, you can see the Rimwall summit from the pass on your left as you look out towards Wind Ridge Trail.
The hike starts out on the east side (not the lake side) of the Smith Dorrien Road immediately northwest of the Spurling Creek trail. As long as you're paying attention when you reach the Rim Wall intersection and turn right towards West Wind Pass, you'll have no trouble with navigation.
To start the hike, follow the well-traveled trail until you reach a T-intersection with the High Rockies Trail – the westernmost section of Alberta's Trans-Canada Trail. Turn left and stay on it for about 200 m. Look for the handmade sign (pictured below) pointing towards West Wind Pass. Go right and quickly start gaining elevation and with that, superb views of the Spray Lakes Reservoir.
Underfoot, it's a mix of hard-packed dirt, small rocks and roots. Going up is rarely the problem but because of the steepness of the trail, many of you will appreciate hiking poles on the descent.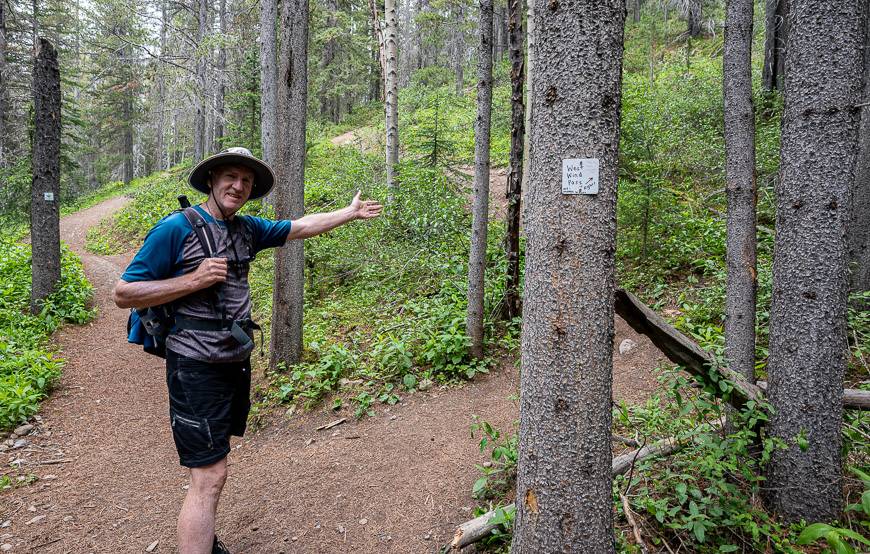 If you're planning to hike up Windtower, it will come into your line of view in short order. As you continue to climb, you may notice that the trail becomes braided in places. There is no right or wrong way to go up, but if you see flagging tape, that will certainly keep you on the right path. What you don't want to do is to descend down to the river – on your right as you hike up. If you ever see trees blocking the trail, that's usually a good sign to look elsewhere for the main trail.
There is one section of tilted rock outcropping about 1.5 km into the hike. Cross these rocks, and then head back into the forest. When you're nearing West Wind Pass look out for wildflowers in season along with some beautiful old-growth trees.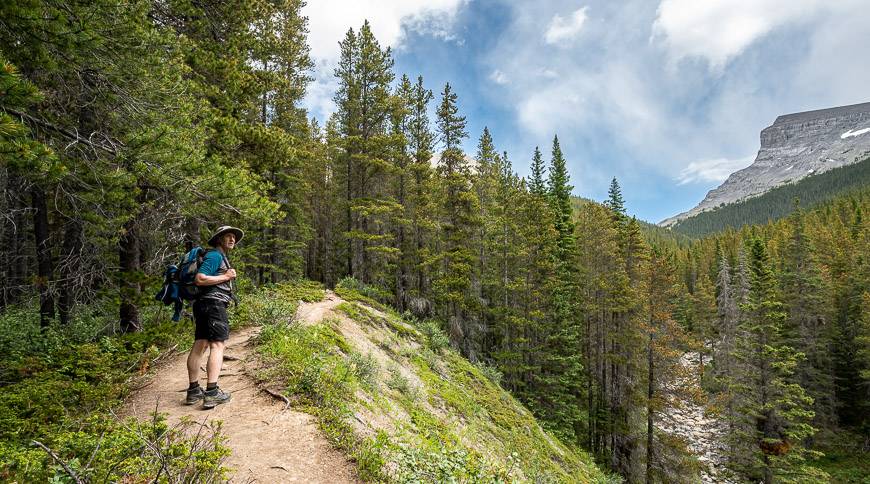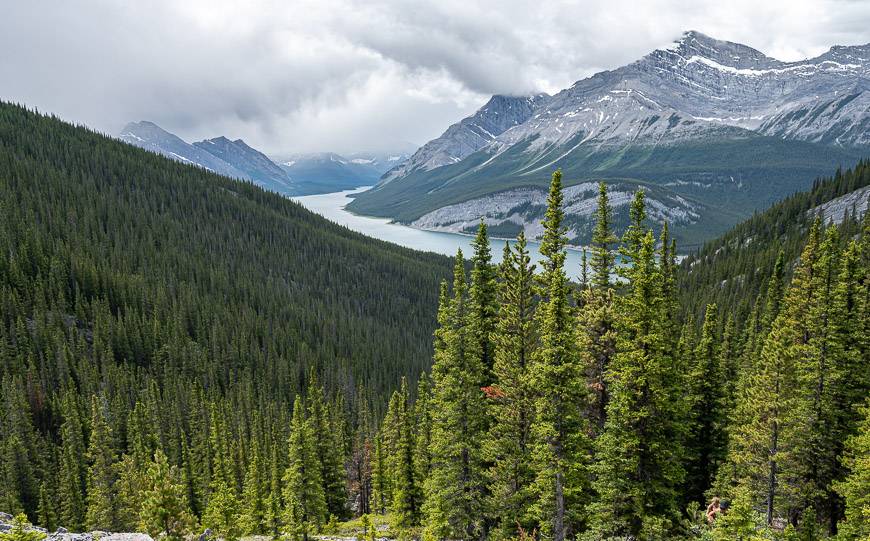 At 2.1 km you reach West Wind Pass – sandwiched between Rimwall on the left or northeast and Windtower on the right or east. You'll also enjoy terrific views of the Spray Lakes Reservoir. There's a large flattish, grassy area to explore at the pass and plenty of boulders to block the wind.
The view out from your lunch spot – nestled in the boulders to block the wind is amazing. If you've done the Wind Ridge hike before, it's fun to look out to it from this vantage point. You'll also look down into the very green Wind Valley. It is this area that is off limits from December 1 until June 15th.
After you've finished exploring the area, either continue to Windtower on the very obvious trail curving right or east off the trail you came in on. It's a further 5.6 km return with another 610 metres or 2,000 feet of elevation gain. Or simply retrace your steps to the trailhead. Be careful on the descent from West Wind Pass as there are plenty of ball bearing-sized pebbles that could trip you up.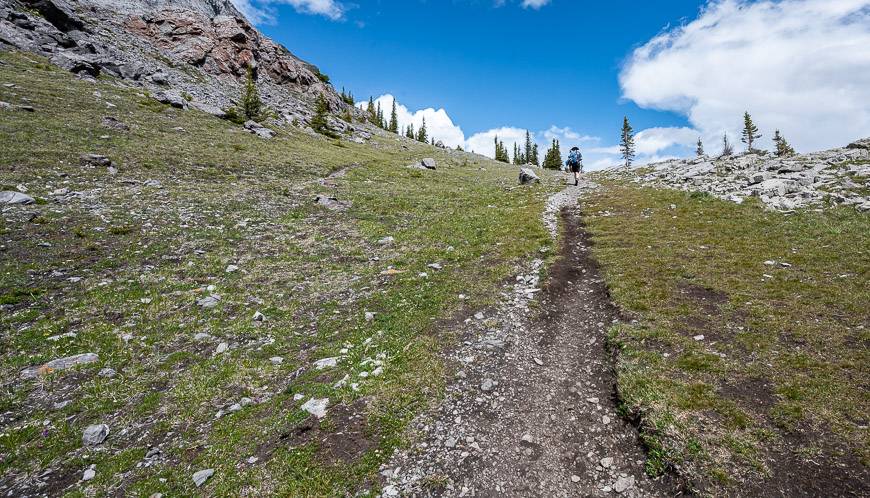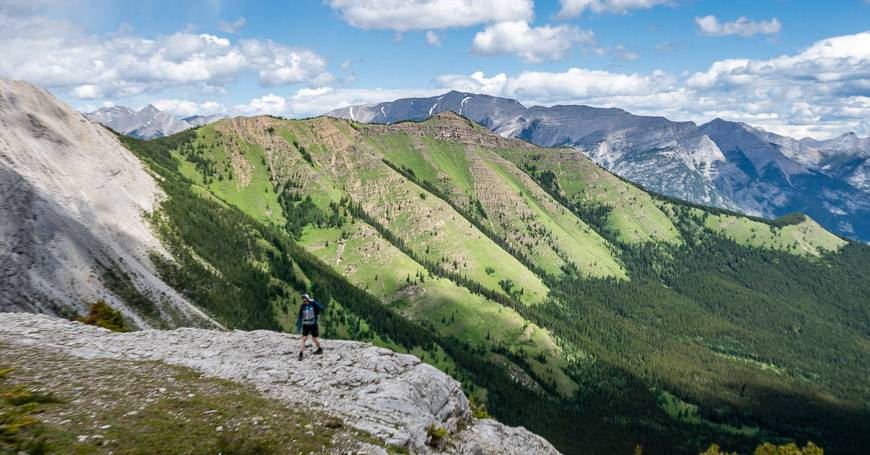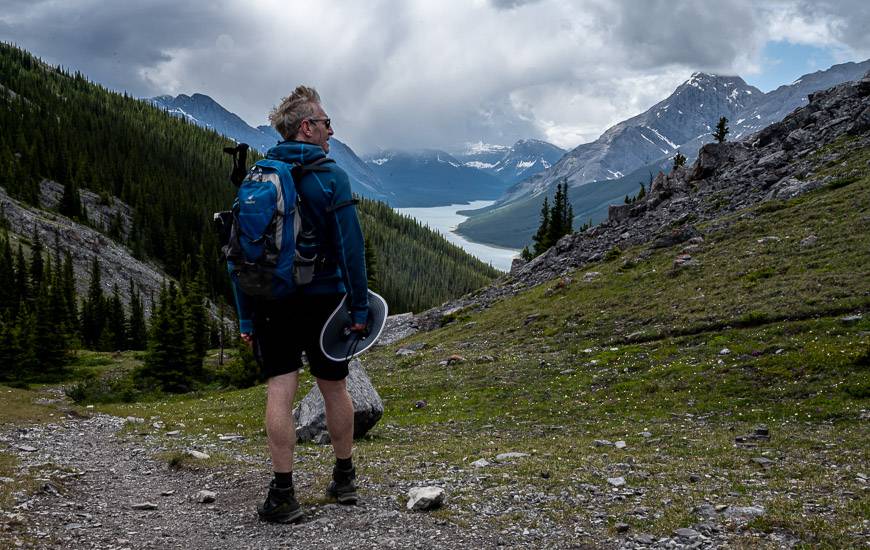 How difficult is the West Wind Pass hike?
I'd rate the West Wind Pass hike as an easy one because of its length – but there are steep sections so if you're new to mountain hiking, you might curse me part way up for labeling it easy. Regular hikers will have no problems ad the super fast will be at the pass within an hour. Active kids will love it too starting from as little as 6 years old.
If you're a fan of hiking apps, download the map for the West Wind Pass while you have cell service. My recommendation though – based on the number of people I run into in the mountains who have zero clue where they are in the bigger picture while following the squiggly line on an app, is to learn how to read a map. In the long run, you will learn to make good decisions based on experience.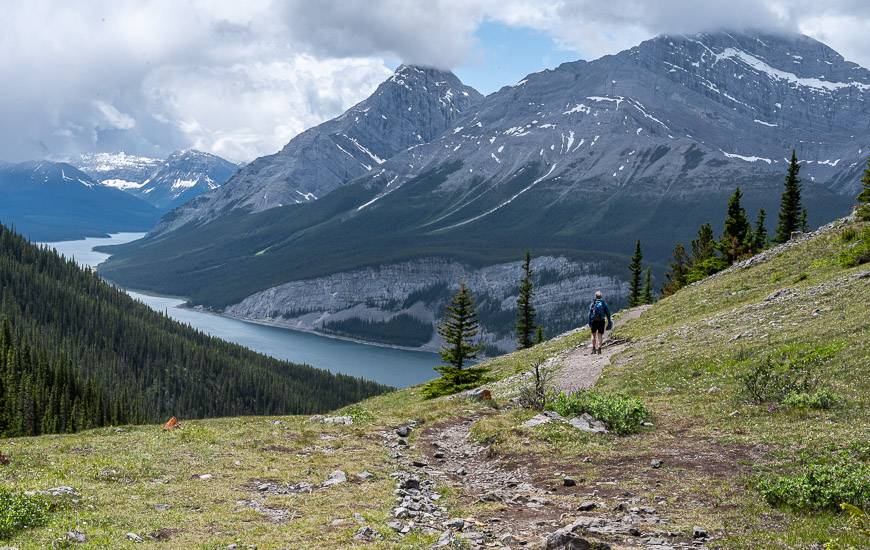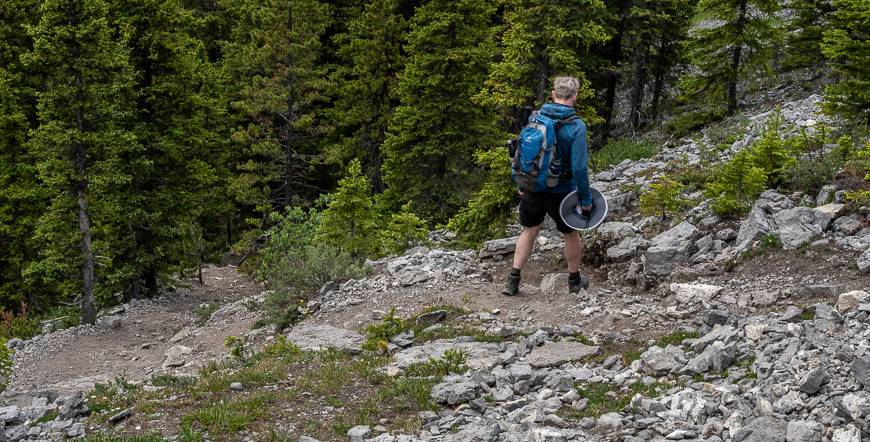 Option to hike up Windtower
The Windtower hike is a moderate one. To do it, you will add 5.6 km to your day along with another 610 m of elevation gain. Allow 4.5 – 6 hours to do the return hike to the parking lot.
Note how easy it is to find the trail intersection from the West Wind Pass hike. I found the trail to be straightforward. There are cairns when the trail starts to die out. And be prepared for scree on the final section to the summit. Allow roughly 2 hours from the pass to reach the summit and about 1.5 hours to descend back to the pass.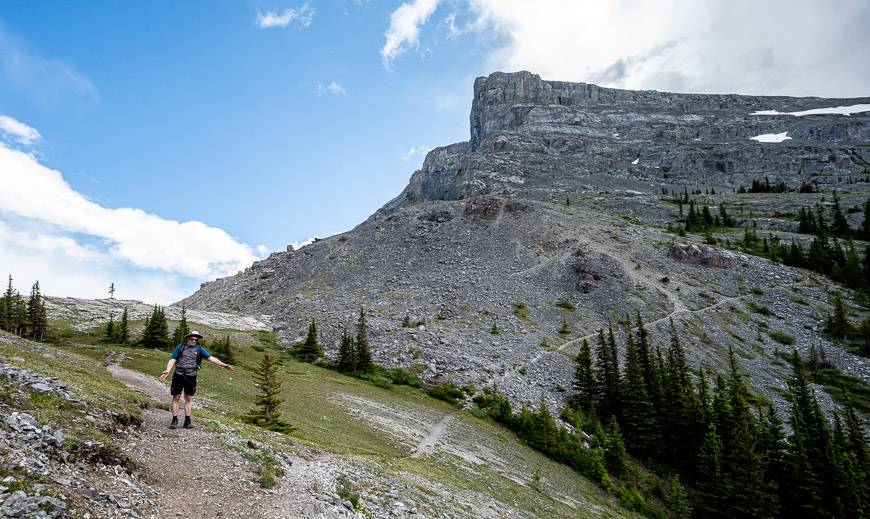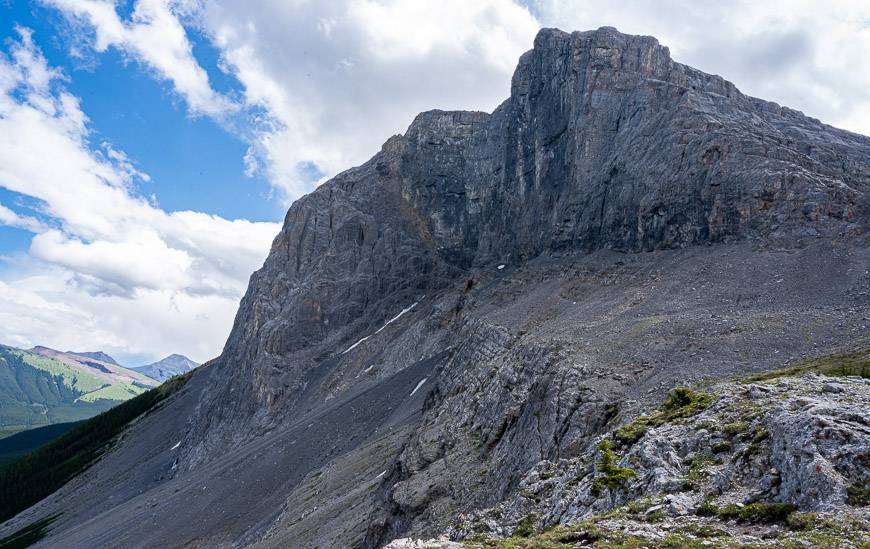 Finding the trailhead for West Wind Pass
From the Canmore Nordic Centre in Canmore, drive 18.5 km south on the Smith Dorrien – Spray Lakes Trail. Park in the pullout just west of Spurling Creek, and 1.3 km past the Driftwood Day Use area if you're coming from Canmore. You won't find any signs indicating the trailhead. On a weekend it will be particularly obvious as it's a popular trail and there are always lots of cars parked on the road. You will likely need a car wash after the hike as the Smith Dorrien Road is notoriously dusty.
The trailhead coordinates are 50.976405, -115.321332.
Location map of West Wind Pass
A few things to take on the West Wind Pass hike
I like paper maps – so I don't have to rely on GPS batteries. You'll find the route on the Gem Trek Canmore and Kananaskis Village map.
Some people might like hiking poles for the steep sections of the hike. I personally like collapsible, lightweight hiking poles.
Take a windproof jacket and a toque as it can be quite chilly, even in the summer. They don't call it West Wind Pass for nothing. It is notoriously windy here.
Don't forget the bear spray in an easy to access holster.
Pack an energy bar or two and more water that you think you'd need as there is nowhere to refill water bottles along the trail.
Staying in Canmore?
If you're using Canmore as a base for a couple of days of hiking and exploring, then you'll find plenty of choice for where to stay – across the whole spectrum of prices. There is camping in nearby Bow Valley Provincial Park, but beware of highway noise.
If you like car-camping my complete guide on camping in Kananaskis should come in handy.
In town at the high end I'd recommend the Malcom Hotel. For a hostel check out this one run by the Alpine Club of Canada.
And if you prefer the B&B experience, the Bear & Bison Country Inn should fit the bill quite nicely.
A few other Canmore area hikes you might enjoy
Click on the photo to bookmark to your Pinterest boards.