The 60 km Coastal Trail in Pukaskwa National Park is one tough trail. The trail weaves along the shore of Lake Superior, typically over a five day period. It's worth every minute of agony to hike this trail – as the scenery is sublime, the campsites ridiculously gorgeous and the sense of accomplishment, huge.
It, I believe, is one of the very best long distance hikes in Canada. And although 60 km may not sound like much – trust me, on the rocks of the Coastal Trail it is!
Coastal Trail in Pukaskwa – Lake Superior is your constant companion
The hike is often beside or in sight of Lake Superior – a lake that behaves like a teenager on hormones. One minute it's glassy calm and the next it's thrown a temper tantrum and kicked up waves that swallow ships.
It's a lake you can't help but respect – especially when you realize that it's the largest lake in the world by surface area. It's also bloody cold – averaging 4.4°C (40°F) at the surface.
This post includes some affiliate links. If you make a purchase via one of these links, I may receive a small commission at no extra cost to you.
The end of the hike but I'm getting ahead of myself
By the end of the five day hike on the Coastal Trail my feet, shoulders, hips and even my arms were thanking me that it was over.
My friends and their dog started talking to me again. Actually by the end they were feeling pretty darned pleased with themselves – though that wasn't always the case. But let me start at the beginning of the hike.
Getting to Pukaskwa National Park
Our trip begins the day before we start hiking. We drive seven hours to Pukaskwa National Parkfrom Espanola – the town my friends live in six hours north of Toronto. You have to really want to go this park as it's in the middle of nowhere.
The closest big city is Thunder Bay and it's about 350 km away. We arrive at the park by 3:30 PM – enough time to undergo the required backcountry orientation. (We'd made backcountry camping reservations months earlier.)
Then we stretch our legs and check out the Southern Headland Trail before heading to a B&B in Pic River – just five minutes outside the park. We had decided the day before that we wanted one last night of comfort though we could have camped in the park.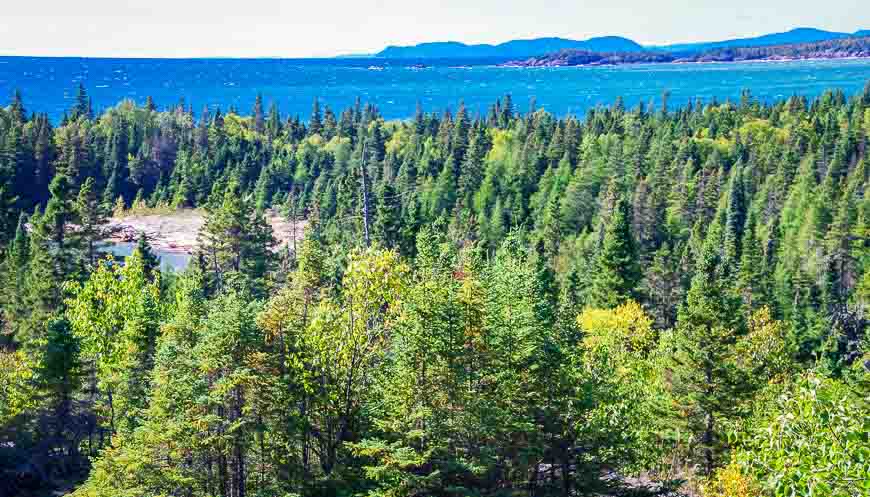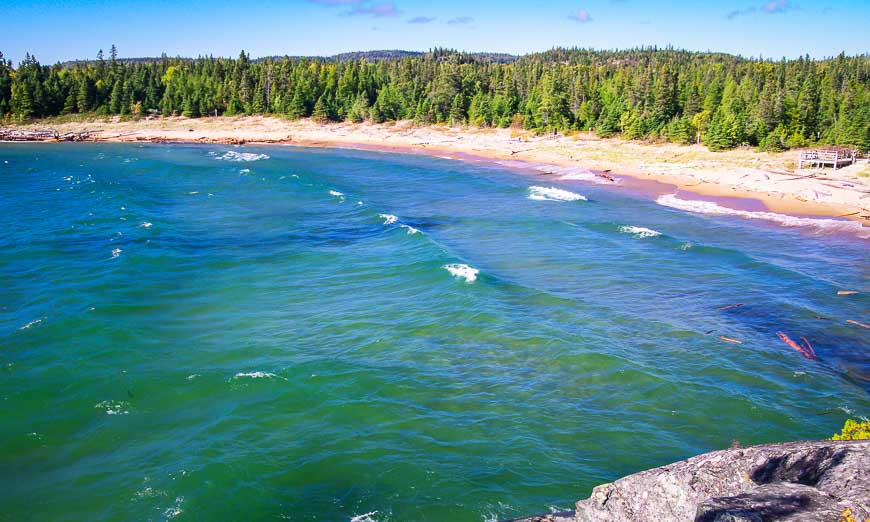 The boat ride to the start of the trail
The next morning I check in with Melissa of McCuaig Marine Services (807-229-0193). Her husband Keith shuttles hikers all summer and will be taking the three of us and a dog along with another group of six and their dog to the far end of the trail.
But Lake Superior isn't behaving.
So we postpone our launch time to 9:30 AM. In my mind I'm happy we're able to even get away but I'm not so happy about how little time we'll have to hike on the first day. You'll see what I mean later in the post.
The boat ride is normally about two hours in length but today we take three hours. And they're a tough three hours, especially early on in the trip when we're rolling and pitching. The dogs aren't too thrilled either.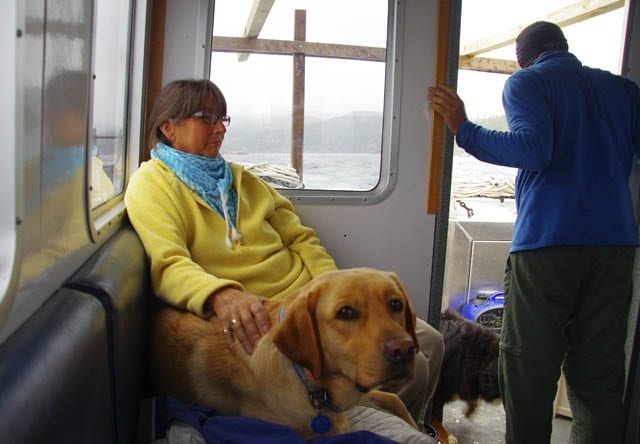 At 1:15 PM we finally pull up to the beach, unload and watch the boat pull away with a group that's just finished the trail.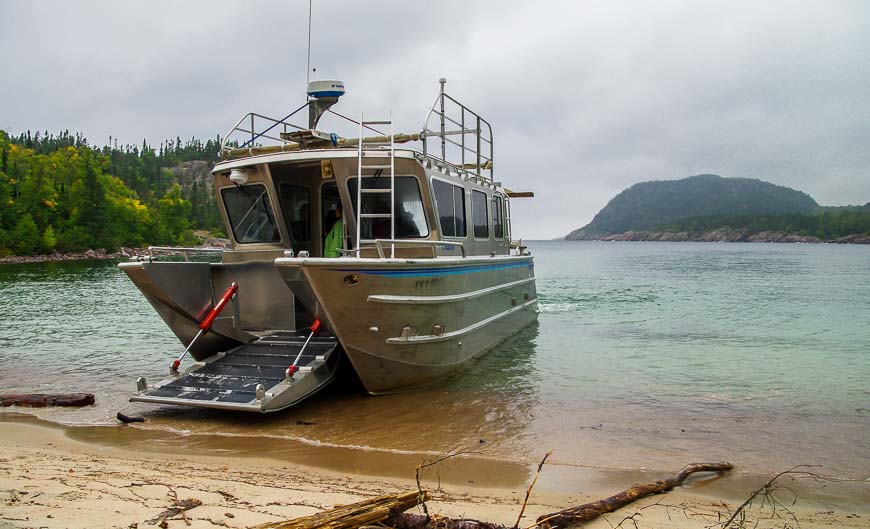 We figure we'll eat lunch around a fire with the other group from Caledon, Ontario before heading off. Interestingly and by sheer coincidence two of the other group are good friends of my sister-in-law. What a small world it is!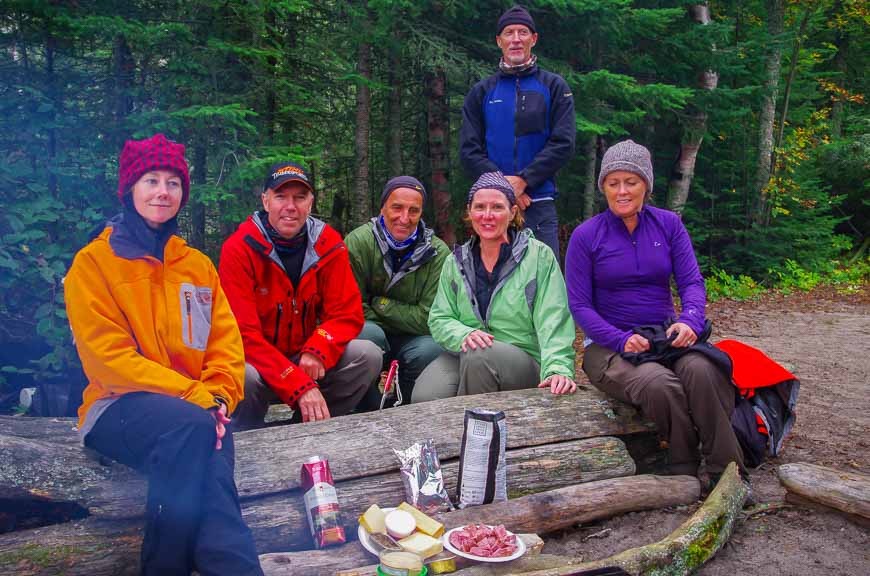 Finally – starting the Coastal Trail
We finally hit the trail at 1:30 PM …..and head towards the bear locker instead of Swallow River – another 15 minutes of lost time. It's 2 PM by the time we've taken our shoes off, waded through the Swallow River and actually started on the right trail.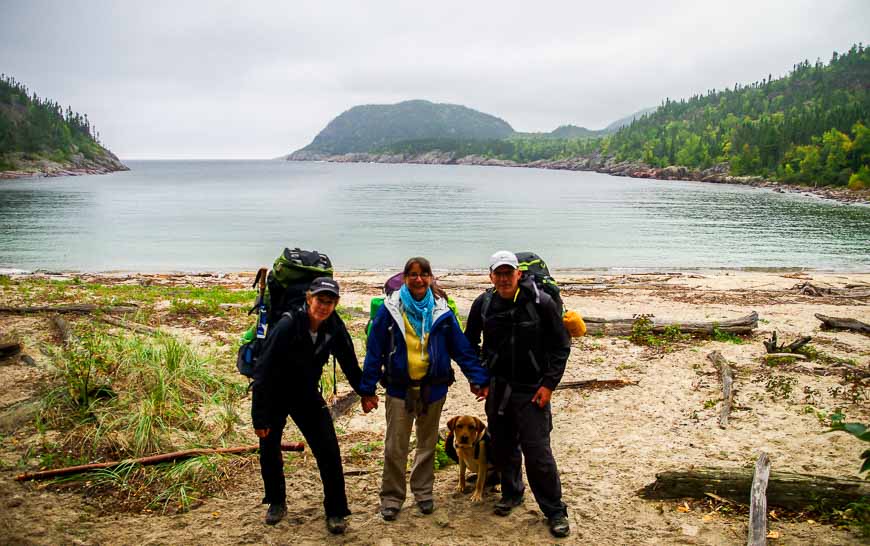 White Spuce Harbour Campsite
Our goal for the first night is White Spruce Harbour – 10 km away. There's only one small problem. The trail is tougher than we figured and the rocks are sickeningly slick.
So our pace is slow – way too slow in my mind to get to our campsite. In fact by 5 PM we are just at the Hideaway Lake campsite – and it looks like slow going ahead.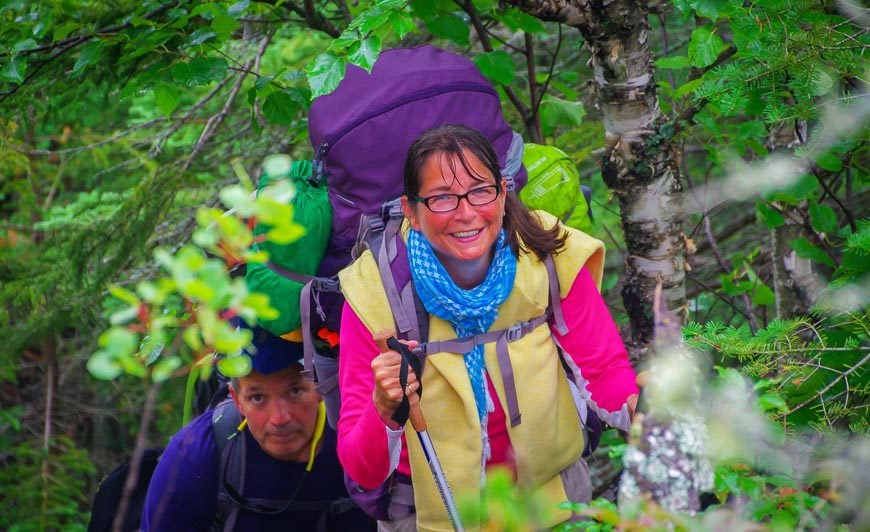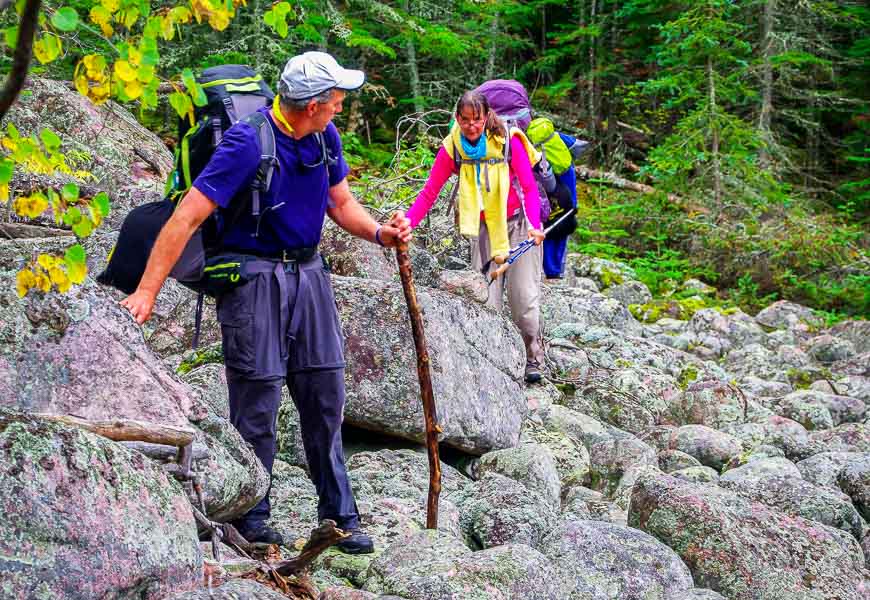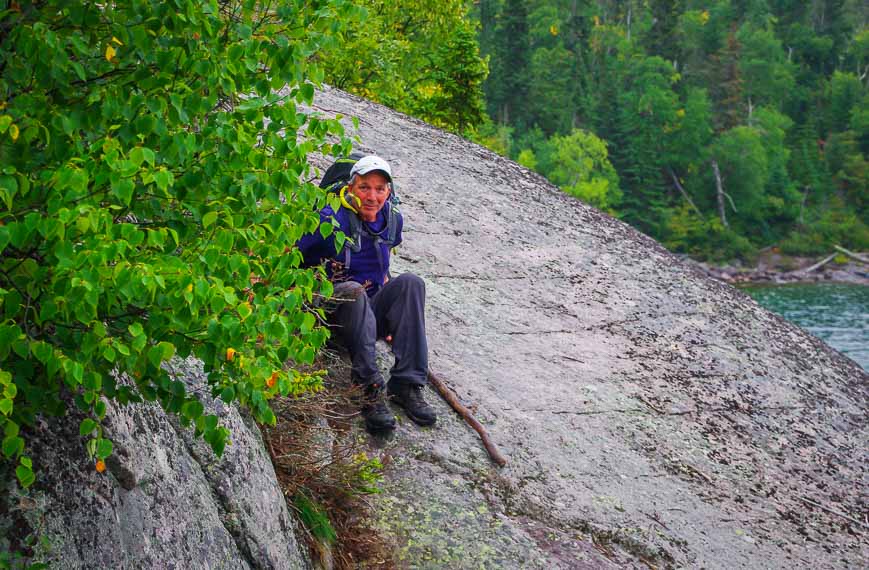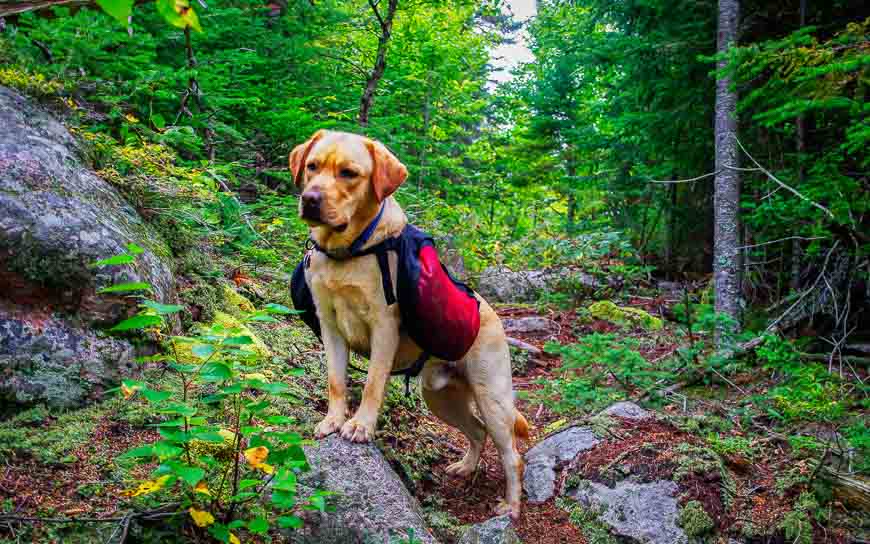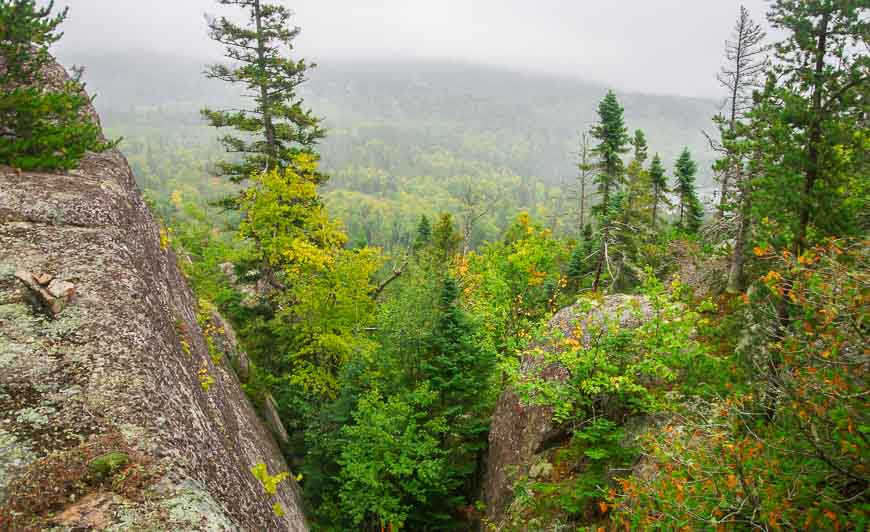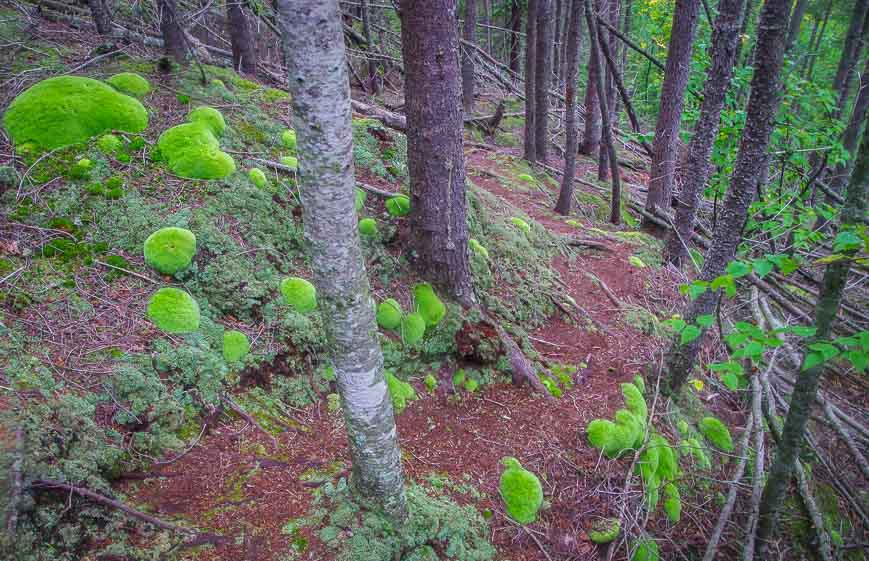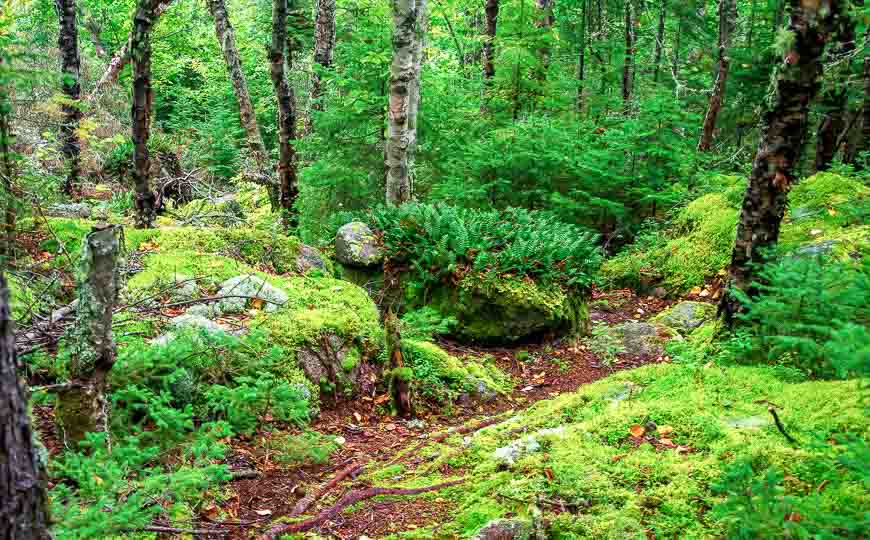 Continuing on in the dark
After we pass the Hideaway Lake campsite – and the other group who has caught up to us – we are left pondering if we'll make it all the way to our intended goal. We as a group decide to continue.
The hours march on. I spend a lot of time looking at the map wondering where we might find some flat ground to pitch the tents. I spy a lake but when we reach it I'm disappointed. There's no flat ground.
So we continue – with headlamps now – and ever more slowly. Stomachs rumble but we ignore them. When we reach the coast I can't find the cairns in the dark and the rock is so slippery that I'm scared of falling and breaking something.
Jo says she can go no further which is fine by me. Somehow we find two sort of flatish sections of ground and pitch our tents in the dark. We have a quick snack and fall into bed at 10 PM. Never have I been so happy to be in a tent.
As I lay in my tent waiting for sleep to overtake me I lay wondering what can possibly lie ahead after a start like this.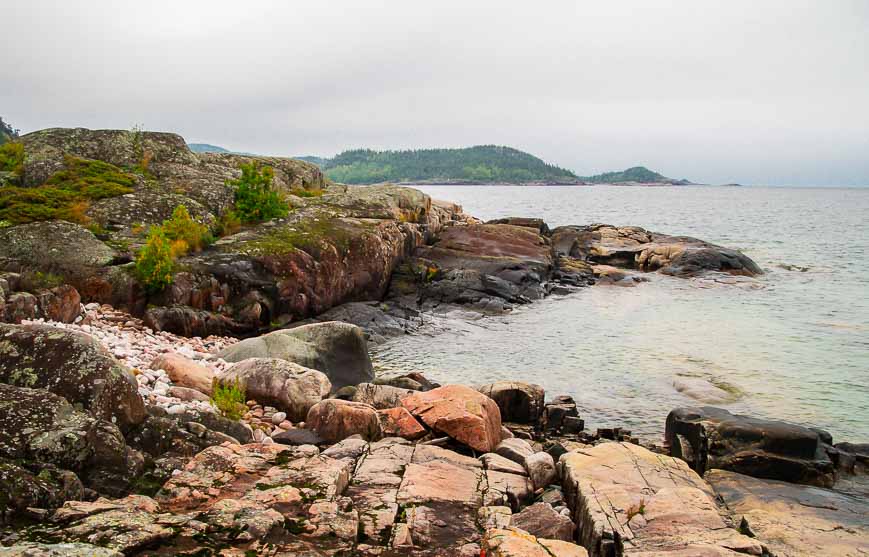 Further reading on hiking in Pukaskwa National Park
Click on the photo to bookmark to your Pinterest board.