I've lost track of how many times I've visited Moab. It's one of my favourite places – not because the town is anything special, rather, it's centrally located in an area of extreme beauty and within a short distance of Arches and Canyonlands National Parks. I wrote this Moab itinerary based on a half dozen trips to the Moab area over the years.
I think spring or fall are the best times to visit Moab. Our first visit was in August – for a canoeing trip on the Green River. It was a big mistake with temperatures soaring to 100°F by 11 AM. It gave us a reason to swim rather than paddle the river, especially as our canoe was aluminum and also too hot to touch! So unless you love heat, avoid the months of June through to mid-September.
Moab itinerary ideas for an unforgettable visit
Day 1: Arrive in Moab
Fly into Denver, Salt Lake City or Las Vegas and rent a car. It's about a six hour drive from Denver, a 4.5 hour drive from Salt Lake City, or a 6.5 hour drive from Las Vegas. If you're coming from Denver take the scenic Highway 128 instead of Highway 191. It's an outstanding drive, especially around sunset.
You can also fly into Grand Junction, just two hours away or Moab itself but you pay a premium for these flights.
As of 2021. there's a new way to get to Moab. Pick up the Rocky Mountaineer train in Denver for a 2-day scenic trip with an overnight stay in Glenwood Springs. It will have the same level of service on the Rocky Mountaineer route through the Rockies in Canada – and I can tell you that I had an amazing experience. For more information check out Rockies to the Red Rocks.
This post includes some affiliate links. If you make a qualifying purchase through one of these links, I may receive a small percentage of the sale at no extra cost to you. Thank you very much for your support.
Where to stay in Moab
My preference is the Sunflower Hill Luxury Inn. I've stayed here on most of my visits and love the place. Breakfasts are outstanding. There is now a pool for lounging and a hot tub as well as a large common area filled with interesting reading material. The owners are very knowledgeable and will steer you in the right direction, no matter what your interest, every morning.
An alternative is the Best Western Plus Canyonlands Inn on Main Street. The rooms have been renovated and come morning there is a full hot breakfast buffet.
Another upscale alternative you pass on the way into Moab if you take Highway 128 is the lovely Red Cliffs Lodge situated on the Colorado River.
There are loads of alternatives – that are less expensive on the strip entering and leaving Moab. If you don't mind camping, the campgrounds in the national parks are an excellent choice.
One year we camped under the stars in Arches – falling asleep to the howling of the coyotes. You should reserve in advance during busy season. For more information visit this page on camping in Arches National Park.
Dinner suggestions: Wander down Main Street and see what catches your fancy. We tried the Twisted Sistas Cafe the first night.
Day 1 on a Moab itinerary: Pay a visit to Arches National Park
New in 2022 – Over 10 years starting in 2009, visitation to Arches National Park grew from 996,312 to 1,659,702 visitors per year, an increase of 66%. That's the basis for starting the timed entry tickets. From April 3 to October 3, 2022 you'll need to have a timed entry reservation to enter the park. It's a pilot program with the intention to improve traffic flow and the overall visitor experience. Timed entries are needed between 6 AM and 5 PM daily. Timed tickets are not required for those with camping, backcountry, Fiery Furnace, or special use permits.
After breakfast head for Arches National Park. Plan on a full day so go prepared with drinks, a lunch, snacks and 'sundowners'. Many of the hikes to the various arches are short but if you want something longer and very beautiful but with fewer people choose the Devil's Garden – Primitive Trail Hike.
I also recommend choosing a spot to enjoy the sunset. Bring some wine and snacks and watch the sun go down. We chose to do that at Balanced Rock.
Dinner Suggestion: The Broken Oar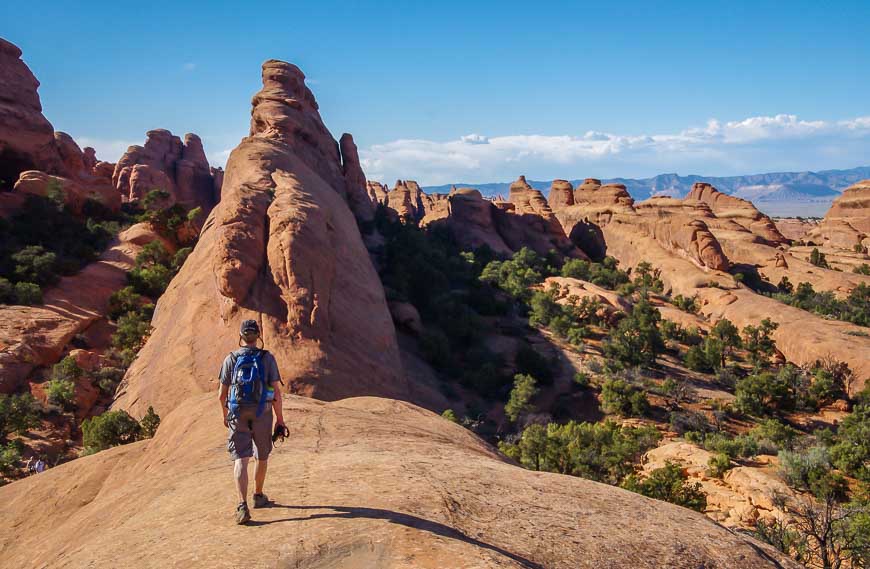 Day 3: Enjoy a sunrise visit to Dead Horse Point State Park and Canyonlands National Park
On the third day of your Moab itinerary, start the day early so you can catch the sunrise over the Colorado River at Dead Horse Point State Park. Check ahead so see when the sun is rising and plan to be there 20 – 30 minutes beforehand. Dress warmly as desert mornings are cold. Allow 40 minutes to drive the 30 miles.
Head back into town for breakfast and enjoy a leisurely few hours before heading back in the same direction – this time to explore the Islands in the Sky section of Canyonlands National Park. Before you head out make dinner reservations at the Cowboy Grill at the Red Cliffs Lodge Restaurant.
Try the Murphy Point hike in the Islands in the Sky Area. And don't forget to check out Mesa Arch. It's an easy hike and the view is incredible.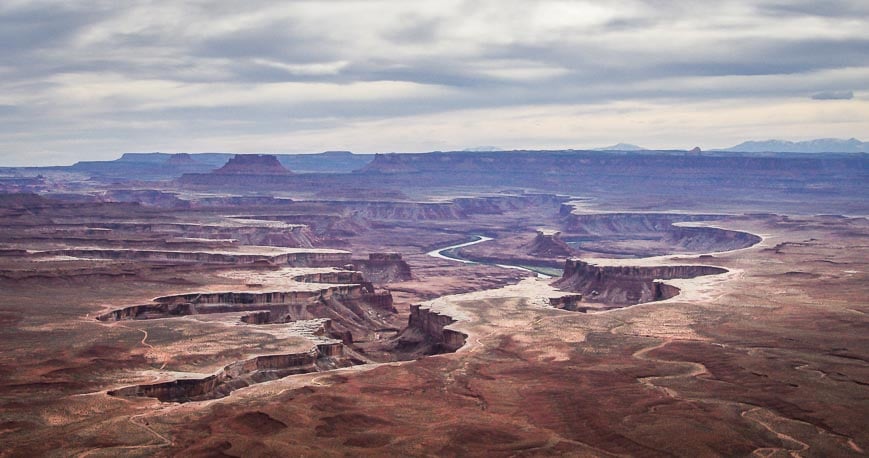 Day 4: Head to the Needles District of Canyonlands National Park
Allow a full day to explore the Needles District of Canyonlands National Park. Its 74 miles southwest of Moab so it will take you about 1 hour and 20 minutes to drive it. Before you leave Moab stock up on cold drinks and lunch supplies.
Once on Highway 211, the road that takes you to the Visitor Centre – take the time to stop at Newspaper Rock Archaeological Site. I also found pausing by the side of the road to appreciate the emptiness of the area very worthwhile.
For an idea of what you'll see check out: Day Trip to Needles District, Canyonlands National Park.
Restaurants: For an upscale meal make a reservation at Desert Bistro.
Moab Itinerary day 5: Spend a day on a bike
Moab is world-renown for its mountain biking. Even if your skill level is extremely basic, there will be a trail for you.
Some of my favourite bike rides over the years include Gemini Bridges, the famous Slickrock Trail (try the practice loop at the very least), Flat Pass, Klondike Kliffs and the spectacular White Rim Trail – which is best done as a four day supported ride.
You can rent bikes, bike racks and organize tours – from one day through to multi-day tours with Rim Tours, a reputable company that's been around for years.
Day 6 on your Moab itinerary
Either head home or if you have the time I suggest a visit to Capitol Reef National Park for several days of hiking and exploring.
Drive the scenic route from Moab to Torrey near Capitol Reef National Park via Highway 191, 95 and Highway 24.
It's a full day of driving I highly recommend with wonderful diversions like Natural Bridges National Monument.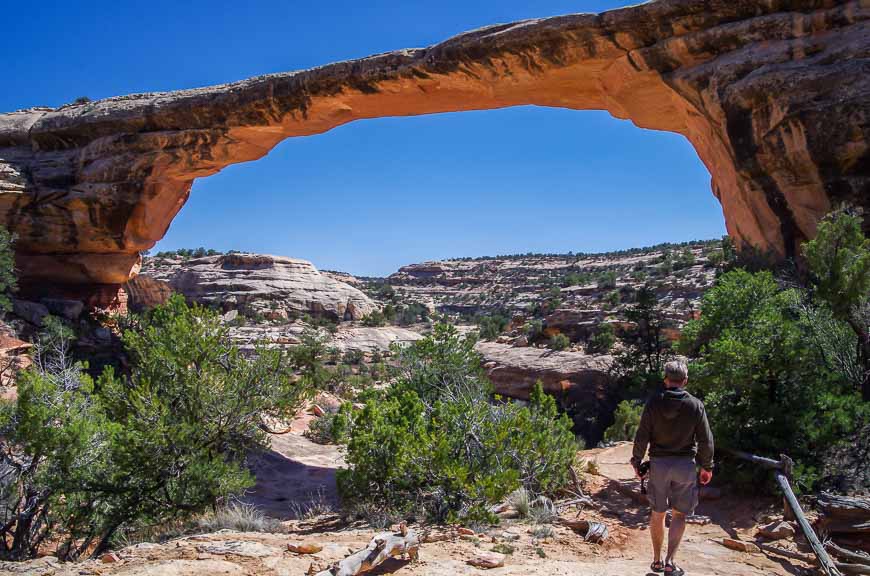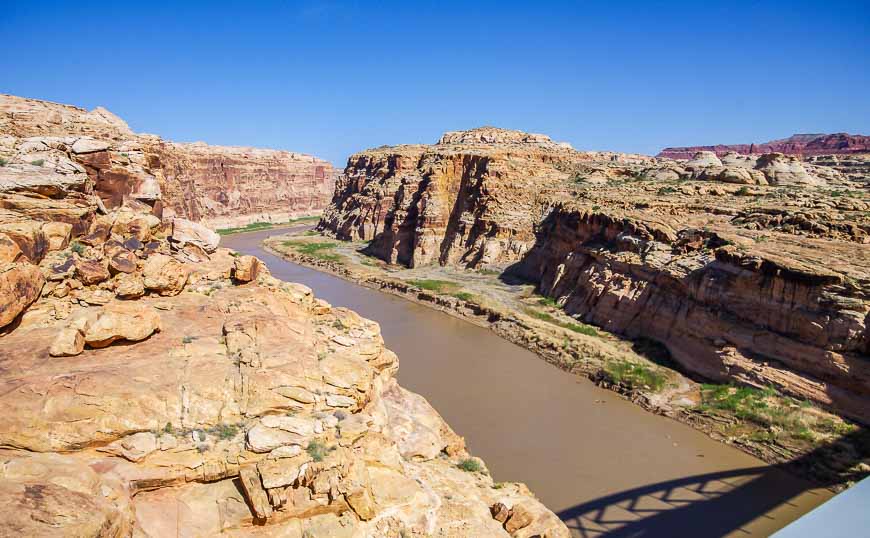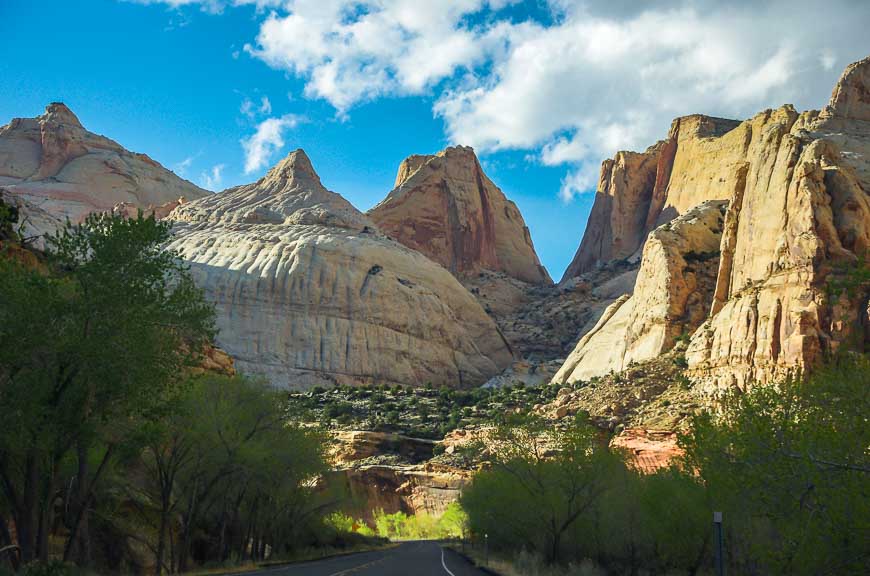 More tips for visiting Moab
Before you book anything, check to see if there is a special event happening. Our visit to Moab in late March coincided with the Moab jeep safari so the place was over run with jeeps. It's usually around Easter.
If you have more time or depending on your interests there are a couple more things you might enjoy.
Go rafting on the Colorado River for a half or full day.
View the sights along Potash Road (scenic Highway 279) to see rock art and dinosaur tracks.
Hike to Morning Glory Bridge – 4 miles round-trip up a narrow canyon that crisscrosses a creek.
Other useful information can be found on the Discover Moab site.
I will never tire of visiting Moab and the fabulous red rock country around it. If you have other recommendations related to exploring Moab please leave a comment.
Location map of the Moab itinerary
Click on the photo to bookmark to your Pinterest boards.