Anytime is a great time for a Utah road trip though in spring and fall temperatures are comfortable – warm during the day and cool enough at night that you need a sweater. And the crowds haven't arrived yet so it's a perfect time to visit some of the most beautiful national parks in the United States. Our group of four did a Utah road trip between Moab and Torrey near the west entrance of Capitol Reef National Park. We stayed in both towns for four nights and used them as a base for daily hiking excursions.
This post includes some affiliate links. If you make a qualifying purchase through one of these links, I will receive a small percentage of the sale at no extra cost to you. Thank you very much for your support.
Where to stay in Moab and Torrey
In Moab we stayed at one of my all-time favourite inns, Sunflower Hill. I'd also recommend the Best Western Canyonlands Inn.
In Torrey the B&B we stayed in is now closed. But there are lots of worthwhile options. Capitol Reef Resort near the entrance to Capitol Reef National Park is rated fabulous.
Location map of our Utah road trip
Click on the three dots near the top right hand corner of the map to email a copy.
Utah road trip – what can you see if you start in Moab?
We took the better part of the day to drive between Moab and Capitol Reef National Park – mostly because there are so many gorgeous places to stop. The route covers 260 miles via Highway 191, 95 and Highway 24 through Capitol Reef National Park. We took the better part of 7 hours to do the drive with stops.
If you don't have the time and are interested more in just getting to Capitol Reef you can drive it in 2.25 hours by going back to I-70 from Moab and then taking Highway 24 through Hanksville.
Take a picnic lunch with you as there aren't very many places to pick up food once you get past Monticello.
If you haven't been to the Needles District in Canyonlands National Park, I recommend allowing at least a few hours for some of the easy hikes. It's almost a 90 minute drive to the Visitor Centre from Moab but after you're finished, it's just a short drive to Monticello. Do be sure to stop in and see Newspaper Rock Archeological Site on the way into the Needles District.
If you're planning to camp, consider an overnight in Natural Bridges National Monument so you don't have to rush to get to Capitol Reef National Park.
Monticello for caffeine
Our first stop less than an hour into the drive from Moab was a colourful café in Monticello for a much needed caffeine fix.
Utah road trip West of Blanding
There was nothing marked on the road west of Blanding but when we saw these gentled angled rocks we knew we had to get out and hike them. We spent the better part of an hour just wandering around. There are no marked trails.
Hike and camp in National Bridges National Monument
It's 120 miles and a 2.5 hour drive to drive from Moab to the National Bridges National Monument. We spent a few hours hiking the trails but you could easily chew up a day or two – if you hiked all of them. In addition there are plenty of places where it would be great to pull off and just wander around. This is a beautiful and a fascinating area to include as a stop on your Utah road trip.
You can camp in relative solitude in the National Bridges National Monument – on a first come, first served basis. The campsite is open year round. You can find more information here.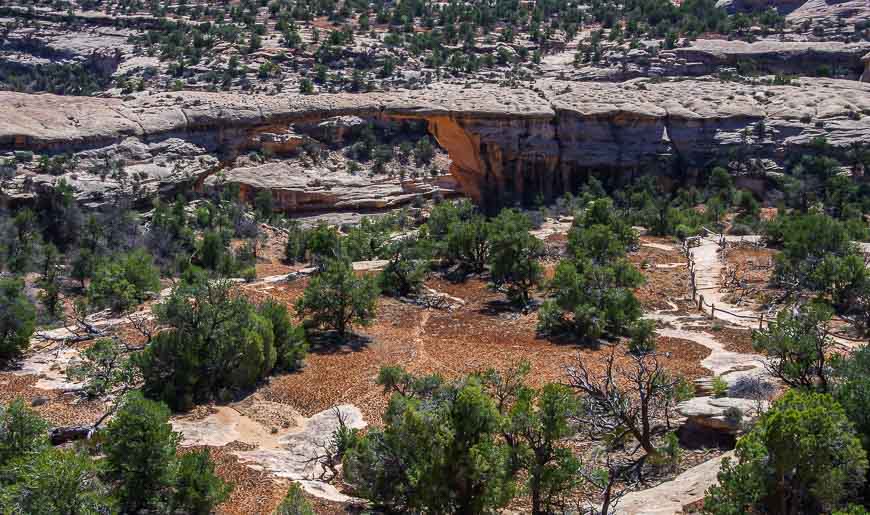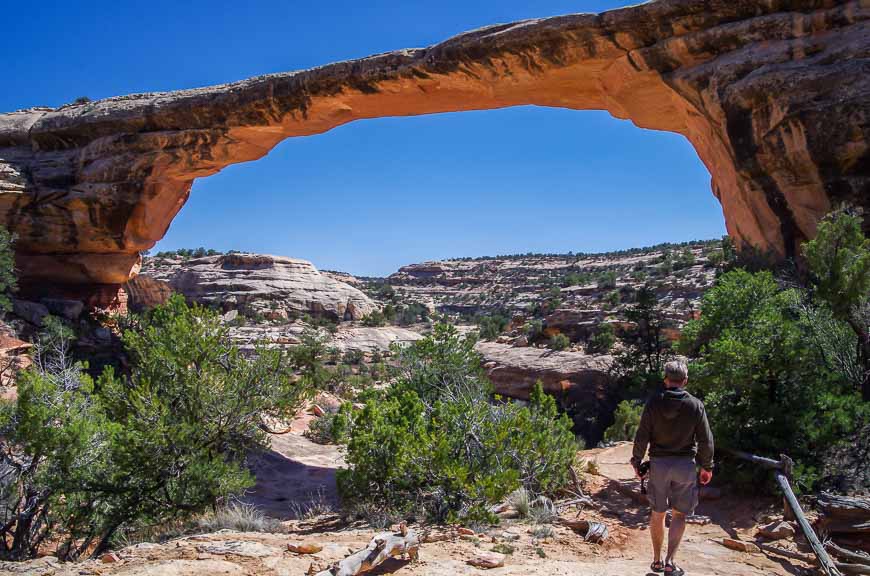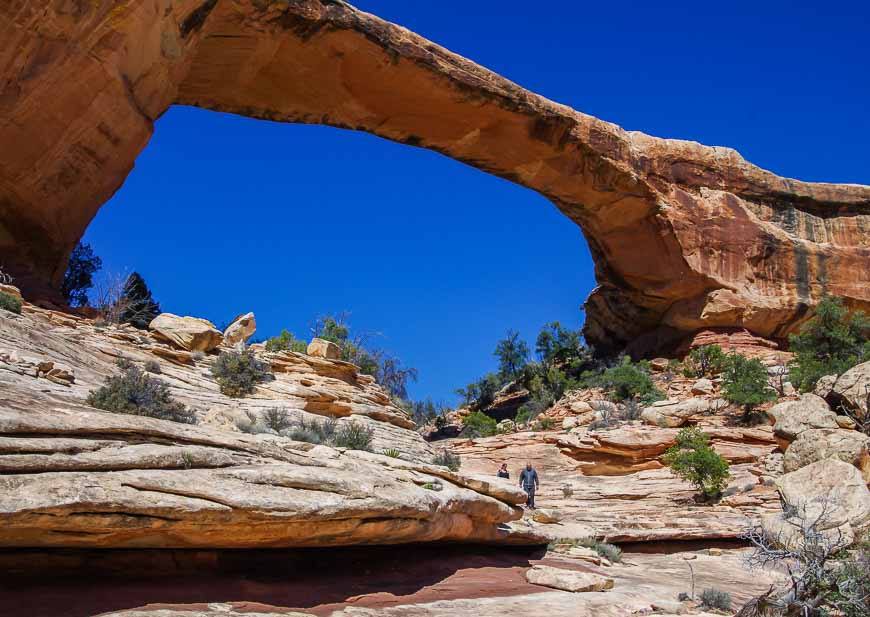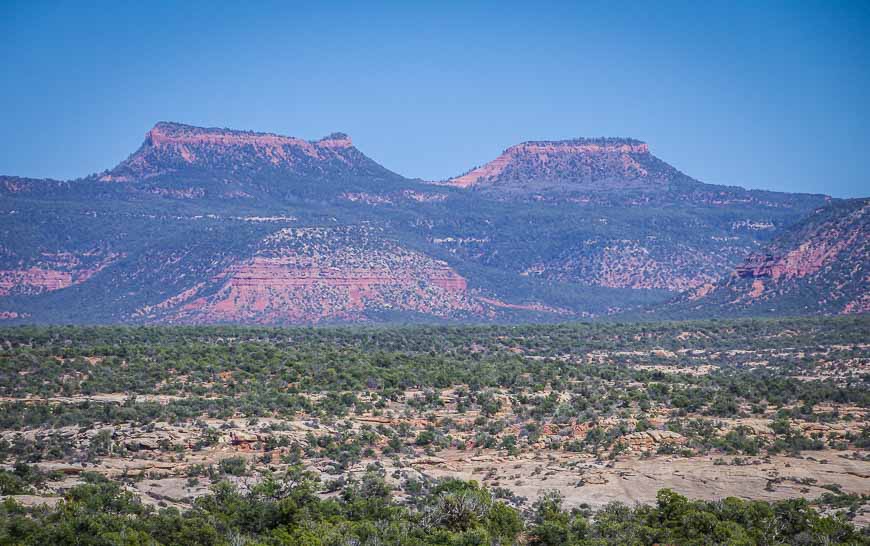 Stop at the Colorado River
Continue for another 90 minutes from the National Monument to reach Hite Crossing Bridge and the Colorado River. Just after you cross the bridge pull off in a turnout and go for a walkabout.
The 1,450-mile-long Colorado River is one of the main rivers in the southwest United States. It is the river that winds through the Grand Canyon. The landscape is especially beautiful around Highway 95.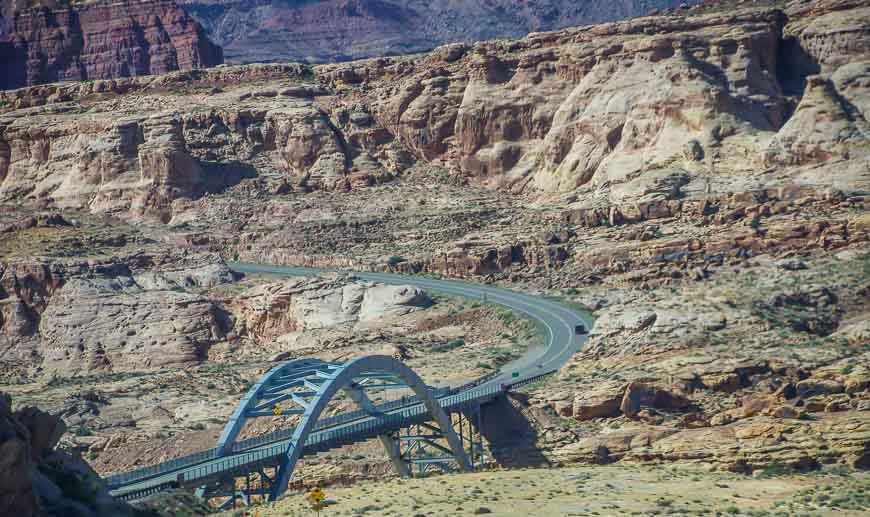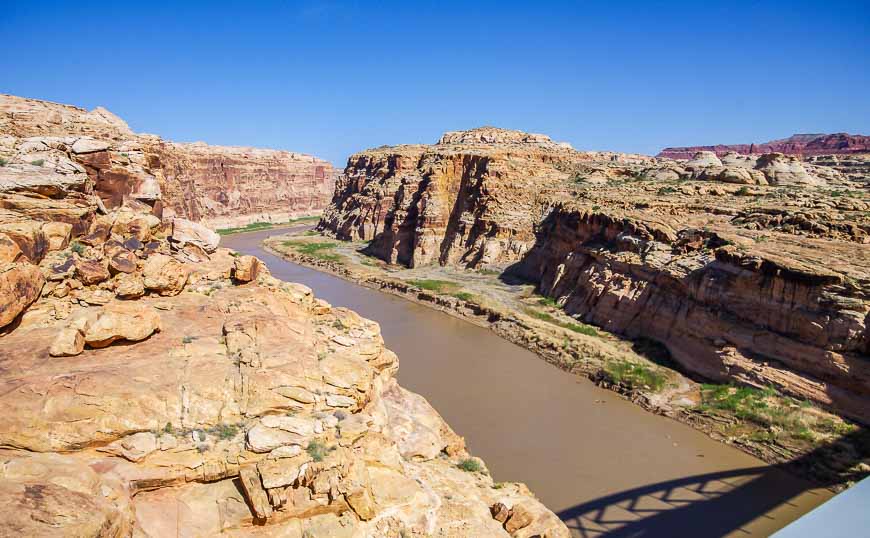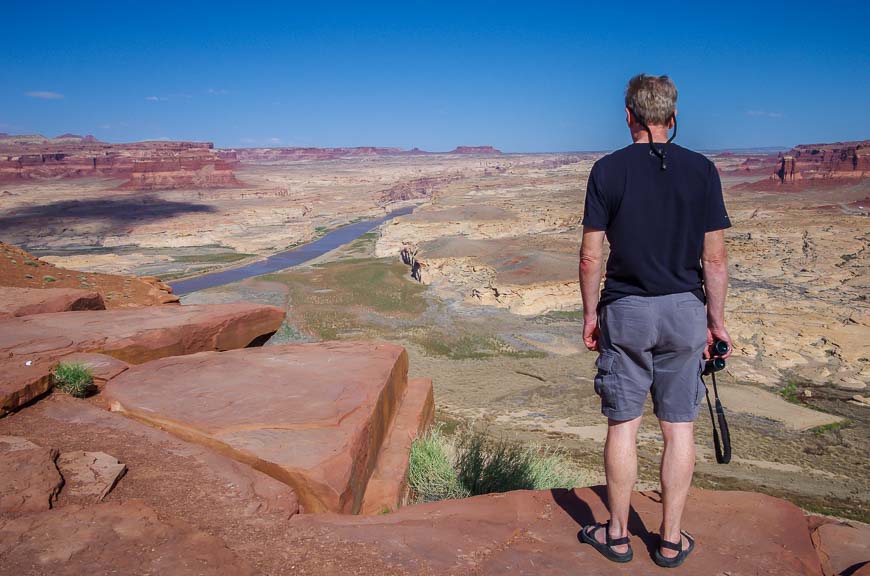 Revel in the views on your Utah road trip
It's an further 76 miles and 90 minutes of driving time from the bridge over the Colorado River to the entrance to Capitol Reef National Park. There are no formal stops though you could pick up a cold drink and something to eat in Hanksville – population around 200.
If you want to stay in Hanksville, there is a holiday home with pet-friendly cabins.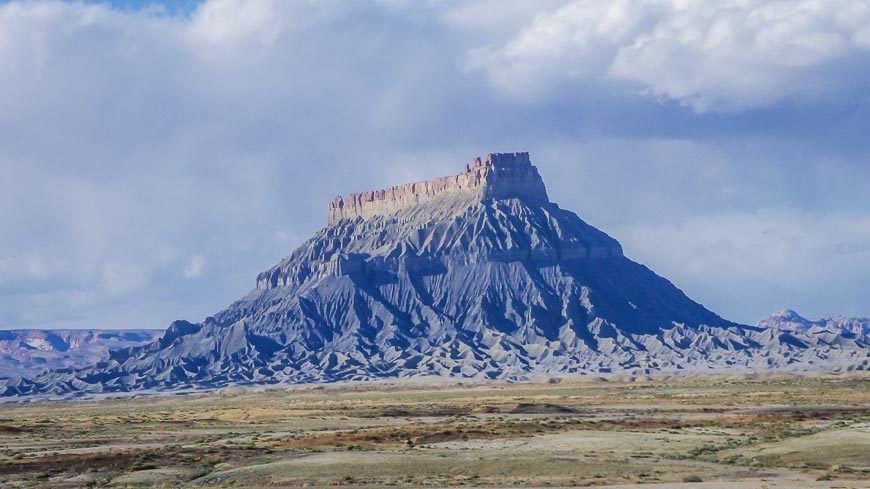 Goblin Valley State Park – a unique stop on a Utah road trip
I wish we'd had time to make the side trip to Goblin Valley State Park about an hour's drive north of Hanksville. Keep this place in mind if you're in the area.
It's known for its thousands of uniquely shaped sandstone "goblins". In the park enjoy hiking on five marked trails as well as lots of mountain biking. Night skies here are inky black and star-studded.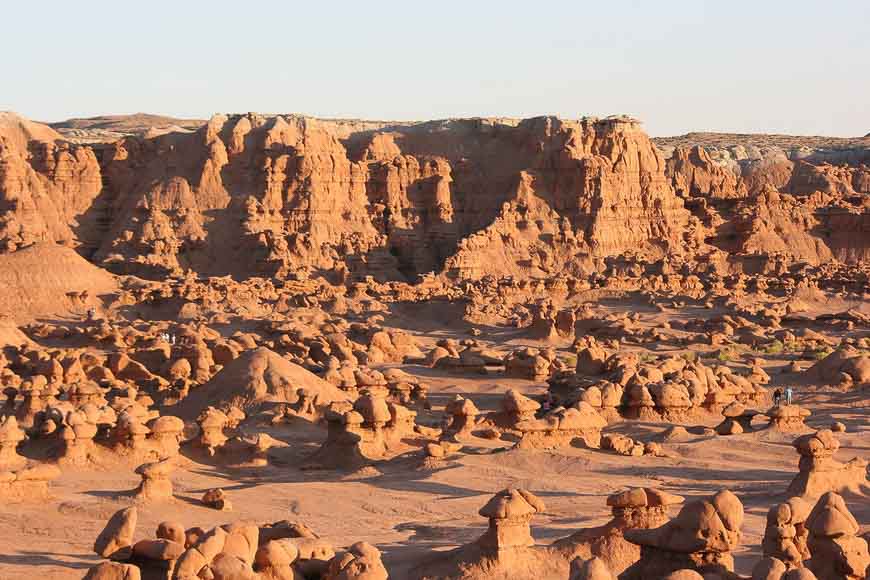 Utah road trip – heading west towards Capitol Reef
It's a gorgeous drive to Capitol Reef along Highway 24, especially when the angle of the sun is low. Even well outside the national park the views of eroded rock formations are swoonworthy.
Drive through the Capitol Reef to reach the town of Torrey. It's about six minutes from the west entrance.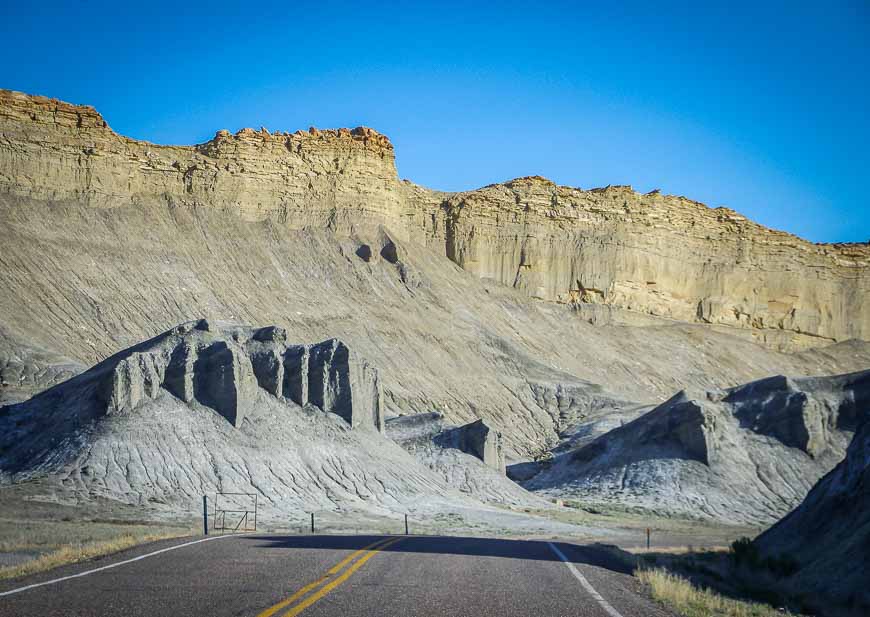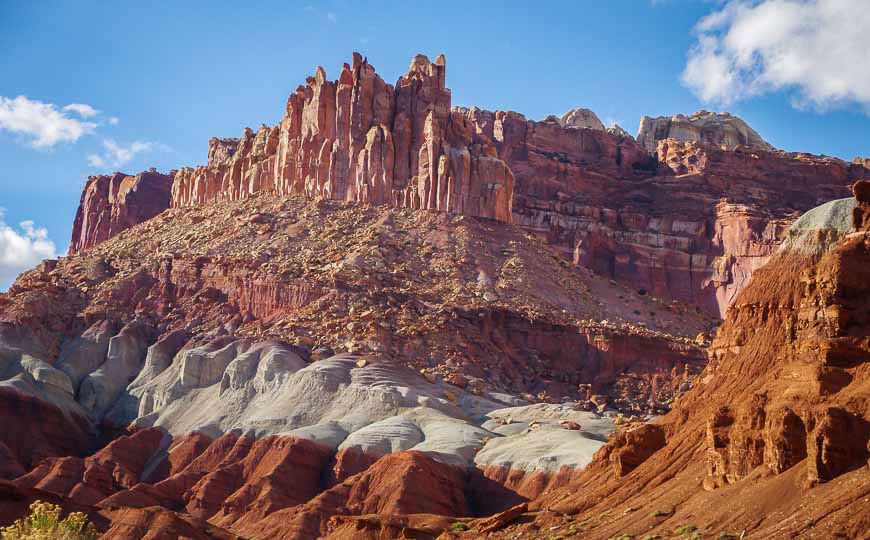 Where to eat in Torrey and Boulder, Utah
There are some decent restaurants in Torrey including Hunt & Gather Restaurant and The Rimrock Restaurant.
One night we did the stunning drive to Boulder, Utah so we could eat at Hell's Backbone Grill. I highly recommend the drive and the fantastic food – the best in the area.
Where to stay in Torrey, Utah
There are motels and hotels as options in Torrey.
The Broken Spur Inn & Steakhouse is rated as fabulous.
The Skyview Hotel – a three-star property – is rated as exceptional. Each room comes with a patio and there is a hot tub.
The Red Sands Hotel comes with a heated pool and is rated as fabbulous.
Further reading on things to do in Utah
Click on the photo to bookmark to your Pinterest boards.