Utah's Burr Trail – one of the state's exceptionally scenic byways – takes you into the southwest Utah backcountry through some of the most amazing scenery on the planet. All 68 or so miles of the drive is a visual smorgasbord of treats.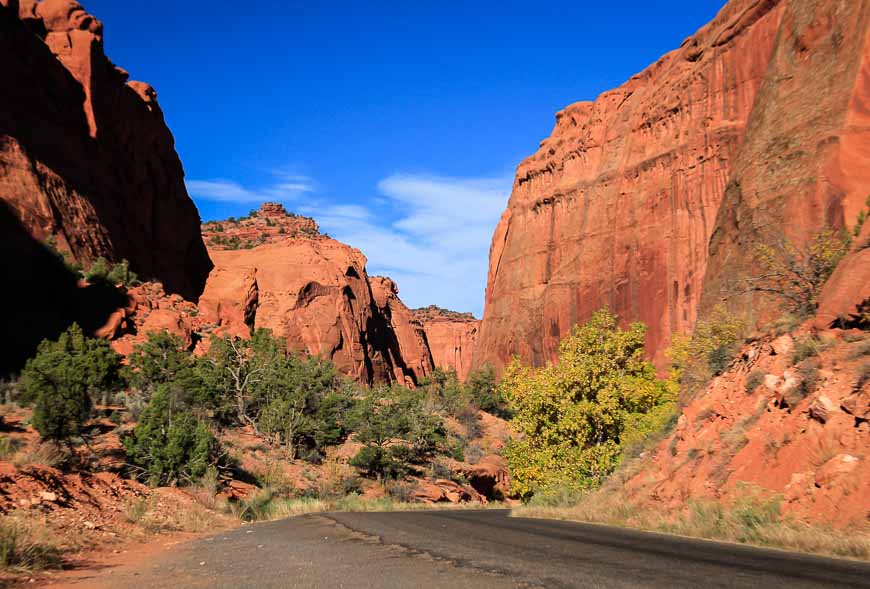 Burr Trail – an unplanned drive
We hadn't planned to drive the Burr Trail but after hiking for four hours and reaching the trailhead in 85°F heat we decided we'd had enough for one day. Our plan – drive a few miles down the trail to see what lay ahead, turn around and go back to Boulder for cold drinks.
What happened instead?
The scenery just got better and better – pushing us forward. We just had to know what was around the next corner. And that's why we got back to our lodge three hours later.
What it's like to drive the Burr Trail
The drive on the trail starts in the town of Boulder located on Highway 12 northeast of Escalante – if that helps. For the first 31 miles you're on paved road but once you reach Capitol Reef National Park it becomes gravel. Providing there's no rain in the forecast you should be fine. Otherwise the gravel roads can become impassable.
Just 7 miles into the trail you'll find Deer Creek. There's a campground ($4 per night) here and the trailhead for a backcountry trail that follows the creek all the way to the Escalante River.
In another 3.5 miles you'll find The Gulch and the beginning of the Long Canyon. There is lots of hiking in through here too though trails aren't formally marked.
Once you've dropped down to the valley floor look for the slot canyon on the left hand side of the road, about 0.8 miles past the bridge. It's worth the 15 minutes it takes to explore it.
Capitol Reef National Park
We drove into Capitol Reef National Park and stopped when we got to the sign that says "steep descent ahead". It's a wild mile of twists, turns and drop-offs that takes you to yet another valley floor.
We ran out of time to thoroughly explore – but more importantly we ran out of water. This is a drive where you want to go prepared. Carry at least gallon of water per person.
From the entrance to Capitol Reef National Park it's another 37 miles to reach the Bullfrog Marina on Lake Powell. From all reports and from what we could see in the distance the drive really is outstanding for its entire length.
If you have the time their are loads of hiking trails to explore. Chances are though that you'll need a four wheel drive to access the trailheads. Use some common sense in this desolate country too. Let someone know where you're going and take a really good map and route description with you.
Places to stay near Boulder Utah
This post includes some affiliate links. If you make a qualifying purchase through one of these links, I may receive a small percentage of the sale at no extra cost to you. Thank you very much for your support.
This part of Utah is a fantastic area to spend time as you're close to the Grand Staircase – Escalante Wilderness. Even Bryce Canyon National Park isn't that far away.
If you want a beautiful though remote location on a 150 acres of scenic woodland book in at the Boulder Mountain Guest Ranch.
In Escalante – a little further out from the drive you can stay in the well-appointed Escalante Yurts that get an exceptional rating. And if you want a quaint holiday home – with a gorgeous garden The Old Bailey Place should do the trick.
Further reading on things to do in Utah
Click on the photo to bookmark to your Pinterest boards.