Chimney Rock Trail Capitol Reef National Park
If you're looking for a short, easy hike in Capitol Reef National Park that delivers a landscape of red sandstone and badlands scenery choose the Chimney Rock trail.
You'll find the trailhead just off Highway 24. The only unfortunate thing with the hike on Chimney Rock Trail in Capitol Reef is that you will see the highway on the southern part of the loop. Don't let that deter you from hiking this beauty.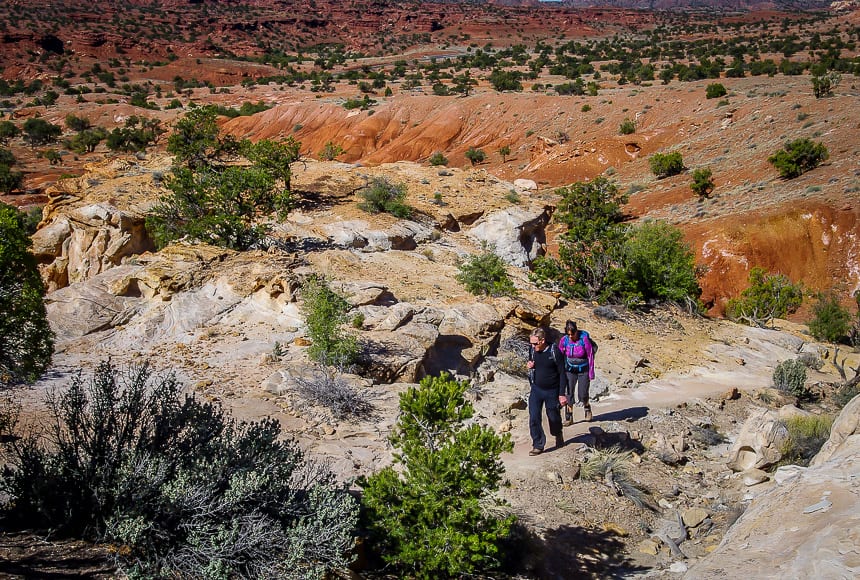 Chimney Rock Trail Capitol Reef hike description
The hike starts with a walk through the muted purples, reds and browns of the Chinle formation. Then a climb of a short but steep 95 m leaves you on a plateau at the intersection with the loop.
Head counterclockwise. The hike climbs again as it takes you close to the edge of the Mummy Cliff. Those that are afraid of heights will want to stand way back.
Others – like my husband will saunter up to the edge for the fantastic, though heart stopping view.
Look for Chimney Rock at the westernmost tip of the cliff. From there the trail follows the highway offering plenty of viewpoints before moving away from the road.
The trail passes wildly eroded rocks that look like the toes of a dinosaur. In short order you reach another intersection with a trail that takes you to Spring Canyon and eventually the Fremont River.
It's reportedly one of the best hikes in the park – and if you can arrange a shuttle you can do it as a 15.6 km (9.7 mi) one way hike.
At the intersection head left (west) and continue through a landscape of red, purple and brown on a good trail to return to the first intersection. Descend to the trailhead.
All told the hike is 3.5 miles long with an elevation gain of 177 m (580 feet). Allow 90 minutes – two hours depending on how many photography stops you make. And don't forget the water or sunscreen.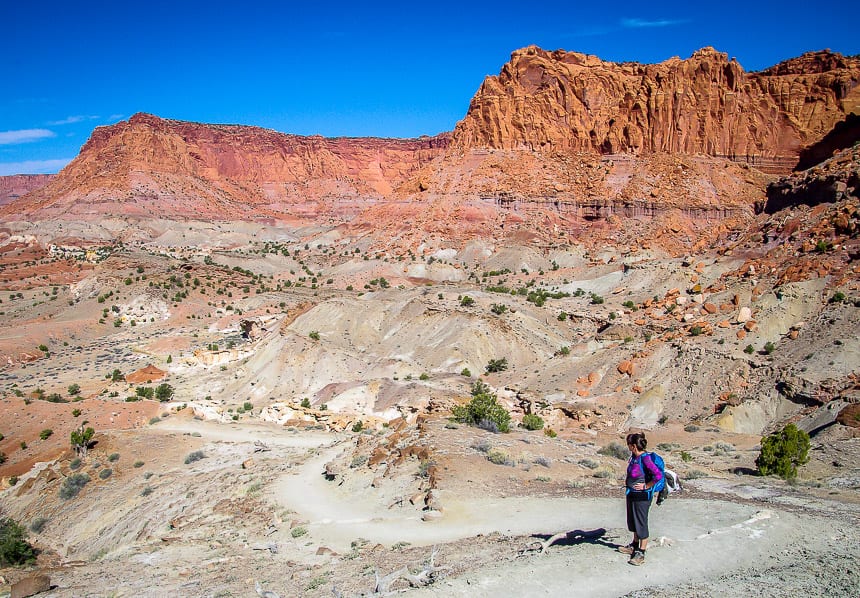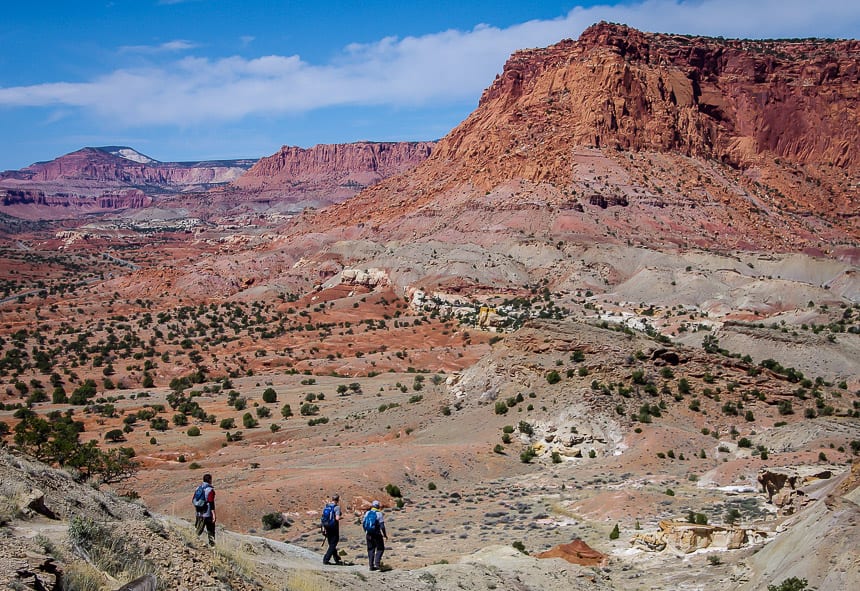 For more information about Capitol Reef National Park visit their website.
Further reading on hiking in Utah's national parks
Click on the photo to bookmark to your Pinterest boards.