If you have a few hours and you're in the Grand Staircase – Escalante National Monument area of southwestern Utah – between the towns of Escalante and Boulder, then plan to do the 1 – 2 hour hike to Upper Calf Creek Falls. It should definitely be on your to do list as it's a beauty from start to finish. And it's easy.
It's easy to combine the Upper Calf Creek Falls hike with the hike to the very beautiful Lower Calf Creek Falls. Just be sure to have plenty of water with you as this can be hot hiking.
Once you've managed to find the trailhead – which is actually easier than it sounds (see description below) – begin the hike by walking steeply down a huge slickrock of white to golden coloured Navajo sandstone.
It's a friction walk initially; plant your feet solidly and you'll be amazed at how steep a slope you can hike down. On the descent you'll see black, volcanic boulders transported via glacial meltwater from Boulder Mountain about 10,000 years ago though they look like they've been recently strewn around.
There is no signage but the trail is easy to follow
The trail isn't signed or marked but it's evident from the occasional cairn and in places the path is lined by rocks. After descending steeply for roughly five minutes you end up on a sandy trail with a gentle gradient. Then it's a mixture of walking on sand, more slickrock and even sandstone steps. Roughly 30 minutes into the hike gets you to a trail intersection close to the bottom of the canyon.
If you go right, you'll get to small falls and pools. Head left if you want to visit the bottom of the falls.
As you near the canyon, the blue of the pools off to your right will likely catch your eye. You'll probably hear the falls too.
From here it's only a few minutes' walk to reach the pools. When we were there, some kids had just come out of the small pools screaming from the cold temperatures.
Do exercise extreme caution around the edges because there is algae and it's slippery. Chances are you wouldn't survive a fall over the waterfalls.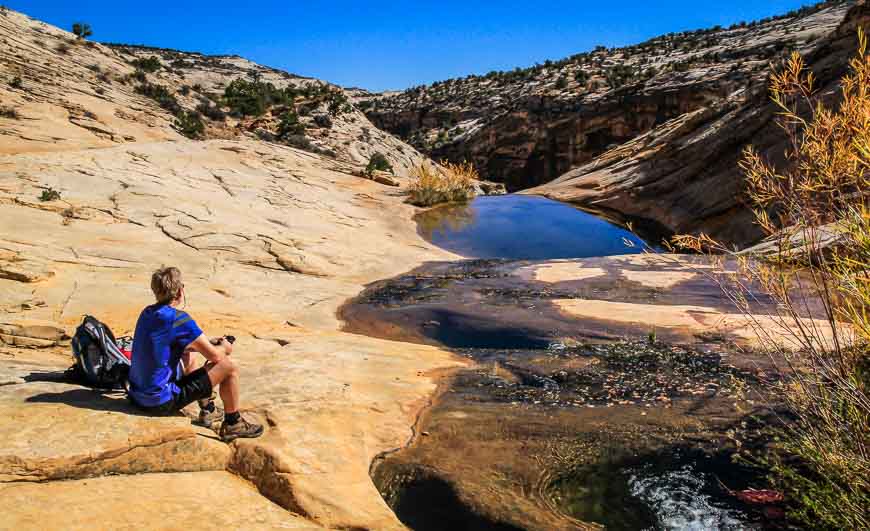 Just a few minutes above the first pool is a larger pool and small waterfall. From here if you've got the time and the inclination you could roam the slickrock for hours.
Otherwise retrace your steps and climb 200 metres (650 feet) back to the parking lot. All told it's a 3.5 kilometre (2.2 mile) round trip hike.
Getting to the trailhead for the Upper Calf Creek Falls Hike
The trail is accessible from Highway 12 between the towns of Boulder and Escalante. The turnoff is between mile marker 80 and 81. There is a dirt road heading west marked by a boulder with a white stripe on it.
Turn down this dirt road and follow it for just 1/10th of a mile to the trailhead register. There is plenty of parking. (There is only one other possibility on this section of road so chances are you'll have no problems finding it.)
For more information on the Grand Staircase – Escalante National Monument, visit their website.
Further reading on things to do in southwest Utah
Click on the photo to bookmark to your Pinterest boards.