I love visiting Banff National Park but in the height of the summer I tend to avoid the town of Banff and any of the mainstream sites and hiking trails. I'm not a fan of crowds. Fortunately, there are excellent summer alternatives to Banff National Park during the peak summer period, and many aren't far away.
If you're like me and a little crowd adverse try some of the following equally awesome experiences in Alberta. Even though they're not in Banff, be sure to reserve campsites and hotel rooms well in advance. I have found since COVID showed up that natural areas and campsites are far busier than they once were.
Kootenay National Park – one of the quieter alternatives to Banff National Park
If you're driving to Kootenay National Park from Calgary you'll still end up going through the gates of Banff National Park. If you don't have a pass already you can get one in person at the gate. But if it's a weekend you can expect seriously long line-ups so get there early. (You can also order your pass from Parks Canada ahead of time.)
It's about a 40-minute drive to the boundary of Kootenay National Park from the Banff gates. Kootenay National Park doesn't see nearly the number of visitors that Banff does – in large part because it's not nearly as developed. But it's equally beautiful. To plan your visit to Kootenay National Park click here.
This post includes some affiliate links. If you make a qualifying purchase through one of these links, I may receive a small percentage of the sale at no extra cost to you. Thank you for your support.
Where to stay in and around Kootenay National Park
You have the option of both front-country and back-country camping. Check out the Kootenay National Park website for information and reservations. In the Village of Radium Hot Springs in British Columbia there are loads of affordable accommodation options.
Just outside of Kootenay National Park is Storm Mountain Lodge. It's a great place but a pricier option than camping. Nipika Mountain Resort is another option.
What to do in Kootenay National Park
In Kootenay National Park I highly recommend backpacking the Rockwall Trail. It's a tough 4 – 5 day adventure that delivers big time on mountain scenery. There are also day hikes up to many of the campsites used on the Rockwall Trail. I would suggest the hike to Floe Lake in particular – as one of the top alternatives to Banff hikes.
Consider the 17.7 km Kindersley-Sinclair Col loop hike and the guided hike to Stanley Glacier to look for fossils. You must reserve that one in advance. And don't miss the short, easy but stunning hike up Marble Canyon.
Should you be visiting on a cooler summer day, plan a drive through the park so you can enjoy a soak in Radium Hot Springs.
Check out Yoho National Park
Yoho National Park is a fraction of the size of Banff National Park but offers some of the best mountain scenery in the country, especially in the Lake O'Hara area. It can get busy, but its definitely one of the quieter alternatives to Banff, Try the hike to Sherbrooke Lake or the Paget Lookout as an example.
Head to one of four campgrounds in the park, including a walk-in, first come, first served campground near Takkakaw Falls where there's a very high probability of scoring a beautiful campsite. Then spend several days hiking in the area. The Iceline Trail is fantastic.
If you stay overnight at the Stanley Mitchell Hut (run by the Alpine Club of Canada) or camp nearby then you have access to phenomenal mountain hiking in the President Range. Don't miss your chance to do the hike to see the Burgess Shale fossils when you're in the park by making a reservation here.
You can also stay overnight in Field at one of the many B&B's and Golden, British Columbia is only about a 50 minute drive away. The lovely Emerald Lake Lodge is another option.
Access to Yoho National Park is via the Trans-Canada either heading west about an hour from the gates in Banff National Park or east from Golden.
To plan your visit to Yoho National Park click here.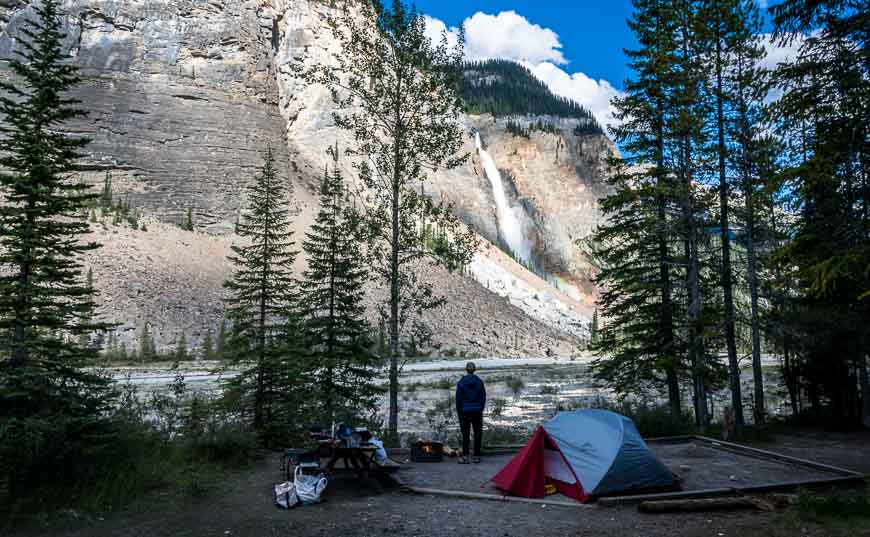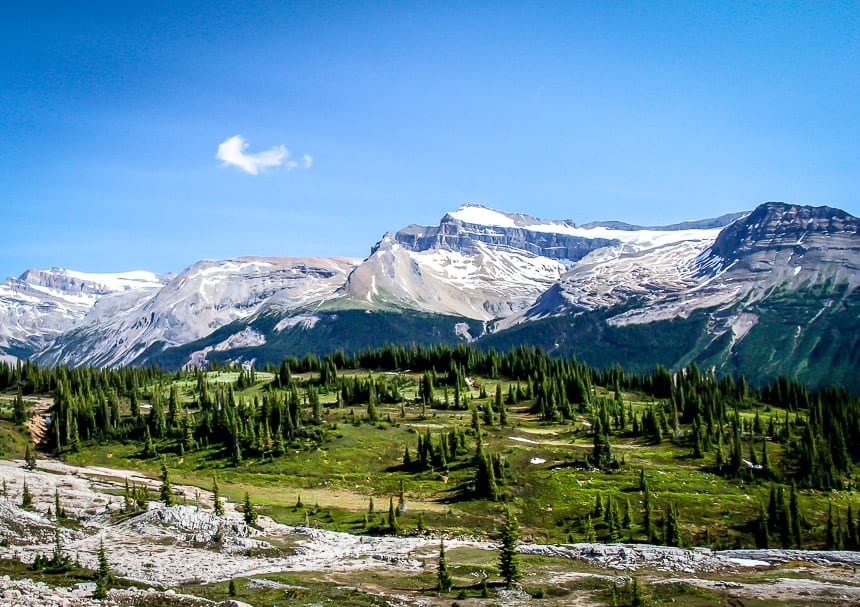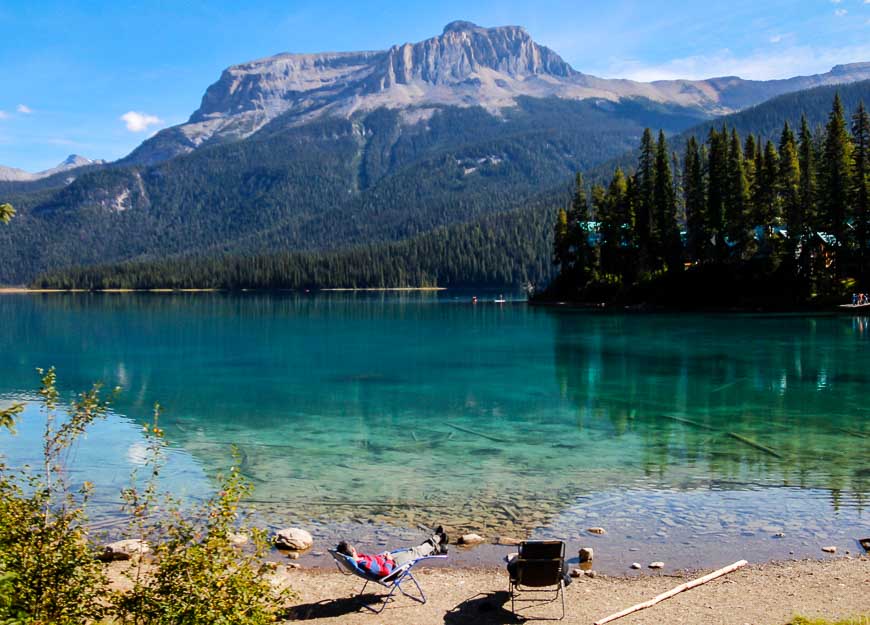 Alternatives to Banff – Waterton Lakes National Park
Waterton Lakes National Park is a three-hour drive from Calgary. The park borders Glacier National Park in Montana. You can expect gorgeous mountains and glacial lakes. Although it will be busy, it won't be anything like Banff.
Where do you stay in Waterton?
I highly recommend a drink or a meal at the Prince of Wales Hotel for the view alone. The hotel is a little run down but you can't beat the location. One weekend I stayed in the Waterton Glacier Suites and would recommend them if you want to do some of your own cooking.
What can you do in Waterton?
Waterton Lakes National Park is home to over 250 species of birds and 60 species of mammals including a healthy grizzly and black bear population. It's also considered to be one of the wettest and windiest places in Alberta – something to keep in mind if you're planning to camp.
Enjoy fantastic hiking, biking, cycling, horseback riding, and a boat ride down the length of Waterton Lake. The night skies are dark too and excellent tours are available.
I've done numerous hikes in Waterton and all were phenomenal. The Crypt Lake hike is one of the more unusual ones you'll ever do in Canada as it includes a ladder, tunnel and chains. The Lineham Ridge hike takes you into gorgeous red rock country with fantastic mountain views.
Take the shuttle and do the Carthew-Alderson Trail as a one way hike. Expect very diverse scenery – from mountain to prairie views.
There are also camping options; choose from nine wilderness campsites and a campground in town that is vehicle accessible. For more information visit this website. Book EARLY!
Read: Things to do in Waterton Lakes National Park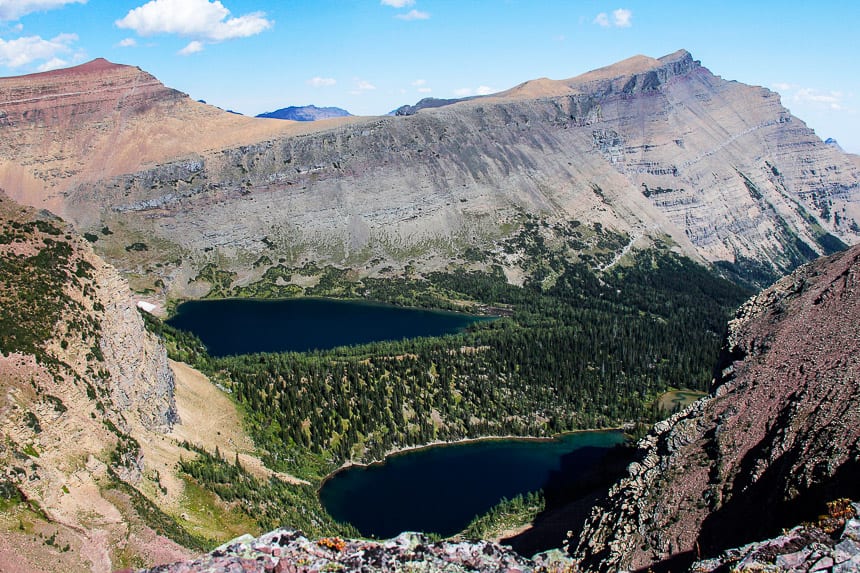 Alternatives to Banff – the much quieter Crowsnest Pass area
The Crowsnest Pass area is not on the radar of many people and yet it's got top-notch scenery including mountains and waterfalls, Canada's second largest landslide, a host of cute towns and lots of accommodation options. Also, it's just a 2.5 hour drive from Calgary.
You could easily visit this area, cross into British Columbia, check out Fernie and Cranbrook and return to Calgary via a stop in Kootenay National Park. You'd lose the crowds completely.
Where can you stay in the Crowsnest Pass area?
I've tried out two places so far – Country Encounters in Coleman – which I quite enjoyed and The Kanata Inn in Blairmore which is a tad more basic. There are loads of other options including camping beside the pretty Lundbreck Falls.
What can you do southern Alberta's Crowsnest Pass area?
There is a surprising amount of excellent hiking. One in particular – the hike to the top of Turtle Mountain – may cause a bit of an adrenalin rush as it takes you to the point where Turtle Mountain broke away and caused the Frank Slide.
This post showcases five of the best hikes in the Crowsnest Pass area. Don't miss a stop at the Frank Slide Interpretive Centre. And consider bringing your bikes as you can cycle the 23 km Crowsnest Community Trail. It's a scenic way to visit all the communities.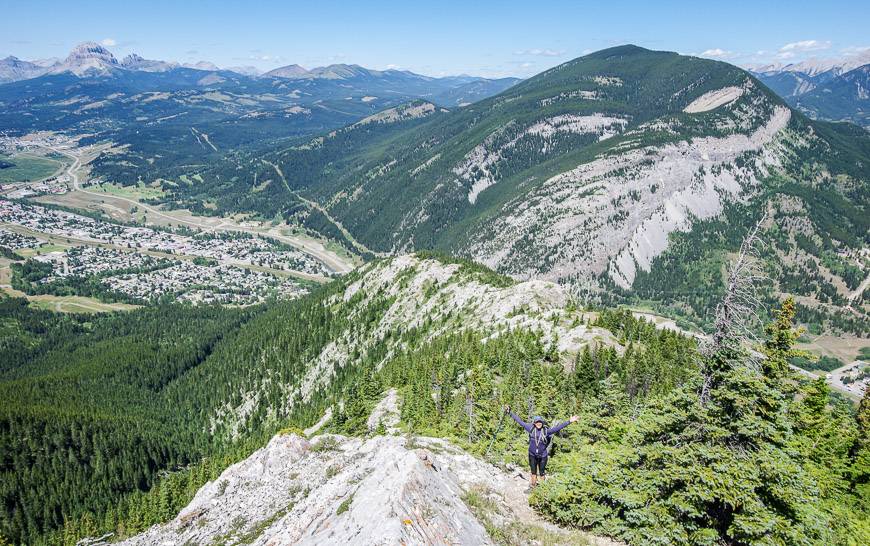 Visit the Canmore area
Canmore is both the gateway to Banff National Park and one of the points of entrance to Kananaskis Country. With a population of about 14,000, Canmore has all the amenities you need along with great access to hiking and biking trails.
Where can you stay in Canmore?
Canmore offers the whole range of accommodation options from B&B's to the intimate Paintbox Lodge run by Olympian Sara Renner and her husband to the newer Basecamp Resort where you can make your own meals and enjoy a hot tub with a view. I also highly recommend the Malcolm Hotel, especially if you like an outdoor pool with a view. Nearby there are campsites at Bow River Provincial Park and Lac des Arcs.
What can you do around Canmore?
There is so much to do around Canmore that you don't need to venture into Banff National Park. But you could on a bike by cycling the fabulous Legacy Trail – and it's easy to rent bikes in Canmore. There are also some lovely family-friendly bike paths around the town, especially along the river.
If you love hiking, you won't be compromising on the trails in and near Canmore. They are easy alternatives to Banff. There's enough hiking to keep you busy for a week. The Grassi Lakes are always a popular choice. Do the steep hike to the top of Ha Ling Peak for stellar views. Try Mount Lady McDonald or the more difficult EEOR Peak.
The High Rockies Trail, the westernmost section of the Trans-Canada Trail in Alberta, offers superlative scenery and caters to both hikers, trail runners and mountain bikers. The starting point is at Goat Creek, near the trailhead for Ha Ling Peak.
You can also go caving in Canmore. See what you think of the laundry chute. I'm not a fan.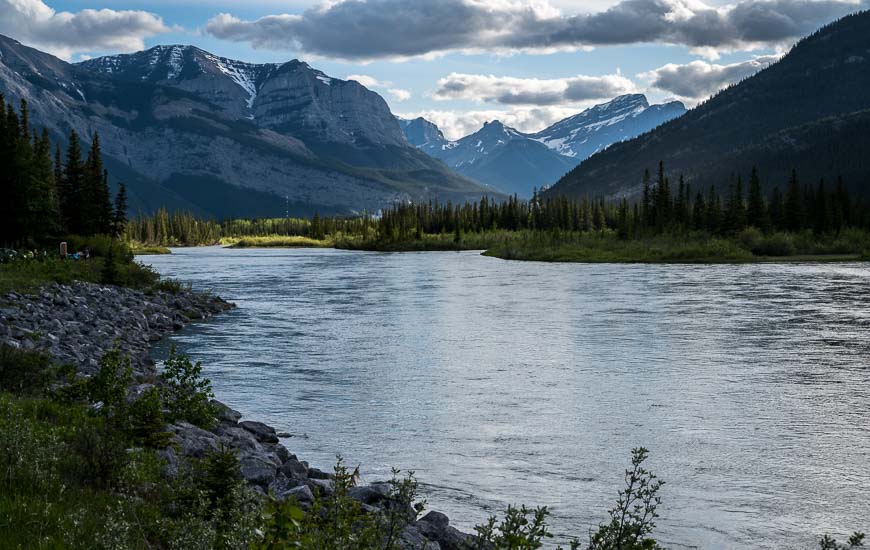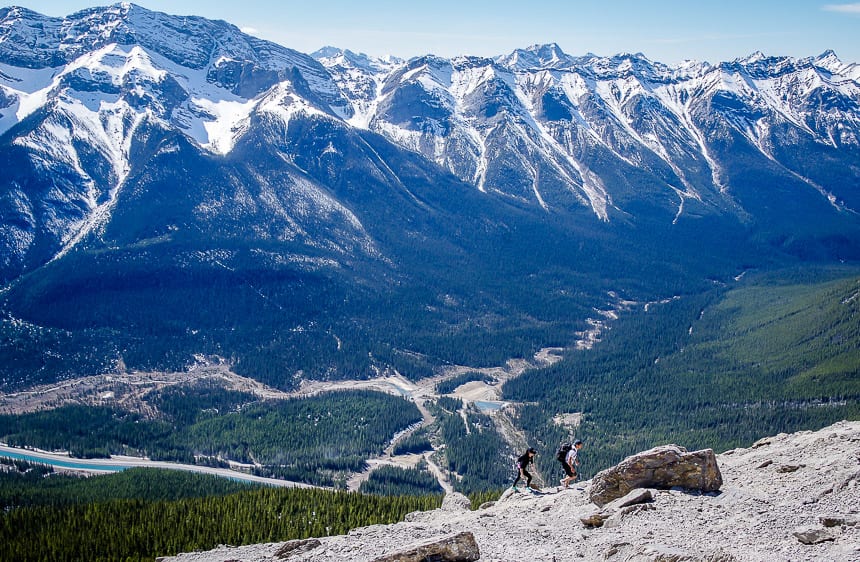 Summer alternatives to Banff: Kananaskis Country via Highway 40
You don't have to go to Canmore to get into Kananaskis Country. Just drive from Calgary to Highway 40 and head south. It's only about an hour's drive to get into Kananaskis Country and it was one of the less crowded alternatives to Banff until COVID hit. Now it's getting busy too so I'd encourage you to try the harder hikes if you want to lose the crowds.
There are lots of overnight options from front and backcountry camping (click here for more info), to a stay in a tipi stay at Sundance Lodges, to the newly renovated Pomeroy Kananaskis Mountain Lodge and the wonderful Mt. Engadine Lodge – my personal favourite.
Once you're in K-country as it's often called, you can road or mountain bike and hike to your heart's content.
For road biking I recommend the ride up Highwood Pass – the highest paved road in Canada. There are mountain biking trails everywhere in K-country. I've only done a couple – the easy one to Troll Falls and another behind the Delta Hotel so check in with Kananaskis Outfitters to get some local knowledge. They rent bikes too.
There's lovely hiking at the top of Highwood Pass including the fantastic Pocaterra Ridge hike and the easier Arethusa Cirque hike.
Closer to Mt. Engadine Lodge (where you'll often see moose) there are some excellent hikes. I've never done Tent Ridge but it's one everyone I talk to raves about. The hike to Buller Pass is a beauty as is the hike to Black Prince Cirque. I'd also recommend the South End of Lawson hike.
You could literally spend weeks exploring Kananaskis Country. As of 2021 you need a Kananaskis Conservation Pass which you can purchase online. For access from Calgary, Kananaskis Country ranks at the top for summer alternatives to Banff.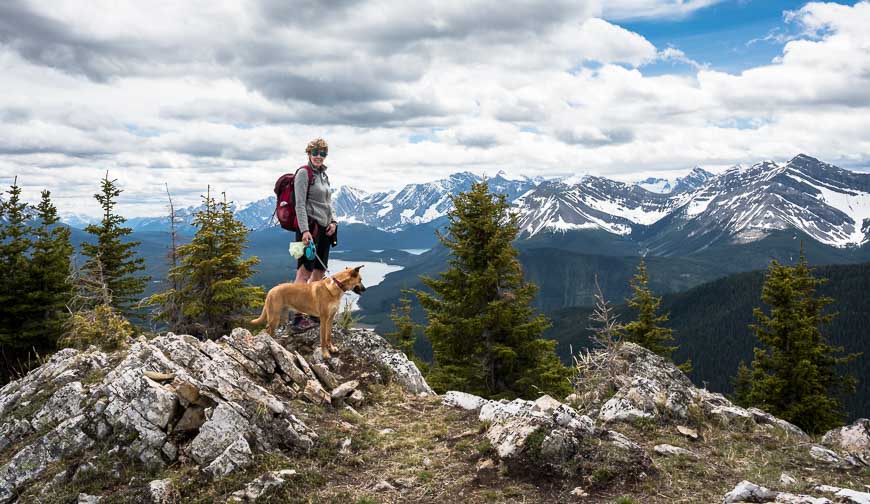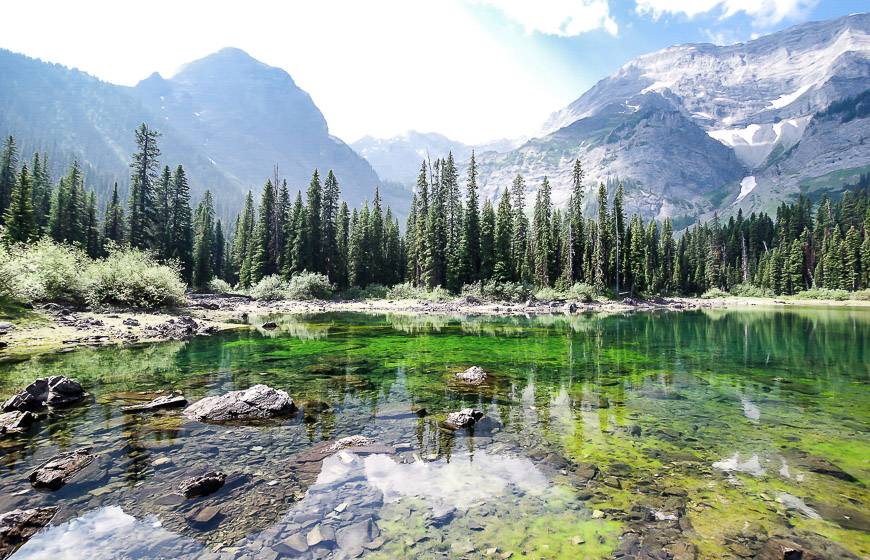 Even if Banff National Park is very busy there are enough choices near the park that a summer visit is still extremely worthwhile. And if you avoid the town of Banff, and head for the backcountry, you can almost always enjoy a peaceful, wilderness experience. Just book backcountry campsites early.
Location map of alternatives to Banff
Click on the photo to bookmark to Pinterest boards.