Joshua Tree National Park is a hiker's paradise, especially in early March when the temperatures are moderate and the desert flowers are beginning to bloom. While visiting Palm Springs, my daughter and I made a day trip to Joshua Tree. We only had a few hours, so we chose the Ryan Mountain hike for the fantastic 360 degree views you get from the summit.
The straightforward hike is steep in places but I'd rate it as moderate. Over 1.5 miles it gains 1070 feet of elevation on a very well-marked trail. Allow 1.5 hours to do the return hike. The best time to do the Ryan Mountain hike is in spring, fall and winter. If you attempt it in the summer, do it first thing in the morning before the desert heats up.
Updated February 2022. This post includes some affiliate links. If you make a qualifying purchase through one of these links, I will receive a small percentage of the sale at no extra cost to you. Thank you for your support.
Ryan Mountain hike details
Distance: 3.0 miles return
Elevation gain: 1070 feet
Time needed: 1.5 – 2 hours
Best season: Spring, fall and winter
Dogs: Not allowed
The Ryan Mountain hike is on an easy to follow trail. It's a popular hike that offers 360 degree views of Joshua Tree National Park – so its a great hike to get your bearings. If you're new to the park, this is one of the top hikes to do.
The hike starts off in a world of big boulders. I felt like I was on the set of the Flintstones cartoon with Fred and Wilma the only thing missing.
Even though the trail is a snap to follow, it is still rugged so good footwear is important. In short order you're treated to superb views as the Wonderland of Rocks opens up to the northwest.
Within 15 minutes of hiking you get some views and they just get better the higher you go. You should be able to see San Gorgonio and San Jacinto Peaks, the Wonderland of Rocks and the Lost Horse Valley.
If you can plan to be on the summit at sunset. You'll enjoy wonderful desert scenery in a palette of hues. But don't forget the flashlight for the hike down.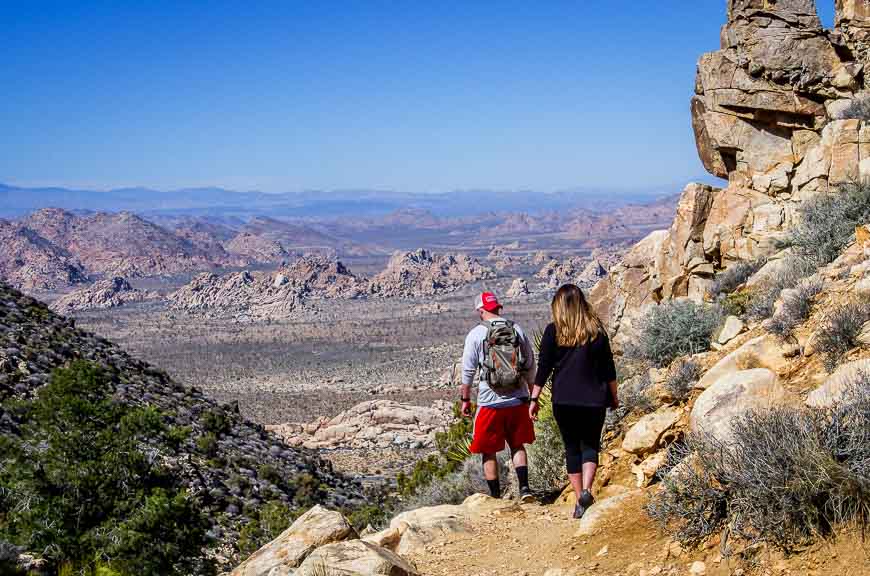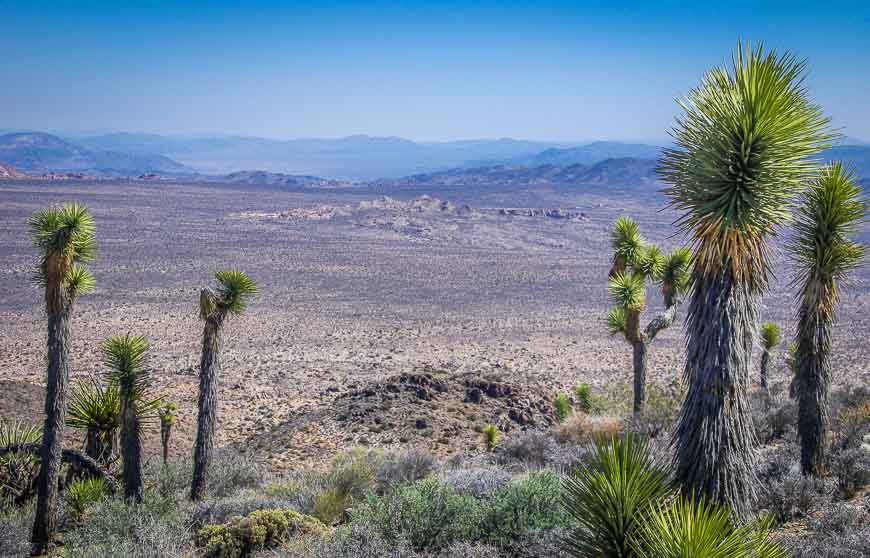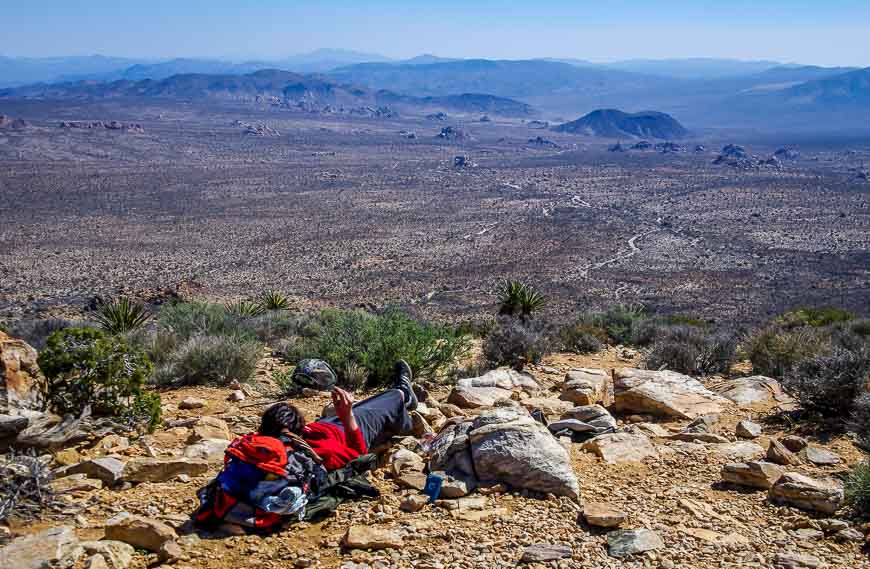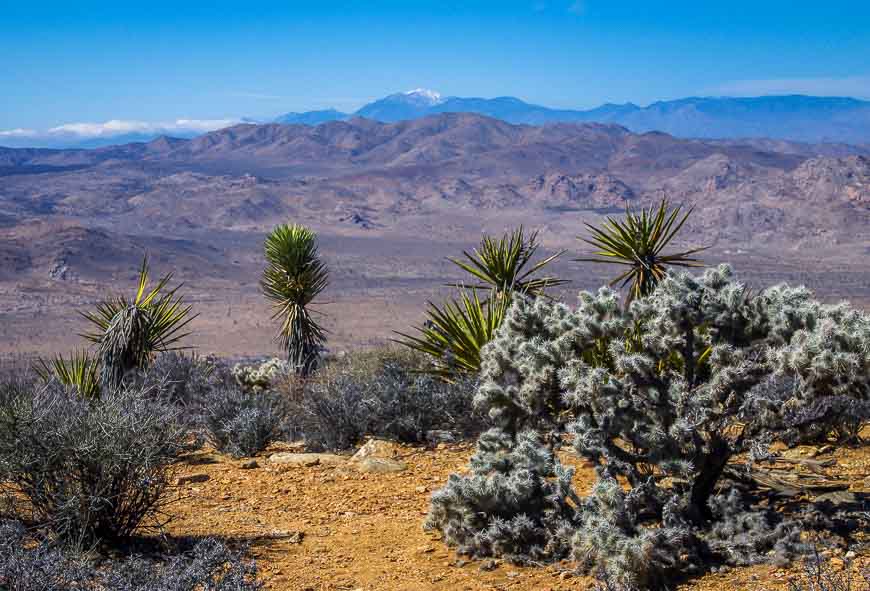 Desert bighorn sheep
We got lucky with a sighting of about ten desert bighorn sheep. Apparently about 100 – 200 sheep live in Joshua Tree National Park, though there is a population of about 13,000 across the desert mountains in the western United States. The male rams can weigh 200 pounds. By the time they are mature adults, at the age of seven or eight years, their horns can weigh as much as 30 pounds. Horn size is a sign of rank!
Go prepared on this California hike
As with any desert hike, you should go prepared. Take water, sunscreen and a sunhat. You might need a light-weight jacket if its blowy on the summit.
Dogs and bikes are not allowed on this trail. You do need a park pass to access the trail. Entrance fees are $30 per car, good for a week. Motorcycles are $25. Should you enter on foot or bicycle it's $15.
Allow 2-3 hours to do the round-trip hike – and even more time if you hang out at the summit.
For more information on Joshua Tree National Park visit their website.
Getting to the hike
The trailhead for Ryan Mountain sits in the center of the park, east of the intersection with Keys View Road. (See map above.) The parking lot is large and well-signed. You can also start the hike from the Sheep Pass Group Campground.
Camping in Joshua Tree National Park
Joshua Tree is a great place to camp – and allows easy access to so many great hikes. It sure beats driving back and forth to Palm Springs. Campgrounds though usually fill between October and May!
There are 9 developed campsites, with many of them are closed from late May until early September. Some sites like Jumbo Rocks Campground are by reservation only whereas many are on a first come- first served basis.
For more information on all the campsite – and attendant rules and regulations visit the camping section of the Joshua Tree National Park website.
I'd like to visit for several days for the stars alone – and the fact there are so many private and very beautiful camping spots.
Where to stay in nearby Twentynine Palms
Twentynine Palms is the closest town. Top choices include the Fairfield Inn and Suites (rated superb) and Flying Point Homestead rated exceptional. There are two separate homes and a vintage travel trailer available. It's all well set up to do your own cooking. The Oasis Visitor Centre is only about a 6 mile drive away.
Further reading on hiking in US national parks
Click on the photo to bookmark to your Pinterest boards.