The pretty town of historic Mariposa California with a population of just 18,000 sits at the junction of Highways 49 and 140, not more than a 40 minute drive away from the west entrance of Yosemite National Park. You would need to add a few hours to the drive if you hit a big snow storm like I did.
Mariposa California is a former gold mining town – as you'll quickly see with door handles made from gold pans and street names like Bullion.
Updated March 2021. This post includes some affiliate links. If you make a purchase via one of these links, I may receive a small commission at no extra cost to you.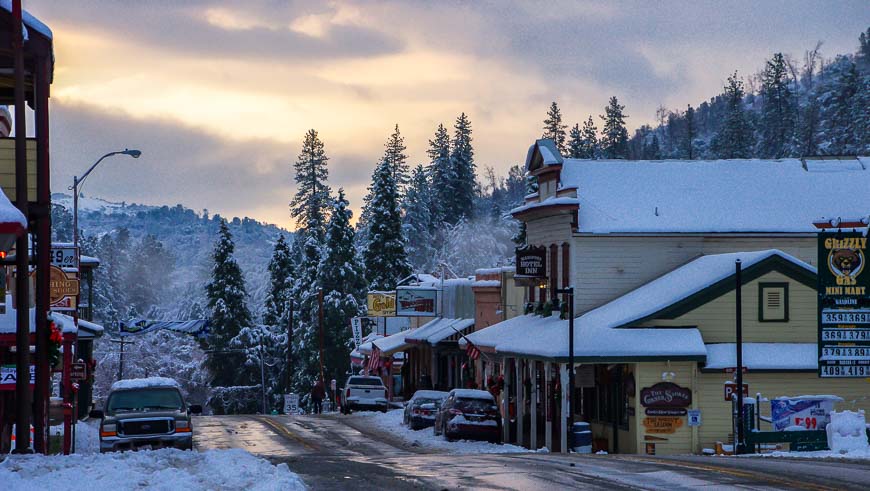 Although Mariposa is well situated to visit both Mariposa Grove and the Yosemite Valley, it deserves some time itself.
Businesses, galleries and restaurants line the main street and some have quite a history dating back as far as the mid 1800's. This is a town that saw gold prospectors arrive by the thousands as part of the California Gold Rush.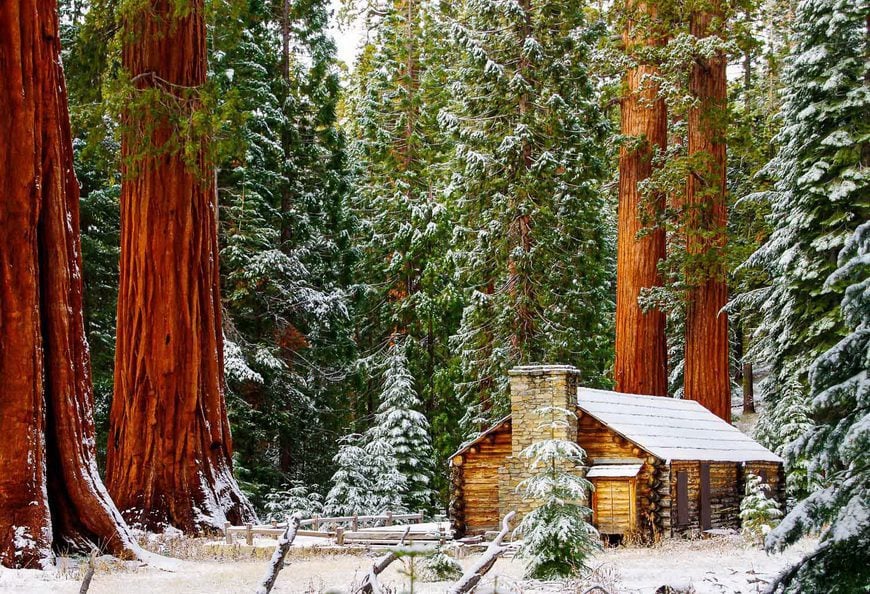 What do you to in a town like Mariposa?
Walk the town for starters. After you've finished poking in the shops and galleries on the main street (make sure you walk down as far as 5th Street) and after you've tried a local wine tasting at Ciera Wine Cellars, wander off on the path alongside the creek and explore the side streets.
Check out the Mariposa Gold Rush History Center and Museum and the California State Mining Museum. And don't miss a stop at the Mariposa County Courthouse, California's oldest seat of justice that is still in use.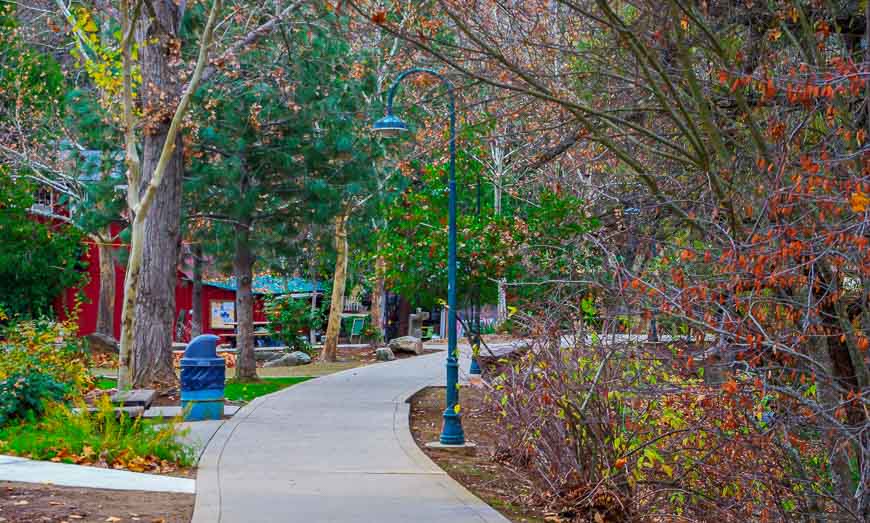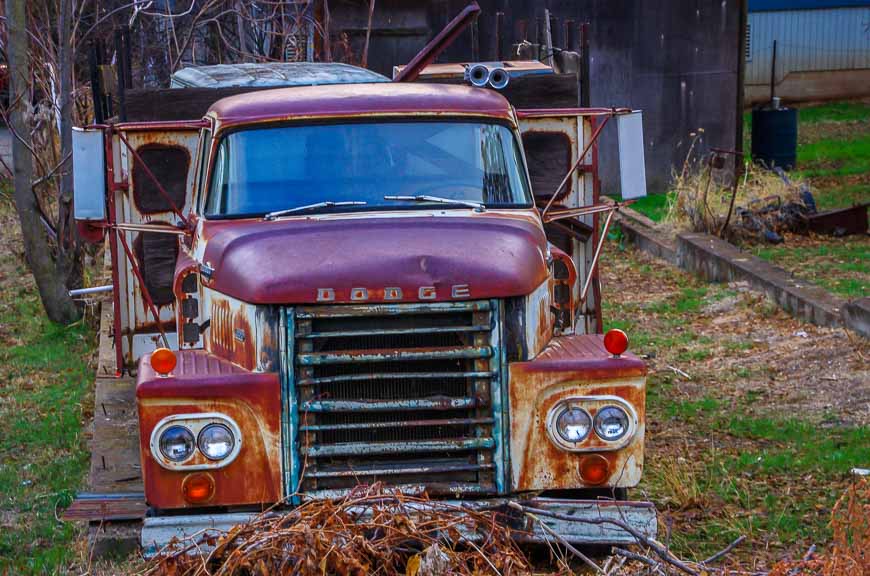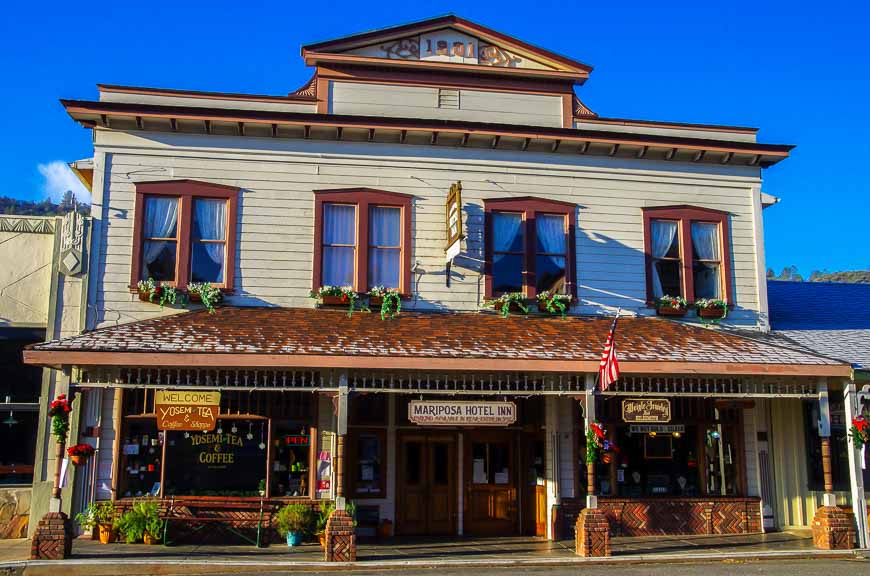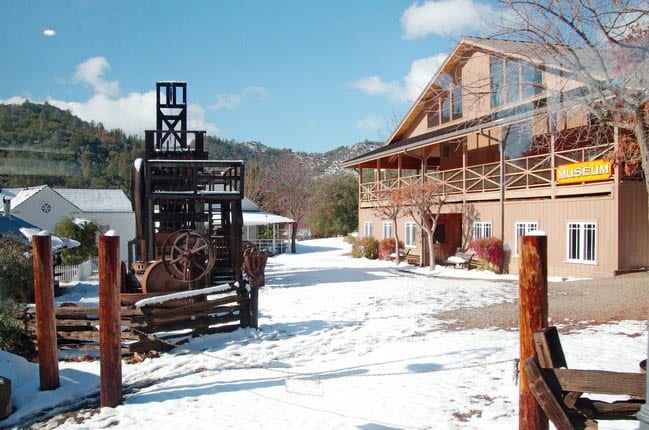 Where to eat in Mariposa California
At some point you'll likely be hungry. Numerous restaurants should solve that problem. Two I enjoyed were the Sugar Pine Cafe pictured below and the Gold Coin Bar and Tavern which boasted a collection of the owner's guns on the walls.
Both places had a great ambiance and staff were extremely friendly but I have to give the Sugar Pine Cafe the edge on the food. Restaurant prices are very low in this town – making it a bargain to visit.
Where to stay in Mariposa
There are lots of places to stay from chain hotels to an assortment of B&B's. There is the option too of taking a bus up and back into Yosemite for the day if you don't feel like driving.
For a chain hotel with a predictable experience the Best Western Plus Yosemite Way Station should fit the bill.
For an exceptionally rated B&B check out Highland House Bed and Breakfast.
I did and can attest to the fact that they are big and comfortable. And if you don't have chains and you get caught on a snow day they are a good choice.
Mariposa is definitely worth the visit and it's certainly an affordable alternative versus a stay in Yosemite National Park.
Further reading on things to do in California
Click on the photo to bookmark to your Pinterest boards.