How do you know a stay away from home is memorable? When you enjoy yourself so much despite the pouring rain and incessant cloud cover that you'd go back in a heartbeat. That's how my husband and I feel about my time at the stunning Long Beach Lodge Resort in Tofino, British Columbia.
If you need a break from work, life or just want to be inspired by the beauty of the west coast, Long Beach Lodge in Tofino is a marvelous place for that to happen. Although summer is a particularly beautiful time to visit the Tofino area, you really can't go wrong with a visit in any month of the year.
This post includes some affiliate links. If you make a qualifying purchase or booking through one of these links, I may receive a small percentage of the sale at no extra cost to you.
Long Beach Lodge Tofino – the rooms
The rooms are beautiful. As you walk in, you see the endless ocean staring back at you, beckoning you to surf or walk its shores. Our room had ample space to move about, featured a massive bathroom including a soaker tub tucked behind shutters (which open to look out to the sea) with complimentary bath salts.
Lush robes hang for you to kick back and relax or to throw on for the short trek to the hot tub or sauna in the Surf Club. Our covered deck looked directly out at Cox Bay where we spent evening's enjoying a glass of wine as we took in the enormity of the ocean and the playfulness and athleticism of the surfers.
The rooms also come equipped with a mini fridge, a Keurig single brew coffee maker, a tea selection and kettle, both wine and water glasses, a cozy fireplace and lounge chairs to read in or just enjoy the view. And the king bed was almost too comfortable. But with too much to see and do, you must get out of bed!
As we set off to explore, donning the rain jackets and umbrellas provided for use during our stay (these came in handy!), it was evident the lodge and resort property were designed with great care. The Rip Tide Centre adjacent to the Surf Club offers coin laundry and a workout room while the Surf Club has a great gift shop and coffee bar.
One of my favourite features is the patio which is spotted with fire pits and Adirondack chairs. One night, Mother Nature opened her skies for us to allow a perfect evening by the fire meeting other guests and their dogs (yes – Long Beach Lodge Resort is pet-friendly!) while enjoying snacks and drinks.
The beach, a matter of steps away, curves with glorious rocky shores on one end, a small green hill worth a climb for the view on the other end and the most wonderful stretch of sand in between.
At nearly any time of the day you will find guests strolling the shores, beach-combing and searching the tide pools for tiny sea creatures.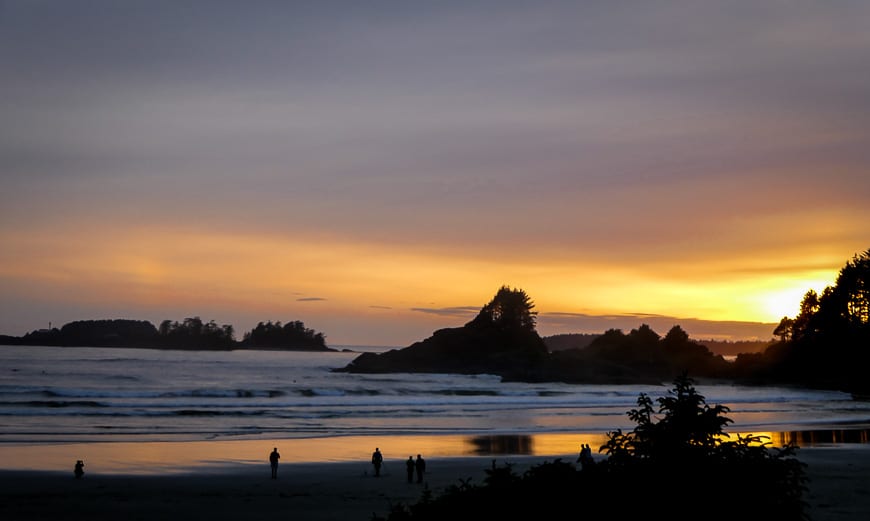 Dining at Long Beach Lodge
When your activity has built your appetite up too strong to ignore, you can pop into one of three amazing dining options: The Great Room, the café in the Surf Club or their casual beachfront café The SandBar Bistro.
My favourite breakfast ended up being their Bagel & Lox – house-made bagels with whipped cream cheese and incredibly fresh smoked salmon offered the best start to the day.
We also can't stop raving about our dinner – slow roasted lamb shank with mustard-celery root puree & crispy polenta with natural jus for Michael and a smoked salmon & wild mushroom risotto for myself.
Activities to enjoy from Long Beach Lodge
Surfing in Tofino
Let's start with the surfing. When my husband and I visited the lodge back in June, we were eager to try some surfing lessons. Now while I'd surfed in warm weather climates like Costa Rica and Nicaragua, I had never surfed in a wetsuit.
LET ME TELL YOU, it's substantially harder But what shocked me the most is that despite the cold temperatures both outside and in the water, I never felt cold for a single second. That's the beauty of Tofino. With wetsuits you can surf year-round!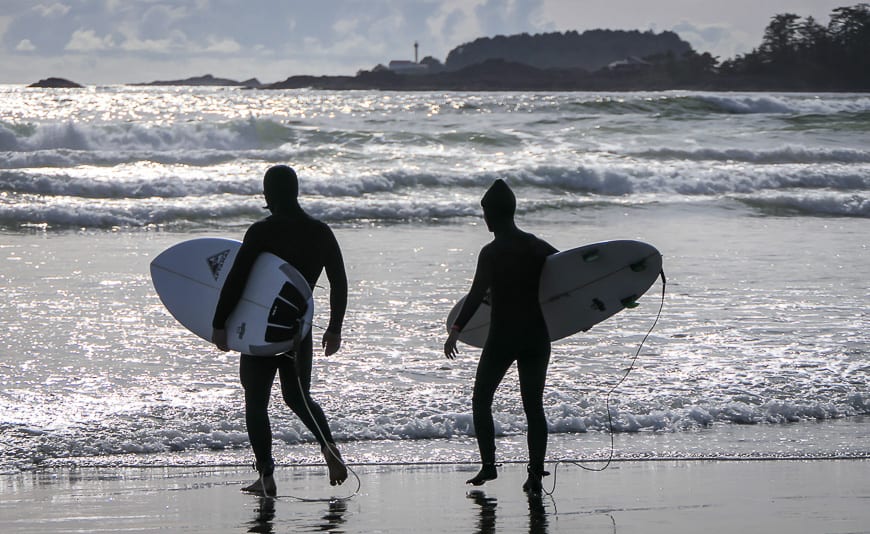 Take a surf lesson
Most people that participate in the surf lessons surf directly in front of Long Beach Lodge, but because of heavy conditions on our lesson date, our instructor took us up the road to Chesterman Beach which has consistent waves that are perfect for beginners.
Don't let fear of the unknown stop you from trying these lessons. It doesn't matter if you've never surfed before; following some on land instruction, you'll love the rush of working to catch a wave.
A private lesson goes for $189 and a group lesson is a mere $99 per person – and both are for 2.5 hours of instruction. This includes all of your equipment – wetsuit, booties, and surfboard.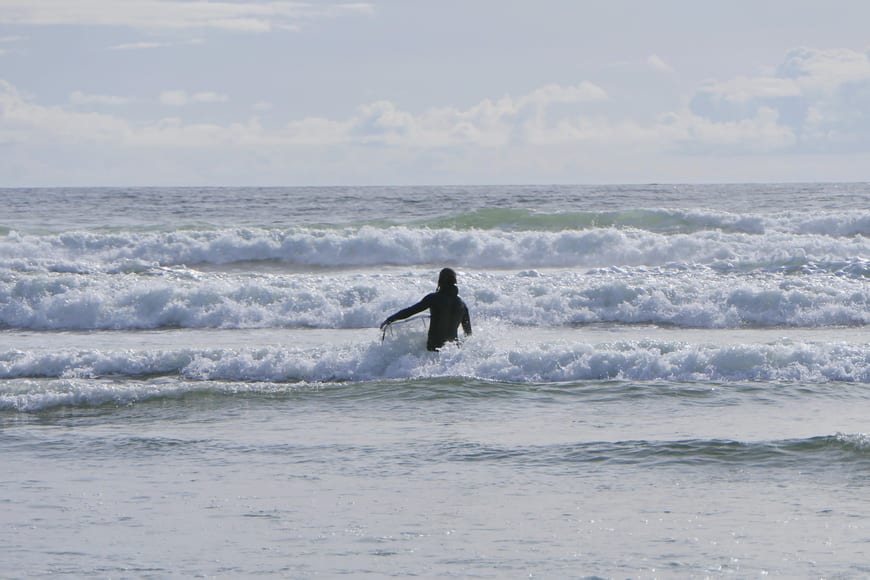 Now here's the best part, after you've worked your muscles, the surf club has the most fabulous hot tub and sauna to rest those overworked muscles! I soaked in that tub way longer than I was supposed to.
My husband had to yank me out as I was so at peace with the rain sprinkling down on my face and the hot swirling waters sending me into a state of bliss.
Hop on a marine tour in Tofino
The next outdoor adventure I encourage you to try on a visit to Long Beach Lodge Tofino is the marine tour. The captain is Josh Lewis and he's fantastic – no surprise as he's been with the lodge for nine years. I was blown away by his knowledge of the area.
Captain Josh says the area gets less fog as you move into the fall and can see really calm conditions in September. But as you enter October and November, some dramatic weather shakes things up making for better scenery on the boat tour including dark stormy clouds, rainbows, waterfalls in the fjords, etc.
When I asked Josh about memorable tours, here's what he said: "Any time I get to see orcas or wolves on a tour is special to me and fortunately I've had many tours with interesting wildlife. A few years ago we were lucky enough to see a female wolf come face to face with a large male black bear. That was a memorable sighting for sure!"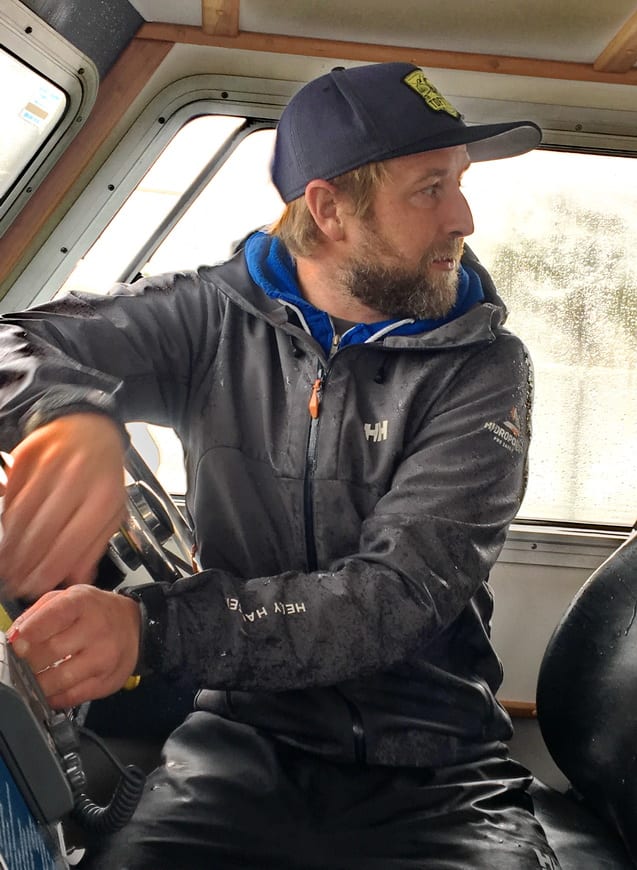 Again, these trips are fairly priced at $99 per person for a 2.5 hour ride. And since they leave from the harbor in downtown Tofino, you can enjoy some time perusing the charming streets when you return!
Whatever you fancy in the outdoors, you'll find that Long Beach Lodge is a fantastic launch pad to explore the area ANY TIME of the year!
Visit the lodge website for more information or to subscribe to their mailing list (and they offer killer deals throughout the year.)
Or if you're ready to book check out Long Beach Lodge Resort on Booking.com.
This post was written by my daughter Kristen. She and her husband were guests of Long Beach Lodge. She and Michael loved the place as much as John and I do.
Further reading on things to do on Vancouver Island
Click on the photo to bookmark to your Pinterest board.