Hiking to Garibaldi Lake in Garibaldi Provincial Park, near Whistler, BC is a very popular weekend activity. It's one of the classic hikes in the area. All told it's 18 km round trip with a 890 m elevation gain.
Many people backpack in to use the campsite at Garibaldi Lake. It's a great staging area for further hikes of the Black Tusk and Panorama Ridge. Hiking to Garibaldi Lake seems to get more popular every passing year – as does camping. So if you want to camp, be sure to reserve well in advance. (See below for details.)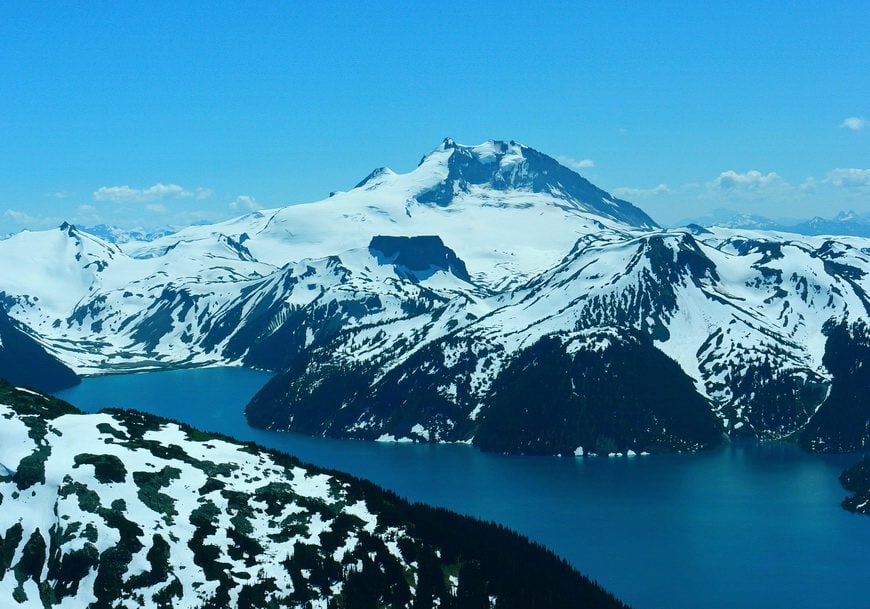 Camping at Garibaldi Lake
If you are considering backpacking then avoid Saturday nights if at all possible, especially when the weather forecast is good. There are 50 campsites at Garibaldi Lake and 40 campsites at Taylor Meadows, just over a kilometre away.
Taylor Meadows is used as an overflow campground for Garibaldi Lake but it also is well positioned to explore the Black Tusk and Panorama Ridge.
In the past campsites were available on a first come, first served basis but with the pressure of numbers the park now has a different system in place.
Reservations for camping at Garibaldi Lake are required between June 29th and September 30th and campsites must be prepaid. Visit the BC Parks website to log into the reservation page. Car break-ins are common so leave all valuables at home or take them with you.
The campground has pit toilets and four shelters for cooking and food storage and as a result you will not need to hang your food.
Mosquitoes are bad at dusk so bring repellent. A warm sleeping bag will be appreciated even in summer as there is considerable night time cooling.
Details of the hike to the lake
Hiking to Garibaldi Lake, an absolutely gorgeous turquoise blue colour is a classic. Stunning glaciers om the far side of the lake across from the campground feed the lake. Wild heather is in abundance. Fishing is possible with a license.
Unfortunately the hike to the lake is primarily a series of switchbacks through the trees with the occasional crossing of mountain streams, especially for the first 6 kilometres.
At the junction not far past the 6 kilometres mark, keep right at the intersection to go straight to the lake. If you go left you end up in Taylor Meadows – and on the route to the Black Tusk.)
The best views hiking to Garibaldi Lake occur once you actually get to the lake. It's also a pretty place for loads of wildflowers including lupines, columbines and arnica in July.
You won't be disappointed by Garibaldi Lake though you may be somewhat dismayed at the size of the weekend crowds. The hike from Garibaldi Lake to Panorama Ridge and the Black Tusk are extremely worthwhile ventures and see far fewer people.
They can both be done as a day hike too but allow 8-10 hours for a return trip.
Further reading on hiking in British Columbia
Click on the photo to bookmark to tour Pinterest boards.