The hike to Garibaldi Lake in Garibaldi Provincial Park, near Whistler, BC is a very popular weekend activity. It's one of the classic hikes in the park. Many people backpack in to use the campsite at Garibaldi Lake. It's a great staging area for further hikes of the Black Tusk and Panorama Ridge. The hike to Garibaldi Lake seems to get more popular every passing year – as does camping. So if you want to camp, be sure to reserve well in advance. (See below for details.)
This post includes some affiliate links. If you make a qualifying purchase through one of these links, I will receive a small percentage of the sale at no extra cost to you. Thank you very much for your support.
Garibaldi Lake hike summary
Distance: 18 km (11.2 miles) return
Elevation gain: 810 metres 0r 2,687 feet
Timed needed: 6 – 8 hours
Best time to hike: July to October
Permits: You will need a day-use pass to do the hike to Garibaldi Lake. You can book two days in advance of your visit.
Location: Garibaldi Provincial Park, about 100 km north of Vancouver and about 20 km south of Whistler.
Dogs allowed: No
Map needed: Consider purchasing a map of Garibaldi Provincial Park showing summer hikes, campsites and the Spearhead Traverse. Cheakamus River 92G/14 is the specific one for the hike to Garibaldi Lake.
Difficulty: Hard because of the length as a day hike; moderate of you're heading up to camp.
Backcountry camping: Yes
Carry bear spray that is easy to access.
Check the weather forecast before you go.
You may see hoary marmots (watch your food) or black bears. I'd recommend carrying bear spray.
Car break-ins are common so leave all valuables at home or take them with you.
Don't forget water purification tablets or a water filter, especially if you're camping or it's a very hot summer day.
Fishing is possible with a license at Garibaldi Lake.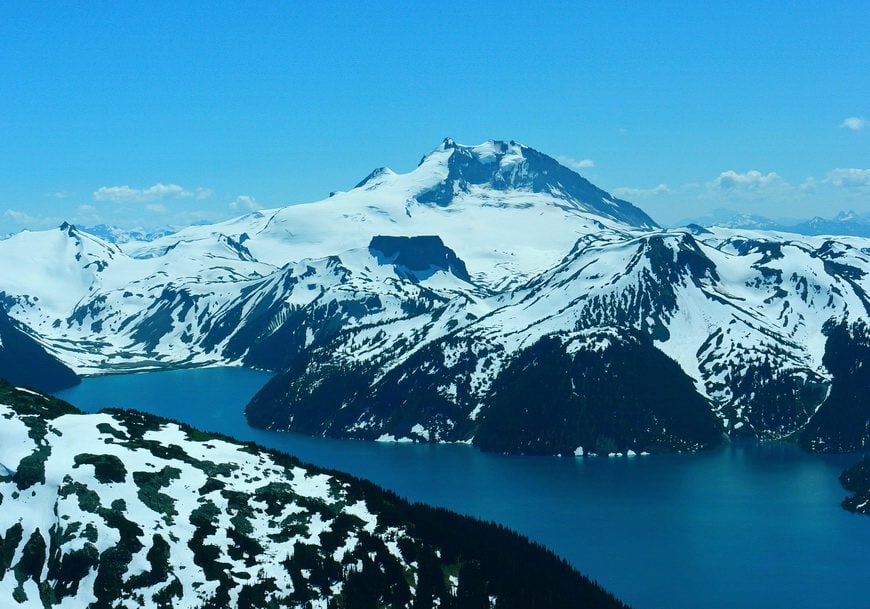 Camping at Garibaldi Lake
If you are considering backpacking then avoid Saturday nights if at all possible, especially when the weather forecast is good. There are 35 tent pads at Garibaldi Lake and 25 tent pads at Taylor Meadows, just over a kilometre away.
Taylor Meadows is used as an overflow campground for Garibaldi Lake but it also is well positioned to explore the Black Tusk and Panorama Ridge.
Reservations are required year round for all campsites in Garibaldi Provincial Park. Garibaldi campground reservations can be booked up to four months before your desired arrival date if you are 16 years of age or older. Make your reservation starting at 7 AM PST on the first day of the booking period you're after. You can also call 1-800-689-9025 toll free from Canada and the US or 1-519-858-6161 if you're calling internationally.
Fees are $10 per night per adult (2023) and $5 per night for kids 6 – 15 years of age. There are also transaction fees of $6 + tax per tent pad per night.
The campground has pit toilets and four shelters for cooking and food storage and as a result you will not need to hang your food. Fires are not permitted.
Mosquitoes are bad at dusk so bring bug repellent. A warm sleeping bag will be appreciated even in summer as there is considerable night time cooling.
The hike to Garibaldi Lake
The hike to gorgeous turquoise blue-coloured Garibaldi Lake is a classic summer outing. Stunning glaciers on the far side of Garibaldi Lake across from the campground feed the lake. Wild heather is in abundance.
Unfortunately the hike to Garibaldi Lake is primarily a series of switchbacks through second growth forest with the occasional crossing of mountain streams, especially for the first 6 kilometres.
At the junction not far past the 6 kilometres mark, keep right at the intersection to go straight to the lake. If you go left you end up in Taylor Meadows – and on the route to the Black Tusk.
The best views hiking to Garibaldi Lake occur once you actually get to the lake. It's also a pretty place for loads of wildflowers including lupines, columbines and arnica in July.
You won't be disappointed by Garibaldi Lake though you may be somewhat dismayed at the size of the weekend crowds. The hike from Garibaldi Lake to Panorama Ridge and the Black Tusk are extremely worthwhile ventures and see far fewer people.
Where to stay in Whistler
If you're planning to stay in Whistler and use it as a base for further adventures, the following accommodation options would be excellent, depending on your budget.
Over the years I have had numerous excellent stays at the Summit Lodge Boutique Hotel.
If you want to stay at Whistler Creekside, Nita Lake Lodge is an excellent choice.
If you're budget conscious you might love the Pangea Pod Hotel. It's got a great location, and the pods aren't the least bit claustrophobic.
Further reading on hiking in British Columbia
Click on the photo to bookmark to tour Pinterest boards.