I love Nova Scotia for the variety of scenery, it's wonderful people, and the plethora of outdoor adventures in Nova Scotia that are extremely easy to access. I know there are more – so please share your thoughts in the comments. From my post 45 Observations & Fun Facts about Nova Scotia, I know that people in Nova Scotia aren't shy about sharing their opinions.
Here are 9 not to be missed outdoor adventures in Nova Scotia that I personally recommend. There are certainly lots more you can do outdoors in Nova Scotia but this will open your eyes to the variety of landscapes and experiences available. Tidal bore rafting is the one thing I still haven't done but would love to.
This post includes some affiliate links. If you make a purchase via one of these links, I will receive a small commission at no extra cost to you. Thank you very much for your support.
Location map for the 9 outdoor adventures in Nova Scotia
Before you start out on your Nova Scotia adventures
Before you start any adventure I'd also recommend picking up a copy of the Nova Scotia Backroad Mapbook as you may discover a host of other things you'd like to do on the way to one of the Nova Scotia adventures detailed below.
Paddle in Kejimkujik National Park
There's something for every type of paddler in Kejimkujik National Park. Novice paddlers can kayak the mellow Mersey River by canoe or kayak.
Those with more experience can head out on a multi-day trip. If you stick to Kejimkujik Lake, a big lake dotted with islands, you can avoid a portage.
But it's possible to do the Big Dam Lake – Frozen Ocean Lake combination if you're up for a 400 metre portage. The 48 km Peskowesk Lake System is another option offering a true wilderness experience. All equipment for your trip can be rented in the park from Whynot Adventures.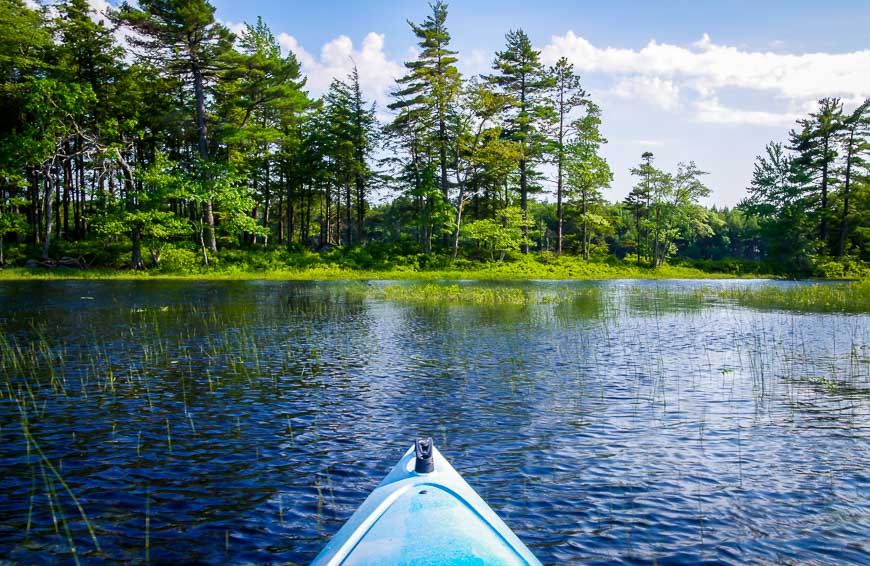 Cycle the newest bike trail in Kejimkujik National Park
I also recommend mountain biking Kejimkujik's newest bike trail – Ukme'k that ties into other trails to provide about a 28-kilometre return bike ride. It formally opened in spring 2022 though bikers were able to access it in the fall of 2021. You don't have to be a hardcore mountain biker to have fun on it.
Cycle the backroads of the South Shore – one of the scenic adventures in Nova Scotia
You'll find some of the prettiest scenery in Nova Scotia cycling along the south shore between Peggy's Cove and Lunenburg. And I think experiencing it on the back of a bike is one of the best ways to see it.
Choose backroads where you can, including the Aspotogan Peninsula. Don't miss a side trip to Blue Rocks. And be prepared for a moderately hilly ride.
Backpack the Cape Chignecto Coastal Trail – one of the top adventures in Nova Scotia
The premier backpacking trip and one of the top adventures in Nova Scotia has got to be backpacking the Coastal Trail in Cape Chignecto Provincial Park. Tough, with loads of ups and downs, the 51 km loop trail can be done in either direction but campsites (or huts) must be reserved.
The most enjoyable section of the whole hike lies between Little Bald Rock and Seal Cove though sections of the fog forest are a total delight.
Expect to be wowed by the Bay of Fundy scenery – both at cliff-top and beach level.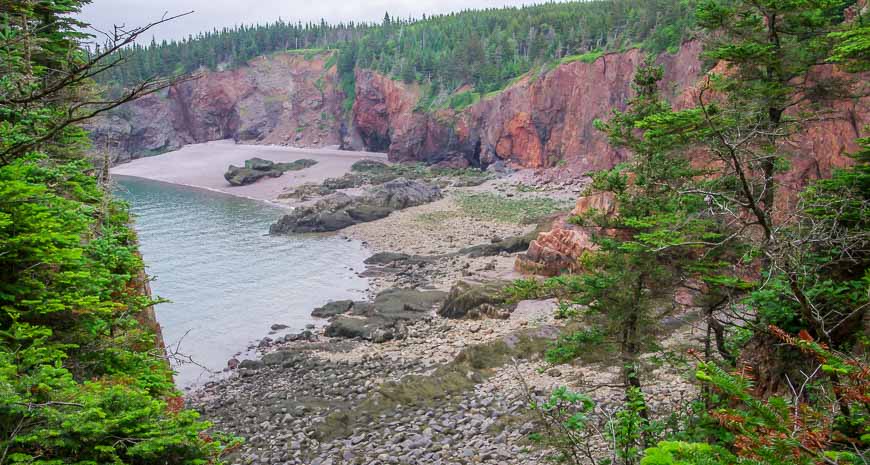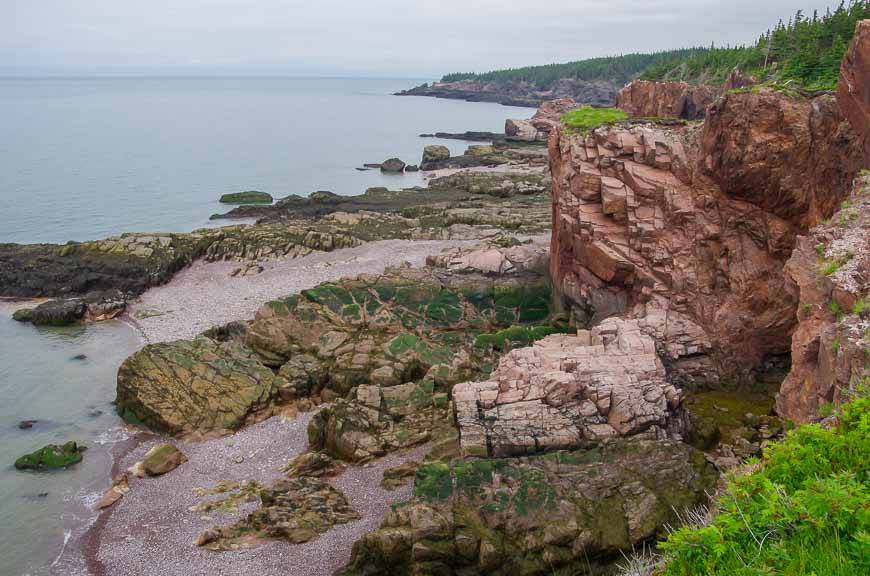 Hike to Cape Split in Blomidon Provincial Park
Most of the hike to Cape Split is a slog. But the reward at the end is worth it – expansive views of the Bay of Fundy complete with rock spires, lichen covered cliffs, and a bird loving, grassy covered rock pillar.
Try to time your trip for the mid-point of the incoming tide so you can see and hear the turbulent tidal currents.
The sound has been called The Voice of the Moon. May is an ideal time to visit as the woods are filled with wildflowers.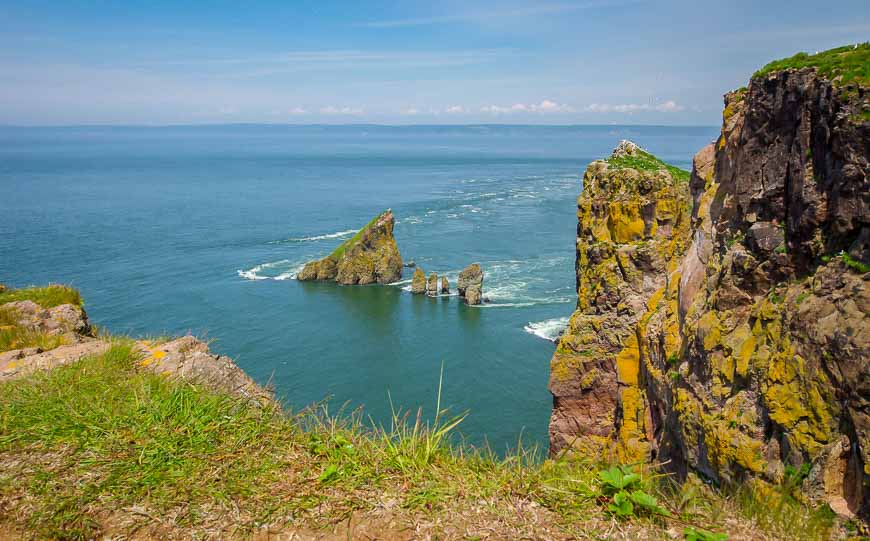 Nova Scotia Adventures – Kayak in the Peggy's Cove Area
If you've been to Peggy's Cove and witnessed the power of the ocean, you probably wouldn't think of kayaking in the Peggy's Cove area. But one look at a marine chart tells a different story.
Just east of Peggy's Cove are numerous islands and islets. Their presence takes much of the power out of the waves so you can safely kayak the area.
It's one of the most scenic day trips in a kayak I've ever done. It would be a good idea to engage a guide with local knowledge of currents, wind and swells. And don't miss a side trip to Dover Island – a mecca for rock climbers and a beautiful spot to enjoy a picnic.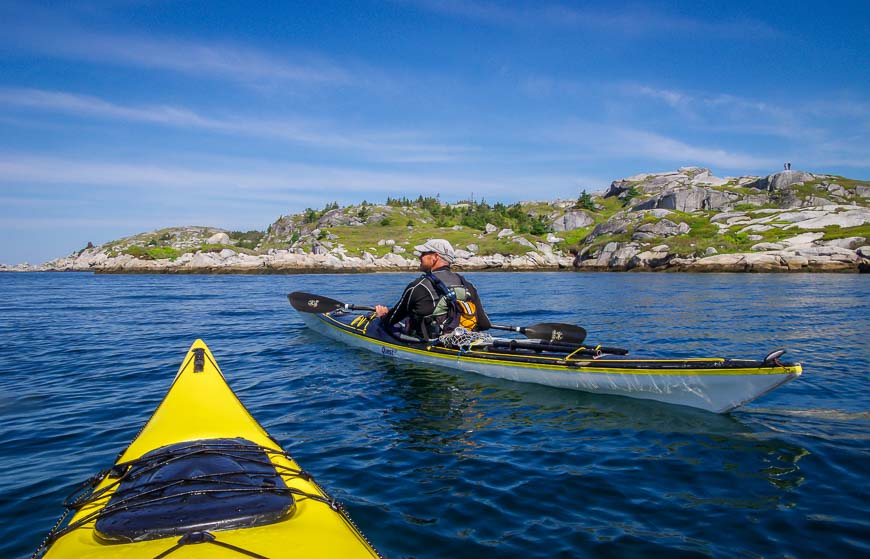 Cycle the Cabot Trail – one of the challenging adventures in Nova Scotia
Considered to be one of the best multi-day bike rides in all of North America, the Cabot Trail, a 300 km loop, takes from five to seven days to cycle. Baddeck is a great place to start as it's convenient to Sydney. Head through the Margaree Valley and then into French speaking Cheticamp (the hooked rug capital of the world).
The beautiful Cape Breton Highlands National Park is the best and hardest part of the ride. There are two major climbs in the park, one with grades of 13% over 3 km.
The east side of the Cabot Trail offers lovely surprises including beautiful pink, rocky shores, secluded beaches, inspiring vistas and quaint fishing villages. It has a few good hills of its own as well.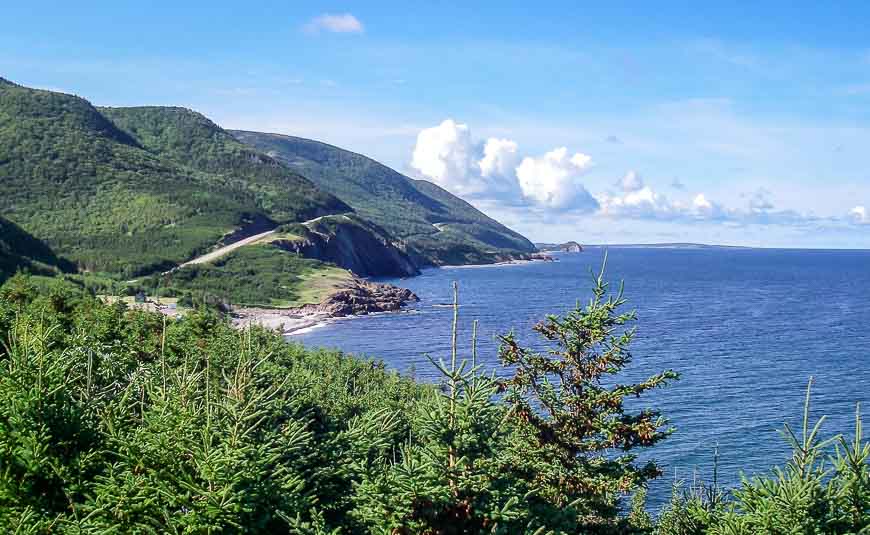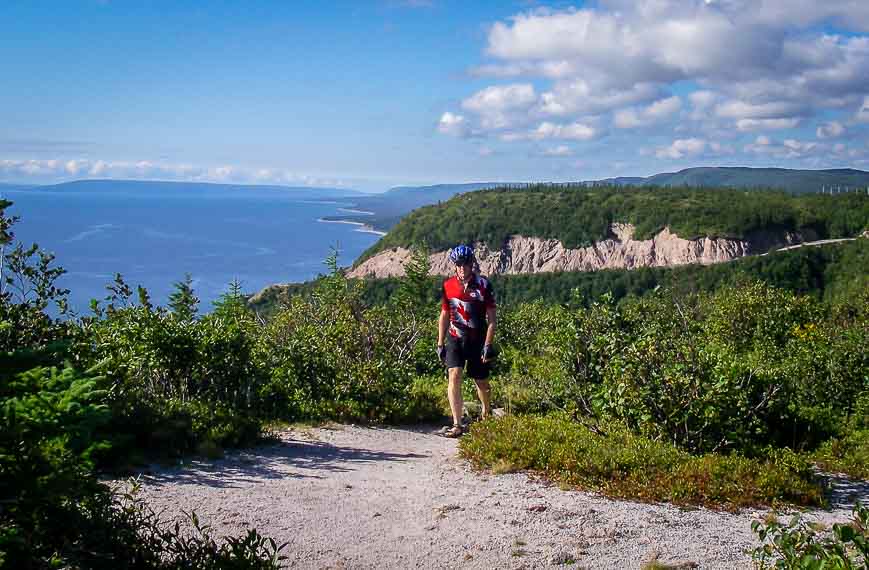 Go for a hike in Kejimkujik National Park Seaside
A beautiful park, well off the radar of most yet only 175 km from Halifax, Kejimkujik National Park Seaside offers two superb hiking trails – the 5.2 km (3.2 mi) out and back Harbour Rocks Trail and the 8.7 km (5.4 mi) Port Joli Head loop. Both are scenic and worth doing most of the year.
They can be done individually in just a few hours but it's also possible to combine them.
Scenery is wild and rugged and a good part of the hiking trail is along the coast. It's one of the few hikes where when hiking alone that I ran into bears – Mama and her two cubs. I beat a hasty retreat. The moral of the story – don't go alone and carry bear spray.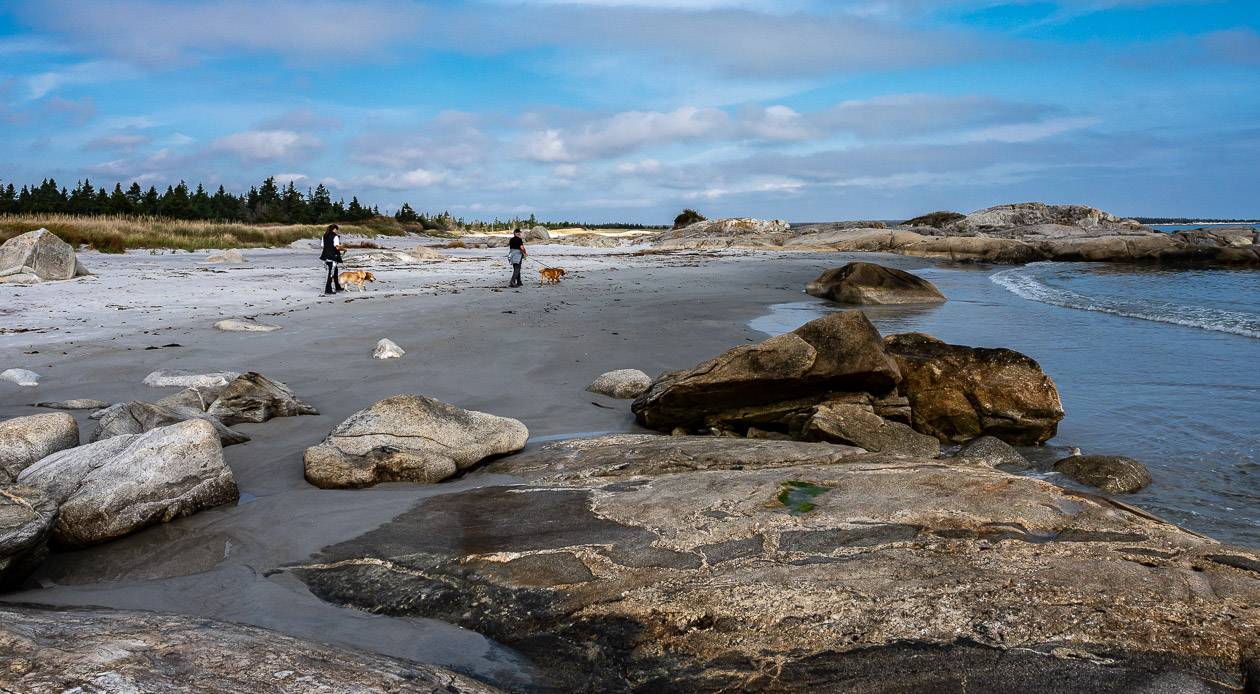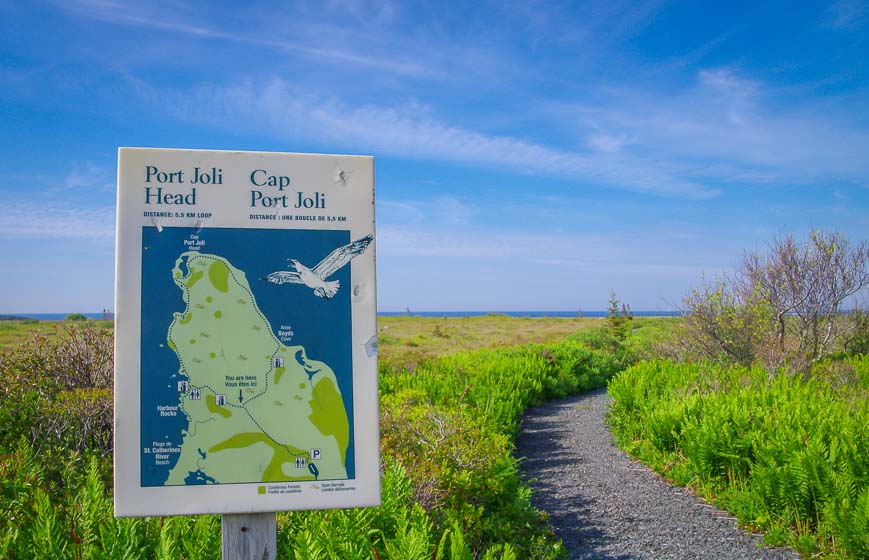 Kayak the Cape Chignecto Area – one of the fun adventures in Nova Scotia
Sign up with Nova Shores Adventures to explore the Cape Chignecto area by kayak. What you'll experience from the water is a wild, unspoiled landscape and a chance to get close to rock spires, arches, cliffs and the legendary Three Sisters rock formation – often referred to as the Crown Jewel of Cape Chignecto Park.
There are pristine beaches, albeit rocky ones, once you're past the Three Sisters – that are perfect for camping if you're lucky enough to have the time to do a multi-day paddle.
Conditions change quickly on this trip with the difference between low and high tide over 12 m. Local knowledge about tides and currents goes a long way here.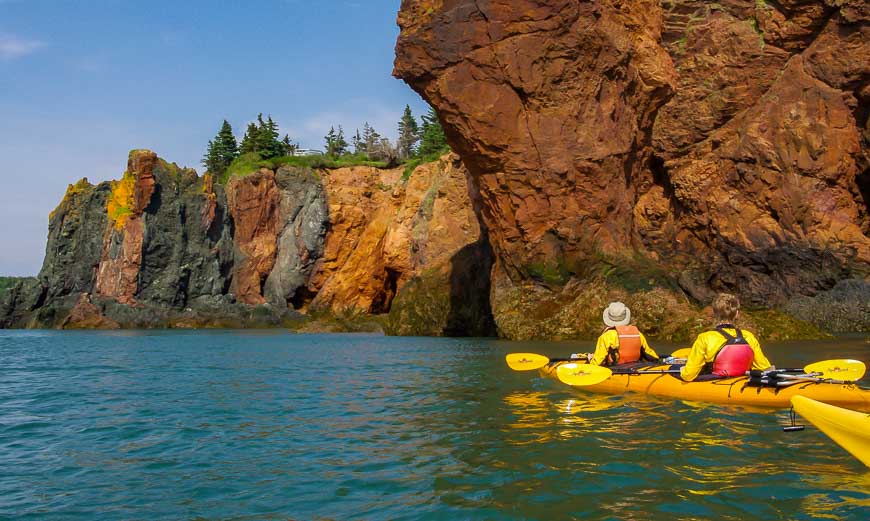 Cycle in the Annapolis Royal Area
If you're looking for cycling adventures in Nova Scotia, head to the Annapolis Royal area – a great destination for cyclists. You have a choice of 16 routes ranging from 8.2 km to 102 km – all detailed on maps provided by the town.
There's a huge variety of countryside to explore including a challenging coastal tour along the Bay of Fundy, a ride down to Kejimkujik National Park and a dirt road ride to Belleisle Marsh.
I chose a couple of bike rides – one to the charming town of Bear River – where you can enjoy lunch at a café on stilts. Don't miss a stop at several of the nearby wineries.
For a pretty out and back ride, head across the Annapolis River Causeway, the only place in North America right now that generates energy from the tides. Then continue west towards Victoria Beach past Port-Royal, the site of a French Colonial settlement in the early 17th century, and now a National Historic Site. The rest of the ride takes you through farm country up and down gently rolling hills.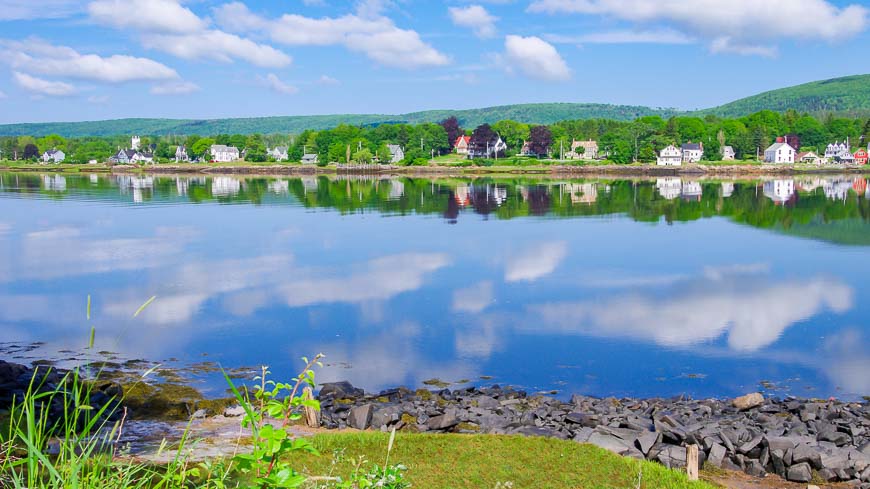 More fantastic things to do in Nova Scotia
Click on the photo to bookmark to your Pinterest boards.