There is a timeless beauty to the Peggy's Cove area in Nova Scotia. I've been many times and I never tire of seeing the place. But until recently I had never seen it from the water. Kayaking Peggy's Cove from one of the nearby offshore islands provides a whole other perspective. It's surprisingly safe as you can tuck into the lee of islands and avoid big surf and swell. I spent a full day with Glenn Coltmann, an operator for Nova Shores Adventures in its East Dover location. Glenn knows the area like the back of his hand but as of 2020 doesn't do trips anymore.
Contact Freewheeling Adventures – though chances are they will take you kayaking around Hubbards and the Aspotogan Peninsula. Also check out Kattuk Expeditions.
This post includes some affiliate links. If you make a qualifying purchase through one of these links, I may receive a small percentage of the sale at no extra cost to you. Thank you for your support.
How our day kayaking unfolded
We started off in a quiet cove just steps from his home. But within minutes we were in a large bay where you could see the multi-coloured homes of the West Dover residents.
From there the water got a little more challenging to paddle. Confused water – due to bounce off of the rock – made me focus on the task at hand.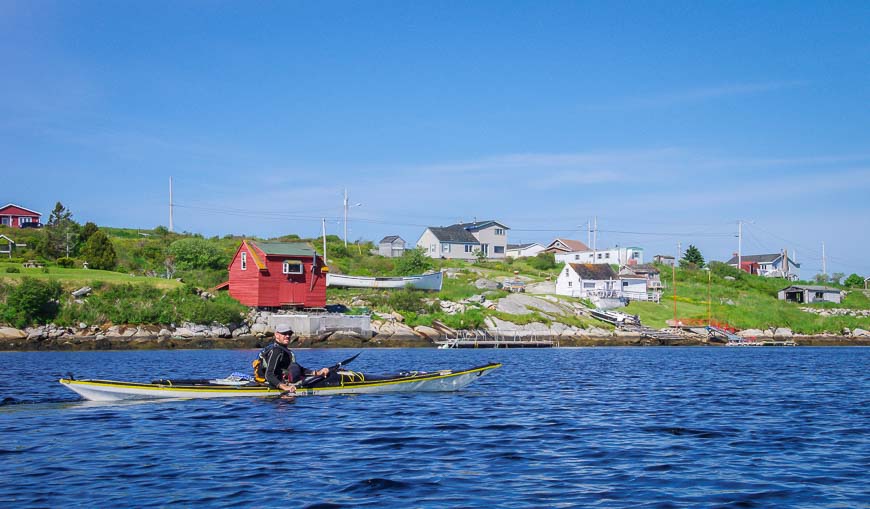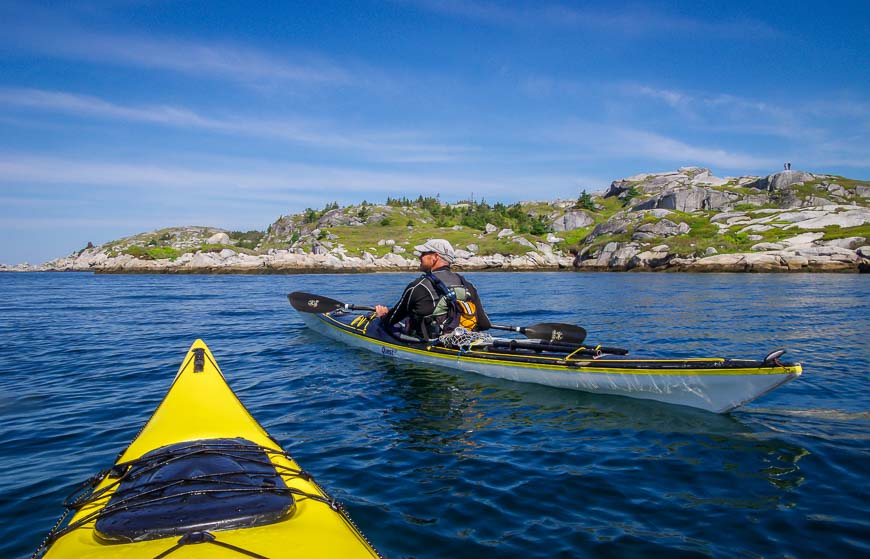 Bounce, swell and kelp-covered rocks
Paddling through the islands was quite an experience – and an altogether different one than on the west coast of Canada. And as Glenn tells me it's also very different for anyone who has just paddled on lakes. Some of those people end up being quite intimidated when they see the size of the swells – even though we don't have to paddle them.
It wasn't just waves and bounce we dealt with but we had to slither in our kayak between kelp covered rocks to get to deep water.
We continued to alternate between calm water and water with some chop to it. You could actually get quite close to some of the big swells – but their energy would dissipate before it reached us. Only a local though would know that from experience.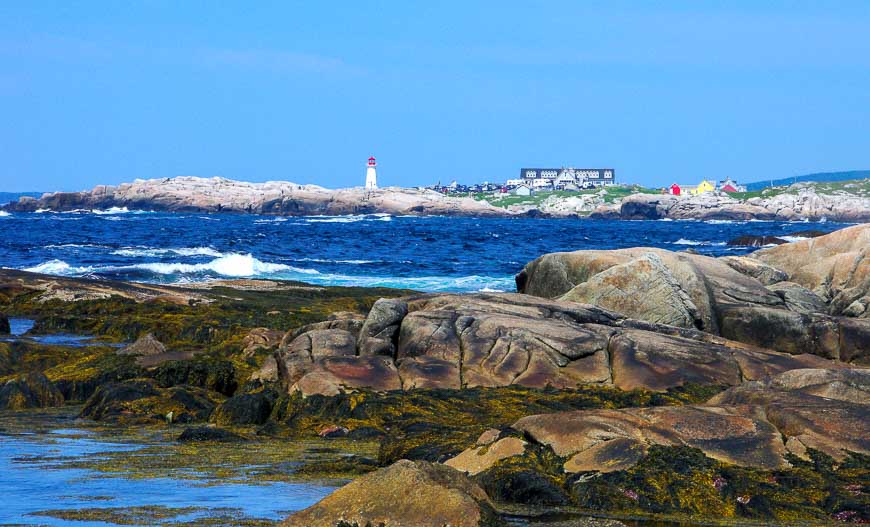 A stop near Polly Cove
We stopped at an unnamed island in the Polly Cove area for lunch. A huge expanse of granite – with nooks to get out of the wind if need be – and spectacular views of Peggy's Cove is what we enjoyed.
Over on the mainland, just a stone's throw away – you could see erratics – big boulders dropped by the glaciers in the last ice age. They add such a desolate beauty to the area – and are very reminiscent of the Burren region in western Ireland.
Lunch was prepared by Glenn's wife Kristen. Even the bread was homemade and all the fruit and vegetables were locally grown, much of it organic too. The two of them have a huge focus on reducing waste so there is no throwaway packaging used at all.
Don't miss a chance to explore Dover Island after kayaking Peggy's Cove
After a very relaxing lunch we paddled back in the direction of East Dover but we had one major stop on Dover Island still to make.
Dover Island is about a mile long – and it's a mecca for rock and boulder climbers. A local fisherman ferries people out and back. The people we saw had come with their tents and supplies for the weekend, one from as far away as Ottawa.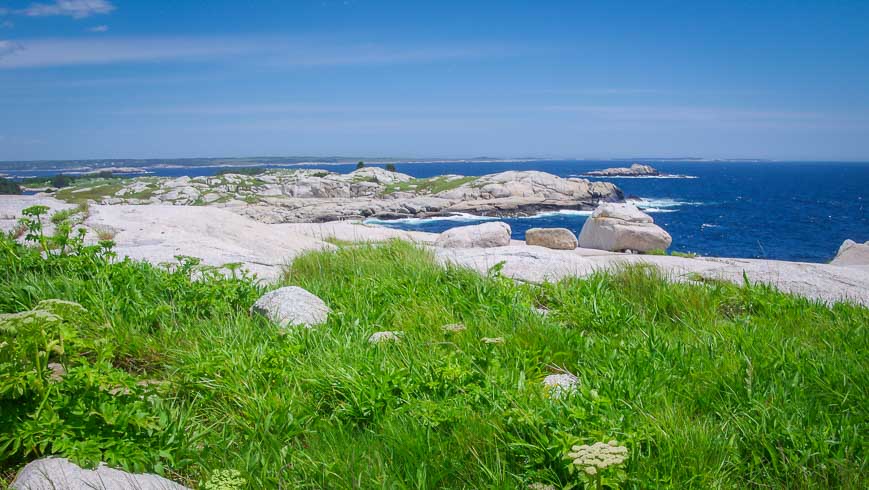 We walked the better part of the length of the island – which is about a mile long – and parked ourselves on a huge slab of granite to take in the view of the ocean. By now Glenn had figured we'd need a snack – but not any old snack.
He told me to turn the other way and then presented me with homemade rhubarb cake and fresh strawberry sauce. Delicious and totally unexpected. Tea was also served.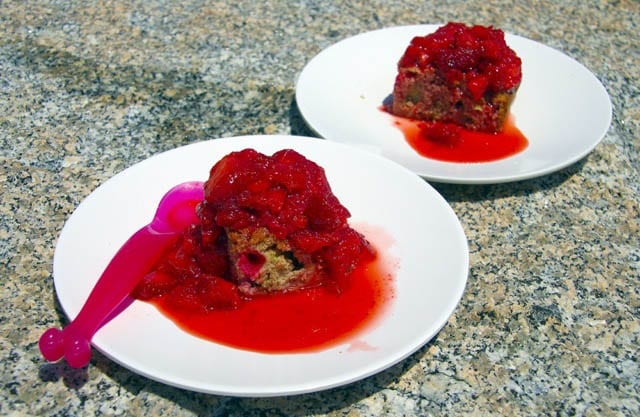 Slowly we hiked back to the boats, passing some beautiful wildflowers including the iris in the photo below. From Dover Island we paddled for about another 50 to 60 minutes – time enough to poke about a few lagoons and make our way back to East Dover.
After kayaking I was a tad wet and needed to change. I was pointed in the direction of the outhouse – which was a step up from almost all that I'd ever seen.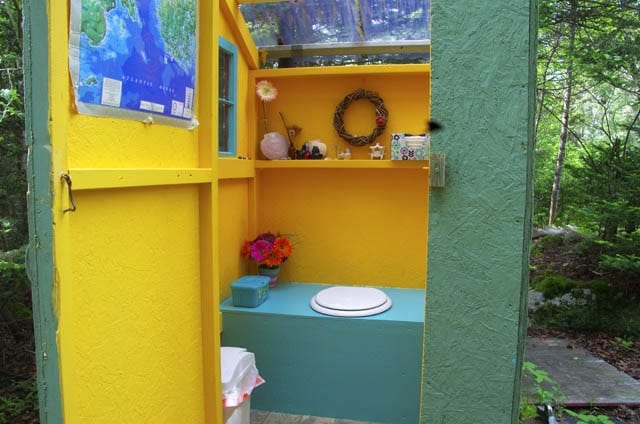 An exceptional day kayaking Peggy's Cove
I really had a most amazing day of kayaking Peggy's Cove. Certainly the cooperative weather played a part but really it was only a minor role.
The rocky landscape in the Peggy's Cove area is both breathtaking and compelling. The kayaking is challenging enough that I had to focus and the non-kayaking stops were spectacular. It was a day of superlatives from start to finish!
For the kayaking trip I did, I think you need to be an intermediate paddler or an adventurous beginner in a double kayak with someone who knows what they're doing. Fortunately there are protected islands with calmer waters than we paddled that are perfect for half day family type trips too. Glenn told me he has taken people out between the ages of 3 and 85.
Glenn doesn't rent kayaks and I can appreciate why now that I've been out paddling. It's an area that's unpredictable and unless you're an expert kayaker enjoyed best with the help of local knowledge. I don't say that often as I'm not one for tours – but this is an exception to make.
If you're in the Halifax area or anywhere along the south shore of Nova Scotia I highly recommend kayaking Peggy's Cove.
Places to stay in and near Peggy's Cove
For a cottage situation the Sand Dollar in Indian Harbour is ideal for two people. It is rated superb.
Sea Horse Cottage, a beachfront property in Indian Harbour, rated exceptional would also be an excellent choice for 2-3 people.
For basic motel accommodation right in Peggy's Cove, check out the Clifty Cove Motel. All rooms are ocean front overlooking St. Margaret's Bay.
Further reading on things to do in Nova Scotia
Click on the photo to bookmark to your Pinterest boards.