If you want to go paddling in Canada, one place that is little known outside of Nova Scotia is Kejimkujik National Park in the southwestern part of the province. Kayaking Kejimkujik or discovering the park by canoe – especially on a longer trip is one of the best ways to experience the park. There are lots of hiking trails in Kejimkujik – most short and relatively easy but they're generally in heavily wooded areas. That means birding can be first rate, but for me, I'd rather be kayaking Kejimkujik and exploring the lakes and rivers.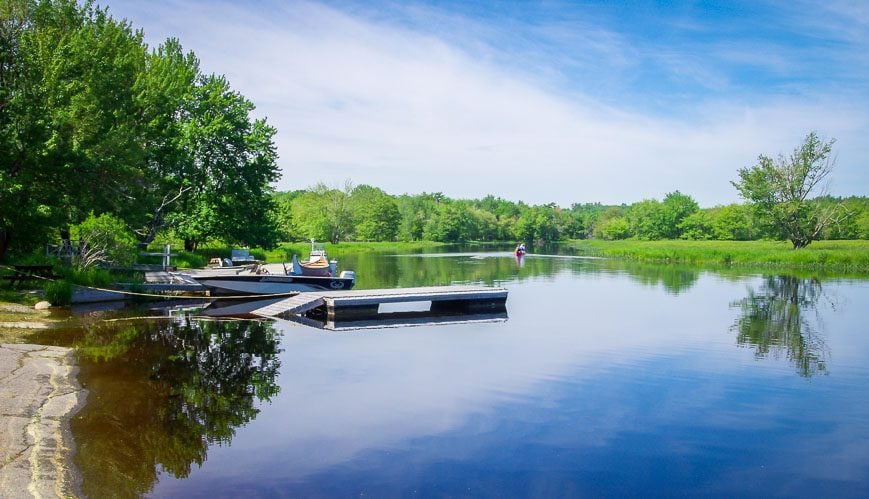 This post includes some affiliate links. If you make a qualifying purchase through one of these links, I may receive a small percentage of the sale at no extra cost to you. Thank you for your support.
Kayaking Kejimkujik National Park on the Mersey River
If you're new to canoeing or kayaking then start with an easy paddle on the Mersey River. Work on your strokes and then head for the bigger water. It's easy to rent canoes and kayaks for just an hour or two at the dock at Jake's Landing from Whynot Adventure (though longer term options are also available.)
I spent about an hour and a half paddling and poking about in a kayak on the Mersey River last weekend. It felt more like I was paddling in a swamp in southern Georgia – minus the Spanish moss and alligators.
The Mersey River was a major transportation route for the Mi'Kmaq people for centuries. They'd head to the coast every summer where the river empties and spend the summer fishing and collecting seafood. When you paddle the river you can't help but wonder about all the people who came before you.
Every year the Mersey River floods – and that flooding feeds a landscape filled with blue-joint grass, red maples and speckled alders. If you're lucky you might see a white-tailed deer browsing in the maples – or catch some turtles sunning on a log.
One of the people in the photo below unprompted stated that the Mersey River is her favourite place on the planet.
Kayaking Kejimkujik Lake
If you're more into excitement and waves, big water and wind then head with your canoe or kayak for Kejimkujik Lake.
Kejimkujik Lake is huge. And it's shallow so whitecaps can form quickly making it a treacherous place to be when the wind picks up. The lake is dotted with islands – many of which boast campsites that can be reserved months in advance.
Backcountry campsites in Kejimkujik National Park
There are 46 backcountry campsites scattered along canoe routes and on hiking trails. Each campsite has a picnic table, a pit privy, two tent pads, firewood (bring an axe though) and a food storage set-up of some sort.
There is a lot more to paddle than just Kejimkujik Lake. It's really a paddlers dream area Cody Whynot enthusiastically tells me – with all lakes and rivers linked with portages to that it's possible to create circuits that could take you many weeks if you were so inclined.
That type of trip would include waters that make up part of the Tobeatic Wilderness Area – an area with over 1,000 square kilometres.
After reading the delightful book that has made me smile and chuckle over and over again despite my lack of interest in fishing – The Tent Dwellers: Sports Fishing in Nova Scotia in 1908 by Albert Bigelow Paine – you might just want to set out on a longer canoe trip.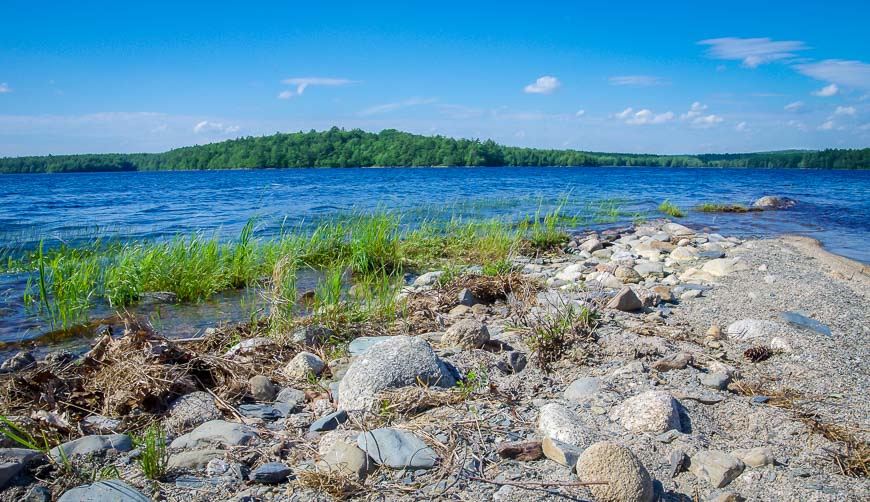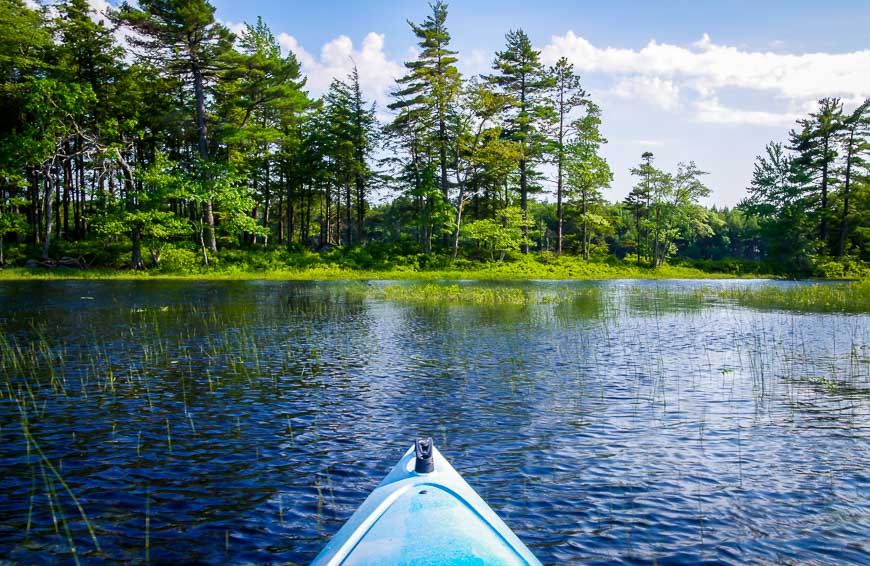 Where is Kejimkujik National Park?
The park is in the southwestern part of the province. From Halifax it's just a two hour drive via Highway 103, 326, 208 and finally Highway 8. From Bridgewater it's an hour's drive away.
For more information on Kejimkujik National Park visit their website.
Further reading on things to do in Nova Scotia
Note: Cody at Whynot Adventure kindly comped me a kayak for the few days I was in the area to explore. I did however do all the exploring at my own pace and by myself. The kayak was a fun little thing to paddle – maneuverable and steady but not really designed for more than day trips. Rent a canoe if you want to go further afield or do an overnight trip.
Click on the photo to bookmark to your Pinterest boards.