Have you ever wondered what you could do if you could go biking in Ottawa but you only had two hours? I don't know how many times I've rolled into a city with time to kill but no plan on how to make the most of it. Convention goers and business people in particular can probably relate.
In Ottawa, it's an easy problem to solve, especially since biking in Ottawa is a popular activity. Located in what feels like the bowels of the city, but is really an adapted railway tunnel under Rideau Street is RentaBike. It's only about a three minute walk from both the Fairmont Chateau Laurier and the Westin Hotel. Here you can rent a wide range of bikes as well as helmets, bike locks, panniers, water, maps and more. It's open from 9 AM to 5 PM.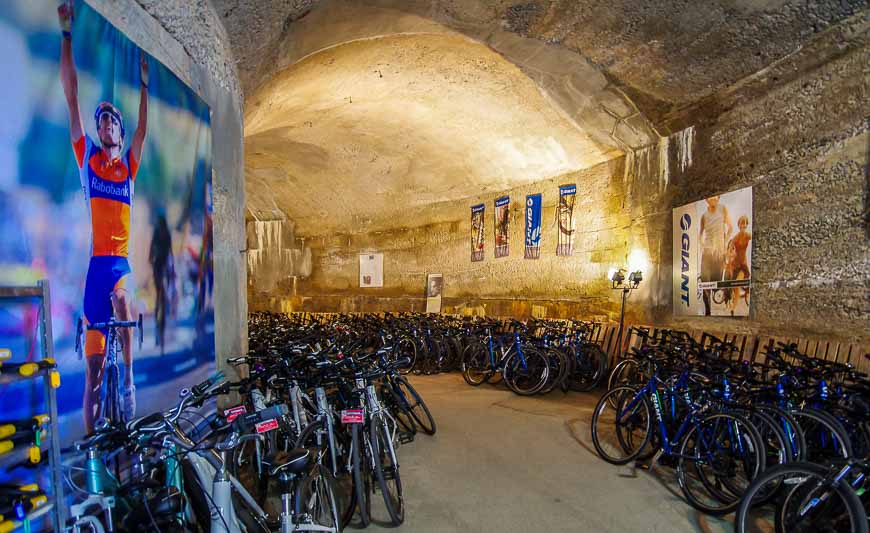 Bike along the Rideau Canal
Although it's possible to join a tour, it's extremely easy to do the ride along the Rideau Canal on your own. Bike paths run along both sides of the canal and are meant to be shared with walkers. Beware, it can get very busy, especially on weekends.
As you ride along the canal you are treated to the sight of kayakers, stand-up paddleboarders and of course magnificent swaths of tulips in May, especially around Dow's Lake.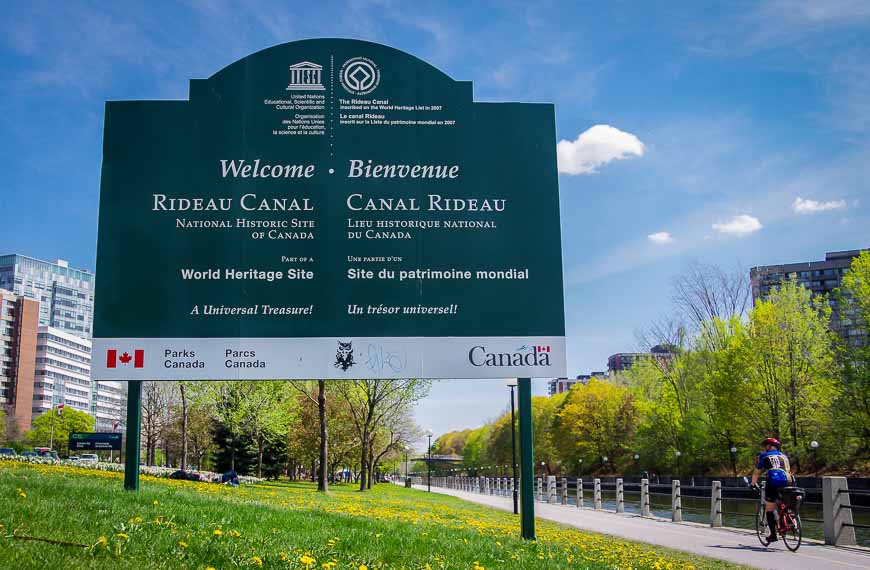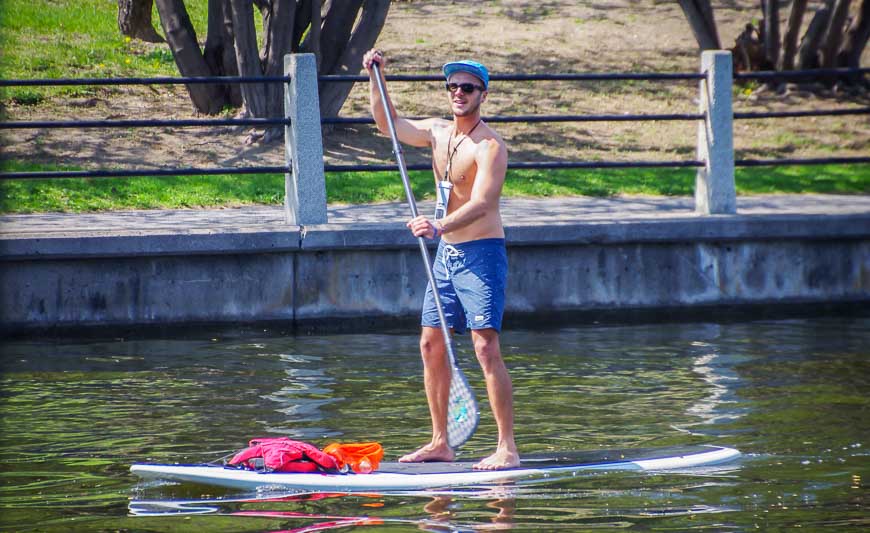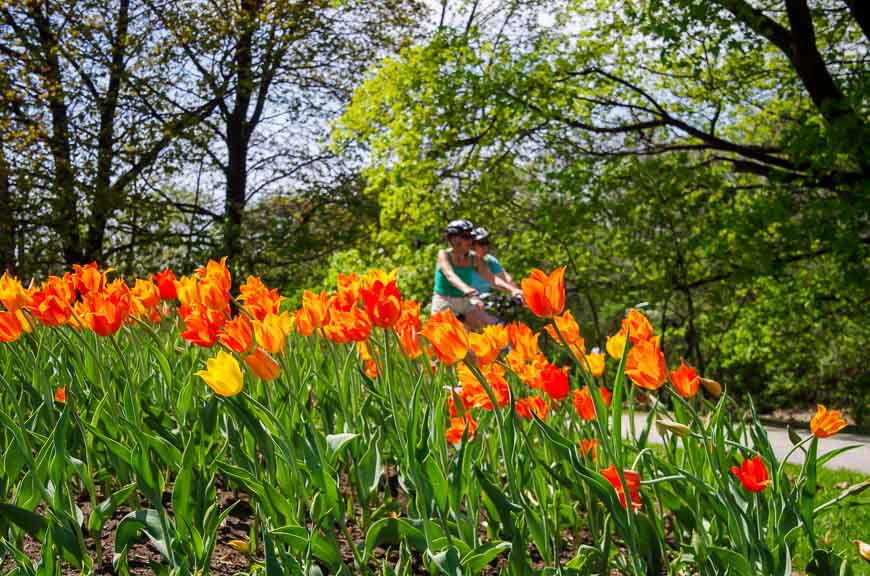 Continue past Dow's Lake
Once you get past Dow's Lake, it feels as though the crowds have dispersed. The next stop is Hartwell Locks – the turnaround point for many.
From the bike rental location across from the National Arts Centre to the locks it's 13 kilometres return. You can cycle the route comfortably in an hour, but there are so many photographic opportunities, it will probably take you longer.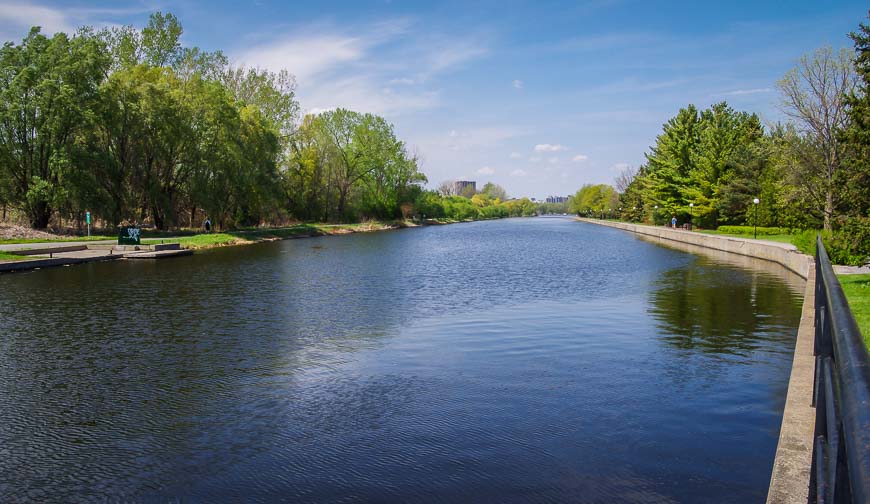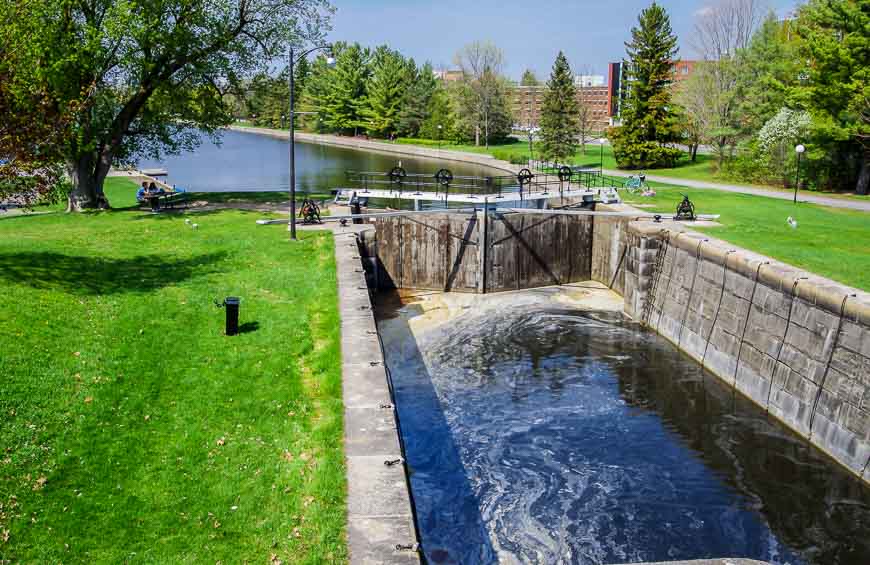 Don't miss Hogsback Falls when you're biking along the Rideau Canal
From the locks it's only another kilometre to reach Hogsback Falls. They're a beautiful sight and for the slight bit of extra effort, well worth visiting.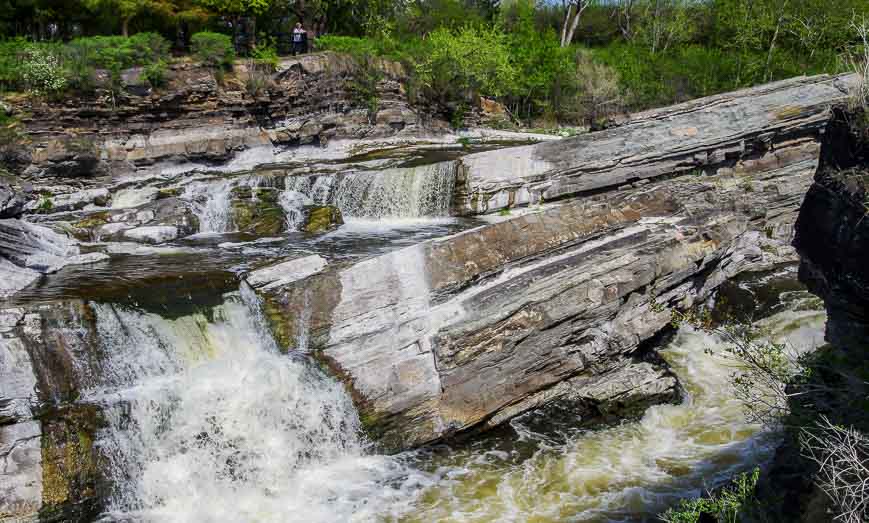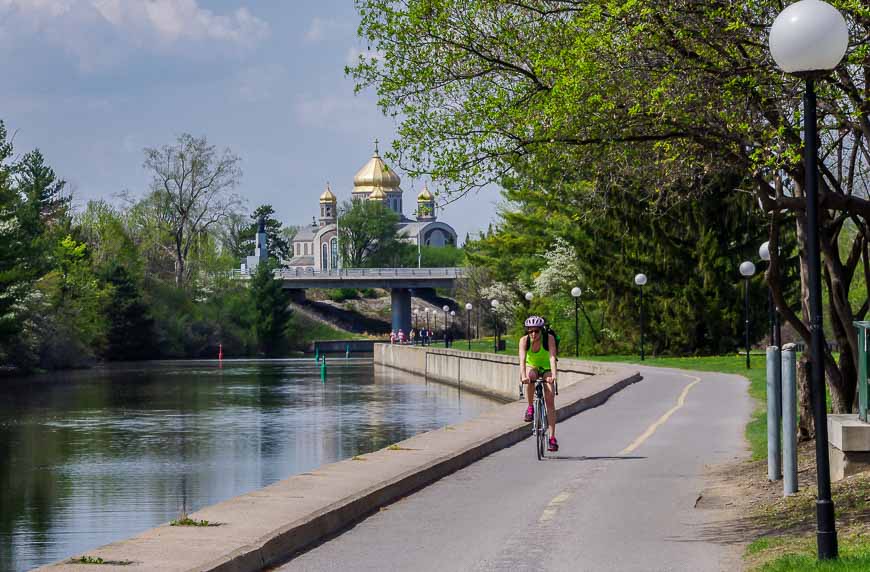 On the return I couldn't help but get off my bike and walk among the beds of tulips. Can you imagine having these gardens in your backyard?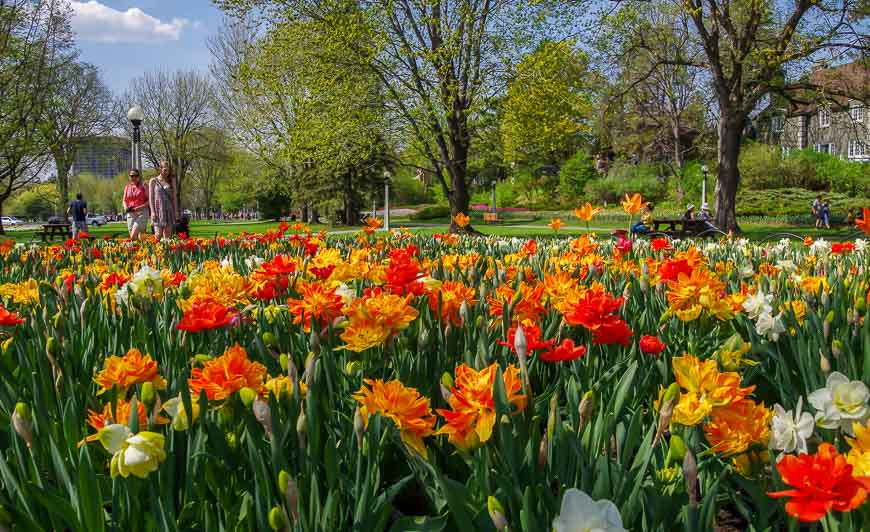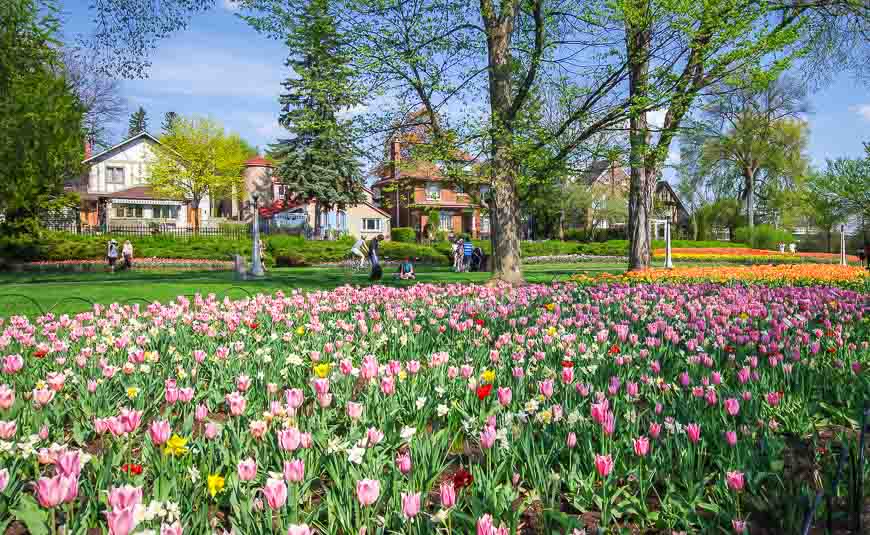 I wanted to get back to the bike lane after visiting the tulip beds. That was a problem. There wasn't a pedestrian crossing that I could find and traffic was busy. I saw other people in my situation where we went part way across to a median before continuing. A temporary crosswalk during the Tulip Festival would be helpful.
Biking in Ottawa back to the downtown
It's truly a lovely ride back towards the downtown core. To return to the rental location without having to cycle on any streets, you need (at least as far as I can tell) to cross over the Somerset Street pedestrian bridge. This is where you'll find Ottawa's version of 'love locks'.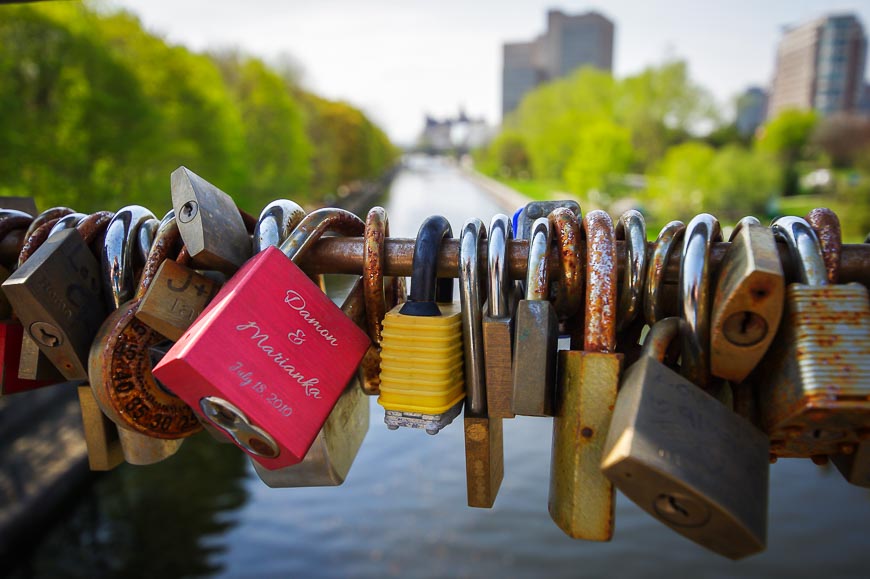 All told I cycled a whopping 15-17 kilometres, something I can usually do in about 45 minutes. It took me two hours with all the stops I made.
This bike ride is ideal for families as well.
There are loads of bike trails around the city of Ottawa and this is but one of the options available – and what a scenic option it is!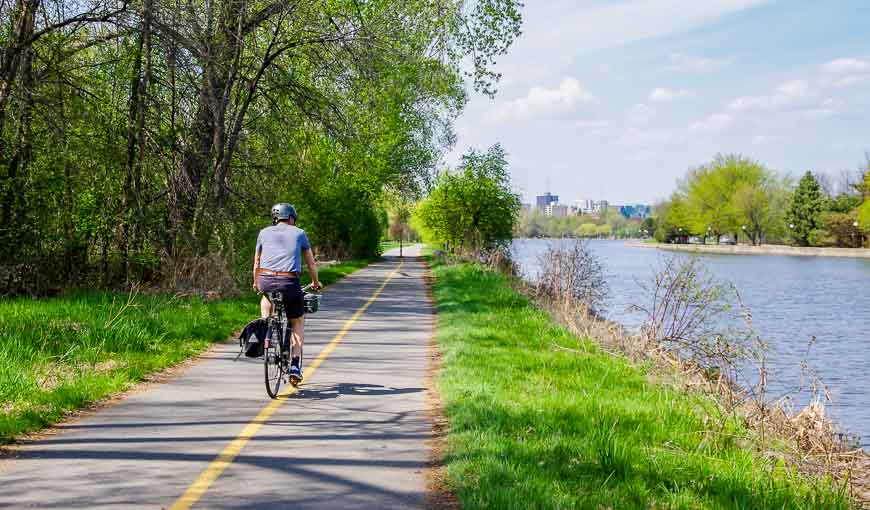 This post includes some affiliate links. If you make a qualifying purchase through one of these links, I may receive a small percentage of the sale at no extra cost to you. Thank you for your support.
Where to stay in Ottawa
I'd suggest a stay in downtown Ottawa so you're a short walk or bike ride away from the major sights.
The following hotels are all places I've stayed that I'd recommend.
Hotel Andaz – great location in the Byward Market, lovely roof-top bar, well-appointed rooms
Fairmont Chateau Laurier – a splurge but one of Canada's grand old hotels right on the Rideau Canal. Catch the summer fireworks from some of the rooms.
The Westin Ottawa has a great location, especially for biking and nice views from the hotel.
Further reading on things to do in the Ottawa area
Click on the photo to bookmark to your Pinterest boards.