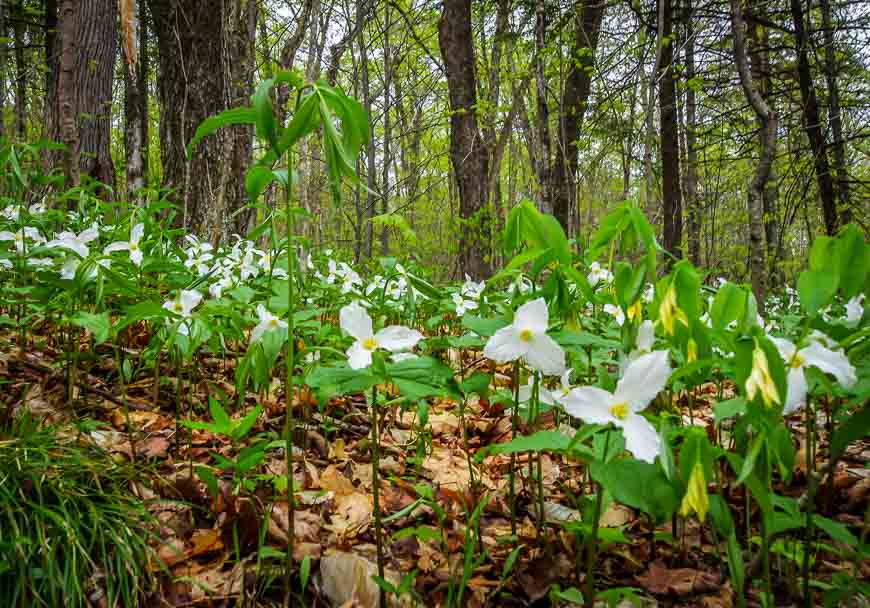 Carbide Willson Ruins Hike in Gatineau Park
The easy Carbide Willson Ruins hike in Gatineau Park is particularly lovely in spring. If you can do the hike in May, you'll find the forest carpeted with trilliums – and the birds busy singing their hearts out. But the hike to the
ruins is also a great one for fall. Colours in Gatineau Park have a habit of dazzling those who visit.
I think this is a hike that will feed your soul.
If you're a photographer, I'd also recommend a hike to the Carbide Willson Ruins. Nature is taking over the ruins and it's interesting to see. You could be there for hours, checking out all the different angles.
Updated April 2020. This post includes some affiliate links. If you make a purchase via one of these links, I may receive a small commission at no extra cost to you.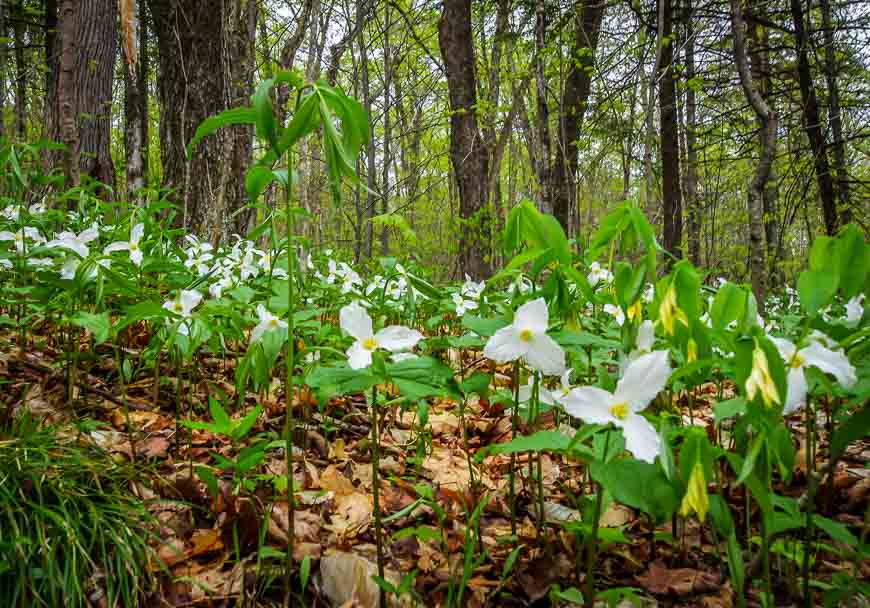 Carbide Willson Ruins Hike
I was lucky to be part of a group that had signed up for a nature tour while at an Ottawa conference. One full day was set aside to visit Ottawa's fabulous Canadian Museum of Nature, followed by a hike to the Thomas 'Carbide' Willson Ruins in Gatineau Park.
It's an easy 3.25 km return hike to the ruins by way of a gently rolling trail that skirts a small section of Meech Lake. Running through hardwood forest, the trail is dog friendly as well – providing they're on a leash.
From the parking lot take the road past O'Brien House. Meet up with the Trans Canada Trail and cross the bridge between Meech and Little Meech Lakes. Continue on trail #36 until you reach the turnoff to the Thomas Carbide Willson ruins and fertilizer plant.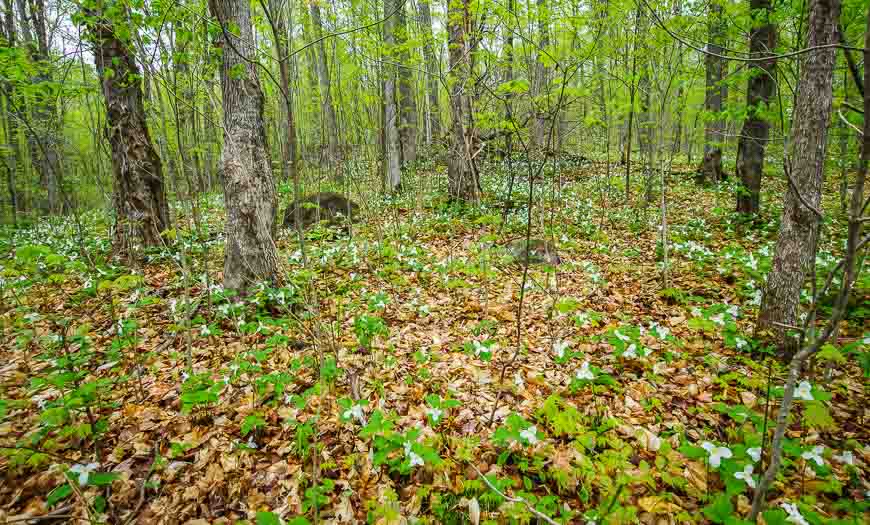 The ruins themselves, situated by a river are a photographer's delight. Formerly the electrical generating station for the fertilizer plant, they are being taken over by nature.
Carbide Willson ruins history
Thomas Willson, the first person to own a car in Ottawa, a successful businessman and a pioneer of electrochemistry, settled in the Gatineau area in 1907. It is here that he learned to condense phosphoric acid to produce phosphoric fertilizer. According to the sign beside the ruins:
He earned his nickname "Carbide," by developing a method for the production of calcium carbide. This substance is harmless when dry but produces acetylene – an extremely flammable gas, when damped with water. With Wilson's process, acetylene could be safely stored in the form of inert calcium carbide.
The hike could easily be done in an hour. But allow extra time to take in the beauty of the woods and the area round Meech Creek and the ruins.
According to our guide, Katherine Fletcher, the ruins are a favourite hangout of nude sunbathers – despite being prohibited. If it affects your sensibilities, she suggests timing your visit for early in the day though I don't know if it's as much as a problem as it once was.
Katherine is the author of two books including Historical Walks: The Gatineau Park Story – a treasure of a book filled with historical photos and interesting bits of information as well as detailed trail descriptions.
Getting to the trailhead
From Ottawa, take Autoroute 5 north to the Old Chelsea Road exit. Head west (left) on Old Chelsea Road through the village. Turn right before you reach Meech Lake and look for Parking Lot 11 at O'Brien Beach. It's at the southeast tip of Meech Lake. It's about a 30 – 35 minute drive from downtown Ottawa.
Don't forget
Don't forget your binoculars as there are lots of birds to be seen. Even though it's a short hike carry the 10 essentials. If it's black fly or mosquito season you'd be smart to bring insect repellent.
Further reading on things to do near Ottawa
Click on the photo to bookmark to your Pinterest boards.
Thank you to Ottawa Tourism for arranging such a great day – which also included two hours at Spa Nordik in Chelsea, a real treat and a super relaxing way to spend part of a mother's day. Opinions as always are my own.