A trip to Chelsea Quebec in Gatineau Park feels like a trip down memory lane for me. I grew up in Ottawa so I spent a lot of my youth skiing at Camp Fortune and swimming in the lakes of Gatineau Park. But it had been over three decades since I'd been back. And what a treat to find most of what I remember unchanged.
Our base for exploring Gatineau Park was the Moulin Wakefield Inn, just 15 minutes away in Wakefield. From there we cross-country skied in Gatineau Park for a few days but we also built in some time to explore the pretty little town of Chelsea Quebec.
Chelsea serves as one of the gateways to Gatineau Park. It seems to have grown up since I was last there. Whether the residents are in favour of the changes, I don't know, but as a visitor I loved the place. It's only about a 20 minute drive from downtown Ottawa but it feels like a world away.
This post includes some affiliate links. If you make a purchase via one of these links, I will receive a small commission at no extra cost to you. Thank you very much for your support.
Here is a sampling of things to do in Chelsea, Quebec across the seasons
Go shopping
Shop at one of the locally owned stores in Chelsea Quebec. Check out Doozy Candle, a store that makes candles using premium food grade paraffin wax, so you get a long, clean burn. Look for bright colours and interesting patterns. They'll ship too.
Maison Tivoli is a gorgeous shop selling high quality imported gifts.
La Fab Sur Mill is a studio space and public art gallery that also houses a boutique shop – selling goods from 50 local artists and artisans. Look for pottery, sculpture, photographs, jewellery – and a whole lot more.
Eat well in Old Chelsea Quebec
Plan to eat in Chelsea Quebec. For a small town there's a lot of choice. I had a phenomenal four course tasting lunch at the popular Chelsea Pub. It's got a great ambiance and friendly service. If I lived in Chelsea I wouldn't have much motivation to cook.
Other places to eat in Chelsea include Les Fougères, a restaurant surrounded by gardens featuring lots of home-grown and local food since 1993. And Mama Theresa Restaurant, an institution in Ottawa for almost 50 years opened a location in Old Chelsea several years ago – probably because over a million visitors a year who are drawn to the quaint town of Chelsea.
As for coffee, sandwiches and treats, check out Biscotti & Cie in the heart of Chelsea, Quebec.
Go for a swim in Meech Lake
I have lots of fond memories of swimming in Meech Lake come the summer. There are two main beaches – O'Brien Beach and Blanchet Beach. In a typical year lifeguards are in place from around mid-June until Labour Day weekend. Dogs are not allowed.
Visit the Nordik Spa
The Nordik Spa in Chelsea, the largest in North America, is a unique and very relaxing way to spend some time. John and I had both been invited to visit but we had no idea what we were getting ourselves into.
The Nordik Spa offers a huge selection of Nordic baths and waterfalls, saunas with varying temperatures, steam baths, cold plunge pools, a panoramic pool, hot tubs, quiet rooms, lounging rooms where wine and food is served – really the list goes on and on. In summer outdoor massage is also an option.
Here's what we did at Spa Nordik.
After changing into a bathing suit and donning a large terry robe, we padded in scandals (footwear is a necessity on very cold days) from a medium hot sauna to a room where we lay in the dark on hot rocks Then it was down to the salt water floating pool – akin to what the Dead Sea might feel like.
We spent close to 30 minutes listening to bells, which is only possible by laying your head back in the water (neck cushions are also provided).
Next was a swim and some lounging in an outdoor pool with a gorgeous view of downtown Ottawa. Then we debated whether to buck up and plunge into a cold water pool but both of us wimped out with that. We ended with another sauna and a soak in the hot tub.
We were at the spa for easily two hours and really I know I could have done more. I understand that in the summer, when lounge chairs are scattered around the property, couples will quite literally spend the whole day here. It was a total treat and it felt like a very luxurious and indulgent way to spend a good part of a weekday afternoon.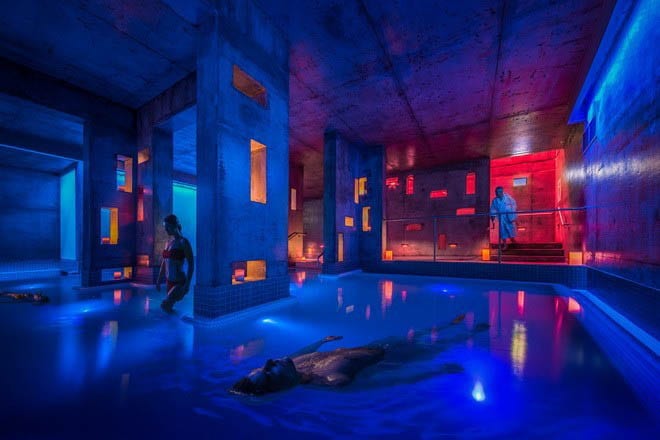 Go hiking in Gatineau Park
From Chelsea, Quebec go for a hike in nearby Gatineau Park and check out some of the 165 km of trails.
The easy, short hike to the Carbide Willson Ruins is a complete delight in the spring when the trilliums are blooming. Photographers too will love this place. Another great option is the family-friendly hike around Pink Lake.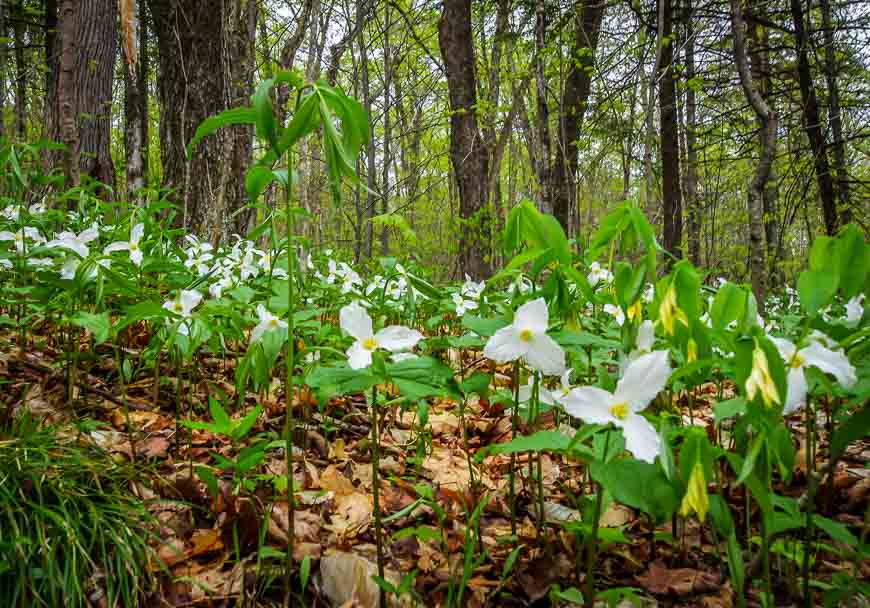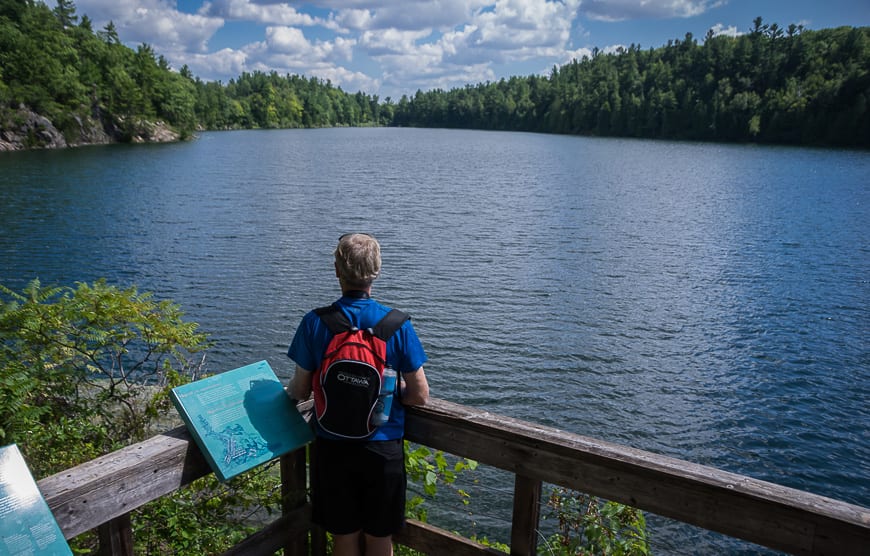 Go downhill or cross-country skiing in Gatineau Park
Camp Fortune is just a few minute's drive from Chelsea. It's a great family-friendly ski resort with a terrain park in winter and an aerial park with ziplines in summer.
The cross-country skiing in Gatineau Park – whether accessed from Camp Fortune or any of the other numerous access points is nothing short of phenomenal. There are trails for every level and type of skier including 200 kilometres for classic skiers, about 100 kilometres for skate skiers and 45 kilometres of backcountry trails for more adventurous types who want to explore.
Why I love Chelsea Quebec
Considering that Chelsea's population is only about 7,000, it's got a phenomenal amount to offer including great food, local colour, shops supporting the community, a wonderful spa and the beauty of Gatineau Park with its abundance of ski trails in the winter and hiking and lakes to enjoy in the summer.
Where to stay in and near Chelsea Quebec
In Wakefield Quebec, about a 15 minute drive away, we had a wonderful at the Moulin Wakefield Mill Hotel & Spa. In the winter their outdoor hot tub was bliss.
Auberge Tom B&B, with views of the Gatineau River, is a five minute drive away from the Gatineau Park Visitor Centre. It's rated as exceptional.
Auberge Old Chelsea would be another solid choice. It's rated superb.
More things to do if you're staying in the Ottawa area
Click on the photo to bookmark to your Pinterest boards.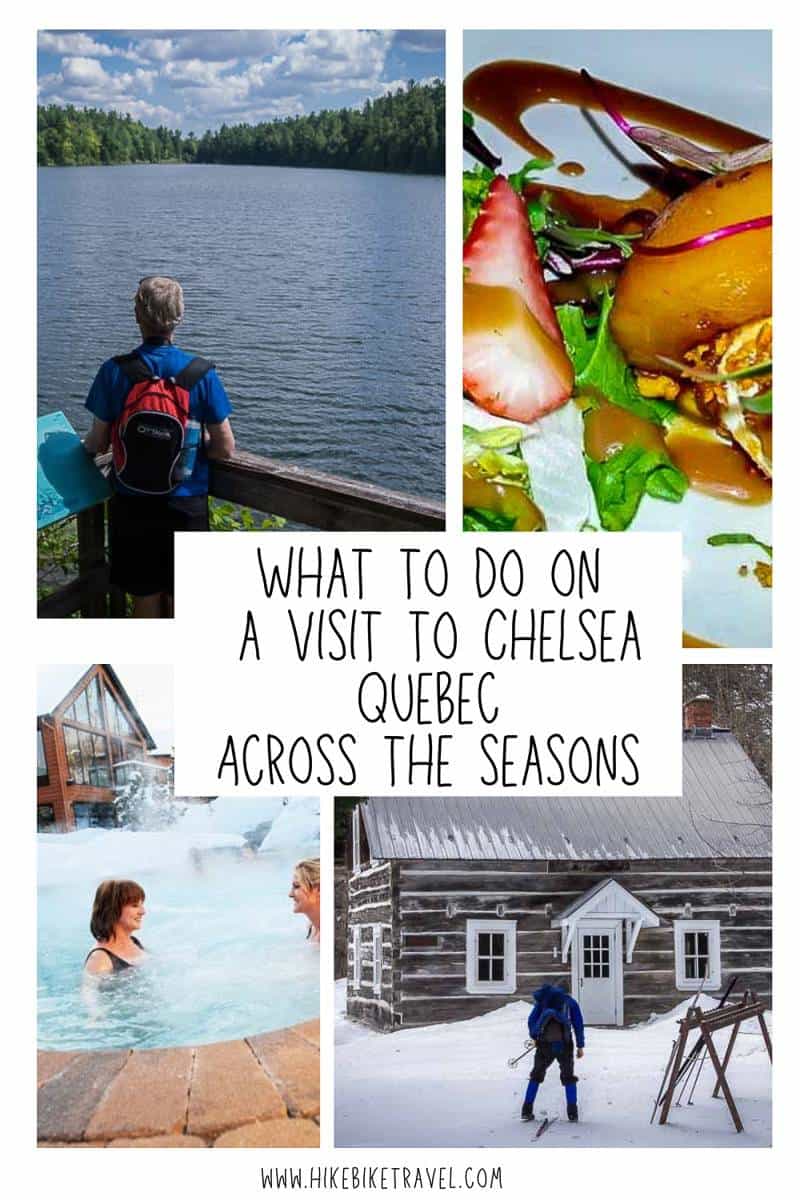 Thank you to Tourism Outaouais for help with part of my trip to the region. And as always all thoughts and opinions are my own.