I'm looking at our sleek, brand new, 37 foot long $300,000 + Le Boat and thinking to myself – can John and I really drive this thing and dock it without a mishap? John of course says "no problem" but he's a guy. I on the other hand am far more cautious around anything with a motor and can't help thinking of the time our daughter actually sunk a motor boat, albeit a smaller one, in Lake Huron. I hope we have good insurance.
What does Le Boat offer?
Looking back, my fears were unfounded. Le Boat, a French company that has been around for over 50 years offering boating vacations across Europe recently opened its first North American operation – based in Smith Falls, Ontario on the historic, UNESCO designated Rideau Canal.
What they offer is an affordable way to rent your own private yacht and explore 202 km on both the Rideau Canal and the Rideau Lakes system (with Parks Canada responsible for all locks) between Smith Falls and Kingston, usually over a week.
The company also offers the option of carrying bikes or kayaks so once you've docked you have even more opportunities for recreation.
Boating experience. What boating experience?
You don't need any boating experience to rent and drive one of the 16 boats offered. In fact they told me that 50% of their renters are non-boaters.
If that scares you as a boater, rest assured that the boats offered are easy to drive with a maximum speed of just 10 km/hour. Plus they have a little secret – something called a thruster which allows you to turn on a dime in any direction quickly – even fully sideways.
Nonetheless you must show proof of competency. As part of their orientation, they offer a comprehensive course both onboard and off. They ensure that the operator is both competent and confident in the operation of the cruiser before they leave the base. Also, every boat is provided with a full set of charts so as long as you learn which side of the red and green buoys to be on, you're good to go.
With so much experience in Europe, the company knows what their boats need to keep them in operation. Cue the steel hull. While they aren't indestructible, they're pretty darned close.
How our 4-night boat Le Boat trip on the Rideau Canal & Rideau Lakes unfolded
Most of the boating I've done has been of the wilderness variety via my 16 foot sea kayak. I really wasn't sure how I'd take to the whole yachting experience. It turns out – it was one of the most fun, relaxing things we did all summer and our only regret is that we didn't have more time to go all the way to Kingston and back.
The first day was a short day on Le Boat as you don't typically get the boats until mid-afternoon. Then by the time you've done the orientation it's probably close to 4 PM before you're on the boat and into your first lock on the Rideau Canal – just a few minutes away from where the boats are docked in Smith Falls.
You do need to be mindful of lock operation times. In the summer on a weekday you can go through the locks between 9 AM and 6 PM but you need to be there a minimum of 30 minutes before closing time.
We weren't there on a busy weekend when things can get backed up but we still allowed 20 – 30 minutes for each lock when we were planning our day. Most of the lockmasters are great – and will call ahead to the next lock if it's getting late in the day so they know you're on your way.
On the first day we enjoyed getting the feel of the boat, counting off the numbered buoys so we knew our exact location at all times and navigating through two locks on our way to Lower Beaveridges Lock, our destination on the first night. From here it's possible to continue through another lock and onto the pretty town of Perth.
I was quite concerned about docking the boat as it was especially tight between boats on the first night. Fortunately John looked like he'd been doing it forever and the folks at the locks, both Parks Canada students and the lockmaster were incredibly helpful giving advice and tying off the boat for us in short order.
From then on it was pure relaxation – a glass or two of wine, barbecuing a steak on the upper deck, and watching the world go by. I'd had a very busy summer up to this point so I was in a state of bliss. With no schedule other than to be back in Smith Falls before the last lock closed on our last night, we could do what we wanted.
Big Rideau Lake on Le Boat
On the second morning we mapped out our week – mindful of the fact we hoped to meet up with an old friend from Queen's University days along with my buddy Guy from Parks Canada in Westport.
Our second day was a rainy one so after just a few hours of cruising we arrived at one of the few if only places where you can tie off on a mooring buoy for the night.
Operated by Parks Canada, the Colonel By buoys located in a somewhat sheltered section of Big Rideau Lake afford more privacy than the locks or docks in the small towns. I quite enjoyed the experience – and a lazy afternoon – in spite of the fact we had a major thunderstorm with crashing waves that night and I wondered if our knots around the buoy would hold up. Turns out they were fine though I envisioned coming loose through the night and being pushed into shore!
Cruising to Westport
From the buoy we made our way on our Le Boat to the cute village of Westport. It probably took us around three to four hours. I wasn't keeping good track – just enjoying the ride and a Rideau Canal lock experience that included a swing bridge.
Once in Westport you can get off the boat and explore the town (bikes would be great here) or go for a hike – which surprise is what we elected to do late in the afternoon!
But first we met up with my friend Guy from Parks Canada – and took him out for a boat ride before chowing down on massive cinnamon rolls he'd showed up with. That evening we enjoyed more great food and wine with our old friend Johnny. What a treat to have friends come on board, if even for a few hours.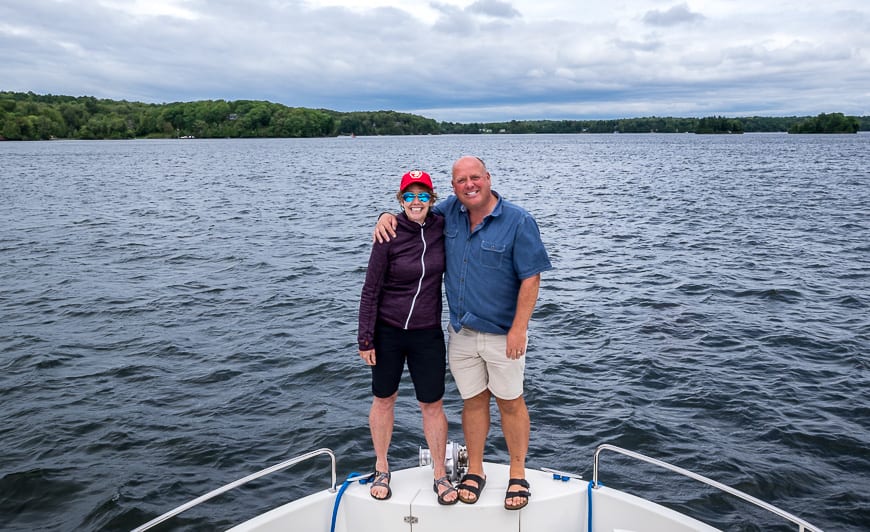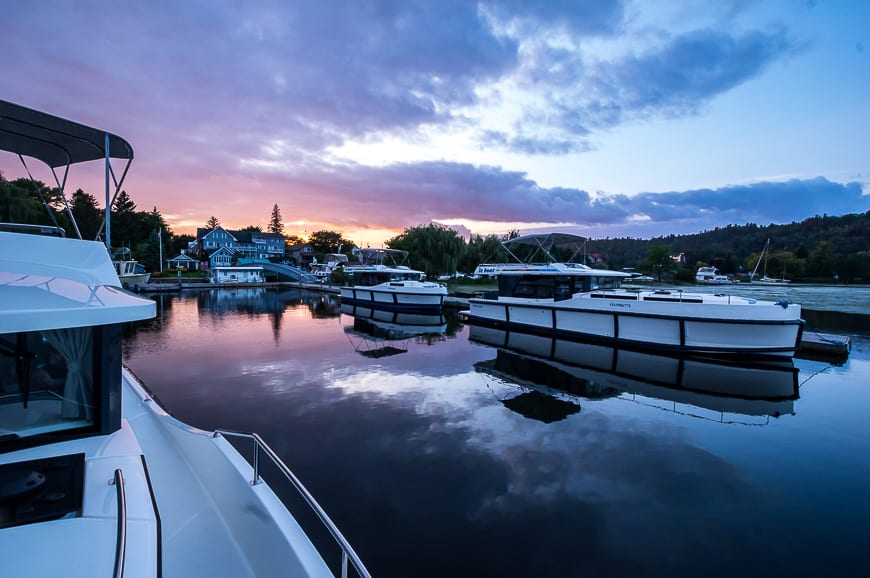 Return to Smith Falls
We knew it was going to be a longer cruising day to travel the full distance between Westport and Smith Falls so we allowed roughly six hours though I don't think it took that long.
It was one of those glorious summer days where the water beckoned so over lunch we found a quiet place where there wasn't much wave action and included a swim. There's a telescoping ladder at the back of the boat if you don't want to just jump in.
From our lunch spot we simply enjoyed the scenery and all the birds on our way in to Smith Falls.
Staying to the left of the green buoys on the way back to Smith Falls
A few other things worth knowing about Le Boat
Dogs are allowed on board! It's an additional $75 for up to two dogs.
While there is no AC, there is a fan.
At most places where you dock you can easily fill the 300 L water tank.
No open liquor is allowed while the boat is in operation.
The season starts on the May long weekend and finishes on Thanksgiving weekend.
Up to 10 days' worth of gas is onboard. In four days of cruising we used $70 of gas.
Boats come in many configurations for sleeping. Choose from two bedroom to five bedroom arrangements.
The boat is well appointed inside and out with a TV, microwave, stove, oven, mini-fridge (there is room to store a cooler and you can restock in small towns) and hot showers. Outside cushioned seats fold into the sitting position.
Before you start your Le Boat vacation
Plan a night or two in Ottawa before the trip. It's the closest big city to Smith Falls, being only an hour's drive away. Its home to an international airport and a train station plus a terrific number of incredible things to do.
Read: 5 Things You Must Do on a Visit to Ottawa or The Secret to Pink Lake in Gatineau Park, Quebec
If you want to see how it feels and what it looks like on the Le Boat watch the 30-second video. I think you'll be hooked.
Where else can you pick up Le Boat on the Rideau Canal system?
It didn't take long for the company to become extremely popular on the Rideau Canal system. Granted they already had a base of clients in Europe who have been cruising the canals and waterways for years but the word is out that the boats make a great holiday.
In 2019 a second base was added at Seeley's Bay. One-way cruising is available and at a minimum there will be two new five cabin boats introduced. Visit the website to learn more visit cruising the Rideau Lake System.
When I say this was one of the big highlights of my summer I really mean it. It was fun, different, relaxing and a great way to explore the area.
Further reading on things to do in summer in Ontario
Click on the photo to bookmark to your Pinterest boards.
A big thank you to Ottawa Tourism and Le Boat for hosting John and me.