Ask a Canadian where they'd send their friends and/or guests to experience Ontario's great outdoors and many would suggest Algonquin Park or perhaps Muskoka or the Kawartha Lakes. They'd recommend swimming, canoeing and kayaking since Canada's most populous province is blessed with oodles of warm lakes and sparkling rivers. While cottagers and tourists flock to these popular destinations, a growing number are now seeking out Northern Ontario's French River.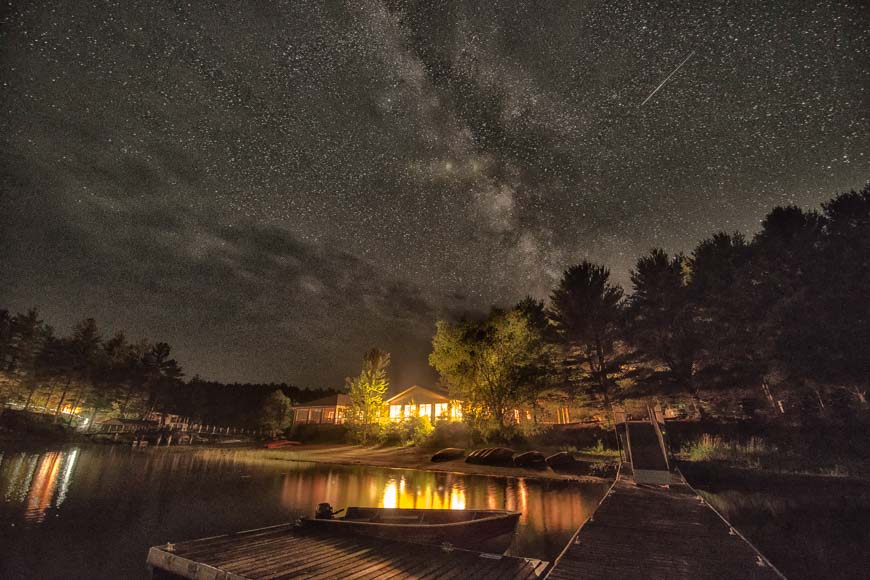 French River – a Canadian Heritage River
The French River is the first to be designated a Canadian Heritage River, this historic, 105 km-long waterway offers an experience that is as Canadian as butter tarts or, for that matter, (maple) sugar pie since the river travels through Franco-Ontario where French is the preferred language of most residents.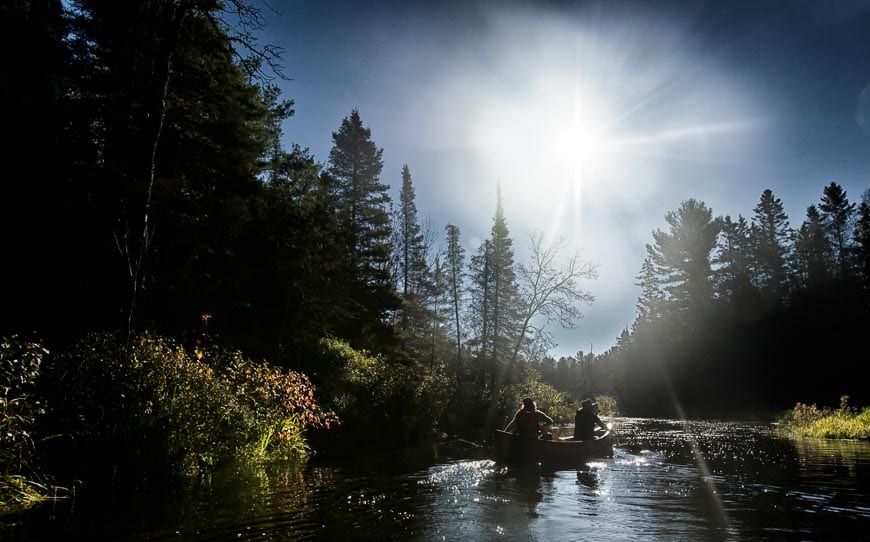 The Lodge at Pine Cove
But before dipping your toe or your paddle into the French River, I suggest heading to The Lodge at Pine Cove, a spectacular inn that is situated on Wolseley Bay about half way between Lake Nipissing, where the river begins, and Georgian Bay, where it ends.
Admittedly, The Lodge is owned and run by my life-partner Alex Strachan so I'm biased. But this also makes me a good guide to the middle portion of this historic river.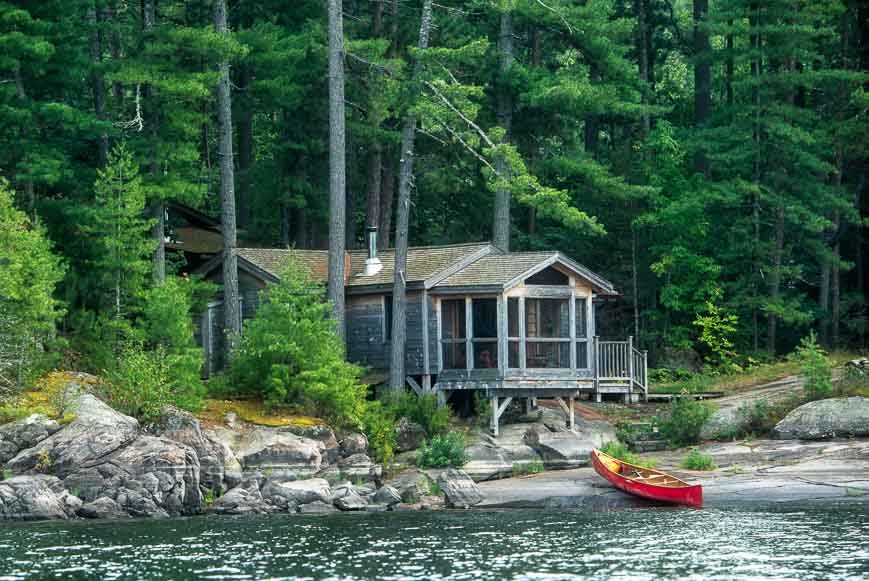 17 cottages to choose from
You may want to stay in one of The Lodge's 17 magnificent cottages – imagine breakfast complete with hot-from-the-oven croissants delivered to your door each morning in a hamper basket, gourmet coffee and exquisite tea, high thread-count linens and sipping a glass of wine on a screened-in porch overlooking the water.
Or you might want to have an exceptional lunch or dinner in The Lodge's wrap-around-verandah dining room.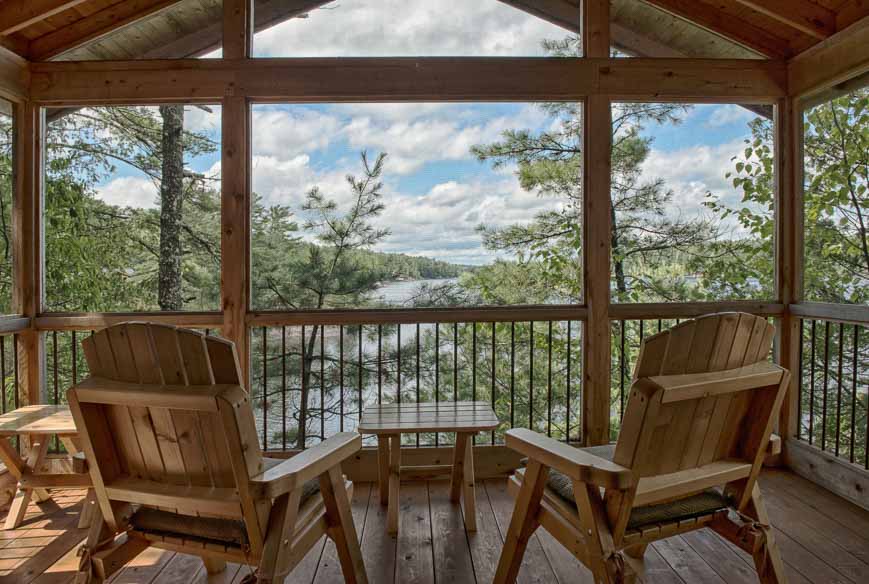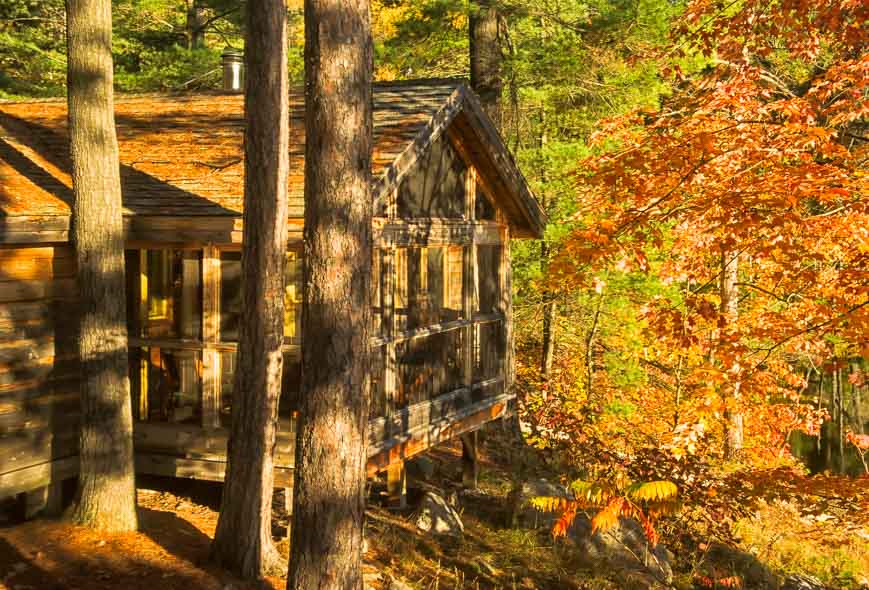 Alex's History Tour
But regardless of whether you stay and/or eat at The Lodge, I encourage you to take Alex's history tour. Three or more times a week for about three hours, Alex powers up his boat to take a small group to his favoured places while regaling them with stories of Canada's extraordinary past.
Afterwards, anyone who thinks Canadian history is boring (almost all Canadians) will be converted. (To book a spot call 705-898-2500 or visit History Tour.)
Though born in the U.K., Alex brings the granite, white pine and oak forested landscape to life. His explanation of how the fur trade or, as he correctly calls it, the trade in beaver pelts, shaped our nation will help you appreciate the fine line danced by Canada's founding fathers.
Confederation in 1867 was almost a miracle given the competing demands of the British and our American neighbours. Alex will show you a portage that's so old and well-used by voyageurs as they journeyed in massive canoes from Lower Canada to the West that the granite is worn down.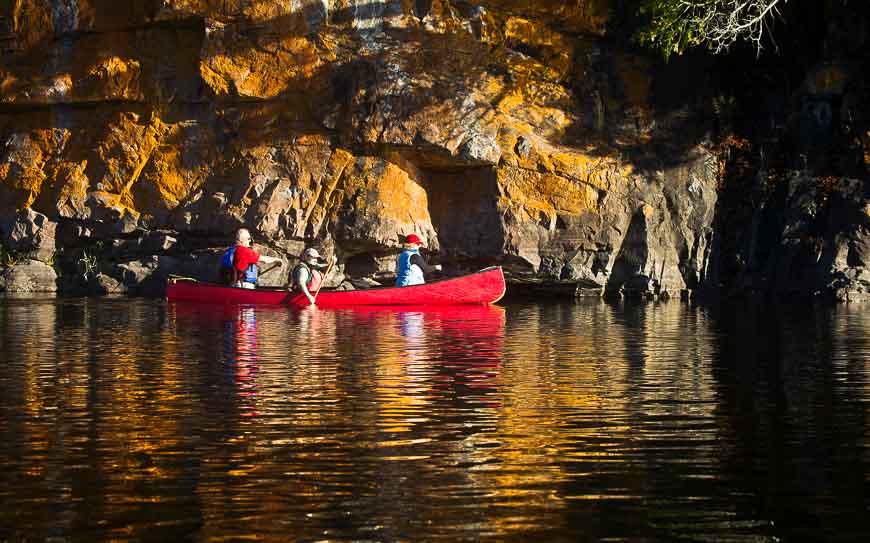 Exploring the French River on your own
With your new appreciation of our rich past, it's time to explore the French on your own. If you are staying at The Lodge, you can swim, canoe, fish, kayak and hike (in spring and fall) right from The Lodge's beach.
But you needn't be a Lodge guest to explore the French River since there are plenty of other lodges and inns nearby. Moreover, both shores of the river's entire 105 km length makes up the French River Provincial Park.
It's one of only a few water-access-only protected areas in the province. And while having to paddle or motorboat into the park makes it a bit more challenging to visit, it also means that on a holiday weekend in July or August, campsites are available and you can paddle all day and only come across a handful of fellow boaters, most of them in canoes, kayaks or tin fishing boats. And while I'm on the topic, the French is home to bass, pickerel, pike, muskie and more.
Hard as it might be to imagine, you can paddle pretty much the entire French River in either direction. That's because it is really a series of lakes and drops and not a river at all. This unique feature means the French is ideal for paddling loops.
The most popular are a day trip around Commanda Island, a three- or four-day paddle up the main French and back down the Little French (ask at The Lodge for details) and the five- or six-day route around 18-mile island.
Each involves some portaging, but the portages are short. Furthermore, the latter route around 18-mile island travels along a five-mile-long stretch of rapids. They are class one so fun for white-water paddlers and portagable for those who prefer flat water.
Personally, I spend more time in a kayak than a canoe. One of my favourite places to visit (about a 90-minute kayak each way from The Lodge) is Five Finger Rapids. Located on the Dokis First Nation, this magnificent spot is worth a visit simply to wonder at it. But you can hike there too.
And seek out information about where you can jump from cliffs if that's of interest. Alex takes you to Five Finger Rapids on his history tour so you can query him.
There are many pools of clear warm water where you can swim and if you don a pfd, try floating out the canyon with a healthy current pushing you along. (Purchase a permit at The Lodge. The Dokis First Nation uses the funds to build trails, pick up garbage and otherwise care for this amazing place.)
Camping is easy to come by on the French River
I've camped at several of the designated sites in the French River Provincial Park. Again, the water-access-only limitation means that camp sites are readily available (first-come-first-serve basis), though you'll need to purchase a camping permit that can be purchased at most local lodges.
Then you can venture further afield. Head to the Rainy Rapids behind Commanda Island or portage around the Little Pine Rapids (where the granite is worn down) and lazily make your way to the Big Pine Rapids.
You can also head down the north channel of the French to Cedar Rapids where the swimming is amazing. (As paddlers know, you should always check out rapids before running them.)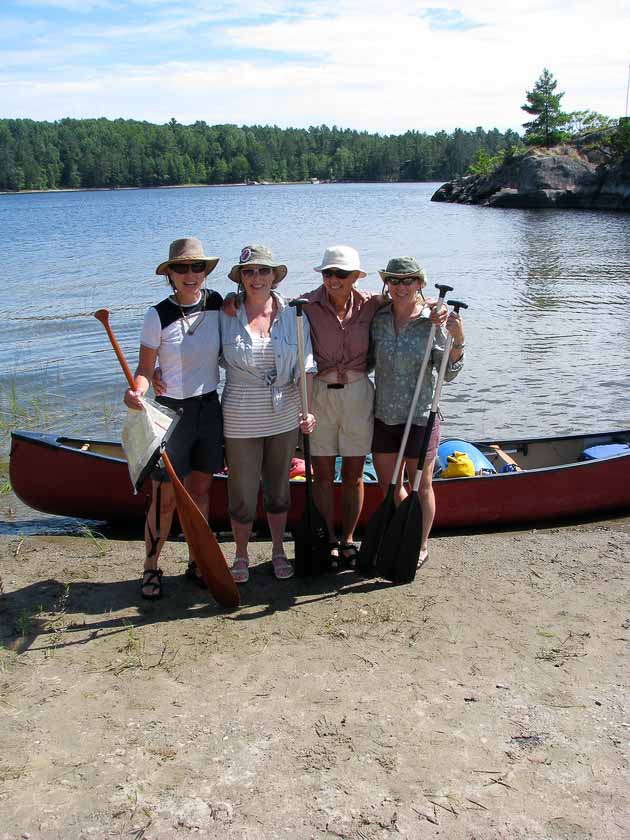 The French River is a refreshing change from Ontario's ever-busier lake country. You don't have to be that adventurous to appreciate its many paddling and swimming opportunities as there is plenty of camping and numerous places to stay on the river.
So do yourself a favour and explore the French River.
For canoeists, paddling the French River doesn't rank high. It has limited whitewater and its rapids are Class One at best. It's a long old drive from Toronto to the French (four hours) and much of it feels more like a still-water lake than a river.
So why is it that almost every canoeist I know has paddled the French River – sometimes multiple times?
Location map of the Lodge at Pine Cove on the French River
Further reading from Nicola Ross
Click on the photo to bookmark to your Pinterest board.