I've put together 25 plus suggestions for day trips from Calgary you can do across the seasons with the hope that some of these recommendations are completely new to you. I think there should be something for everyone on this list no matter what your interests, age or fitness level. There's a lot to explore within a few hours of Calgary from prairies to the Rocky Mountains, lakes to rivers, along with a selection of provincial and national parks to visit.
Spending time outdoors in all seasons does so much for your mental and physical health! Have fun and try out a selection of these day trips from Calgary. Some are educational, some family-friendly, and many are just plain fun.
Location map of the suggested day trips from Calgary
Click on the three dots near the top right hand corner to email a copy of the map.
Day trips north of Calgary
You won't find world-class scenery north of Calgary but there are some gems worthy of a visit roughly 75 minutes to two hours from Calgary. There are conservation areas perfect for hiking, lots of easy biking in Red Deer, and plenty to do and see in the towns of Sundre and Lacombe.
1. Visit the Ellis Bird Farm near Red Deer
Distance from Calgary: 175 km
Driving time: Approximately 90 minutes to 1 hour and 45 minutes one way.
Best time to go: Third week of May until earl September.
The Ellis Bird Farm is one of the best day trips from Calgary or Edmonton – especially with kids. In just a few hours you will get excited about the cutting edge research done with geolocators that indicate where each bird has flown around the world. You'll come away impressed with the relationship with MEGlobal Canada and the beauty of the gardens will lure you back for another visit.
There's also a café on the property that serves delicious food – so be sure to include a trip to Ellis Farm from Calgary in the summer.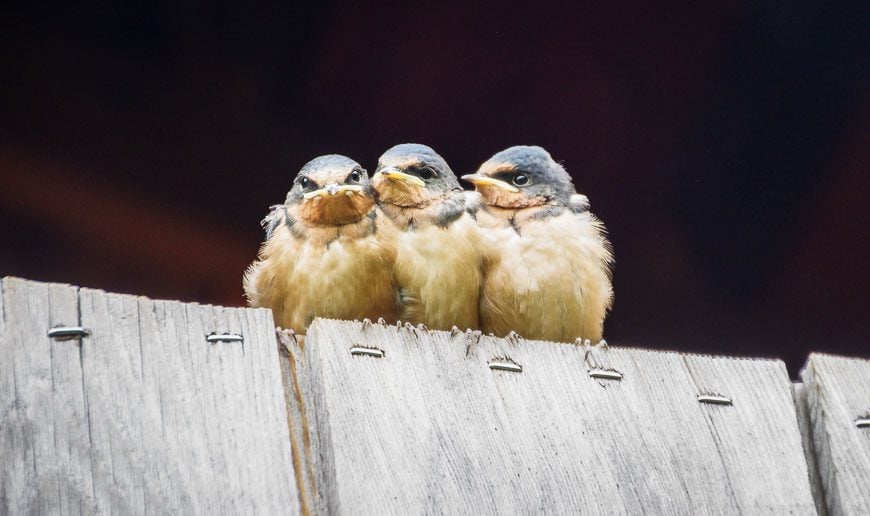 2. Explore Sundre
Distance from Calgary: 115 km
Driving time: Approximately 1 hour and 20 minutes one way.
Best time to go: Late spring till mid-fall
The pretty town of Sundre is located on the Red Deer River in Alberta's farm country. It's a great place to visit if you love adventure for the Red Deer River offers an exceptional rafting experience. Enjoy the thrill of some big rapids over a pretty 28 km stretch. When you're finished head back into town for some delicious food at Kodiak BBQ.
3. Head to the Lacombe area
Distance from Calgary: 175 km
Driving time: 1 hour and 45 minutes each way
Best season: Year-round.
There's a lot more to do in Lacombe than first meets the eye. It's a cute small town off Highway 2 north of Calgary. The main street is filled with locally owned businesses including a sports store, home décor store, a hometown store with all sorts of must-have swag from the surrounding small communities along with the historic and very lovely Flatiron Building. There are numerous restaurants serving delicious food and Blindman Brewery – Alberta's best brewery in 2022 that also serves mouthwateringly good tacos.
In Lacombe and nearby there is plenty to offer the hiker and nature lover. Hike around one of the local lakes, are drive just 15 minutes to the J.J. Collett Natural Area and explore 18 km of maintained trails that wind through wetlands, grasslands, meadows and mixed forest.
Day trips west of Calgary
Most visitors to Calgary head west to Canmore and Banff National Park for the world-class mountain scenery and the opportunity to see stunning turquoise-coloured glacial lakes. There's so much to do west of Calgary no matter what the season. In spring, summer and fall the mountains beckon hikers, cyclists and paddlers. Come winter, locals and visitors alike visit for downhill and cross-country skiing, snowshoeing, fat biking, winter hiking, and sometimes wild skating.
Canmore and Banff both deserve some time as well but be warned that in summer, the main streets of both communities can be packed with tourists. I personally prefer them in the shoulder season.
Always go prepared when you visit the mountains. The weather can change in a heartbeat and you need to be wildlife aware. I would encourage everyone to carry bear spray outside of the towns. You can rent it or buy it. I'd recommend reading Tips for Staying Safe in Bear Country.
4. Hike or take the gondola up Sulphur Mountain in Banff National Park
Distance from Calgary: 132 km one way
Driving time from Calgary: Plan on 90 minutes in each direction. You will need a Parks Canada Pass to visit.
Best time to go: A great year-round experience.
It takes just 8 minutes to be whisked up Sulphur Mountain by the gondola. At the top you can expect to be wowed on a clear day by six mountain ranges. There is also the option to hike from the parking lot to the top of Sulphur Mountain and return via the Banff Gondola. Be prepared for about 700 m of elevation gain.
From the Banff Gondola station, walk the 1 km section of boardwalk to the summit ridge leading to Sanson's Peak Meteorological Observatory. You'll need about 30 minutes return and more if its sunset. I heartily recommend a meal at the Sky Bistro. The views are sublime from the restaurant, especially on a clear, summer evening and the atmosphere wonderful.
Taking out of town guests up the Banff gondola is truly one of the best day trips from Calgary, and it can easily be tied into a host of other activities in Banff.
Recommended reading: 18 of the Best Day Hikes in Banff You Can Do in a Day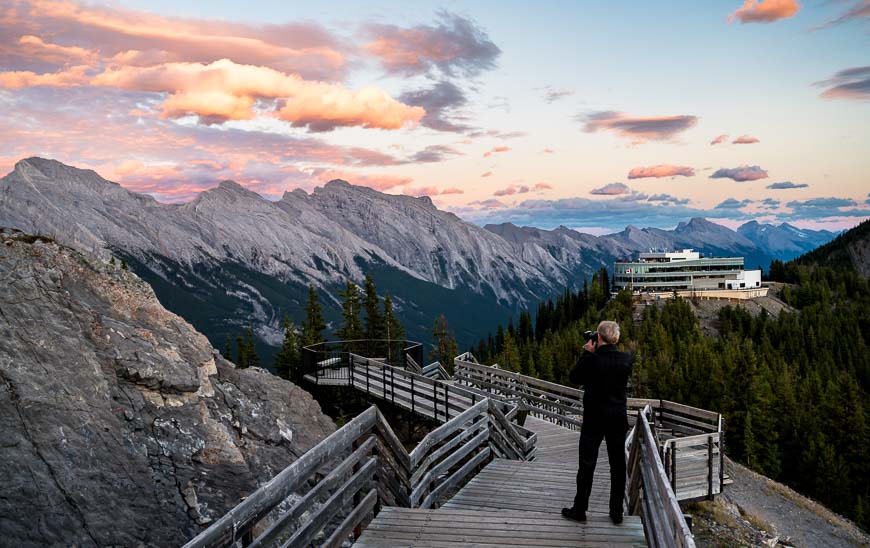 5. Soak in the Banff Upper Hot Springs – one of the top Calgary day trips
Distance from Calgary: 133 km
Driving time: 1.5 hours each way
Best season to visit: I prefer fall, winter, and early spring but it's open year-round.
The Banff Upper Hot Springs are open from 10 AM to 10 PM every day. Entry is first come, first served. For only $16.50 per adult you can have a long hot soak in a historic and very beautiful setting. They even rent bathing suits. Coldest days are the best in my opinion.
6. Take a walk up Johnston Canyon to the Ink Pots
Distance from Calgary: 163 km
Driving time: 1 hour and 40 minutes each way
Best time to go: Johnston Canyon is great year-round. The Ink Pots are wonderful in summer and in winter via snowshoes.
As one of the most popular activities in Banff, no matter what the season, you can be sure you'll have company on this fantastic day trip. The walk up Johnston Canyon is a perennial favourite. And you've got the stamina, I highly recommend continuing to the Ink Pots.
As you slip-slide up the canyon in winter or merely walk the rest of the year, you'll be treated to views of waterfalls or icefalls and perhaps the odd ice climber or two in the winter.
You can go to the lower falls – just 1.2 km each way or if you're more ambitious, hike 2.7 km one way to the upper falls. The trailhead is less than 20 minutes from Banff.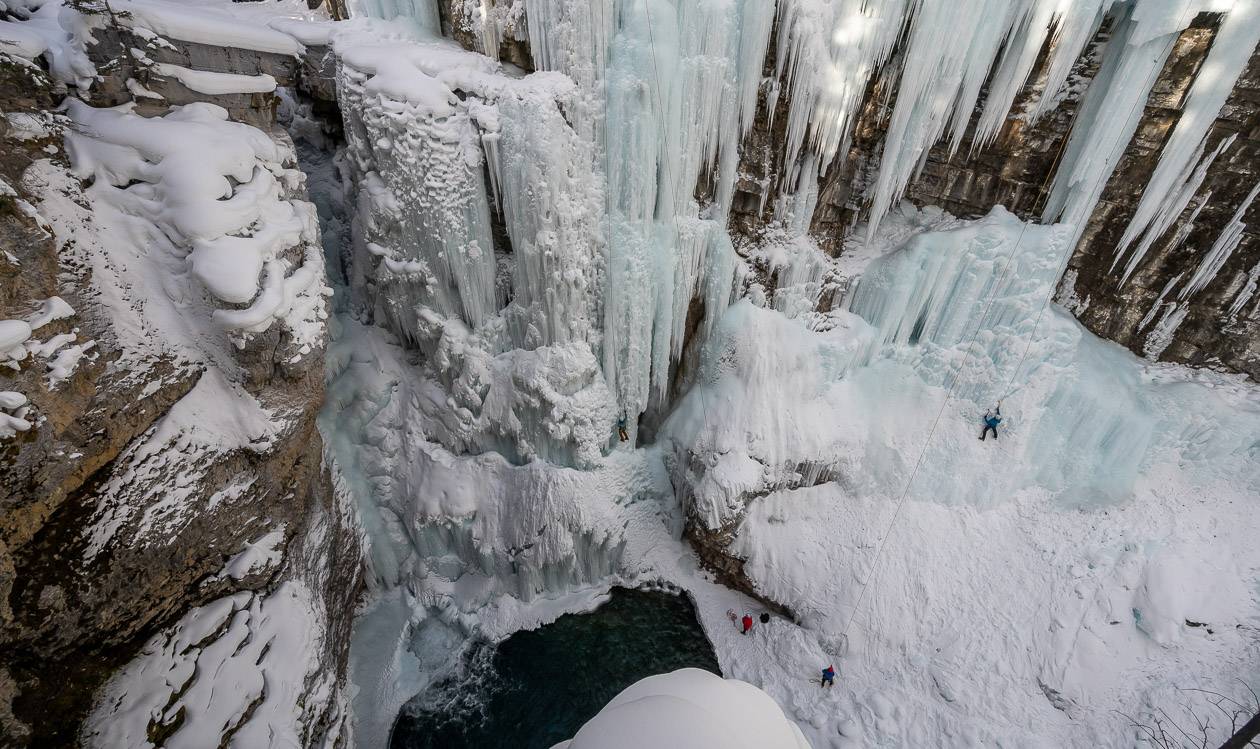 7. Visit Moraine Lake – one of the must do experiences from Calgary
Distance from Calgary: About 197 km
Driving time: 2 hours and 20 minutes
Best time to go: June – October
Moraine Lake has become so popular that as of 2023 private cars are no longer permitted on the Moraine Lake Road. Now you need to make reservations for a Parks Canada shuttle or Roam Public Transit from Banff. Another option is the Moraine Lake Bus run privately. They are more expensive but they have an easier pick up point.
The road to Moraine Lake is closed for most of the year as it traverses avalanche country. The road usually opens sometime in late May, depending on the amount of snow and closes around Thanksgiving weekend. There is one hotel on the lake – Moraine Lake Lodge – and if you have a reservation you will get automatic access. Check rates and availability for the Moraine Lake Lodge.
Moraine Lake is gorgeous – a scrummy colour of turquoise-blue with an incredible backdrop. Some of the most beautiful hiking in the Rockies starts from here – another reason why it's so busy. Be sure to climb the Rockpile Trail to get the complete view of Moraine Lake. If you've got the time and the energy head out from Moraine Lake on either the Eiffel Lake hike or the hike to Larch Valley and Sentinel Pass. Even walking to the end of Moraine Lake is highly worthwhile.
8. Enjoy a soak in the Kananaskis Nordic Spa
Distance from Calgary: 100 km
Driving time: 65 minutes
Best time to go: Year-round though I love the winter.
One of the recent additions that falls under the relaxing day trips from Calgary category, is a visit to the Kananaskis Nordic Spa. Fashioned in the Nordic tradition, the spa stimulates your senses with temperature changes (hot, warm and cold pools). Don't miss an aromatherapy stop via the steam room. The spa's location is set against a beautiful Rocky Mountain backdrop, only an hour away from downtown.
The Kananaskis Nordic Spa is very popular now so be sure to make a reservation well in advance of your planned visit. It's a great way to spend a cold winter day.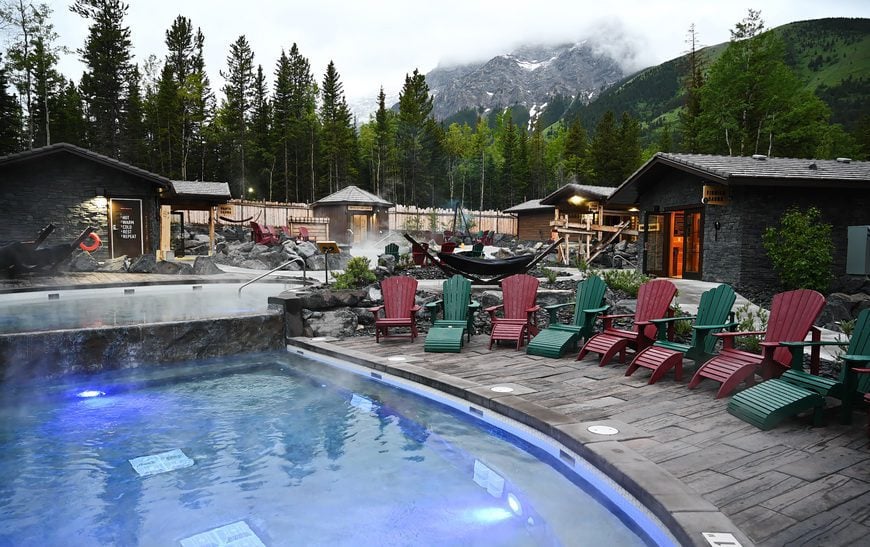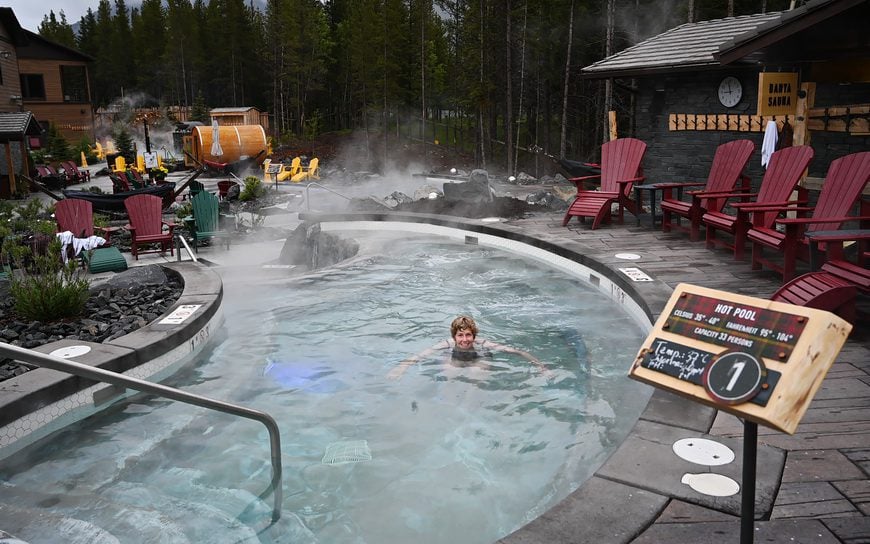 9. Drive the Highwood Pass Loop
Distance from Calgary: 295 km loop drive starting in Calgary.
Driving time: Allow a minimum of four hours for the loop drive.
Best time to go: June 15 – November 30th.
The Highwood Pass loop drive takes you on the highest paved road in Canada, topping out at 2,206 m (7,238 feet). You can drive it in either direction starting in Longview south of Calgary or hopping on Highway 40 at the intersection of the Trans-Canada Highway about 75 km west of Calgary.
The weather is highly variable on the drive and is best in the summer and early fall. Be sure to take warm clothes for the pass. There is lots of fantastic hiking to do from Highwood Pass including the short and mostly easy Ptarmigan Cirque hike which gets you up into the high alpine quickly. You will need a Kananakis Conservation Pass if you make any stops on the drive in Kananaskis Country.
This is a drive where you're quite likely to see wildlife. We almost always see bighorn sheep and in the summer we have seen up to seven grizzlies in a day.
10. Explore the Bragg Creek area and Highway 66
Distance from Calgary: 46 km to Bragg Creek, 77 km to Forgetmenot Pond
Driving time: 40 minutes to Bragg Creek, 65 minutes to Forgetmenot Pond
Best time to go: Year-round for Bragg Creek. May 15 – November 30th for Forgetmenot Pond.
Bragg Creek is a small town a short drive from Calgary. It's home to some shops and good restaurants but I think of it as a gateway to the mountains. If you drive Highway 66 from Bragg Creek to the end of the road, you'll pass numerous trailheads for hikes, some lovely areas along the Elbow River for picnics and the scenic Forgetmenot Pond – a favourite for families.
Highway 66 is a lovely road to bike, particularly before May 15th from the winter gate onwards when there isn't any traffic.
Recommended reading: 7 Bragg Creek Hikes Along Highway 66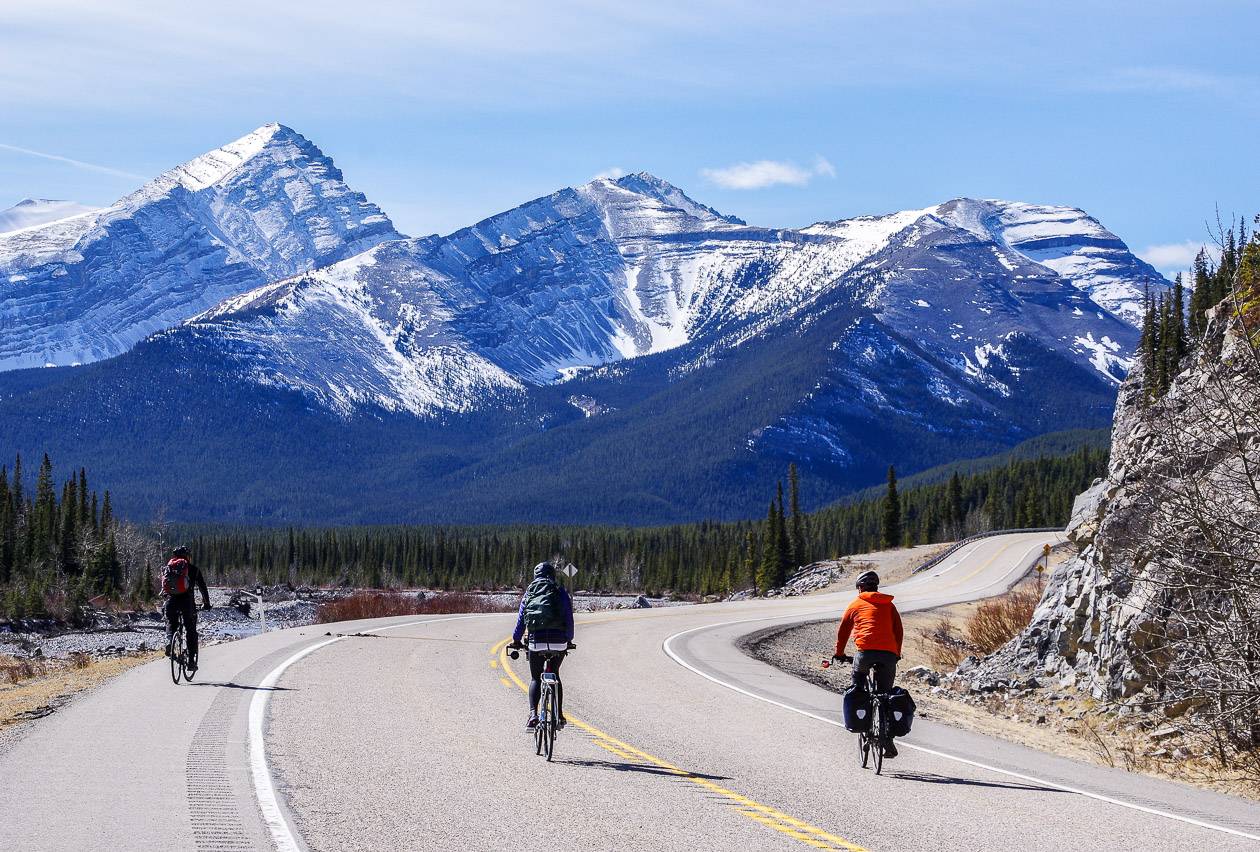 11. Visit Canmore
Distance from Calgary: 104 km
Driving time from Calgary: 1 hour and 10 minutes each way.
Best time to go: Year-round.
Canmore is a pretty town with the Three Sisters Mountains serving as a stunning back drop. Stroll the main street – closed to cars in summer, poking in locally-owned gift shops, enjoying a coffee and a pastry, or perhaps grabbing a beer or dining in one of the restaurants.
Canmore is also a great town for walking and biking. There is a lovely path along the river where the chances of seeing elk are very high. And Canmore is one of the starting points for the fabulous Banff Legacy Trail. Rent a bike in Canmore and hop on the trail to end in Banff. It's an out and back bike ride.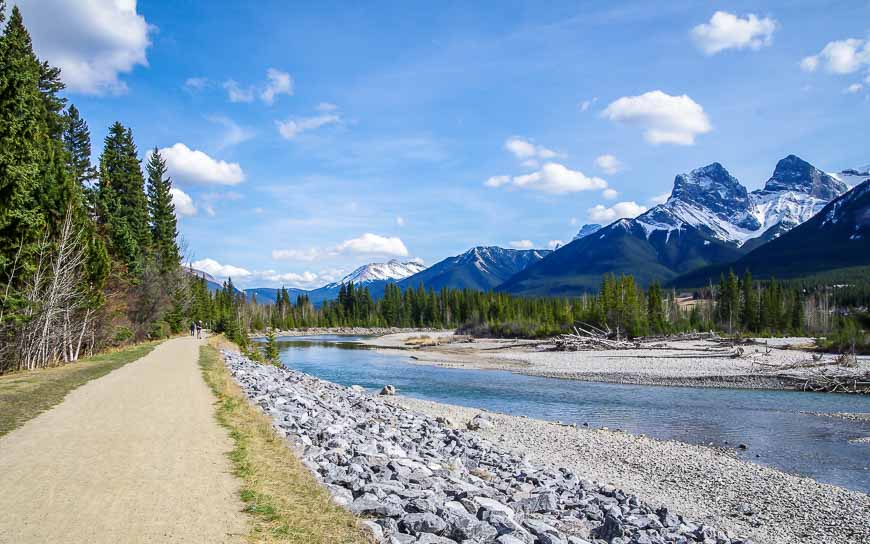 12. Visit the Yamnuska Wolfdog Sanctuary near Cochrane
Distance from Calgary: 50 km
Driving time from Calgary: Allow 45 minutes each way.
Best time to go: Year-round.
Just 40 minutes northwest of the city is the Yamnuska Wolfdog Sanctuary. Here you can do a self-guided walk through the sanctuary to see the wolves at a pace that is comfortable for you – though kids need to be 6 years or older. Or you can choose from either an intro or interactive tour.
After my experience walking with wolves in Golden, BC, I would definitely recommend the close-up experience. You'll learn a lot no matter what tour you end up doing.
13. Go wild skating in Banff National Park – but only when you know the ice is safe
Distance to Johnson Lake from Calgary: 129 km
Driving time: 1 hour 25 minutes each way
Best time to go: Varies greatly from year to year but usually late November to early January.
Wild skating seems to be going mainstream. Basically you need a frozen lake – with ice thick enough to skate on. Ideally there should be very little snow for the most perfect skating. But there are lots of people who schlep shovels and make a rink out of a section of snow-covered lake.
In Banff National Park, Johnson Lake and Lake Minnewanka later in season are good choices or try out Carrot Creek – Banff's secret skating spot according to Jody Robbins. Gap Lake is another choice.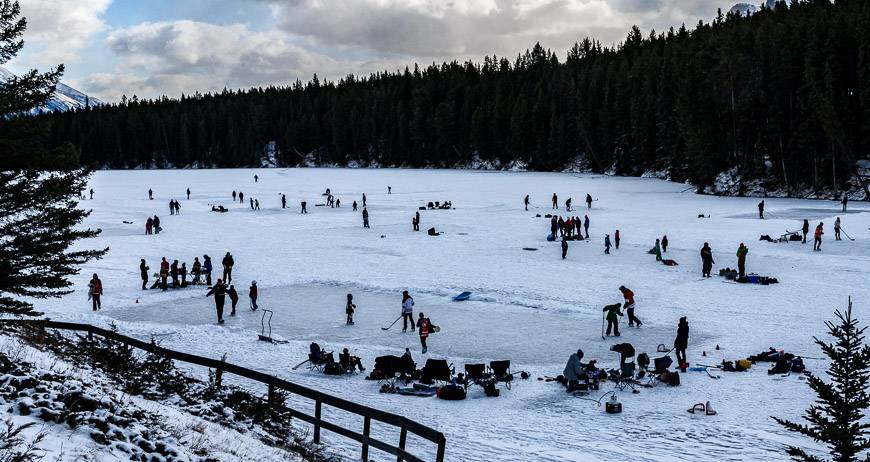 14. Skate on the world's most beautiful rink at Lake Louise
Distance from Calgary: 185 km
Driving time: 2 hours one way
Best time to go: Winter
Every winter part of Lake Louise is transformed into a skating rink. You can enjoy public skating with an entry through the ice castle or bring your stick for a game of pick up hockey in a separate area. This is one of the wonderful day trips from Calgary – but be warned, parking can be a huge issue.
The lake is lit until midnight but in theory you could skate around the clock. It's free to skate. Skate rentals are available at Wilson Mountain Sports in Lake Louise Village at a cost of $19 per day for adults. If you're a guest of the Fairmont you may also be able to rent skates onsite.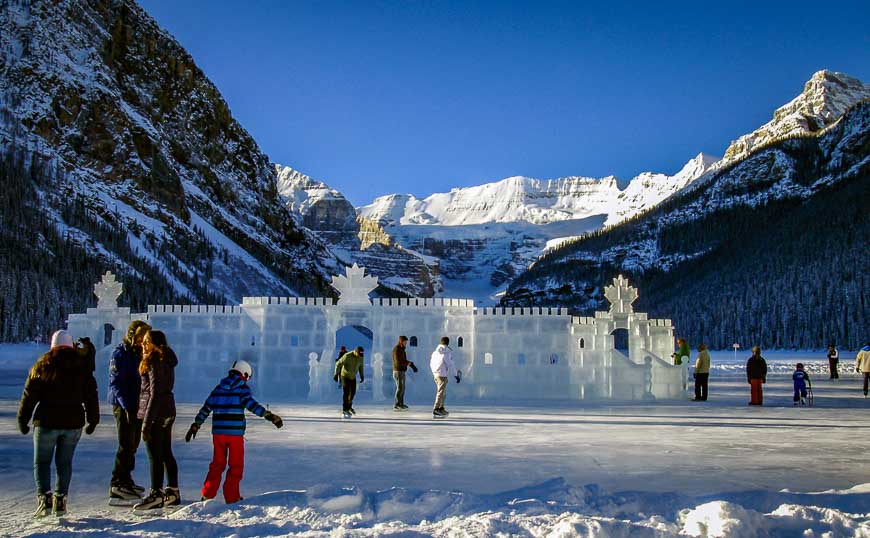 15. Enjoy a day of cross-country skiing in Kananaskis Country
Distance from Calgary: Approximately 127 km
Driving time: About 90 minutes each way.
Best time to visit: The snow is usually good early in December through till late March.
Where to stay: Mount Engadine Lodge or the Kananaskis Mountain Lodge are excellent choices for a winter stay.
Kananaskis Country usually gets lots of snow. You're spoiled for choice with a few of my favourites described below.
Head to Peter Lougheed Park in Kananaskis Provincial Park where skiing is available on 90 km of groomed trails. The snow here is usually amazing. Unfortunately though, you can't rent equipment in the park though you could check in with Kananaskis Outfitters near the Nakiska Ski Area.
There are many other excellent trails in the Ribbon Creek area near the Kananaskis Mountain Lodge – along with one heck of a great workout and a fun, fast descent on the Skogan Pass trail.
16. Go dogsledding – one of the romantic day trips from Calgary
Distance from Calgary: 104 km
Driving time: 1 hour, 10 minutes each way.
Best time to go: December to March
If you're looking for a fun day trip from Calgary, almost everyone will love dogsledding. In Canmore you can choose from three companies, in Kananaskis Country, there is one company and near Lake Louise there is Kingmik Dog Sled Tours.
Although most tours are only a half day long – that's the perfect amount of time if it's a cold day in winter. With a bit of luck you'll also have a chance to drive the dogsled. You can count on a very high fun factor if you do that.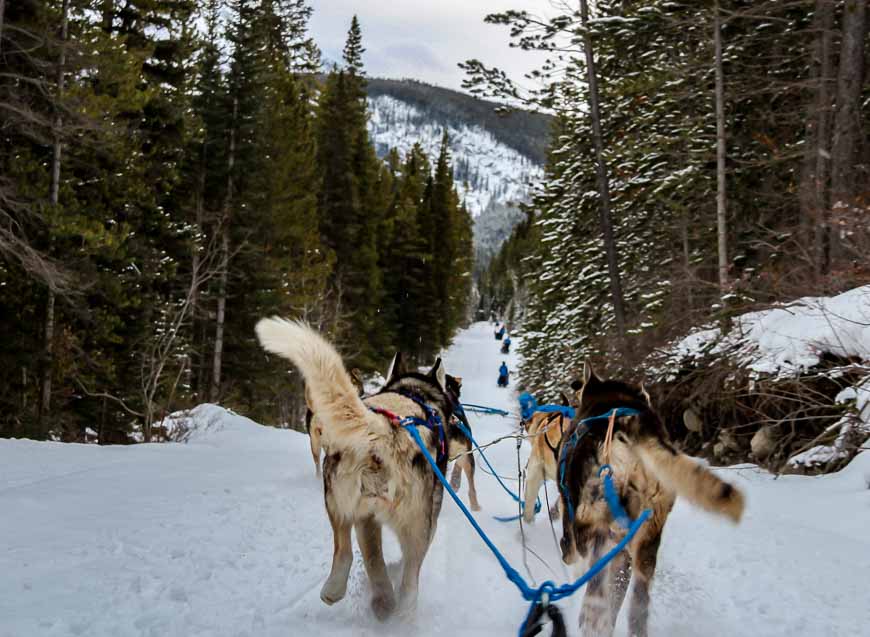 17. Go downhill skiing in winter
Most people who love skiing head west out of Calgary to ski at Nakiska Ski Area in Kananaskis or Sunshine Ski Resort, Mount Norquay or Lake Louise in Banff National Park. Sunshine Ski Resort in particular is known for its long ski season – extending into May.
Read: 7 Amazing Alberta Ski Resorts You'll Want to Visit
Day Trips East of Calgary
If you're looking for day trips east of Calgary head towards Drumheller and Dinosaur Provincial Park. You will likely be blown away with the landscapes you encounter. Look for captivating badlands scenery, wonderful hiking in Horseshoe Canyon, a world-class museum celebrating dinosaurs, and a UNESCO site. You'll also come across some cute towns, big skies, along with oil and ranching country. There is much to be said for exploring this part of Alberta.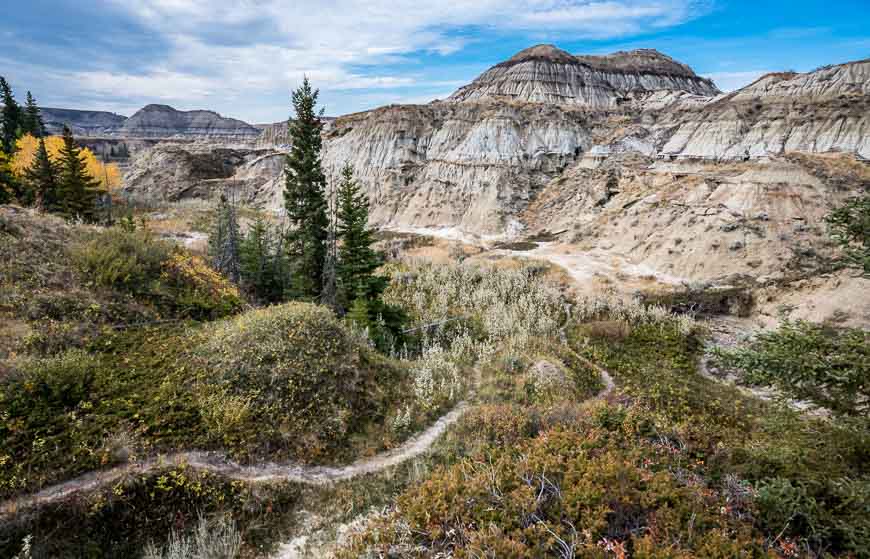 18. Visit the Royal Tyrrell Museum
Distance from Calgary: Approximately 140 km one way
Driving time: About 90 minutes one way
Best time to go: Year-round.
The Royal Tyrrell Museum is considered to be the finest dinosaur museum in the world. But before you get there, get out and walk through Horseshoe Canyon, a beautiful spot at any time of the year. If you're hungry in Drumheller stop at Café Italiano (35 3rd Avenue West) for a grilled panini or at The Whistling Kettle (109 Centre Street) for a slice of pie.
And did you know you can do a short but interesting walk behind the museum on an interpretative trail?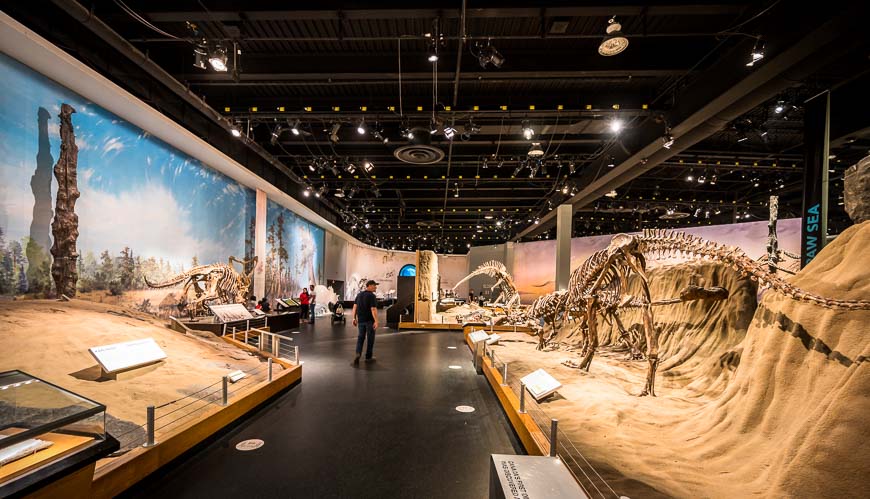 19. Go for a paddle on the Red Deer River – just 90 minutes from Calgary
Distance from Calgary to Drumheller: 135 km
Driving time: Plan on 90 minutes each way.
Best time to go: Summer until early fall.
You can paddle the Red Deer River from Dry Island Buffalo Jump to Drumheller over a weekend or just enjoy a day's outing out of Drumheller – either in a canoe or on a raft. On a hot summer's day, this is a fantastic way to cool off and have fun.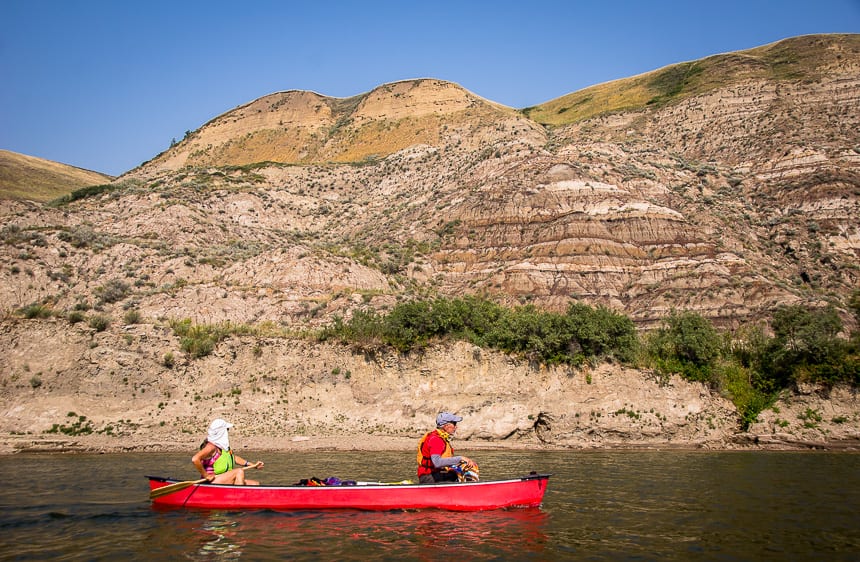 20. Explore Horseshoe Canyon near Drumheller
Distance from Calgary: 118 km one way
Driving time: Allow 1 hour and 15 minutes each way.
Best time to go: Spring, summer and fall before the snow falls.
Horseshoe Canyon is an easy day trip from Calgary and a one-of-a-kind hiking destination in Alberta. From the observation decks, marvel at the dramatic badlands landscape before descending to the canyon floor. From there, explore a network of unmarked trails, paying attention to landmarks so you don't get turned around. I love visiting in the fall for the colours and cooler temperatures – as this canyon can really heat up come summer.
21. Drive to Rosebud, home to the famous Rosebud Theatre
Distance from Calgary: Approximately 110 km
Driving time: Allow 75 minutes each way.
Best time to go: During theatre season, usually from March until December.
The drive to Rosebud takes you through rolling countryside filled with small valleys and streams. Back in the 1940's, Group of Seven painter A.Y. Jackson came here to sketch the area's farms and ranches – so that should give you an idea of how pretty it is. Plan a stop for something to eat at the Rosebud Country Inn.
22. Visit Dinosaur Provincial Park
Distance from Calgary: 223 km
Driving time: 2 hours and 20 minutes one way
Best time to visit: Spring to fall for programming but it's open year round
Dinosaur Provincial Park is in the Red Deer Valley in what feels like the middle of nowhere. Brooks is the closest town. The park, a UNESCO World Heritage Site is famous for its badland landscapes and the sheer number of dinosaur fossils.
You can explore Dinosaur Provincial Park on a number of easy hiking trails that will give you a great sense of the area. But, if you've got the time I highly recommend one of their interpretive programs, especially the Sunset Tour or the Centrosaurus bonebed hike.
23. Search for snowy owls on the plains outside of Calgary
Distance from Calgary: Will vary but plan about a 250 – 300 km round trip depending on your enthusiasm
Driving time from Calgary: Approximately 75 minutes one way
Best time to go: Late December until late February
Head east to the prairies and prepare to do quite a bit of driving. Snowy owls are active during the day in winter so they are easier to find than you might think – if you know what you're looking for. But they're skittish so it's hard to get great shots. Look at the top of telephone poles, along wires or any large farm-type structure. With luck you may see them flying low across a farmer's field.
Read: The Search for Snowy Owls in Alberta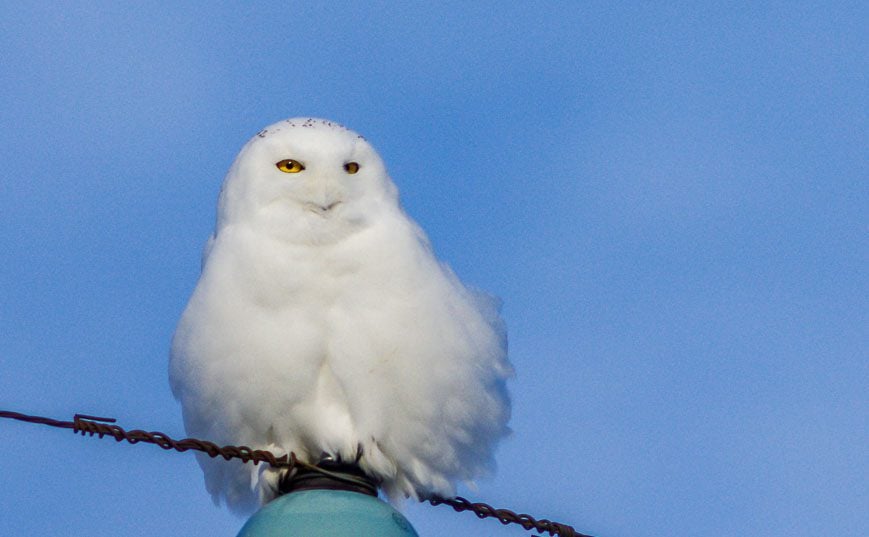 Day trips south of Calgary
South of Calgary there's a lot of prairie and ranch country but there are plenty of mountain views, especially if you drive the Cowboy Trail or Highway 22. It's my preference if I'm heading south.
Look for small towns, a UNESCO site, and some grand scenery if you can appreciate the subtlety of the prairies.
24. Visit the Okotoks Erratic – a Calgary day trip photographers will love
Distance from Calgary: 55 km one way
Driving time from Calgary: Approximately 45 minutes one way
Best time to go: Year-round.
You can visit the Okotoks Erratic – otherwise known as Big Rock at anytime of the year. Located near Okotoks, about an hour's drive south of the city, is a massive rock dropped by glaciers during the last ice age.
The erratic is a huge hunk of quartzite rock measuring 41 m long by 9 m high by 18 m wide. The erratic, which is now split in two, weighs 16,500 tons. The rock comes from an area near Mount Edith Cavell in Jasper National Park. It holds spiritual significance for the local First Nation People. While you can touch and photograph the rock, be respectful and don't climb or boulder on it.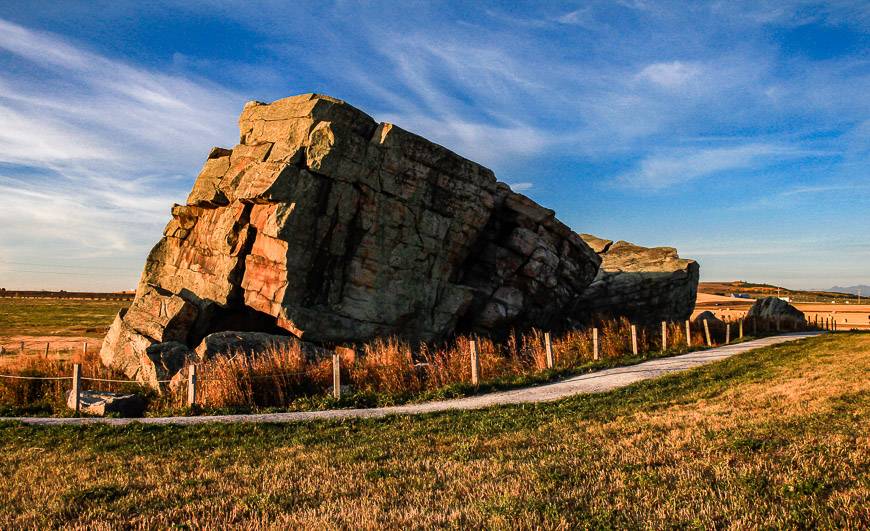 25. Stay in a caboose at Aspen Crossing
Distance from Calgary: 90 km one way
Driving time: Allow about an hour each way
Best time to go: Year-round.
The cabooses at Aspen Crossing are open year round and are fun to visit as a family or for something like a girlfriend's getaway. They have a fire pit and a kitted out kitchen.
Depending on the season you can enjoy a special train-themed getaway with scenic rail tours along with unique dining. There is also camping for RV's, a garden centre, escape rooms and educational tours.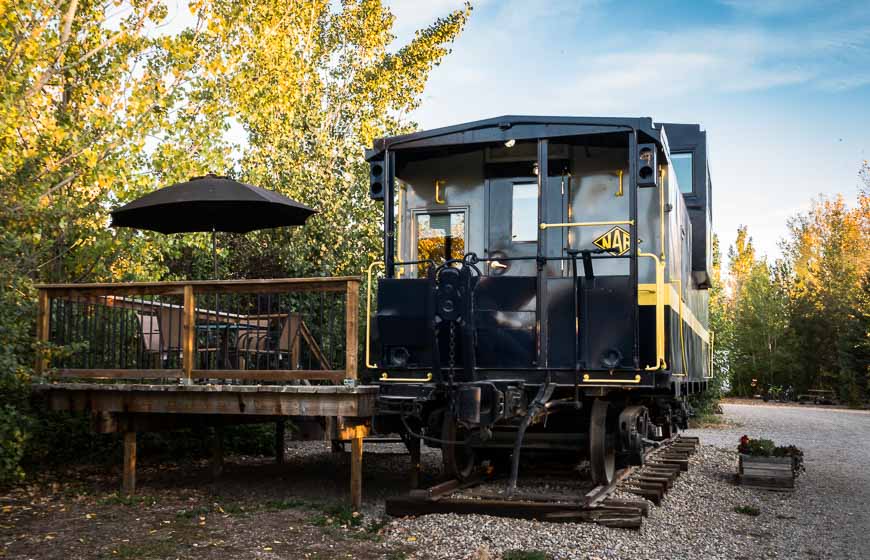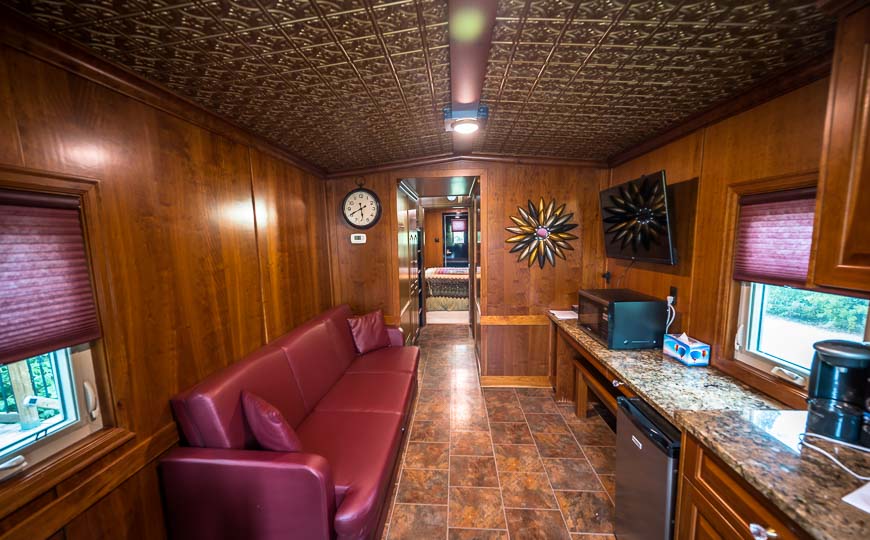 26. Visit Bar U Ranch National Historic Site
Distance from Calgary: 100 km one way
Driving time: Approximately one hour one way
Best time to go: Middle of May till the end of December.
The Bar U Ranch National Historic Site is 70 minutes south of Calgary off the Cowboy Highway. There are lots of things you can do here from hiking to mountain biking to riding in a wagon pulled by Percheron horses. This is where you'll discover what it was like to live the life of a ranching cowboy in the late 1800's. This is a great family-friendly outing.
27. Check out Head-Smashed-In Buffalo Jump World Heritage Site
Distance: 180 km one way
Driving time: About 2 hours one way
Best time to go: Year-round. Closed on major holidays like Christmas.
Learn about Head-Smashed-In Buffalo Jump, a UNESCO site about two hours south of Calgary near Fort MacLeod. The buffalo jump is one of the best preserved and the oldest. There is evidence suggesting that the buffalo jump was used for 6,000 years.
The site of the Head-Smashed-In Buffalo Jump may be underwhelming to those of you who prefer mountain scenes. But it's a fantastic story – and a compelling one at that. Also the Interpretative Center is a five story architectural gem built into a hillside. You could easily spend a half day inside and out wandering the grounds.
28. Visit Nanton
Distance from Calgary: 92 km
Driving time: 55 minutes
Best time of year to visit: Year-round.
Nanton is a small town you pass through when you head south out of Calgary on the way to Waterton Lakes National Park or Head-Smashed-In Buffalo Jump. It's home to a candy shop, grain elevators (which make great photographic subjects) and the Bomber Command Museum of Canada – open Friday till Sunday every week. Try the virtual reality experience using an original recording while on a bombing raid of Berlin. John, in particular found the museum very interesting as he saw the planes his father flew in during WWII.
Click on the photo to bookmark to your Pinterest boards.