In April 2017 Red Deer was named by Expedia as one of the 34 most breathtaking cities in North America – high praise indeed for a city that many think of as a stop for gas or food between Calgary and Edmonton. I decided to spend a day biking in Red Deer to check out the claims.
A few years before this excursion I'd spent a very pleasant few days in Red Deer. On that trip I also went biking in Red Deer – but on quiet backroads outside of the city on route to the wonderful Ellis Bird Farm.
This time I wanted to see what the City of Red Deer bike trails offered the cyclist. Specifically I wanted to check out two places mentioned in the Expedia post – Maskepetoon Park and Bower Ponds to see if they met my criteria for breathtaking.
Also, I like most keen cyclists, really enjoy eating after a workout so part two of my reason for visiting was to check out the food and beverage scene in Red Deer on my bike.
Here are the stops that made me fall in love with biking in Red Deer
It's a 90-minute drive from Calgary to the Visitor Centre/Sports Hall of Fame in Red Deer just off of Highway 2. It's a great place to start biking as the parking is free, there's lots of it and you're immediately on the extensive trail system by Heritage Ranch.
There's another bonus. At the end of the day, you can go back to the Visitor Centre and pick up homemade Popsicles in flavours like orange creamsicle or raspberry yogurt made by Pursuit Adventures to enjoy on the drive home.
Biking through Waskasoo Park in Red Deer
Before you get started, pick up a map of Waskasoo Park from the Visitor Centre. Take a look and you'll notice a ribbon of green on either side of the Red Deer River. Bike trails run through that ribbon on both sides of the river, at least in places.
According to the book The 10 Premier Bike Rides by Kathy and Craig Copeland, Red Deer is home to about 200 kilometres of paved bike trails. Of that approximately 100 km wind through Waskasoo Park. They are not all connected but there are plenty of options to keep you busy for a good part of the day.
Waskasoo Park is a delight. Not only does it have cycling trails that make you feel a million miles away from a city, the park offers many interesting diversions.
I didn't spend any time on this trip at Heritage Ranch, but a few years ago I enjoyed an excellent lunch onsite. They offer many activities – both in summer and winter including kayak rentals so you can explore the Red Deer River.
From the ranch it's mostly downhill to reach the McKenzie Trail Recreation Area. You'd never know looking out at the peaceful ponds that they were formerly gravel pits. Now that they've been reclaimed, you can hike, fish and enjoy nature in a peaceful setting.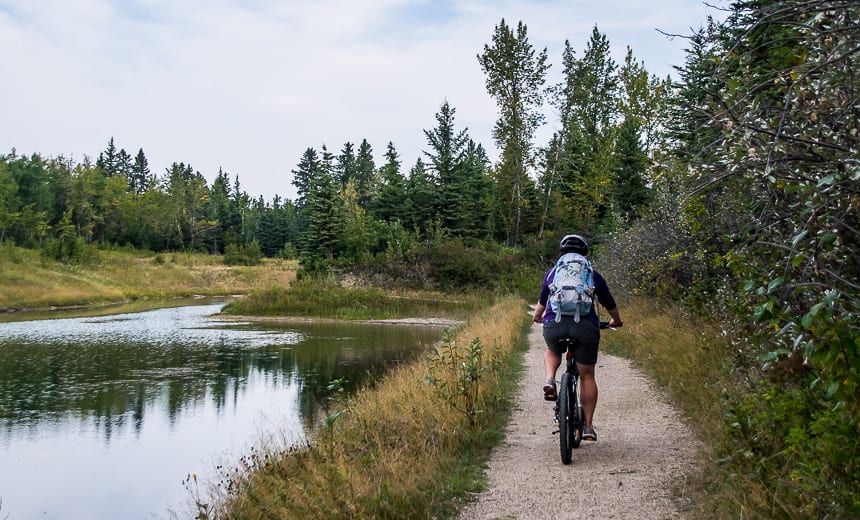 A stop at Bower Ponds
The Bower Ponds were my next stop. It's here you can fish for trout (catch and release only), canoe or rent a paddleboat. There's also a great little Victorian tea house by the ponds – Cronquist House, built in 1911 and faced with bricks though built with wood.
But breathtaking the Bower Ponds are not. More like pleasant and a great place for families to come. Sorry Red Deer.
Continuing, my companion Danielle from Pursuit Adventures and I crossed the CP bridge that offers views up and down the Red Deer River. From there we went north and followed the river on the other side on route to the Kerry Wood Nature Centre.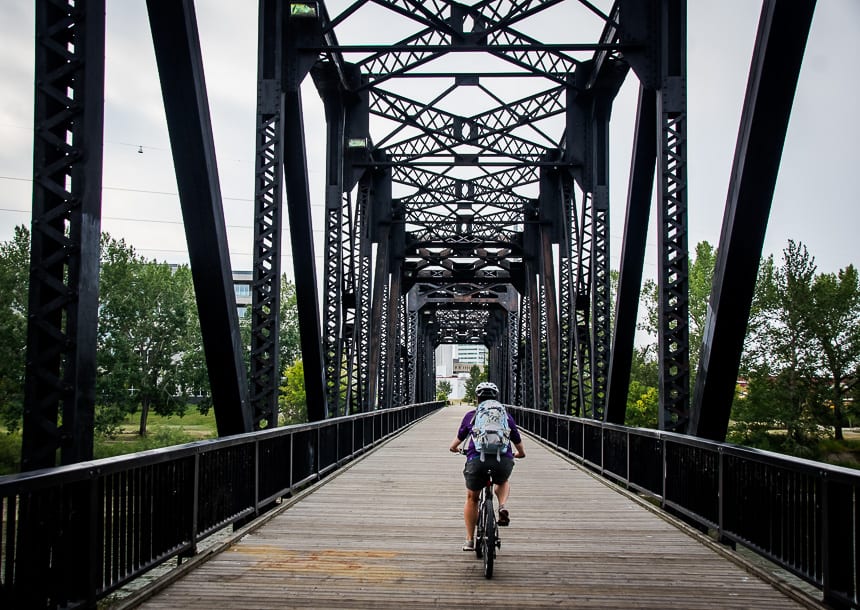 The Kerry Wood Nature Centre and Gaetz Lake Sanctuary
You could easily spend a few hours at the Gaetz Lake Sanctuary, Alberta's oldest federal migratory bird sanctuary. The Kerry Wood Nature Centre is at the entrance to the sanctuary and it is here you have to leave your bikes.
Once in the sanctuary walk the four kilometre loop, check out the bird blind and keep an eye out for northern flying squirrels.
We took a bit of time to wander down to the bird blind where I was rewarded with a sighting of a muskrat and a sora rail (a type of bird), one of the 130 bird species and 28 types of mammals that have been seen here. I just wasn't fast enough with my camera.
Looking for food and drink in Red Deer
From the nature centre we partially retraced our steps with the focus for the next hour turning to food. We made a few stops in the Riverlands area starting at Wild Brewing.
We both tried the raspberry ginger and a blueberry mint kombucha, a fermented tea that I think is an acquired taste. But it's supposed to be very good for you. Tea is offered on tap in beautiful surroundings or you can bring in your own containers to get filled.
From there we slipped over to Dose and Purearth Organics for lunch and a coffee. Everything is organic and the two side by side businesses help each other.
Buy food at Purearth (try the cellular repair cheesecake made with cashew cream) and take it over to enjoy with your latte made with both organic milk and coffee. The area is new so landscaping wasn't completed when I visited but there are tables outside. Already both places seem to have quite a following.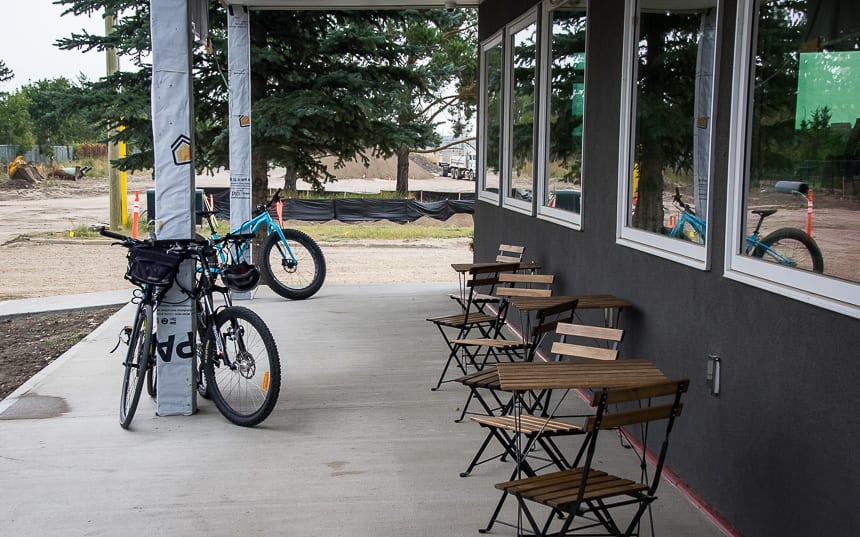 Our last food-drink stop was at the Troubled Monk Brewery. I love the name – but even more I love the aesthetic.
The beer was okay though I'm hardly a judge as I'm not much of a beer drinker. You must try it for yourself. What was mind-blowing was their homemade gingerale and root beer. You can buy them in six packs. They are both exceptional!
Biking to Maskepetoon Park
After eating and drinking it was time to check out Maskepetoon Park. The park overlooks the Red Deer River and it's as close to breathtaking as you'll find in Red Deer. There are trails throughout the park as well as a popular set of stairs for running that take you down to the Red Deer River.
Interestingly Maskepetoon is called a city-dedicated pollinator park. Both native and planted habitat is protected for native pollinators like bees, butterflies and hummingbirds. There is no spraying. Grass grows longer and as one sign explains – the edges between grass and forest are more ragged.
I didn't explore all of Red Deer by any means. But I did come away impressed with the trail system through Waskasoo Park. I admit that the city was breathtaking on occasion – but that was on hill climbs! Expedia – I think you better do your homework next time.
Further reading on bike rides in Alberta and Canada
Click on the photo to bookmark to your Pinterest boards.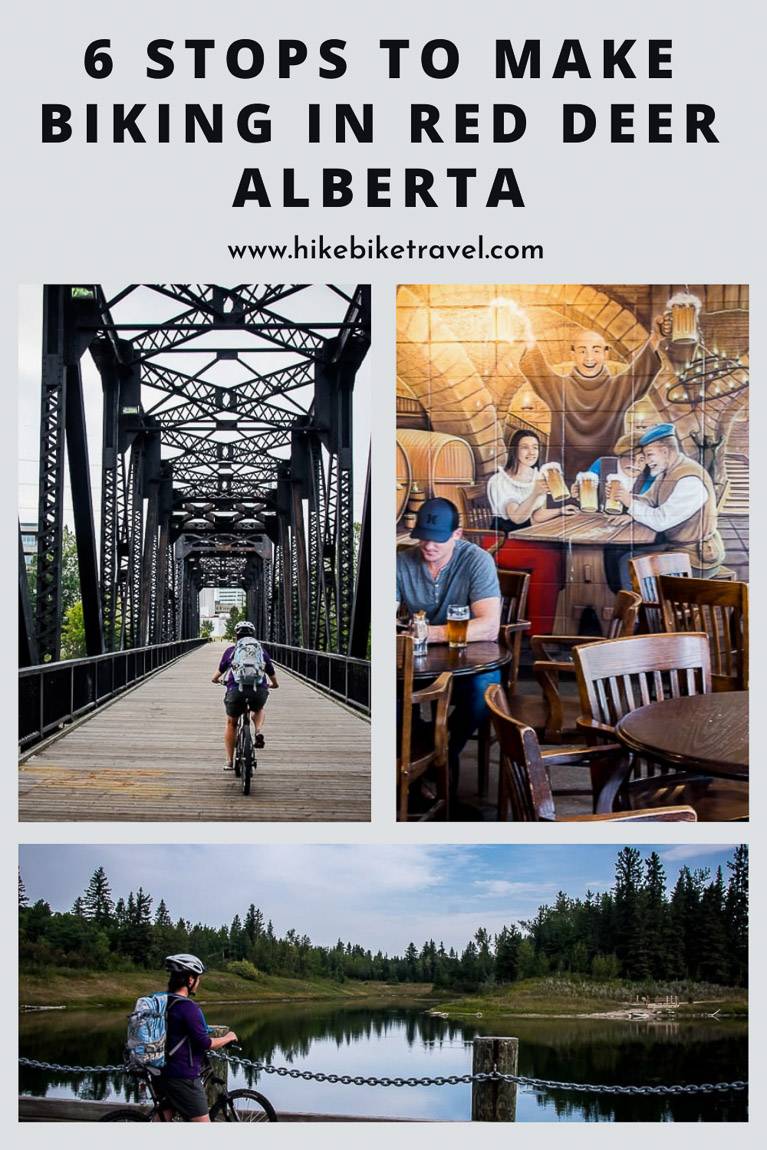 Thank you to Travel Alberta for making this post possible and to Danielle and Debbie for giving up part of your day to show me around.