Quetico Provincial Park is huge at 4,760 square kilometres, almost double the size of the country of Luxembourg. Its home to literally thousands of lakes along with over 2,000 backcountry campsites. Because of its size, it's a challenge, at least the first time you visit, to decide where to go canoeing in Quetico.
Canoeing in Quetico Provincial Park is bucket list worthy if you're a paddler. The sheer choice of routes, the history, and the varied landscape make for a very interesting adventure. Because Quetico is so out of the way, I highly recommend allowing a week for a canoe trip.
This post includes some affiliate links. If you make a purchase via one of these links, I may receive a small commission at no extra cost to you. Thank you very much for your support.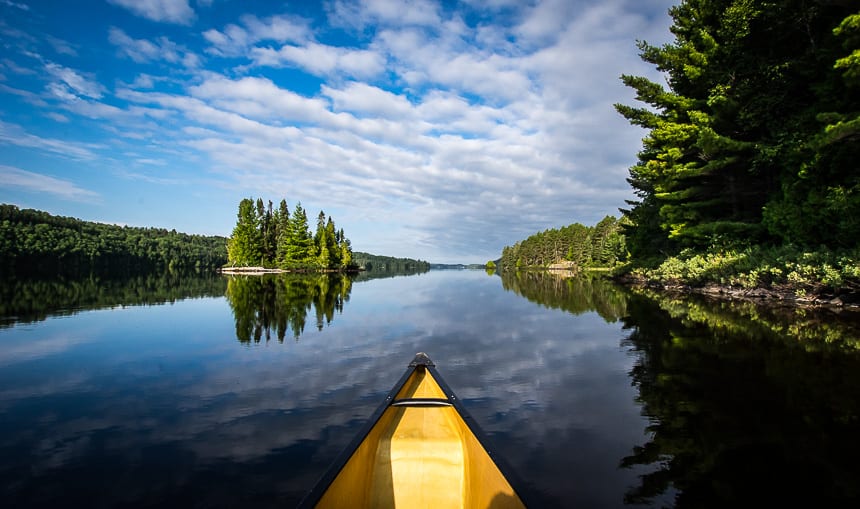 Order a map so you can plan your canoe route in advance
Start by ordering a map of Quetico Provincial Park with all the portages shown. It's available online through the Ontario Parks Store or directly from Chrismar.com. The map shows all the entry points into Quetico Provincial Park, so at a first pass you'll get a rough idea of what the options are – though it's also possible to charter planes which opens up the whole park.
I would also recommend the Northwestern Ontario Backroads Mapbook – that covers an enormous area from Aitikokan to Woodland Caribou Park. It includes Quetico Provincial Park.
Recommended reading: Canoeing in Quetico is a first-rate wilderness experience – with our full week long canoe trip described in this post.
When should you go canoeing in Quetico Provincial Park
Visitor numbers are closely regulated and you must have a valid park's pass to visit. That means you can arrive at any time during paddling season and enjoy an authentic wilderness experience. Check out this map for entry points and daily quotas.
Mosquitoes and black flies can make your life miserable in June and July but if you're going for fishing, it's peak time. August is great as the water is warm and the bugs are dying down.
After the first night we had very few issues with them. In September it's colder but the fall foliage is glorious and the bugs will be close to non-existent. By Thanksgiving the season is over.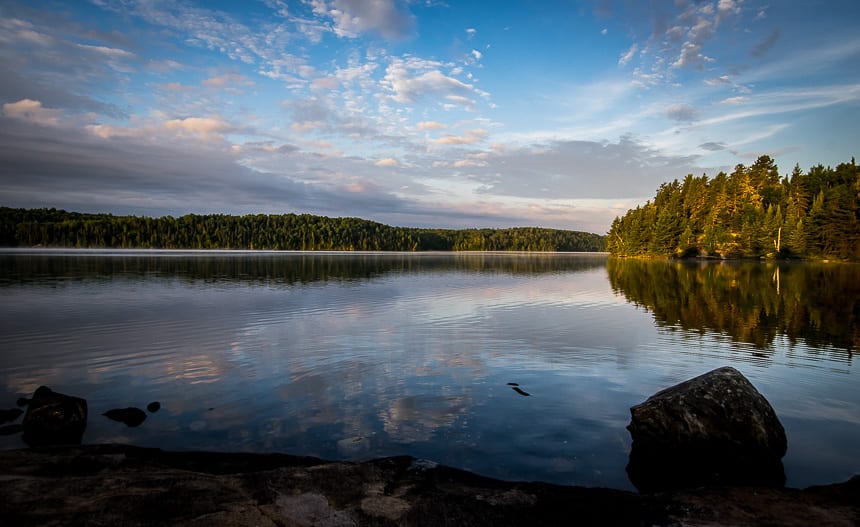 Costs for reservations and a Quetico Provincial Park pass
You can reserve online five months ahead or call toll free 1-888-ONT-PARK (668-7275) from 7 AM – 9 PM EST. It costs $11 to make a reservation (online) and you must put down a $100 deposit. That will be used to cover off your daily park permit.
Passes for Canadians are $19.00/night/adult and $7.50/night/youth aged 6-17. There is a discount for seniors. Americans pay the same rate but don't qualify for the senior discount.
Interestingly Canoe Canada Outfitters tells me that 97% of their clients are American.
You have to carry your permit with you. Some outfitters can write it up for you but YOU MAY have to pick one up at the nearest ranger station to your launch site. They are only open during regular business hours even though they're in the wilderness. Plan accordingly.
What you can eat and drink in Quetico
In Quetico Provincial Park cans and glass are prohibited except for items like fuel. Of course you'll have to pack out what you pack in. Always practice Leave no Trace principles.
We found the campsites at this park to be particularly well cared for and clean. Take several days' worth of extra food should you ever run into an emergency or if you get wind bound. If you plan on supplementing your diet with fish (lake trout, smallmouth bass, pike and walleye) make sure you have a fishing permit and barbless hooks.
Outfitters like Canada Canoe Outfitters can provide all your meals – prepackaged at a cost of $200/per person/5 day trip, $280 per person for a 7 day trip. That includes snacks like chocolate bars.
We used barrels for food though I'm told that's more of a Canadian thing. I like the fact that they keep the small critters out.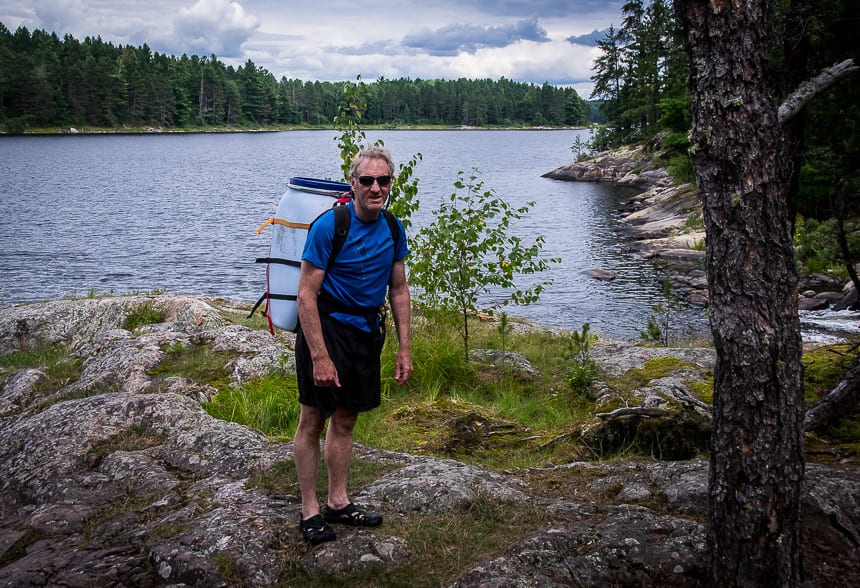 What should you take canoeing in Quetico Provincial Park
Be prepared for any type of weather when you're out canoeing in Quetico, so always pack the 10 essentials. There were many times on our week long trip we were miles from anybody or help so learn some basic first-aid before heading out. I also recommend carrying a Garmin InReach Mini.
Bring lots of fuel in case you're wind bound along with waterproof matches and several lighters. A sharp axe can come in handy for fire making on cold nights.
Beware of critters like chipmunks who can wreak havoc with your food. Bears fortunately were never a concern so we didn't even bring bear spray on this trip. Although the water is considered to be very clean, we still filtered everything. This is one of the best water filters out there. I'd also suggest always carrying water treatment drops with you as a backup.
If you're renting a canoe and you plan to portage a lot, I highly recommend choosing a Kevlar canoe from Canada Canoe Outfitters. They are so light that portaging is far less onerous a task.
Always pack a tarp in case you get caught with days of rain. It's a treat to be able to cook somewhere dry.
For repairs of tents, clothing, sleeping pads and more pick up a package or two of Gear Aid Tenacious Tape. We patched a hole in our tent and saved the day!
A good camp pillow that you can inflate can make sleeping way more comfortable.
Dry packs are invaluable. I keep my sleeping bag in one and clothes in another. If you're kayaking rather than canoeing, you are probably better off buying smaller drybags and splitting your gear so you can fit them more easily in the hatch.
Where to camp when canoeing in Quetico Provincial Park
With over 2,000 wilderness campsites you shouldn't ever have to camp within earshot of anyone – unless it's close to a launch site and even then, close is relative. You may hear someone because voices carry over water in the quiet of night.
If you get outfitted with a company like Canoe Canada Outfitters, they can mark on your map the location of campsites along your chosen route. Although you can camp anywhere in theory, the existing campsites are a better choice and knowing their location before heading out canoeing in Quetico is extremely useful.
I wish we'd taken the time to add even more campsites on the map as then it's even easier to change your route.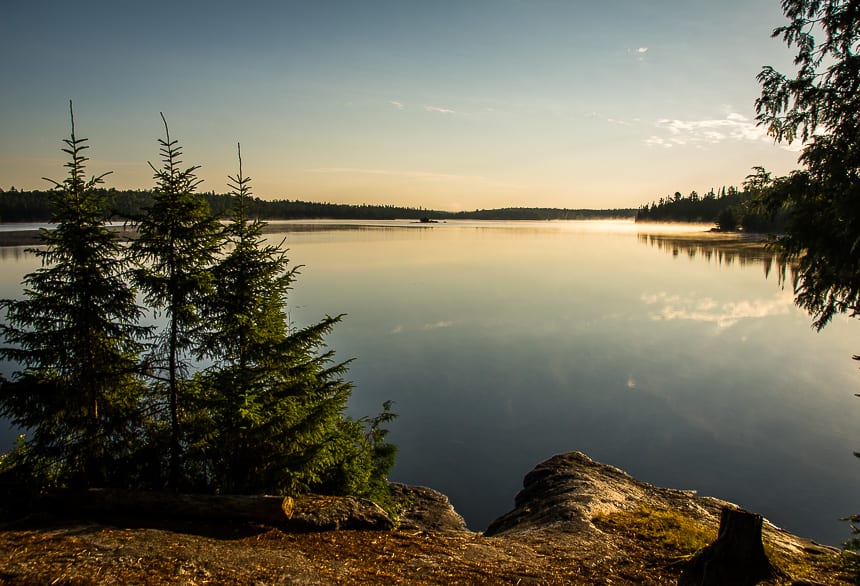 Choosing a canoeing route in Quetico Provincial Park
I'd recommend at least a week in the park to give you a sense of the place. One of the reasons Quetico Provincial Park is such an awesome paddling destination is because you can play with your route even several days in. Look closely at the map and you'll see how easily you can increase or decrease the length of your route. If its windy, choose the smaller lakes; hate portaging – stick to bigger lakes.
I found sitting down with Shane from Canoe Canada Outfitters to be invaluable when it came to deciding on a route. They are also happy to help you over the phone with route planning.
There are several other canoe outfitters for the park including La Tourell's Moose Lake Outfitters near the Minnesota Boundary Waters Canoe Area, Seagull Canoe Outfitters and Voyageur Canoe Outfitters.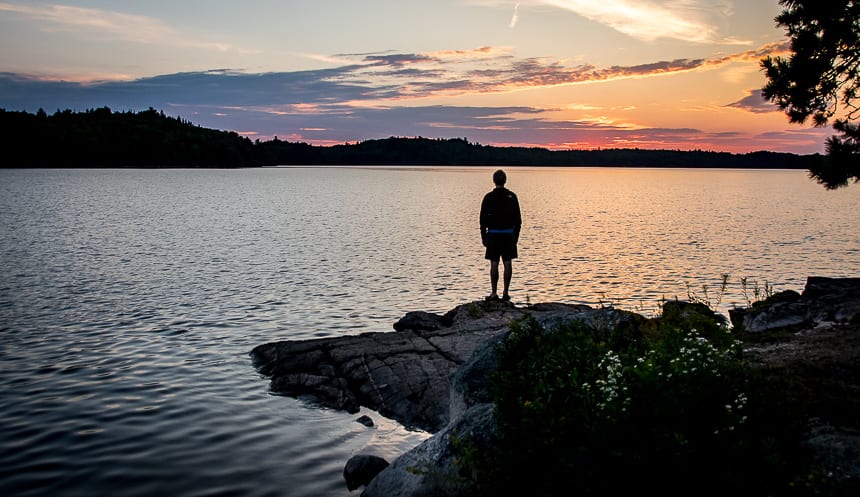 Go prepared to enjoy the solitude and beauty of this amazing park. Visit the Quetico Provincial Park website for more information.
Further reading about paddling in Canada
Click on the photo to bookmark to your Pinterest boards.
A huge thank you to everyone involved in helping make this trip a reality and a success – Travel Ontario, Ontario Parks and Canoe Canada Outfitters.