If you're looking for scenic Vancouver Island hikes check out the trails in Strathcona Provincial Park, in particular the Kwai Lake Loop. This is one of the top Vancouver Island hikes I've done in a day. The Kwai Lake loop hike offers both day hikers and backpackers access to pretty sub-alpine lakes, flower studded meadows and mountain vistas. Although the loop is about 15.6 km long, there isn't a whole lot of elevation gain, perhaps 200 m in total, so it can be done comfortably in about five hours.
There is the option to enjoy a backcountry camping experience on the Kwai Lake hike. Fees in 2022 are $10 per person 16 years and older per night or $5 per night if the kids are 6 – 15 years old. There's also a $6 per tent pad fee per night. Either bring exact cash or buy a permit online.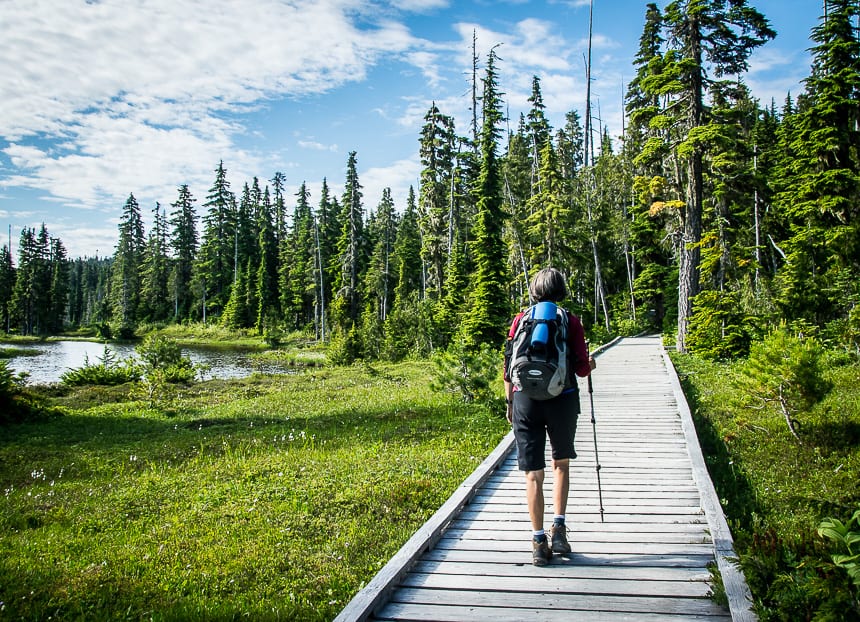 This post includes some affiliate links. If you make a purchase via one of these links, I will receive a small commission at no extra cost to you. Thank you very much for your support.
Kwai Lake Loop starting point
The Kwai Lake hike starts at the Paradise Meadows Parking Lot near the Nordic Lodge. There is excellent signage around and lots of parking. Start the hike by walking on boardwalk that's in great shape. You travel through some truly beautiful forest early on in the hike – at least if you go in a counterclockwise direction.
Lake Helen Mackenzie was the first lake we reached – just 3.7 km into the Kwai Lake Loop. It was a peaceful sight with not another soul around though every time we stopped the whiskey jacks showed up. I don't think I've ever seen such a high concentration of these birds as I did on this hike.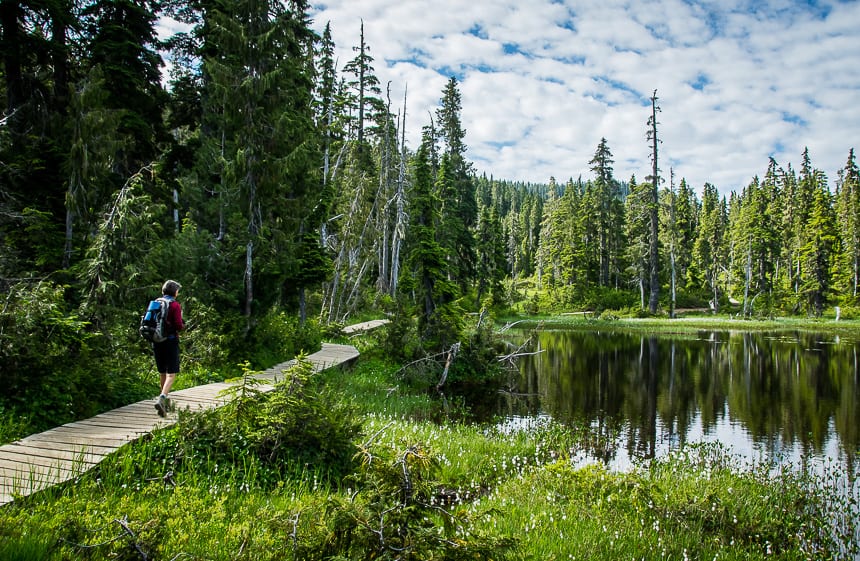 Continuing we passed a Ranger Station before arriving at beautiful Kwai Lake at the 7.3 km mark – about halfway into the hike. We did lose the boardwalk for many kilometres, substituting a rock and dirt trail that actually had a little elevation gain on route to the lake.
At the lake you'll find some tent pads. If you planned a backpacking trip in late summer or early fall when the bugs were gone, the lake would be a fantastic place to hang out. We noticed lots of fish jumping as well.
Looking for a longer day hike in Strathcona?
There is another hiking option if you want a longer day. Before you reach Kwai Lake turn right at an intersection signed for Cruikshank Canyon Lookout and follow it to the end, 1.4 km on.
Another longer option would take you to Mount Albert Edward but it would be best done as a backpacking trip as it's at least another 8.9 km one way from the turnoff before Kwai Lake.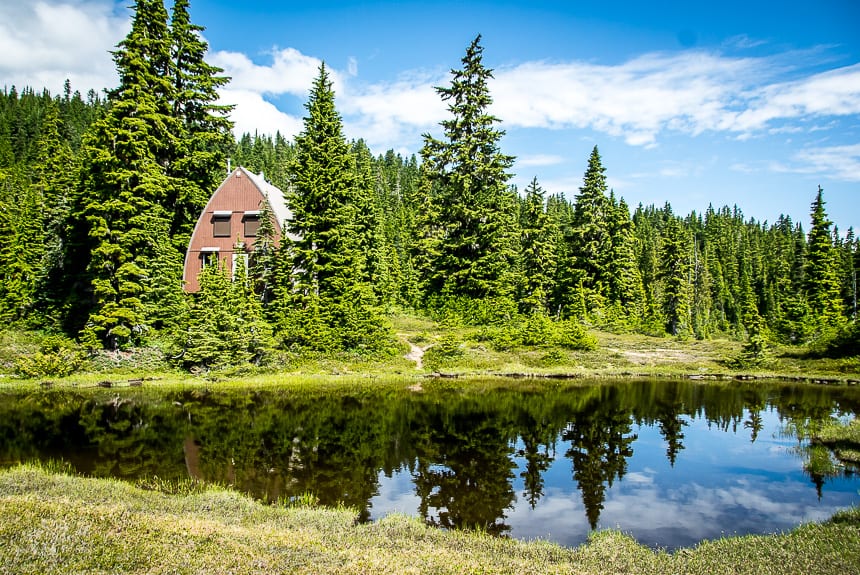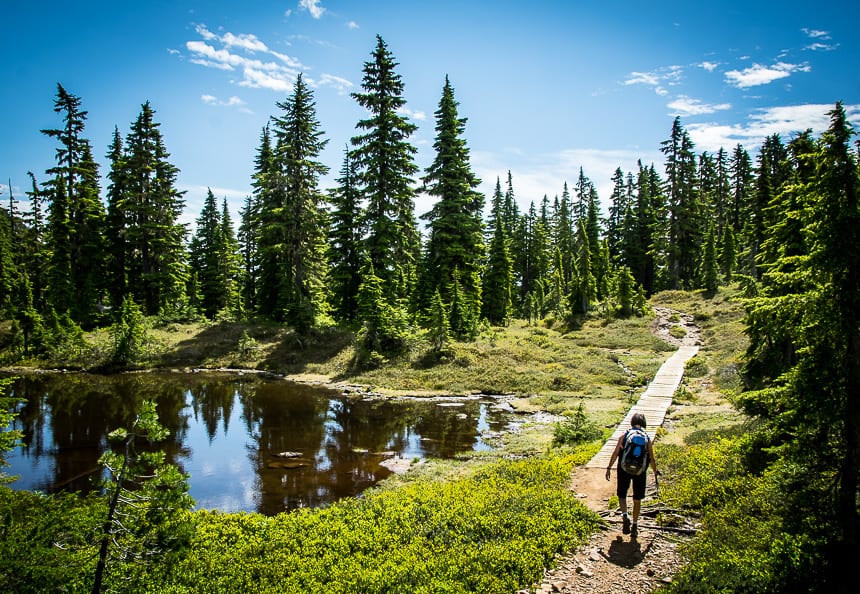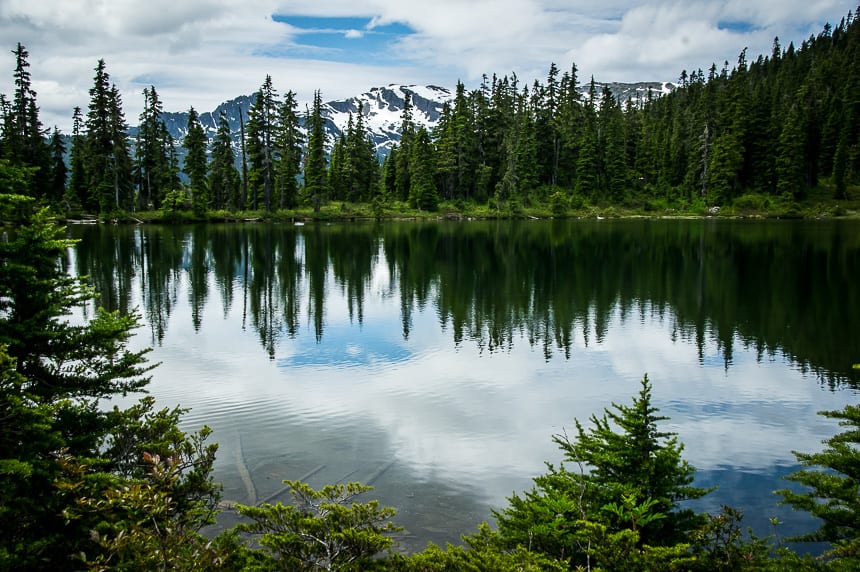 From Kwai Lake head south following the signs towards Murray Meadows. Again you run into boardwalk over some of the soggier sections on route to Croteau Lake. Do look for masses of wildflowers if you visit in summer.
From there it's an easy 3.0 km walk to Battleship Lake. Then continue southeast for 1.7 km to reach a maze of trails that make up the Paradise Meadows route. We stuck to the western trail so we never retraced our steps. We were on boardwalk for quite some time near the end so the walking was quick.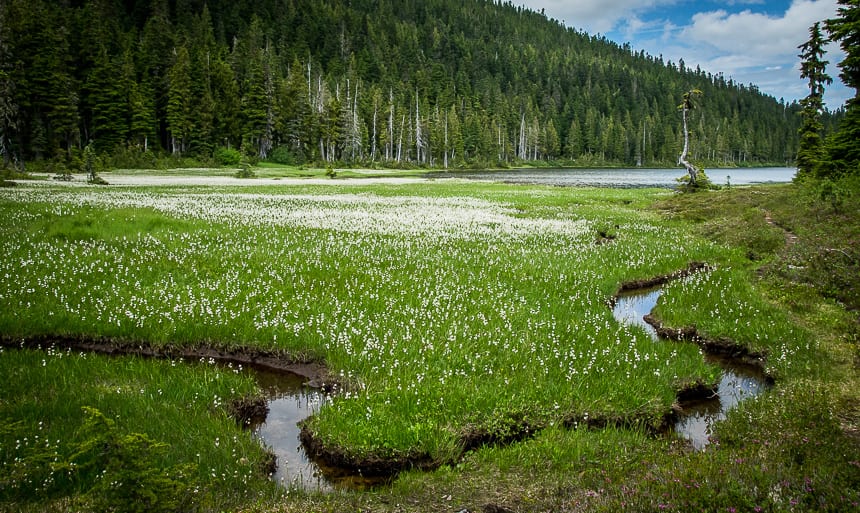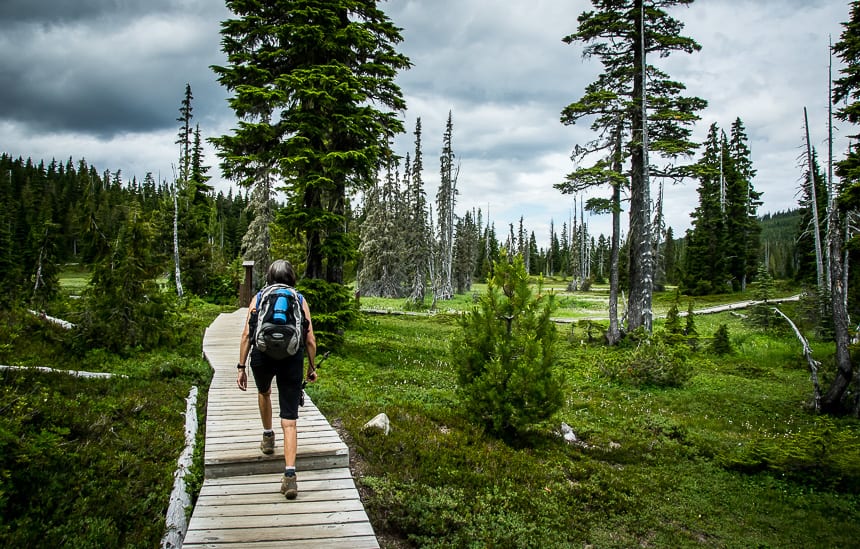 In the summer there's a small building by the parking lot – before you reach the Nordic Centre that is set up with educational material about the area and someone manning a desk to offer information. Should you be thirsty or hungry you can also buy a cold drink or a snack here.
This is a superb hike with some mountain views but the big appeal is the five lakes you pass.
Where to stay within a 30 minute drive of the hike
Courtenay is just a 30 minute drive away. There are some lovely places to stay including the Old House Hotel & Spa, the Riding Fool Hostel for mountain bike aficionados and the Garden House.
Location map of the Kwai Lake Loop hike
A few useful things you might like on your Kwai Lake hike
At lunch time my almost weightless inflatable seat cushion is always a treat to sit on – especially on damp days.
Although there isn't a huge vertical gain on this hike, you might still like hiking poles, especially if you have hip or knee problems. Invest in a good pair that are collapsible, preferably made of carbon because of their weightless quality. They'll last you a long time.
I always pack a buff, a multi-purpose piece of cloth yet it takes up almost no room. On windy days it keeps the hair out on my eyes and on cold days it warms my neck. On hot days, dip it in water to keep cool and protect your neck.
If you're prone to blisters, I'd recommend Compeed or Leukotape, something everyone I met doing the Great Divide Trail used.
Further reading on things to do on Vancouver Island
Click on the photo to bookmark to your Pinterest boards.