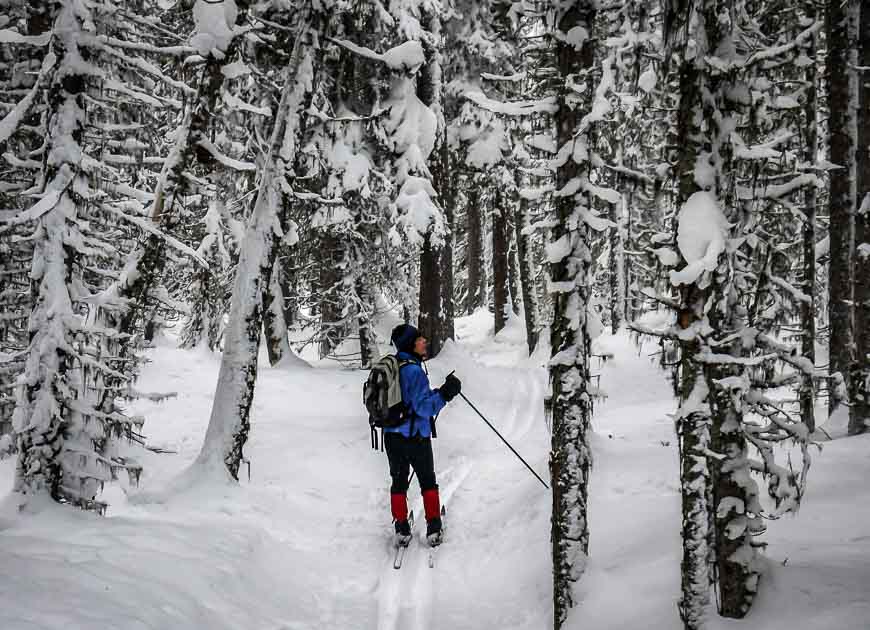 Cross Country Skiing in Peter Lougheed Park
Cross country skiing in Peter Lougheed Park in Kananaskis Country is a fantastic way to spend a winter day. Weaving through the park are approximately 75 kilometres of superb cross-country ski trails.
Cross country skiing in Peter Lougheed is some of the finest you'll find in Alberta. Located in the Kananaskis Lakes area of the park, you'll find most trails are easy or intermediate and the few difficult trails, Blueberry Hill and Lookout for example, reward with a great workout, spectacular vistas and some fun, fast downhill.
Stop in at the Barrier Lake Ranger Station
Before you get to Peter Lougheed Park, do take the time to stop and talk to the rangers at the visitor information center, about 10 minutes off the Trans-Canada Highway. They're very helpful and can point you in the direction of the best snow in winter or the best hikes in summer. Note as of 2020 this centre may be closed because of government cutbacks.
For now the centre is open from Thursday to Monday. It's got local maps for sale and bathrooms too.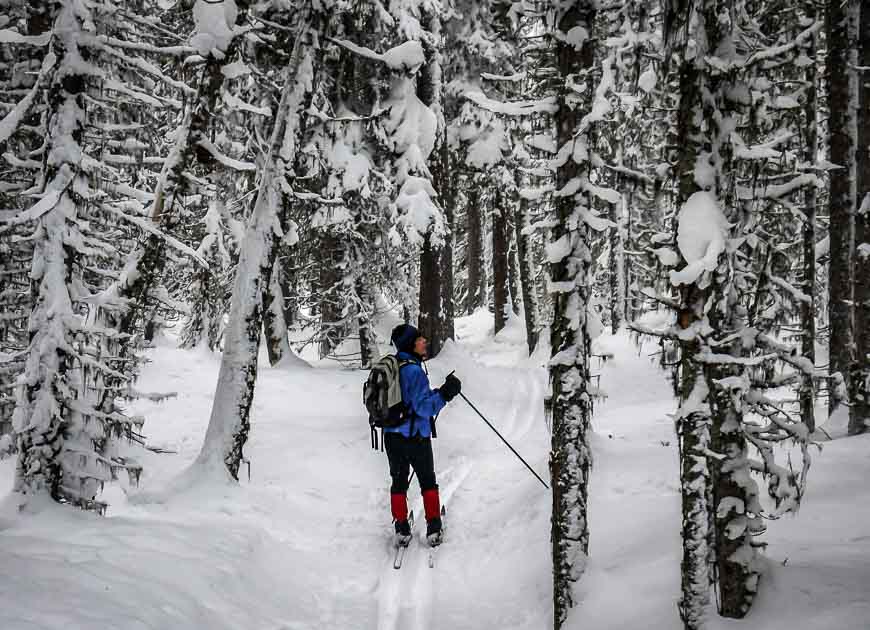 Cross country skiing in Peter Lougheed usually starts in December
When we finally had a December weekend, clear of obligations and a weather forecast that was favorable we made for the park, located about 90 kilometres west of Calgary along the Kananaskis Trail. Even the drive to get to the park was beautiful. But do go prepared for snowy conditions with a shovel in case your car gets stuck in a snowbank.
You'll have to decide beforehand what area of the park you want to explore – mostly because the seven parking lots are spread out over roughly 12 kilometres. The parking lots to the south offer access to the more difficult trails.
We ended up doing a very nice 16 kilometre loop that took us from the parking lot at Boulton up Whiskey Jack and Lookout Trails, with a return via the Hydroline (not the prettiest trail) and Fox Creek (beautiful). There was a lot of climbing involved but also some incredible downhill sections. All told it took us about three hours.
There was plenty of snow at the south end of the park and we were told by the rangers that the north end (Pocaterra) could use some more – which is often the case.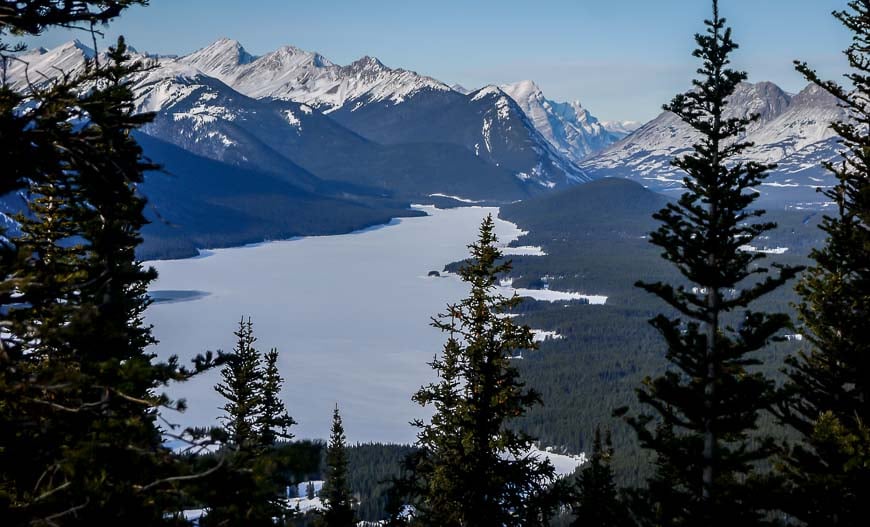 You could easily make a whole day of cross country skiing Peter Lougheed Park – and we have done that on numerous occasions. In December it was such a treat to leave the Christmas preparations behind and spend part of a day in the silent world of snow. And the heady aroma of fir and pine only added to the pleasure of the day.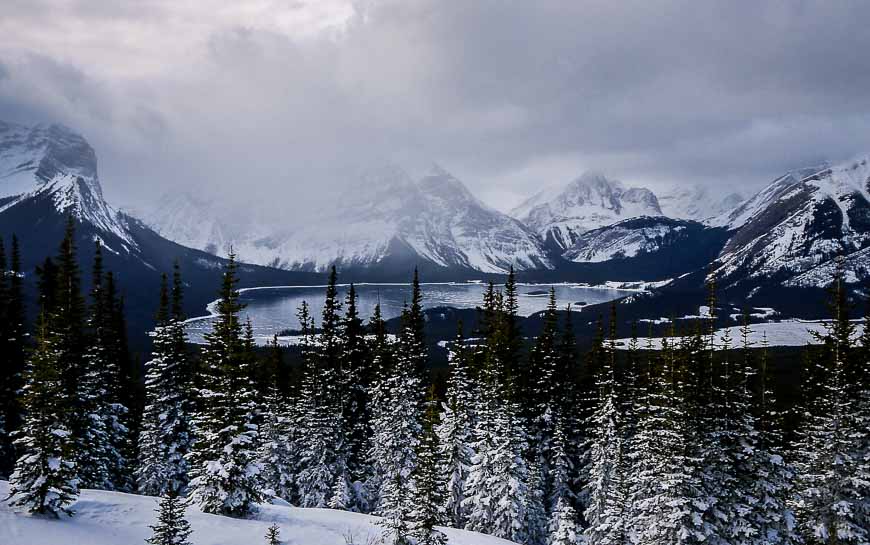 Useful information for a cross country ski trip in the park
The Peter Lougheed Visitor Information Center phone number is 403-591-6322.
Gas is available at only one place along Highway 40, past Nakiska Ski Resort before the Spray Lakes Turnoff.
The skiing is free and so is parking.
Carry the 10 essentials for outdoor adventures – extra clothing, especially a hat, water, extra food especially high calorie food, a headlamp with extra batteries, fire starter and matches, a bivouac sac (or even a green garbage bag), a small first aid kit, a Swiss army style knife and a map and compass.
Sunglasses or goggles are useful.
Carry duct tape and a small repair kit in case of equipment failure. (I've had that happen and duct tape was invaluable – wrap it around your ski poles)
Carry a shovel in your car in case it's snowed while you've been skiing. You may need to shovel yourself out.
Additional cross-country skiing in Kananaskis Park
1. Chester/Sawmill Trail system, 18 kms north of the Smith Dorrien/Spray Lakes Road (backcountry skiing here)
2. Mount Shark with groomed and track set trails, 42 kms north on the Smith Dorrien/Spray Lakes Road
3. Canmore Nordic Centre
4. Ribbon Creek area near Nakiska Ski Resort
Further reading on cross-country skiing in Alberta
Check out cross country skiing trail reports for Peter Lougheed Provincial Park here.
Click on the photo to bookmark to your Pinterest boards.