Remember the book Into Thin Air by Jon Krakauer about the Everest tragedy in 1996? Well here's another equally riveting account by Lou Kasischke, a member of Krakauer's climbing team. Called After the Wind: Tragedy on Everest, One Survivor's Story, it's a book I couldn't put down.
Although Kasischke wrote an account of the disaster 17 years ago, it's just recently he was ready to share his version of the events in book form. His perspective and conclusions are markedly different than anything else you'll read.
For instance, did you know Krakauer was embedded as a journalist without the other climbers initially knowing as "part of a financial alliance between Rob Hall and Outside magazine?
This post includes some affiliate links. If you make a qualifying purchase through one of these links, I will receive a small percentage of the sale at no extra cost to you. Thank you for your support.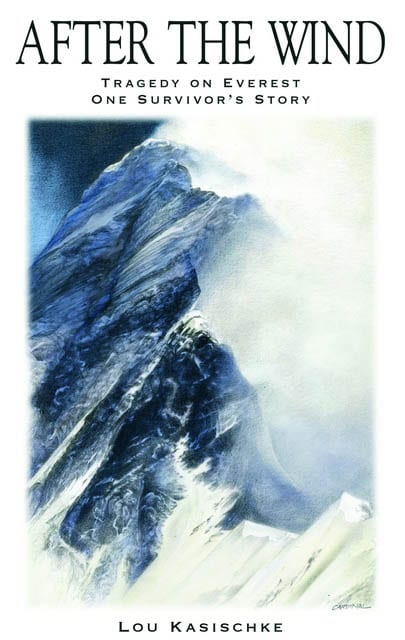 There were several other disquieting revelations including the people who made up the leadership team. Kasischke had signed onto the climb when the team was going to be comprised of Rob Hall, Ed Viesturs and Guy Cotter, all of them veterans of Everest.
Just weeks before the trip was to start, Kasischke was told that Ed and Guy had other commitments. Mike and Andy, two newbies to Everest were to be the assistant leaders so right from the start organizational challenges were present.
A different account of the Everest tragedy
Reading a completely different account of what transpired on Everest is part of what makes this book so engrossing. Add Kasischke's gripping description of what it's like to climb the various sections of Everest and you may find yourself clutching your chair, and wondering why anybody would put themselves through six weeks of climbing hell.
Not only does the book give an account of the entire climb from start to sorry finish but it takes you along on a love story with his wife Sandy.
Kasischke credits her love and influence for giving him the inner strength he needed to make the right decisions to save his life. That's a good part of the reason he has written the book now. Sandy is seriously ill so Kasischke's goal was "to honour and pay tribute to Sandy while we are still together, to share our love story with others, and to thank God for the gift of her love."
There are a few other reasons I really enjoyed this 317 page book. There are wonderful drawings and maps (no photographs), a list of all his mountaineering experience (considerable) and the writing feels like it comes from the heart.
Kasischke does leave you with questions. He had lots of doubts before even leaving the States, and even more regarding the climbing team once in Kathmandu.
But he didn't listen to that inner voice telling him to abort – and you are left wondering why. My guess is once you plan, train, book time off work and pay for such a momentous expedition, it's very hard to back out despite the niggling doubts.
To conclude this quote from Kasischke really resonated with me – "The truth in the story depends on who is telling it."
After the Wind is a must read for anyone interested in adventure or mountaineering.
You can buy it on Amazon here.
Further reading on hikes in the mountains