Ontario joins the St. Lawrence River. It's the largest of the Thousand Islands. Wolfe Island is accessed by a year-round, free ferry ride from the Kingston waterfront. From May to October you can also ferry over from Cape Vincent, New York. There's a small customs office at Alexandria Point making it one of the easier points of entry into Canada.
The last time I set foot on the island I was a Queen's University student in the 1970's. When I finally visited, several decades later, the plan was to go biking on Wolfe Island and see what if anything had changed.
Laid back charm on the island
The island still retains it's laid back charm. There are lots of farmers, a few small businesses, several artists, a golden retriever breeder, welders, boatbuilders…
There aren't a lot of services. For meals look to a small restaurant at The General Wolfe Hotel. Have a craving for a butter tart? Visit The Wolfe Island Bakery, in business since 1980. It's well situated across from the ferry lineup.
There are a few places to stay on the island – primarily B&B's. The Wolfe Manor B&B would be a great choice. It's housed in an impressive building that is worth a visit.
Bike routes on Wolfe Island
My plan was to bike the three suggested cycling routes – which were 18, 28 and 58 km respectively. You can download the routes from the Wolfe Island website.
Rent bikes on the island in the summer at Cycle Wolfe Island. Otherwise rent from Ahoy Rentals in Kingston near the ferry or bring a bike with you.
Biking Wolfe Island on Route #2 – The Head
The shorter, 18 kilometre route started well with lovely water views and very peaceful biking. In fact, all I could hear were the birds, especially since the migration is on. There were lots I'd never seen before but I forgot my binoculars.
About halfway into the first loop you hit gravel road. It was fine initially but when I was there construction was happening and the dust was unreal.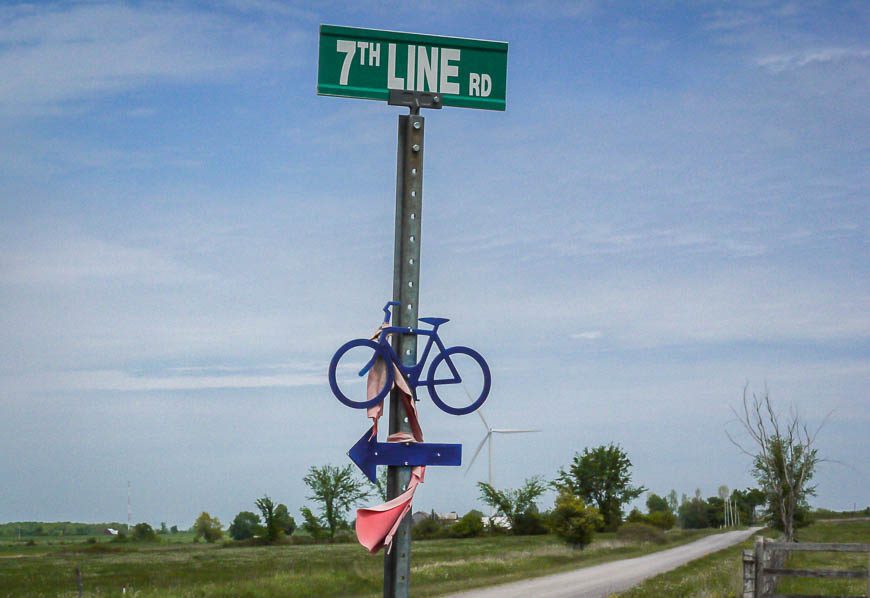 Link up with Route #3 – Button Bay
You can link up with the 28 km route without going all the back to Marysville. Do take the side excursion to Big Sandy Bay. This is a good place for a picnic. Enjoy protected dunes and a sandy beach.
After leaving the beach you hit pavement again on the main road (#95) linking the two ferries. Continue on this road until you reach the ferry to New York State. It's pretty countryside through here. Then either retrace your steps to stay on pavement or meander back to Marysville on any number of dirt side roads.
Those two routes were lovely – mostly peaceful, easy cycling.
The 58 km route was a disappointment when I was there because of construction and massive dump trucks. But that's some time ago now so if you're up for a longer ride that meanders through rural landscapes then give it a go.
Wind farms on Wolfe Island
I guess progress means wind farms and that's exactly what Wolfe Island has become – one giant wind farm.
Someone on the ferry loved their look – very futuristic she thought whereas I see them as a blight on the landscape. I'm sure their construction caused considerable debate. On the bright side they do warn you ahead of time if it's too windy to cycle.
Read this article about how people feel about the wind turbines.
And from an article by Richard Blackwell – A shockingly high fatality rate at Wolfe Island wind farm distresses Nature Canada conservationists. Between July and December 2009, 602 birds and 1,270 bats were killed by the turbines.
Is it worth the effort to go biking on Wolfe Island?
Yes, if you're in the Kingston area and staying for a few days. It's a great side trip for all those Queen's parents with time on their hands.
Further reading on things to do in Ontario
Click on the photo to bookmark to your Pinterest boards.