Even if you're a keen Alberta based snowshoer, there's a pretty good chance that you've never had a Fortress Mountain in Kananaskis Country. Access is restricted to snowshoe tours led by White Mountain Adventures, cat skiing with KPOW or film makers including those that make Hollywood movies like The Revenant, Inception and The Bourne Legacy.
If you go to Fortress Mountain snowshoeing, don't expect to take pictures of anyone filming or the movie stars. That's all verboten as is any sort of social media sharing.
The Fortress Mountain snowshoeing experience
Fortress Mountain is a stunner. And the starting point is higher than most of the trails you're used to snowshoeing on in Alberta. That means there's one heck of a lot of snow. The downside is that you must endure the drive and the thump of tires with chains for about 15 minutes after you pass the locked gate.
Unlike most snowshoeing adventures you probably do, this one has to include the services of a guide. Cue White Mountain Adventures.
You won't have nearly the number of people on the trip pictured below (it was the active part of an adventure travel convention) so you can expect to enjoy the silence of the mountains, at least most of the time.
We did hear the drone of a helicopter at the end of our day as it lobbed explosives at the mountain to set off an avalanche and bury a car (no one in it and actually pretty darned cool to see the avalanche in action.) But apart from that it was peaceful and at times a little weird, only because Fortress Mountain was once an active ski hill.
Fortress Mountain has been shuttered for over a decade but the ski runs remain and the chairlifts are still on their cables. There is some good news as the stakeholders, at least according to their website, are almost ready to start Phase One construction of a multi-phase project.
What that ultimately means for snowshoeing at Fortress Mountain, I don't know. With its massive dumps of snow and 3,300 acres of terrain, hopefully there will be room for both skiers, boarders and snowshoers when it reopens to the public.
For now sign up for a day with White Mountain Adventures. You get transportation included from the Canmore-Banff corridor, a guide, a backcountry lunch along with hot chocolate and cookies. The tour only runs on weekends and requires four people. You still have a few weeks to catch it this year.
The photos below will give you a sampling of the experience but they don't show the jumping, falling or sliding on hills and nor do they do justice to the beauty of the area or the serenity you'll feel at your lunch stop.
As someone said in a comment on an Instagram post – "I need to go back." Go see for yourself. This part of Kananaskis Country doesn't see many people and yet it's only 45 minutes south of the Nakiska Ski Resort.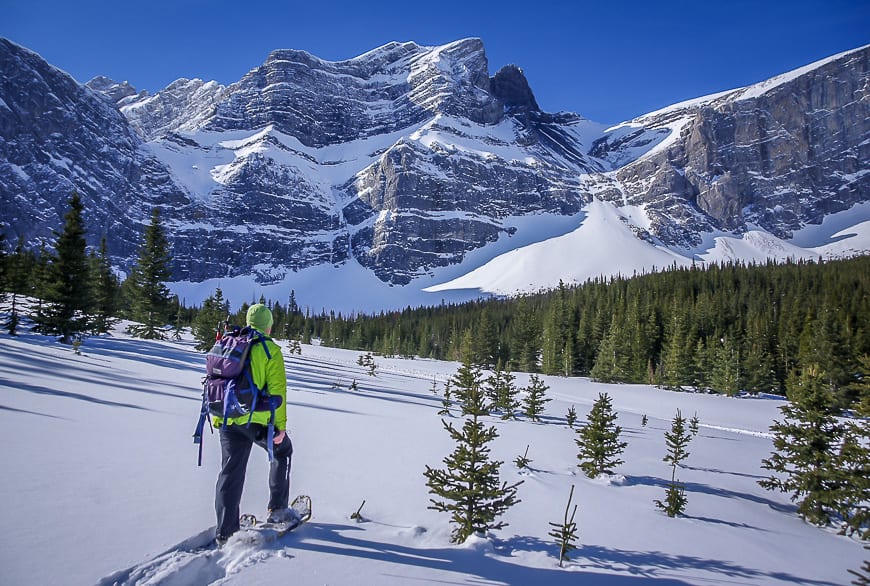 Location of Fortress Mountain
Further reading on snowshoeing in Alberta
Click on the photo to bookmark to our Pinterest boards.

Thank you to Travel Alberta, White Mountain Adventures and the Adventure Travel Trade Association. Also a big thank you to whomever gave me my first choice of adventures at the conference! I had a blast.