On a June weekend before most bugs had made their presence known, John and I took off for northern Alberta to spend a long weekend with Darcy and Shirley Zelman, owners of Grand Rapids Wilderness Adventures. My goal was to check out the formidable Class VI Grand Rapids – labeled unnavigable (even Red Bull hasn't sent someone down) and some of the world's largest concretions that litter the Athabasca River shoreline and the river itself.
My primary reason for the visit was research for the second edition of 125 Nature Hot Spots in Alberta. Debbie Olsen, my co-author and I are adding 75 new entries, and this will be one of them. But I also love to fill in the blanks on my personal map, so I was keen to do this trip.
Poacher's Landing on the Athabasca River is the launch site to access the backcountry cabins that make up Grand Rapids Wilderness Adventures. Its location is almost 200 km northeast of Edmonton, off Highway 63, the one that goes to Fort McMurray. From there it's still a 4 – 5-hour jet boat ride down the Athabasca River – though with many interesting and historical stops along the way.
As you go by trappers cabins and homesteads, think about how far you are away from anybody. Possible stops along the river include the remnants of an old telegraph office, the Calling River and House River Settlements, the old Pelican Portage, Upper Wells and Germans' Cabin. We did a couple of them as well as an island stop to marvel at monster ostrich ferns and black poplars.
Two couples along with two of their friends joined us the weekend we went – but all of them had their own jet boats. Some people have paddled to the lodge and then been shuttled back to their cars and in the winter, you can snowmobile into the lodge. Trust me – this is remote feeling backcountry that few people visit now though it was a historical thoroughfare.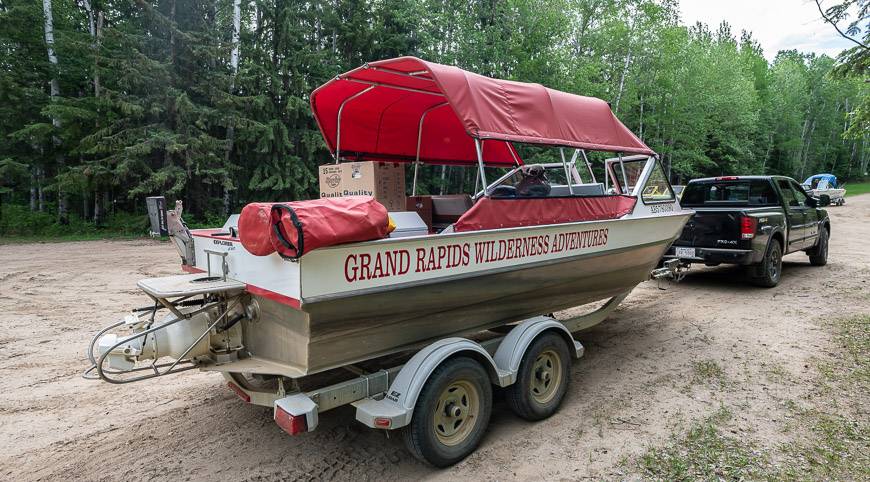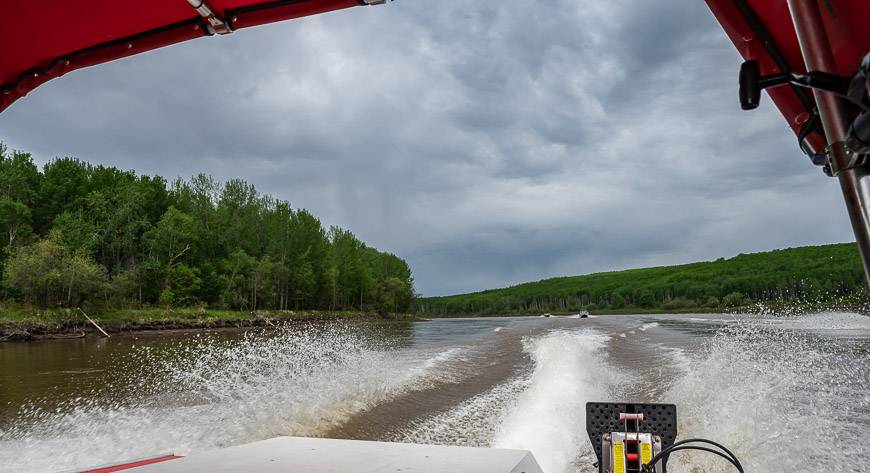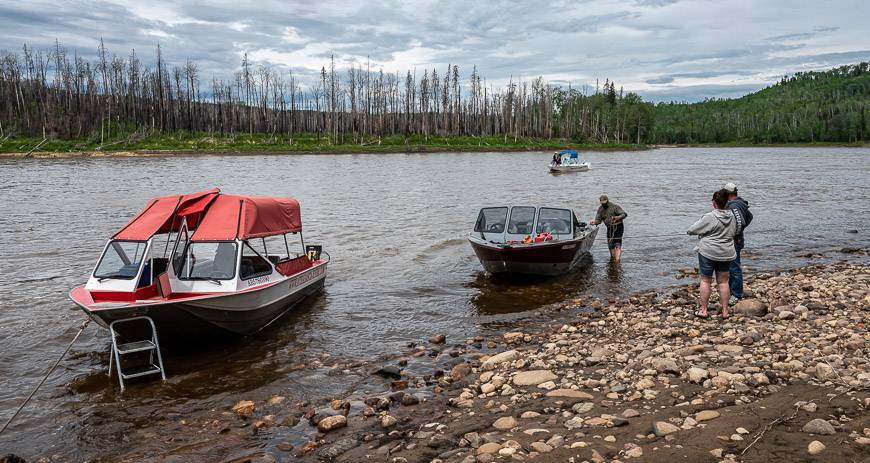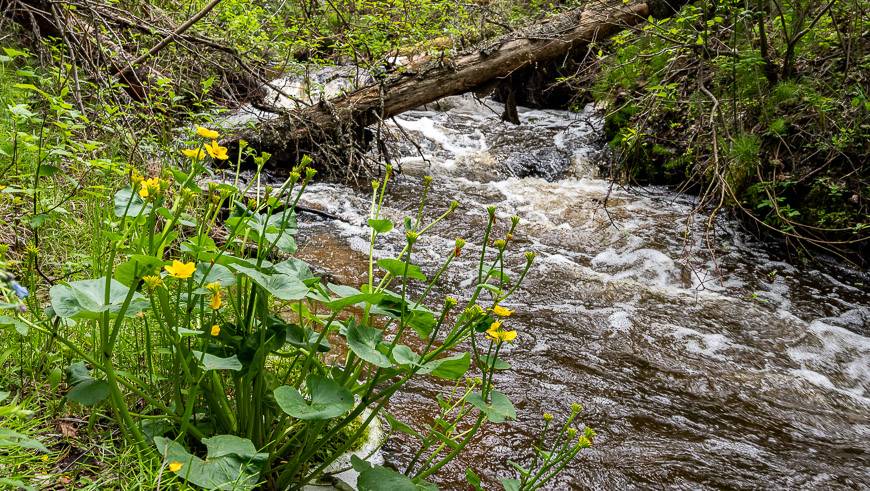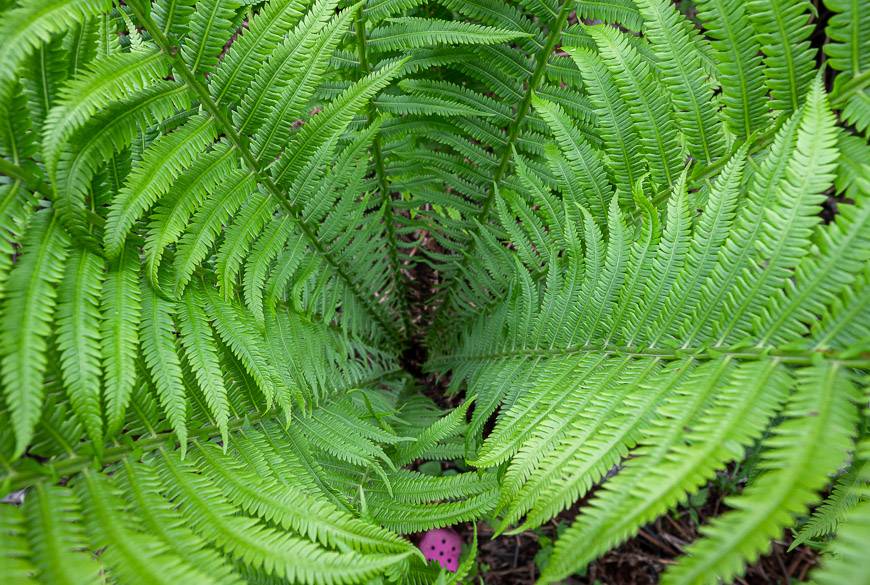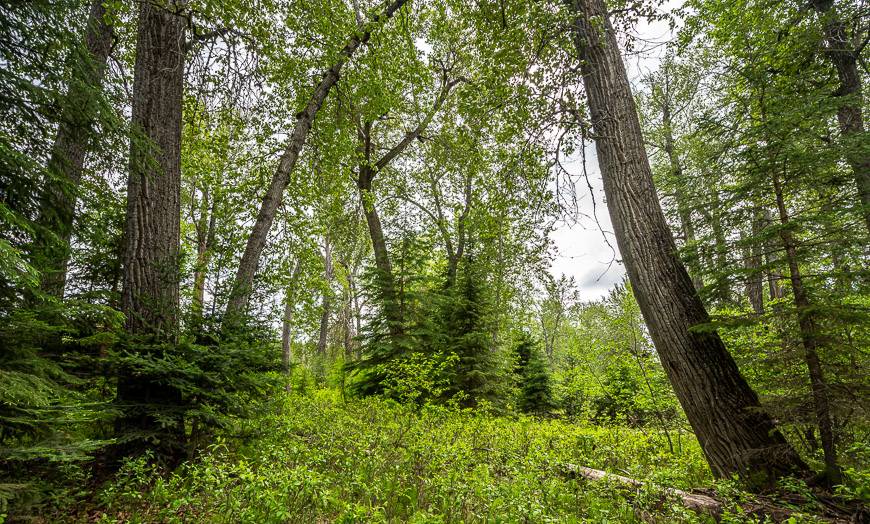 Location map of Grand Rapids
The location of the Class VI Grand Rapids are a best guess only. They are a 15-minute helicopter ride away from the lodge.
Grand Rapids Wilderness Adventures – accessed via a boat ride on the Athabasca River
The Athabasca River begins at the Columbia Icefield and flows for over 1200 km to empty into Lake Athabasca. From there, the waters take a long route to eventually join the Mackenzie River system and empty into the Arctic Ocean. We were to spend four to five hours getting there – and covering approximately 225 km.
Even though it was a long boat ride, I felt that the time passed quickly – in good part because the landscape was all new to me. This brown, muddy section of this section of the Athabasca River bears no resemblance to the turbid, turquoise waters of the Athabasca River many people would be familiar with near Jasper.
As you journey along one of Canada's great waterways you can't help but wonder about the lives of people that have used this river as their highway. As a major corridor, the river has been used for millenia by the Indigenous people. Fur traders, gold miners, explorers and settlers have also plied the waters. At one point, there was a Hudson's Bay Company settlement of up to 200 people on the river along with three gas wells near the Hudson's Bay site. The first well blew out and was lit so that it burned from 1897 – 1915 before it was successfully capped.
On the way to the lodge, there is the opportunity to see wildlife along the shore. Look for moose, black bear, elk, deer, and timber wolf. We did see one moose on the shore and a bald eagle munching on a not yet dead Canada goose – as well as a bald eagle chasing a Canada goose in the air, a first for all of us.
When you pass the confluence of the House River, you're only a few minutes away from the lodge. This pretty confluence area seems to be a good place to go fishing.
The lodge set up
There is no formal dock on the Athabasca River so on arrival you hop out of the boat (with the help of a ladder) and climb a short hill to reach the backcountry lodge. The lodge is made up of several buildings – including two log cabins for guests, a cookhouse, and the owner's private cabin. There's also a separate building with a shower and the water is hot.
Our log cabin was rustic. Inside was a queen bed, a kitchen table with chairs, a wood-burning fireplace, a Coleman stove and various kitchen implements so we could make coffee on our schedule. There was no indoor plumbing – but a clean outhouse was a short walk away. Outside there's a table with a couple of chairs and a swing.
Don't expect anything formal when you stay at the lodge. Mealtimes are decided upon based on plans for the day. And the rest is up to you. We had two full days at the lodge. One was dedicated primarily to reading, walking and R&R, while the other was taken up with a trip to the Grand Rapids. The other guests spent much of their time fishing – and were quite successful too. Fish you're likely to catch include walleye, northern pike, goldeye and burbot.
Meals are cooked by Shirley – and eaten outdoors around a large fire. Food is plentiful and delicious – with favourites like lasagna, barbequed steak, and chicken. You bring your own liquor along with any snacks you might like.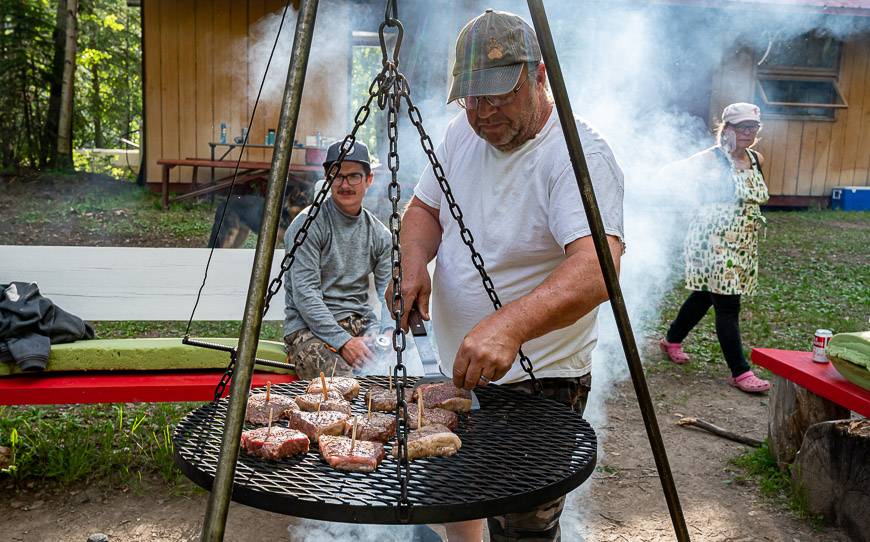 What you can do at the lodge
The lodge – which sits in Grand Rapids Wildland Provincial Park, is a place where most people come to fish or hunt, something that's been happening since Darcy's parents started it as a moose hunting lodge well over 20 years ago. I'm not into fishing or hunting but I did love walking alongside the river, especially watching the antics of spotted sandpipers in mating season. It was a treat to nap, read for hours at a time, and learn about the lives of the other guests – who were ranchers and farmers, a world I'm completely unfamiliar with.
John also took advantage of the axe throwing – and did well after a few tries.
A helicopter ride to Grand Rapids
There are two ways to get to the Grand Rapids – by boat or by helicopter. If you were to try and get there on your own by boat from Poacher's Landing, you might barely make it – and chances are that no more than two of you could go at a time as you'd need to keep the weight in the boat down to conserve fuel. And you'd have to carry enough fuel to return.
Up until 2021, Darcy has offered the option of a boat ride downstream to the falls from the lodge (13 km away) or a helicopter ride. Going forward, he is only offering the helicopter ride through a company in Fort McMurray for safety's sake.
Once you get to the Class VI Grand Rapids, you can see why Darcy has nixed the boat ride. First off, if anything happened to his boat, help is a long way off, especially as he would have to land on the opposite side of the river to where the lodge is located. Then you must walk underneath a cliff (look in some of the photos below) where there might be rockfall. And he could only offer the trip in August when the water levels had dropped on the river.
The helicopter ride is fun. And it affords great views, so you really get the lay of the land, particularly the extent of the rapids. As there is WiFi at the lodge, Darcy can organize a trip at the last minute, based on the weather.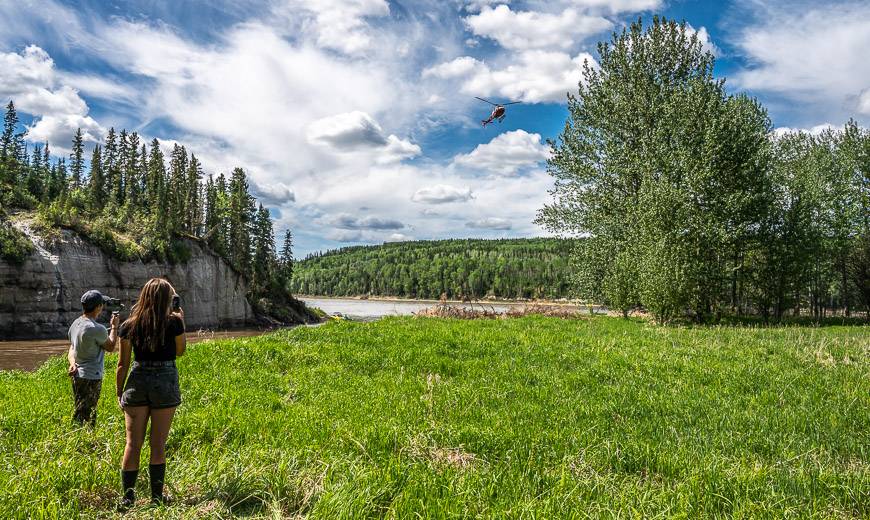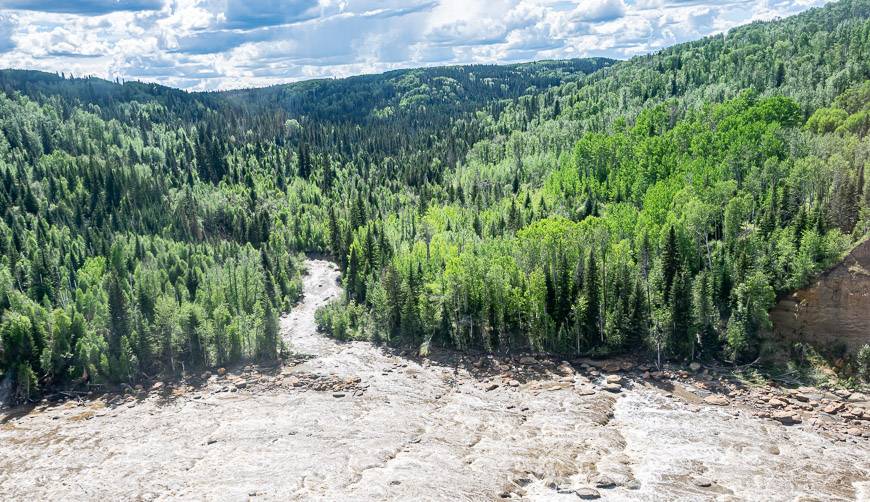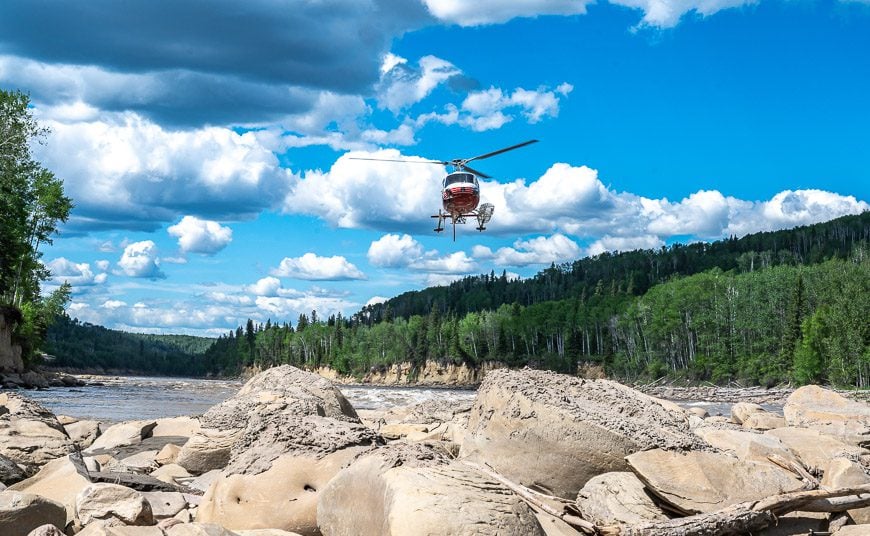 A few hours at Grand Rapids
In less than 15 minutes we were whisked from the House River landing spot to the Grand Rapids. After landing, we had several hours to explore the area. We were able to walk among thousands of concretions, considered to be some of the world's largest, that litter this section of the river. Photographers will find plenty of subject matter.
Beyond the concretions at Grand Rapids, you can find fossilized wood and cross bedding in the sandstones. And you're going to want to simply sit on the rocks for some time and admire the force of the river pushing through either side of the island in the middle of the river. At one point there was a rail system put in on the island to help portage large loads past the rapids!
We were also treated to a shore lunch – wieners roasted on sticks. I'd forgotten just how delicious a good wiener can be, especially eaten outdoors.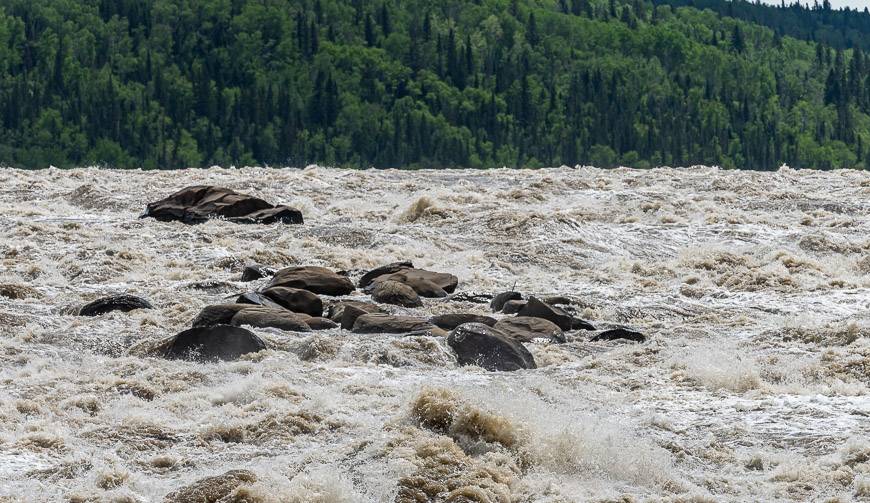 A note about concretions
Concretions are unique rocks that have eroded out from softer rocks. They look like a sphere or a flattened sphere – with some up to 3 m or more in diameter. At Grand Rapids, they litter the valley floor to the extent that they create a fall-in-and-you-die section of Class VI whitewater. (You can also find iron rich concretions at Red Rock Coulee near Medicine Hat.)
It is thought that concretions grow in place, growing out from a nucleus in concentric spheres. At Grand Rapids we could see the nucleus in one instance, a piece of fossilized wood at the centre of a large concretion. These rocks are about 100 million years old so there has been lots of time for minerals to precipitate out of solution and built up layers, binding with grains of sand to form a rock that is harder than the surrounding rock. When these formations are uplifted and subject to erosion, the concretions are harder for Mother Nature to breakdown than the surrounding "non-fortified rock".
Final thoughts
The backcountry lodge at Grand Rapids Wilderness Adventures may not be as luxurious as some that you're used to. But when was the last time you were in remote, untouched wilderness that offered fabulous landscapes, world-class natural wonders, and a long history?
For people who like off-the beaten path experiences and don't mind leaving some of the comforts at home, I think you'd enjoy this special part of Alberta. You can count on Darcy to offer up a platinum experience around every bend in the river – and certainly at the lodge. And Shirley will go out of her way to accommodate your dietary needs. They are open from June until mid-September and offer a variety of packages, depending on your interests. Be sure to check out their website – noted above.
Further reading on adventures in Alberta
Click on the photo to bookmark to your Pinterest boards.