When you think of outdoor adventures in Manitoba, the first one that likely comes to mind is a trip up to Churchill to see the polar bears – and more often than not, when it's bitterly cold. Of course that would be an incredible experience, but there are other great outdoor adventures in Manitoba – particularly in the summer. Some are easy to access from Winnipeg while others require a huge investment of time.
Here are what I think are seven of the best outdoor adventures in Manitoba
#1 Outdoor adventures in Manitoba – see the polar bears in Churchill
Swimming with beluga whales used to be on this list. For years you could snorkel with them and it's something I dreamed about doing. But it's been outlawed since sometime in 2018. Still, if you visit Churchill and get out on the water, there's still a good chance you'll at least see the belugas.
Many people go up to Churchill to see the polar bears in October and November but if visiting this northern community in the cold months has little appeal, rest assured you can still see polar bears in the summer.
I am told that the premiere time to visit is the last week of July and first week of August when the pink fireweed is blooming – so all those pictures you take of polar bears really pop. Bird watching is reportedly excellent as well.
There are lots of companies running tours including Lazy Bear Lodge, Great White Bear Tours, Churchill Wild and Frontiers North.
#2 Canoe the Caddy Lake Circuit – one of the fun outdoor adventures in Manitoba
Some of the best paddling rivers in Canada's are located in Manitoba. Most of them are remote and expensive to access plus you often need to be an intermediate or better paddler to run them.
Fortunately, Caddy Lake, located in Whiteshell Provincial Park, just 90 minutes east of Winnipeg close to the Ontario border, offers an accessible alternative.
Caddy Lake is one of the lakes making up the Whiteshell River System. It's the launch site for both day trips to the Caddy Lake Tunnels and a 169 km loop trip that takes the better part of a week to paddle. The tunnels are unique and fun to see and the river is a delight to explore.
Read: Canoeing the Caddy Lake Tunnels in Whiteshell Provincial Park
#3 – Hike the Gorge Creek Trail in Riding Mountain National Park
The 12.8 km (return) Gorge Creek Trail is one of the best hikes in Riding Mountain National Park. It will surprise you with its range of eco-systems and stellar views of the plains.
The hike takes you up and down the Manitoba Escarpment, a steep slope that rises above the plains that you can see for miles when you're driving towards the east entrance of the park. The gorge itself formed after thousands of years of erosion.
Over the 300 m of vertical relief on the trail, you are exposed to a variety of tree types that vary as you descend or ascend the trail. Look for aspen and hazel forests, old oak forests and at lower elevations white birch and Manitoba maple.
Beware of the poison ivy. It's everywhere on this hike so wear long pants and wash well with soap and water after the hike. Bears are in the area so don't forget the bear spray.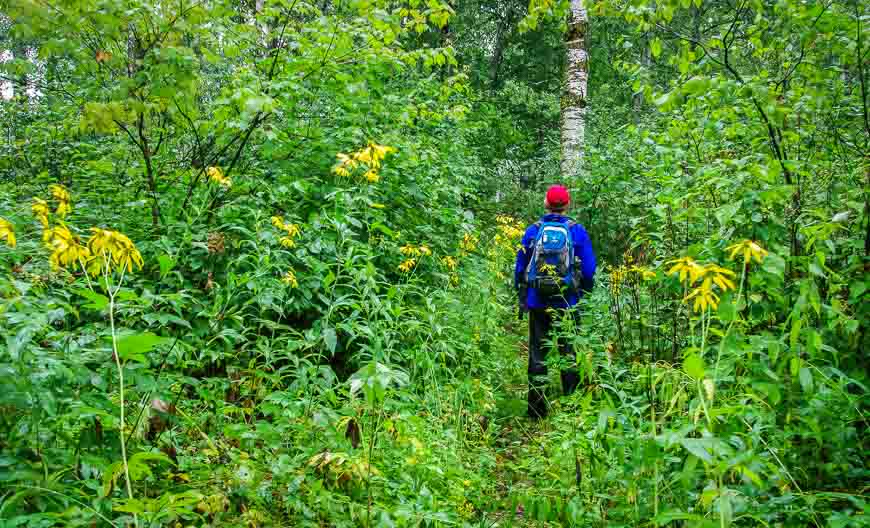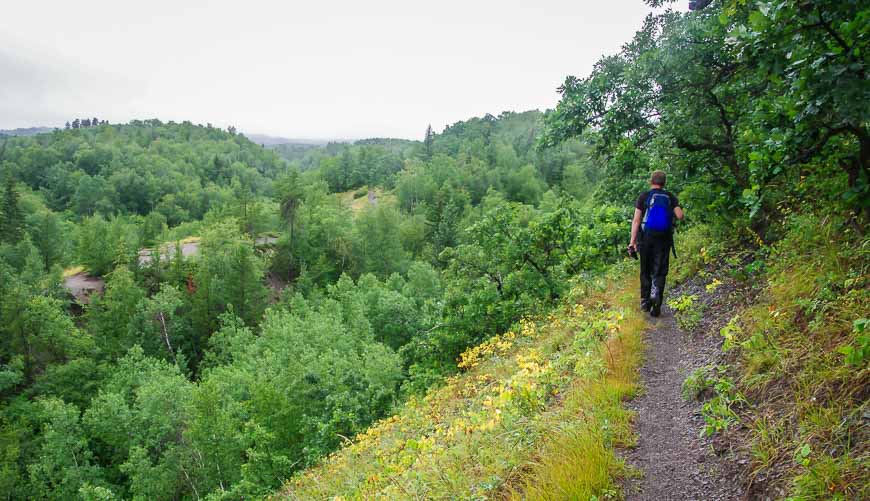 #4 – Hike the Spirit Sands & Devils Punch Bowl Trails – one of the family friendly outdoor adventures in Manitoba
If you want to see sand dunes in Manitoba, head to Spruce Woods Provincial Park, located about a 2.5 hour drive west of Winnipeg. Called the Spirit Sands, they are located where the Boreal forest meets the Assiniboine River.
Rising to a height of 30 m they are a great place to hike, play, wander and photograph, especially in summer when the wildflowers make an appearance. Again beware of the large amounts of poison ivy that line the forested trails and stairways.
Read: Spirit Sands Hike in Spruce Woods Provincial Park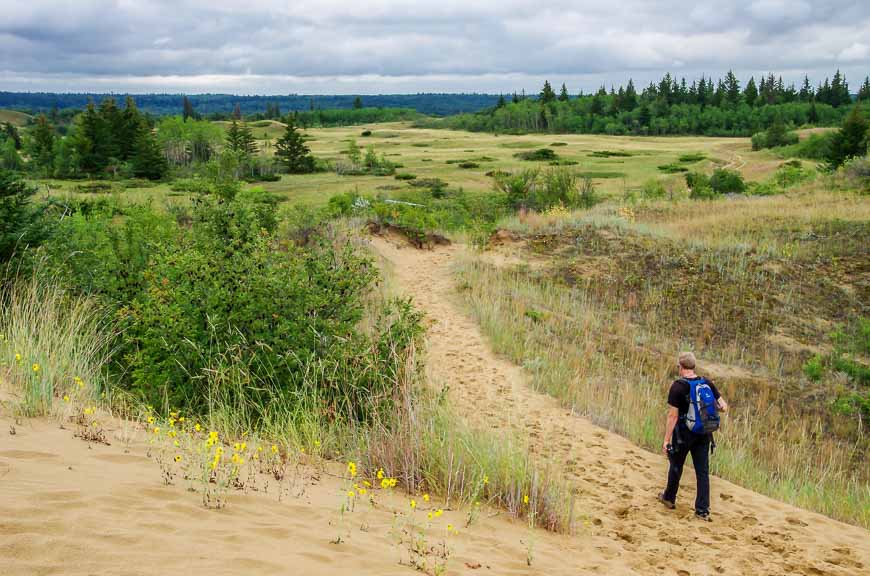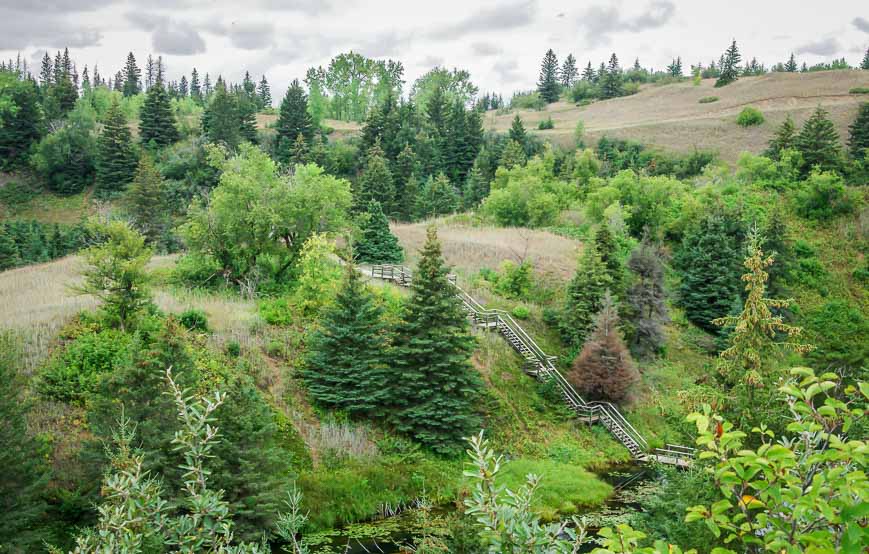 #5 – Hike the trails of Hecla Island
You'll find Hecla Island 90 minutes north of Winnipeg on Lake Winnipeg. For a small island it's got a lot of hiking options. Hopefully when you visit, you have better luck then I did as many of the trails were underwater.
You'll find the Grassy Narrows Marsh Trails, shortly after arriving on Hecla Island. Here you have a choice of five trails totaling 25 km along with first rate bird-watching.
One of the most untouched trails is the 22 km Black Wolf Trail. It's more remote than the others. In addition there are several trails at the north end of the island including the Lighthouse Trail, a 3 km one way trail that takes you out to the Lighthouse at Gull Harbour.
It's an easy walk, with prolific bird life. For a look at some local history and an old limestone quarry, hike the 10 km West Quarry Trail.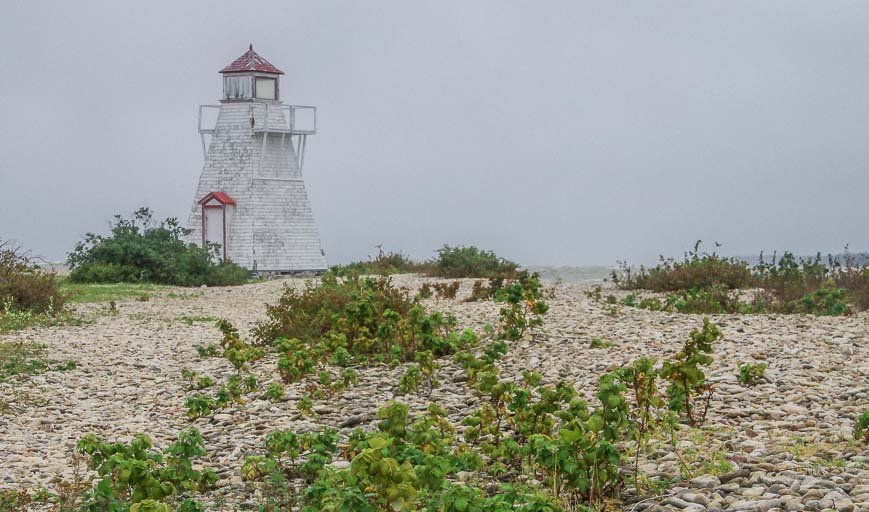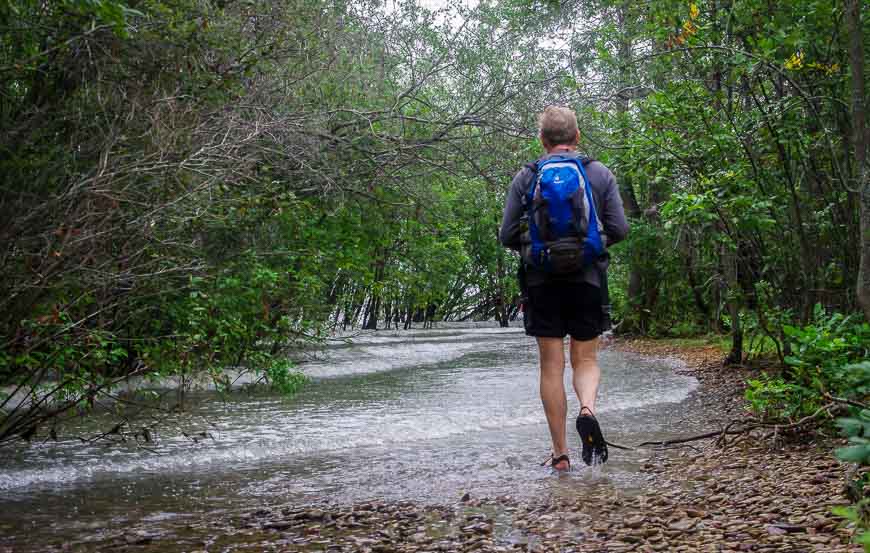 #6 – Hike the Pisew Falls to Kwasitchewan Falls Trail
Located seven hours north of Winnipeg by car, in northern Manitoba, Pisew Falls Provincial Park is the start of a 21 km hike – that can also be done as a backpacking trip.
Follow the Grass River, a former fur-trading route, on a marked trail through the forest to reach Manitoba's highest waterfall – Kwasitchewan Falls. Allow somewhere between six and eight hours for the return hike.
#7 Canoe the Seal River – one of the most remote outdoor adventures in Manitoba
I haven't done the Seal River canoe trip yet – but it's on my wish list. It's one of Canada's premiere wilderness, whitewater canoeing trips – with only a few dozen lucky paddlers running the river every year.
It was never used by the fur traders, so it's even wilder than most other northern rivers – and only a couple of operators run tours here.
By air it's 1,000 km north of Winnipeg. The trip generally starts on Tadoule Lake and ends at Hudson Bay. You camp on eskers, ridges of sediment left behind by glaciers. Chances of seeing wildlife is high – including wolves, seals, caribou and beluga whales once you reach Hudson Bay. Sometimes you'll even see polar bears.
Other wilderness rivers to consider canoeing include the Bloodvein, Hayes, Pigeon, and Manigotagan Rivers.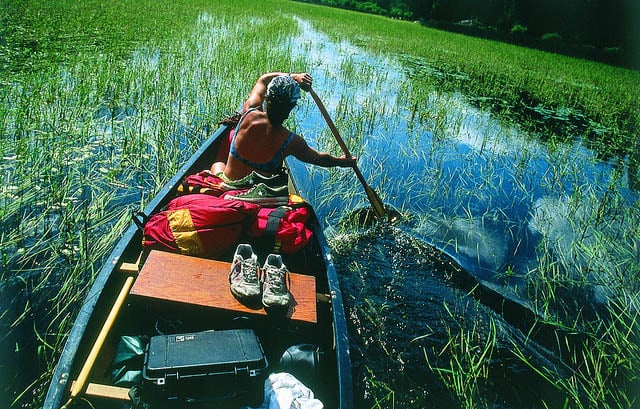 Further reading on things to do in Manitoba
Click on the photo to bookmark to your Pinterest boards.