If you were a giraffe and you lived in some parts of Quebec you would barely be able to see over a snowbank by the time March rolled along. The province of Quebec is truly one of the exceptional places to visit if you love everything about snow and winter.
There are so many fun things to do in the province of Quebec in winter including downhill and cross-country skiing, skating, snowshoeing, and fat tire biking. That can all be enjoyed along with superb local food, lovely places to stay, and Quebecers infectious joie de vivre.
I spent my childhood exploring Gatineau Park which gave me a taste for Quebec that has never left. In the last four years I have been to Quebec three times during the winter months so my eyes have been opened to the variety of experiences available to the traveler.
All of these outdoor adventures have been personally tested but one – the TDLG – a one week supported cross-country ski or snowshoe trek across the Gaspesie region held every February. It is most definitely on my bucket list.
Location map of things to do in the province of Quebec in winter
1. Go cross-country skiing in Gatineau Park
If you're visiting Ottawa in winter, be sure to include a trip to Gatineau Park. Its only 20 minutes from the downtown core. Once the snow flies the park becomes a winter playground well used by the locals.
It's especially great for cross-country skiers with over 50 trails stretching from Gatineau to Wakefield. You could spend a week here and never ski everything. Classic skiers can enjoy 200 kilometres of trails, skate skiers 100 kilometres and for anyone wanting to get off trail and into the backcountry there are another 45 km of trails to explore.
What also makes this area so special apart from its easy access are the historic warming huts scattered around the park. They make a great destination in themselves. When you're finished with skiing head for a delicious soak at nearby Spa Nordik in Chelsea, Quebec and finish with a meal at one of the excellent restaurants in either Chelsea or Wakefield.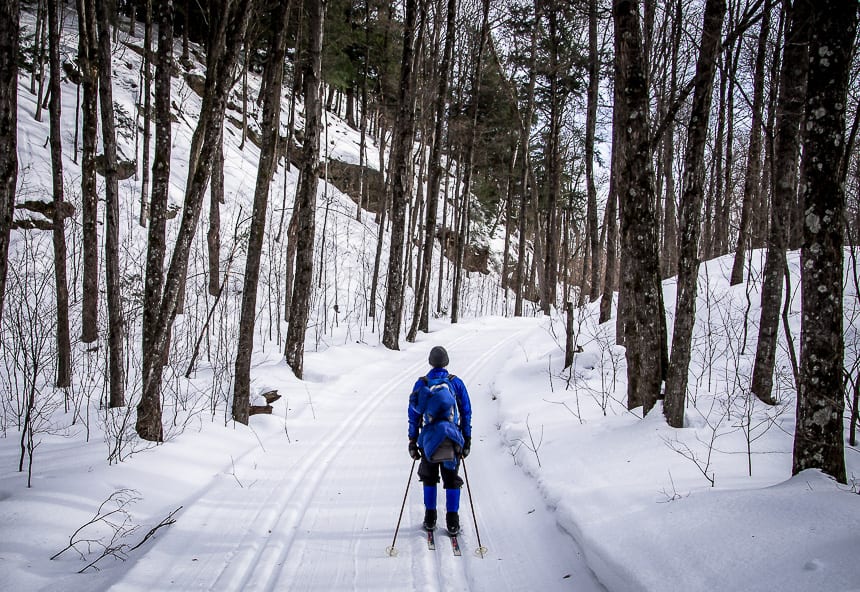 2. Sign up for the Canada Ski Marathon
The Canada Ski Marathon, held every February is a two day, 160 km event. It takes place between Lachute and Gatineau so it's easy to access from both Montreal and Ottawa.
Each day there are five sections you can choose from to ski, with sections ranging in length from 12.3 km to 20.5 km. A shuttle bus gets you to the start of each section and will return you to pre-determined drop-off spots when you've had enough.
Anyone can enter the ski marathon because it is not a race but a giant community event that draws people of all ages from around the world.
The Canada Ski Marathon is for anyone who can ski at least one section because once you've committed to a section you must finish it. And you must ski consecutive sections. You'll find kids and adults across the full range of abilities from the recreational to the super-elite athlete and everyone in between. This event is hugely fun and as hard or easy as you want it to be.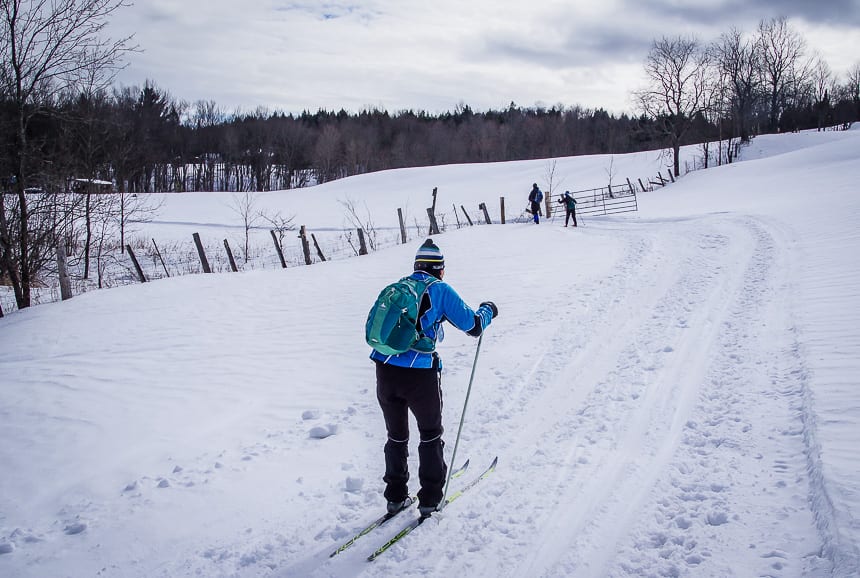 3. Go cross-country skiing at Mont Ste. Anne
Mont Ste. Anne has both a fabulous downhill ski resort and an area for cross-country skiers that bills itself as the resort with the largest number of cross-country ski trails in Canada. If you do loops, you'll find over 200 kilometres of trails of trails – most of which are also available for skate skiers.
What you can expect here is fabulous snow and loads of it. With the cross-country ski area a further seven kilometres up the road from the downhill resort, there's a noticeable difference in temperature and snowfall amounts.
Apart from food and rental skis there are no hotels for the cross-country skier. Either stay in Quebec City, just 45 minutes away or at the downhill ski resort.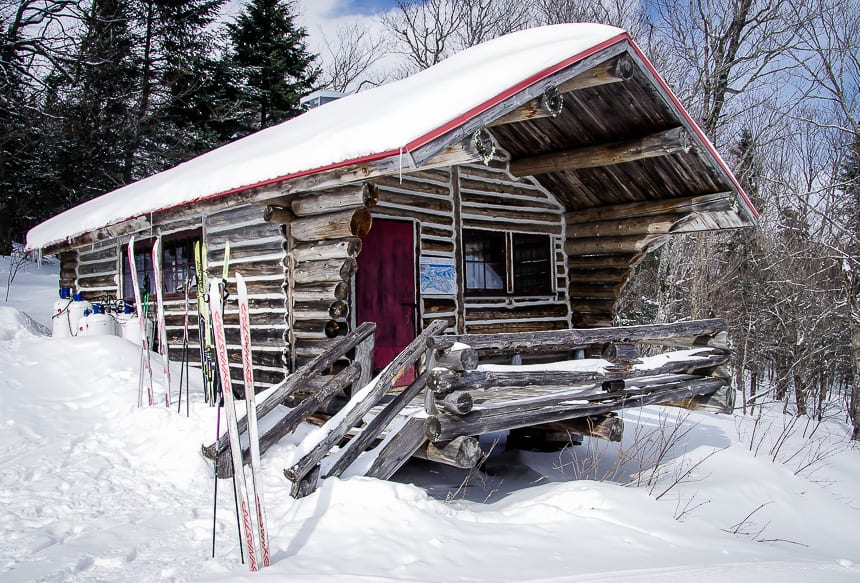 4. Ski in the Laurentians
If you visit the Laurentians in winter, you're in for a treat. The number of opportunities for cross-country skiing is mind boggling. Choose to backcountry ski in Mont-Tremblant National Park. Ski the old railbed known as Le P'tit Train du Nord or choose from at least a dozen ski areas that offer groomed track set trails.
At the end of the day there are a huge number of places to stay – from B&B's to five star resorts with the food to go along with it.
5. Visit Montreal in winter
Montreal's Mont-Royal area is always a pretty part of the city to visit but in winter it's especially lovely. There's a bus from downtown that will get you there in short order and then you have the choice of four outdoor adventures.
Skate to music on Lac aux Castors, an especially romantic place to visit at night. (Rent skates at the onsite pavilion).
If the snow cooperates try cross-country skiing on 33 kilometers of trails. Or snowshoe on three kilometres of signed trails.
Definitely try tubing. This is the first place I'd ever done it and what a thrill it was. Choose a tube based on the colour at the bottom. The one pictured below has a black bottom – which isn't as fast as the white bottom ones for speed. Hold on, smile, scream and you'll be down in seconds and ready for more.
Read: 10 Things to do in Montreal in Winter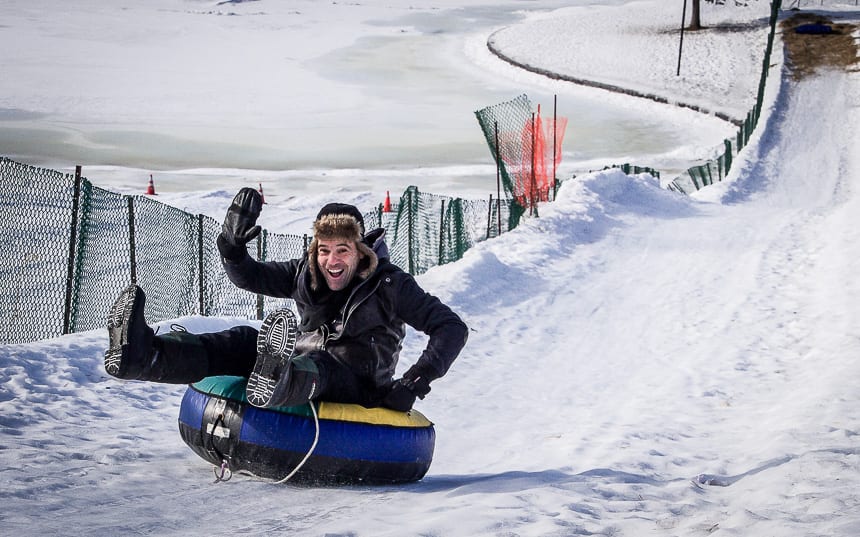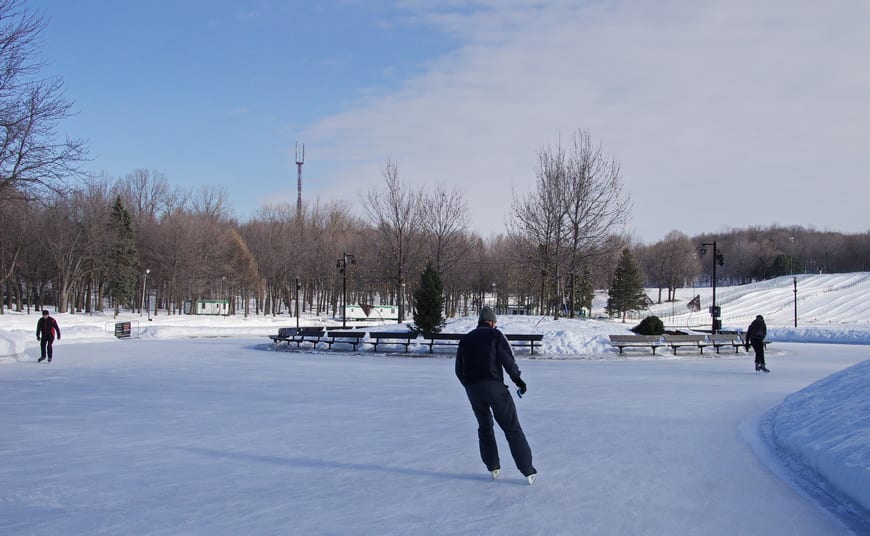 6. Plan a trip to Quebec City in winter
With over 400 cm of snow most winters, Quebec City is truly a winter lover's playground. Within the city, ski or skate on the Plains of Abraham, the site of the Battle of the Plains of Abraham in 1759.
Enjoy 12.6 km of ski trails, 4.6 km of walking trails and a 3.8 km snowshoe trail along with an awesome skating rink – all with views of the St. Lawrence River.
Nearby at Vacances Valcartier, the site of what has been called North America's largest winter playground you can slide down 40 lanes and reach speeds of up to 80 km/hour. The lanes are graded easy, moderate and difficult so not everyone has to scare themselves silly.
At Dufferin Terrace check out the toboggan slide. Again you can reach top speeds of 70 km/hour – and if you have time to notice your surroundings, you'll see the St. Lawrence River off in the distance.
Read: 7 Reasons to Visit Quebec City in Winter
7. Enjoy a winter visit to La Mauricie National Park
Compact La Mauricie National Park located midway between Montreal and Quebec City is a winter lover's dream. The area gets heaps of snow so the snowshoeing and cross-country skiing is excellent.
With 80 kilometres of trails there is a tremendous amount of choice. You can also try snowtagging – which is basically drawing an ephemeral piece of art in the snow – with the help of a design and a compass on snowshoes.
Fat tire bikes are available for rent and with so much snow, you'll have a soft landing should you fall off and you will!
This is one national park where you can stay in a wood-heated oTENTik cabin – the perfect place to take in the starry skies. To organize an oTENTik rental click here.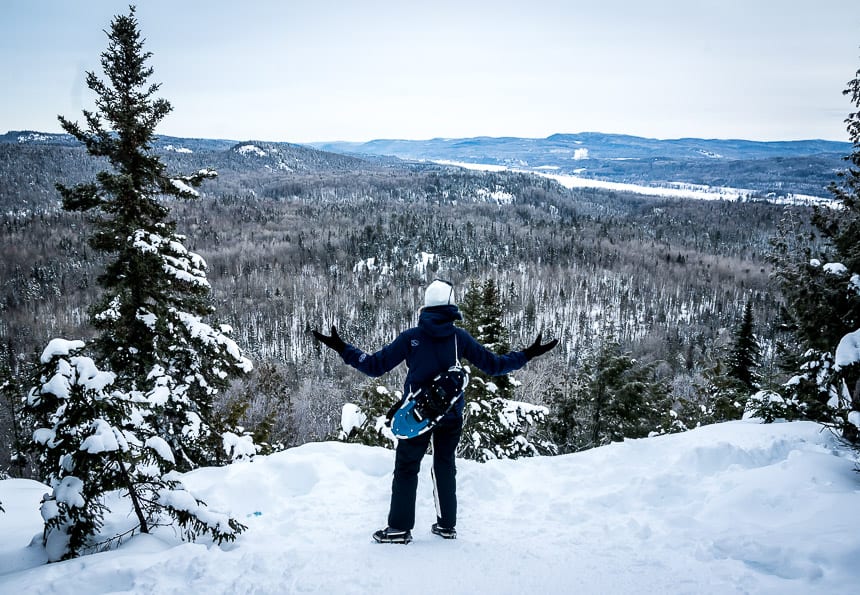 8. Explore the Charlevoix region in winter
Virtually unknown outside of Quebec and southern Ontario, Le Massif delivers long downhill ski runs with phenomenal St. Lawrence River views. You feel like you'll end up in the water. Boasting the biggest vertical drop (770 m) east of the Rockies, this is a ski hill you'll want to try.
Stay in the quaint town of Baie St. Paul – 25 minutes away. It very much reminded me of Old Quebec City with its quaint, colourful main street.
9. Bike across Lac St Jean – one of the crazy-ass things to do in a Quebec winter
If you're a crazy person like myself consider at least attempting La Traversée du Lac Saint-Jean à Vélo, a 32 km bike race from Peribonka to Roberval across the vast expanse of white, frozen Lac Saint-Jean in Quebec's Saguenay region.
The weather can be cold and downright nasty but that's partly why you want to do this event – bragging rights for enduring a day out a bike in the dead of winter. Sign up now.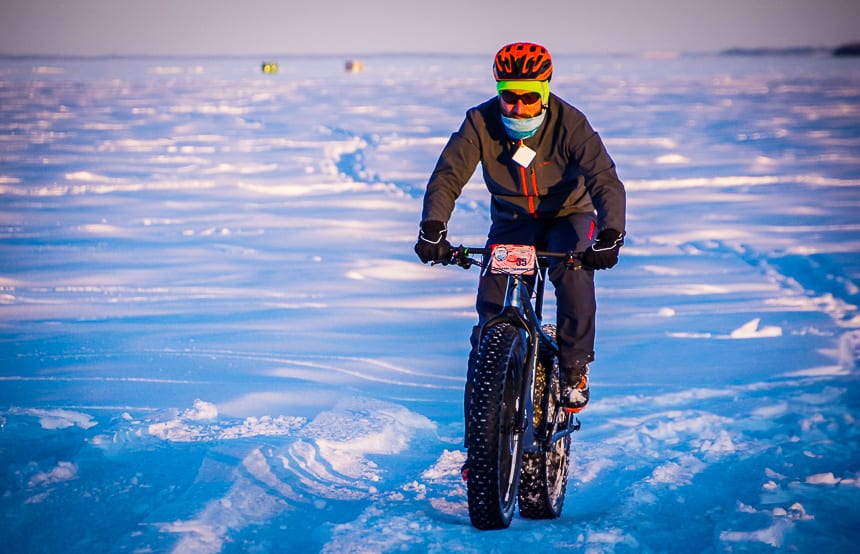 10. Check out Club Tobo Ski near St Felicien
Just outside of St. Felicien in the Saguneay region is Club Tobo-Ski, a local family favourite for downhill and cross-country skiing, snowshoeing and fat tire biking.
The ski hill isn't very big but it's the perfect place to learn to ski and its very family-friendly. With the amount of snow the area receives, you can be assured that the cross-country skiing is superlative and there's a good chance you'll be breaking trail on snowshoes. You can rent everything you need onsite.
11. Participate in the TDLG in the Gaspésie region – one of the top things to do in Quebec
The TDLG is a six day all-inclusive sports vacation (some might not think of it in those terms) that involves approximately 200 kilometres of cross-country skiing or 90 kilometres of snowshoeing along marked and groomed trails in the mountains and along the coast of the Gaspésie region.
Meet like-minded people, test your body, enjoy incredible scenery and after six days feel that fine sense of accomplishment of finishing such an event. The next one is on hold for 2022.
I know I will continue to visit Quebec in winter and I hope I have inspired you to give the province a chance. Quebecers joie de vivre is contagious. Go catch some of it.
Click on the photo to bookmark to your Pinterest boards.