I grew up skating, left it for almost two decades and rediscovered the joy of skating again this fall- albeit inside on speed skates on the Calgary Oval. But outside is really where I want to be and with that in mind I've researched where I think you'll find 11 of the best outdoor skating rinks in Canada.
#1 The Rideau Canal in Ottawa – one of the top outdoor skating rinks in Canada
The Rideau Canal is a UNESCO World Heritage Site and the rink I grew up skating on. The 7.8 kilometres (4.7 miles) of ice winds its way through downtown Ottawa. Rent skates, and pick up hot drinks and beavertails along the route. One of the best times to go is during Ottawa's annual Winterlude festival.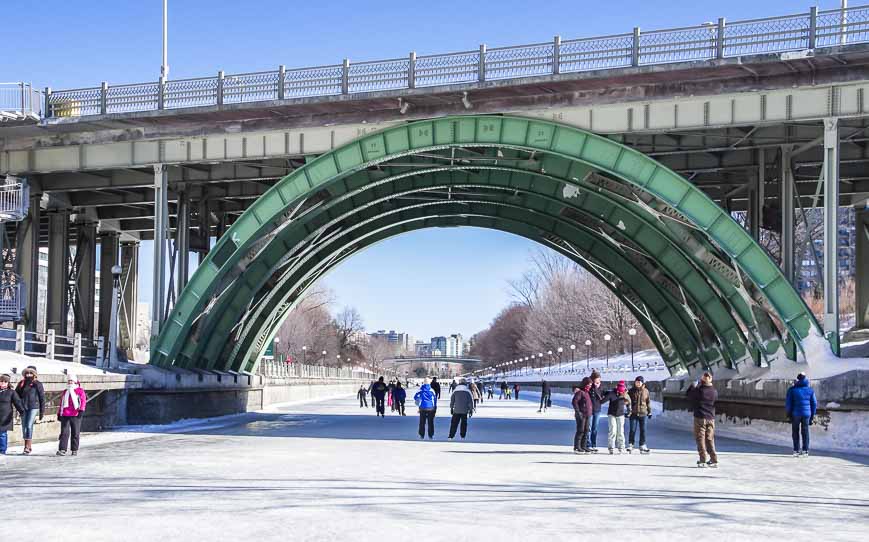 #2 Outdoor skating in Montreal on Beaver Lake (Lac des Castors)
You'll find 2,500 square metres of skating on Beaver Lake in Mont Royal Park. Skating is free and rentals are available. Skating usually begins in mid-December and lasts through until mid-March, though it's worthwhile calling ahead (514-280-8989), if you understand French to make sure conditions are good.
Don't expect to skate fast on weekends – that's prime time for families. It's open from 9 am to 9 pm Sunday to Thursday and until 10 pm on Friday and Saturday.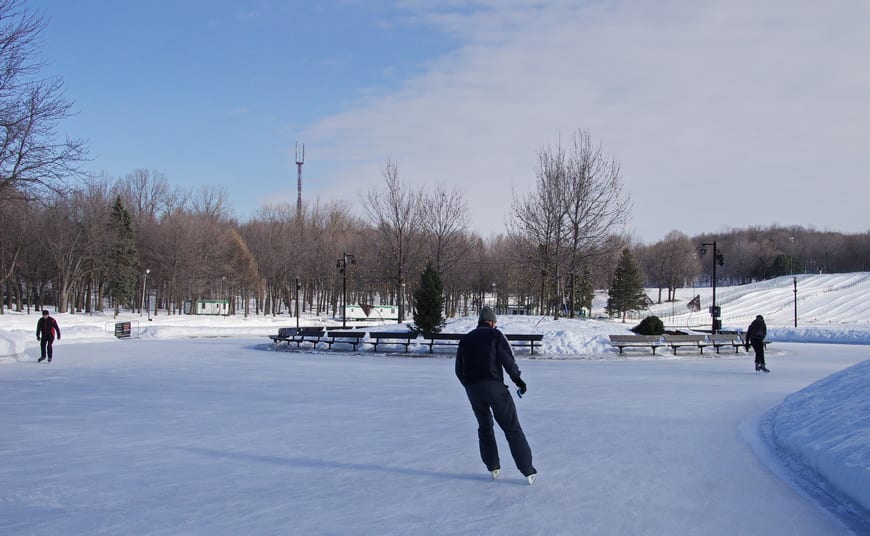 #3 Montreal – Parc Lafontaine skating rink
Choose Parc Lafontaine for skating if you like skating on meandering outdoor ice paths instead of around and around on an oval. Admission is free and skates, helmets and lockers are available for rent. Two hockey arenas are also on site if shinny is more your style.
The rink is located in the Plateau neighbourhood and is accessed via the Sherbrooke Metro. Hours are 11 am to 10 pm weekdays and 10 AM to 10 PM on weekends.
#4 Montreal – Bonsecours Basin in Old Montreal
Bonsecours basin is located in the heart of old Montreal near the Quay of the Old Port. It's not the rink to go to if you're into speed but it's perfect for a date night and for families; you'll hear music played.
The rink is open until sometime in March every year, contingent on the weather. It's open from Monday to Wednesday 10 AM to 9 PM and Thursday to Sunday 10 AM to 10 PM. Skating isn't free here -it's $6 per adult and student and $4 for kids six and older. Skate rentals are $8 and you can also rent helmets, strollers and lockers.
#5 Toronto – Nathan Phillips Square – one of the busiest skating rinks in Canada
The skating rink at Nathan Phillips square is a reflecting pool that's frozen every winter. It's found in front of Toronto's City Hall at 100 Queen street West.
Skating here is one of the classic downtown Toronto winter activities to do. Ice skating takes place every year from mid-November to mid-March from first light until 10 PM, every day of the week.
Reports suggest that shinny takes place on many evenings after the attendants have closed up. Skating is free and skates can be rented for $10 for two hours.
#6 Markham Civic Center Ice Rink
The Markham Civic Center is the home of a 25,000 square foot ice rink, the largest in the greater Toronto area. It serves families from 10 AM to 10 PM seven days a week, all through winter – unless the temperature is above 6°C, in which case it closes. It's free, but you need to bring all your own equipment.
You'll find this rink at 101 Town Center Blvd at the corner of Highway 7 and Warden Avenue in Markham.
#7 Grouse Mountain skating rink, North Vancouver
This isn't much of a rink at the top of Grouse Mountain, but still it's incredibly popular with the Vancouver crowd. Plus a visit here is about more than just the skating.
It's about the experience of taking the tram up, checking out the reindeer, and going for a sleigh ride, and then having hot chocolate and making it into a full family outing. Check the Grouse Mountain website for price of admission.
#8 Lake Louise, Alberta
Every winter the lake in front of Chateau Lake Louise is transformed into a skating rink. You can enjoy public skating with an entry through the ice castle or bring your stick for a game of pick up hockey in a separate area.
The lake is lit until midnight but in theory you could skate around the clock. It's free to skate. Skate rentals are available at Fairmont Chateau Lake Louise at a cost of $10 for 2 hours or $13 all day for adults – half that for kids.
Beginning around the third week of January and lasting for two weeks you'll also find ice sculptures – but go early as it gets crowded.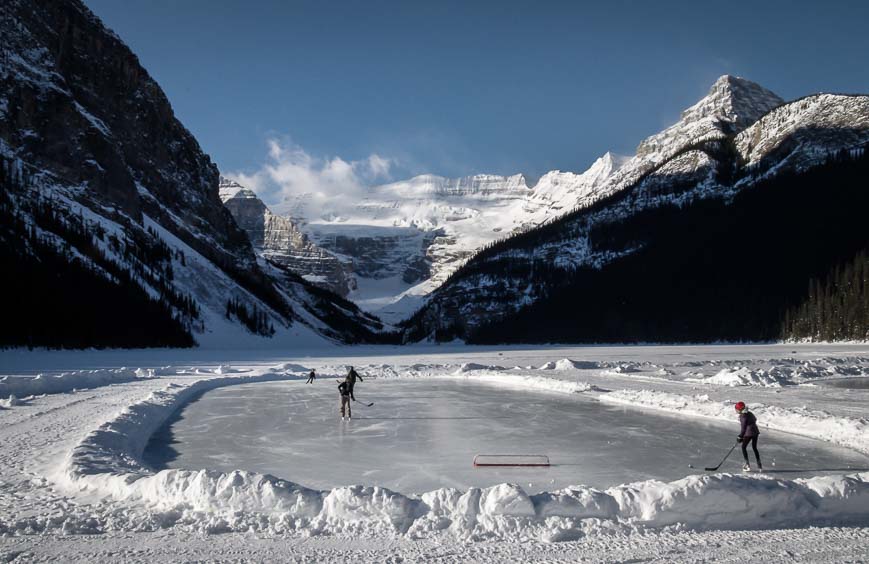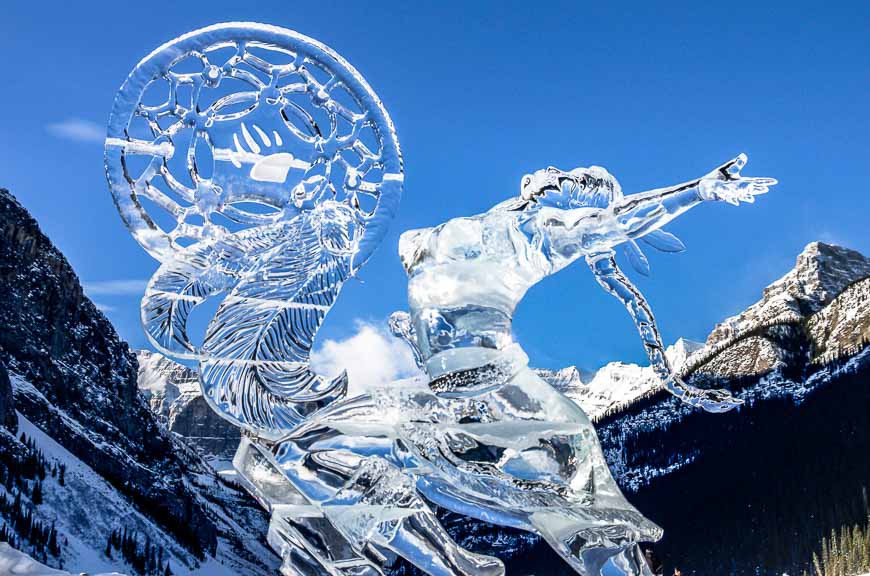 #9 The Forks and the Assiniboine River Trail in Winnipeg, Manitoba
You'll find just about every type of outdoor skating available in Winnipeg – especially if you head to the Forks – the area at the junction of the Assiniboine and Red Rivers.
The Forks area offers 1.2 kilometres of skating trails that meander through the park, the Plaza skating rink, which is perfect for beginners, and an Olympic skating rink. And if that wasn't enough you can skate on the Assiniboine River Trail.
In a really good year up to 9.3 kilometres of skating is available on a combination of the Assiniboine and Red Rivers. This year it looks like there will only be three kilometres of river to skate on.
According to an employee I spoke with, it probably won't be open to skaters until the end of January. Rent skates for $4.50 a pair at the Forks. Skating is free on the river.
A competition to design warming huts, 10 by 10 foot shelters is drawing big names – Frank Gehry among others one year. The shelters are used along the river for their intended purpose.
Read: A Winter Visit to the Forks in Winnipeg
#10 Cameco Meewasin Skating Rink in Saskatoon
Reader's Digest consistently ranks the Camecco Meewasin rink as one of the best outdoor skating rinks in Canada. The rink sits on the bank of the South Saskatchewan River in downtown Saskatoon next to the historic Delta Bessborough Hotel. While hockey is not allowed, it is a great place for families especially with the outdoor warming pit and washrooms inside.
It's especially lovely when it's lit up at night and the music is playing. They also have a Sip and Skate program where you can rent out the ice with a snack and a drink with some pals.
Skating is free. The rink is open from Wednesday to Sunday 1 PM until 8 PM. Of note is the fact that the rink closes when the wind-chill reaches -31°C. It wouldn't have to be that cold for me to leave!! Limited skate rentals are available.
Read: 10 Things to Do in Saskatoon in Winter
#11 The North End Rink, Halifax
This rink is the biggest outdoor rink east of Montreal with 22,000 square feet of ice. It boasts two family rinks and a full size hockey rink. You'll find it at Agricola Street and Lady Hammond Road. This rink is run by volunteers and the skating is free.
#12 – The Whiteway in Invermere, BC – one of the longest skating rinks in Canada
The Whiteway in BC's Columbia Valley should also be included in this list. It's a Guinness World Record holder for its length. You can read a detailed blog on skating it here.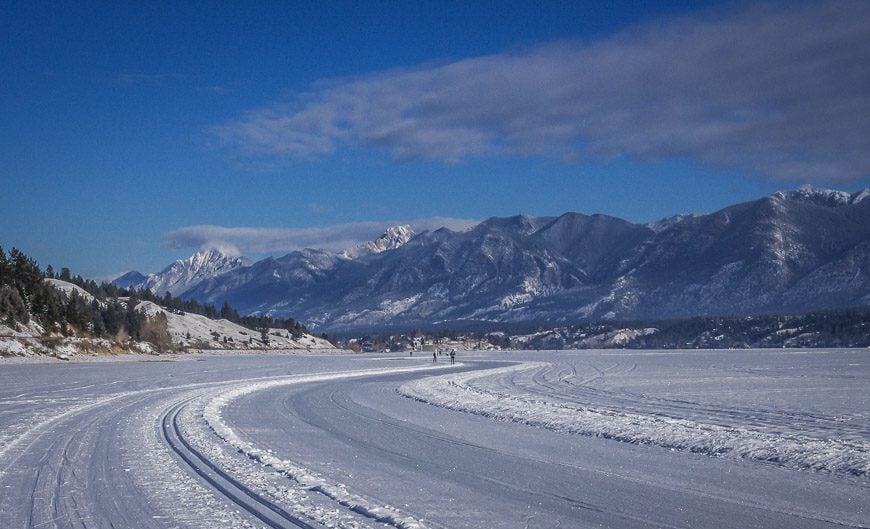 Wild skating is gaining momentum
Wild skating – which is basically just skating on a frozen natural lake is gaining momentum at least in Alberta. When the ice is like glass and there's no snow on the lake to be seen, skating becomes a magical experience. However, you have to know what you're doing and take all safety precautions around the thickness of ice/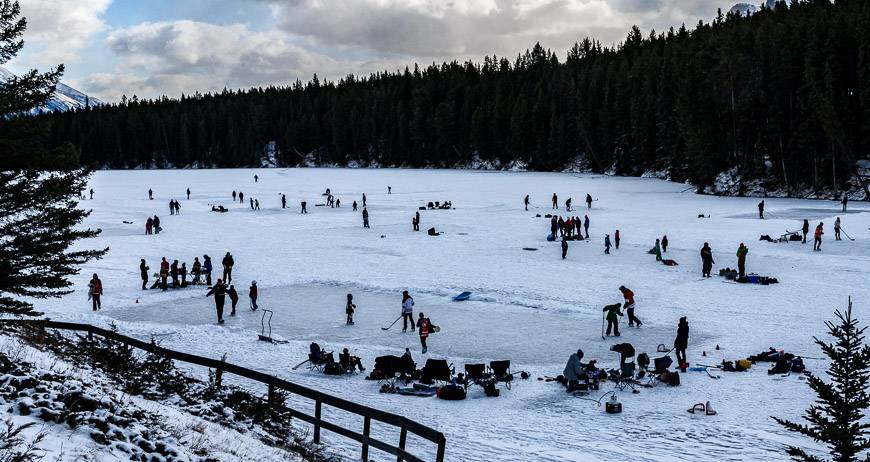 Click on the photo to bookmark to your Pinterest boards.