A trip to visit small west Texas towns isn't high on most people's travel wish list. Yet our spring trip to discover Big Bend National Park took us through three unique west Texas towns that are well worth a visit – Marfa, Marathon, and Terlingua.
All three west Texas towns had much more to offer than their small populations would suggest. We found some truly lovely hotels, excellent dining options and lots of worthwhile side-trips apart from Big Bend National Park. What a delightful part of the United States to discover especially in any season but summer – and that's only because of the searing heat.
This post includes some affiliate links. If you make a qualifying purchase through one of these links, I will receive a small percentage of the sale at no extra cost to you. Thank you very much for your support.
Location map of the west Texas towns
West Texas towns: Marfa – the one with an arty vibe
We drove from El Paso to Marfa and arrived in the dark which I always find a tad disorienting. Our home for the night near the edge of town was the Thunderbird Marfa, an updated 50's style hotel featuring cowhide rugs, art work by internationally recognized artists and clean lines. It wasn't fancy but nor was it what you would expect in the middle of nowhere but I would recommend it.
Another place you might want to consider staying in is Hotel Saint George – with a seasonal outdoor pool, and rated as excellent.
We didn't have time for Marfa till the end of the trip – so our first impressions outside of the hotel were more along the lines of what I normally expect from small towns in the middle of nowhere – not much to see and not too interesting.
Nor did I expect our first breakfast at the local diner to be served on paper plates with a Styrofoam cup of orange juice and coffee on the side.
The return visit to Marfa was a delight
On our return to Marfa we stayed at the historic Paisano Hotel – a happening spot on that Saturday afternoon with an outdoor courtyard full of visitors enjoying a cold drink in the shade.
When late afternoon rolled around we spent a few hours dashing across residential streets looking for shade while admiring many an architecturally interesting house – ones that fetched big bucks before the 2008 market meltdown.
We discovered a grocery store that was like a miniature version of Whole Foods – filled with lots of interesting locally sourced foods.
By the time we hit the famous Chianati Foundation, a contemporary art museum founded by international artist Donald Judd, it was closed. We also missed the Marfa Book Company but had time to visit a few small local galleries. And all this culture is packed into a town boasting a population of only 1,900 people.
Dinner that night was just a block away but it took us by an art gallery opening where people spilled out onto the streets. We even recognized a couple of them from our Marathon visit a few days earlier.
The choice of restaurants was amazing for such a small town. We ate at Maiya's and thoroughly enjoyed our Italian themed meal – a far cry from our first breakfast in Marfa. It turns out that on Mondays most of the restaurants are closed including Squeeze Marfa, where we happily chomped on waffles on the second visit.
The Marfa Lights
I wish we'd taken the time to view the Marfa Lights. The viewing place is eight miles west of Marfa on Highway 90. The Marfa Lights might just be atmospheric reflections from car lights and campfires though they've been observed since the 19th century – well before cars.
Prada Museum in the middle of seemingly nowhere
You can also check out the Prada Museum on a desolate stretch of highway on the way into Marfa if you're coming from the east. At night it's all lit up and looks a tad unnatural.
Terlingua – one of the cute west Texas towns with a ghost town
Terlingua is a small town near the Mexican border within easy driving distance of Big Bend National Park.
It was originally founded because of the discovery of cinnabar – from which mercury is extracted. In the mid 1800's about 2,000 people lived in the area. Now it serves primarily as a gateway to the park.
We stayed in a colourful Chisos Mining Company cottage – one that a miner would have lived in years ago – very basic and furnace-like hot in the summers before air conditioning.
The cottage welcomed us with a scorpion sighting – fortunately in the kitchen sink and not on the bedding.
Other options for overnight in Terlingua include Terlingua Ranch Lodge.
There's a ghost town in the historic part of Terlingua – and according to a sign it's the birthplace of all chili cookoffs in the world!
There's also a 1902 cemetery listed on the National Register for Historic Places, which is still in use by the local community. Try a dinner in the Starlight Theatre or eat anywhere with an outdoor patio and enjoy spectacular sunset views.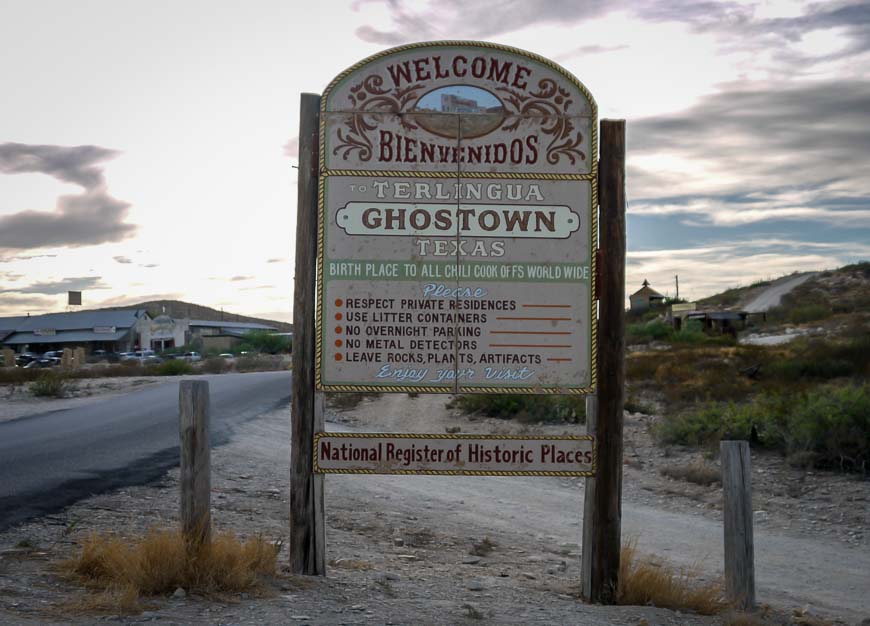 Marathon – one of the west Texas towns with a great hotel
Marathon, population 430, sits just 4o miles from the entrance to Big Bend National Park. It's hard to believe how much a town this size packs in.
For starters you can stay in the elegant Gage Hotel – one that was designed by architects Trost and Trost for rancher, banker and businessman, Alfred Gage. It's a great spot to use as a base for not only the park but for exploring the nearby towns and sites. In fact the Gage Hotel puts out a booklet suggesting a 14 day itinerary in the area.
Another superb option would be Eve's Garden Bed & breakfast.
Marathon has been described by a volunteer staffer at the Chamber of Commerce as having a visceral feel about it. I concur.
The town enjoys a great bookstore, many restaurants with names like Shelly's Burnt Biscuit Bakery, Johnny B's Old Fashioned Soda Fountain and the Famous Burro.
Don't miss a stop at the White Buffalo Bar in the Gage Hotel late in the day for a drink. Take time to wander through galleries and gift shops, explore the Gage Gardens, a 26-acre site that grows produce for the Cenizo Cafe and walk the town.
I think these three west Texas towns might surprise you in the best way possible.
To me west Texas is a three season place to visit – but that's because I dislike heat. Consider a trip to visit these three west Texas towns in fall, winter or spring and enjoy sunny skies, warm days and cool, clear nights.
Further reading on Texas
Click on the photo to bookmark to Pinterest.