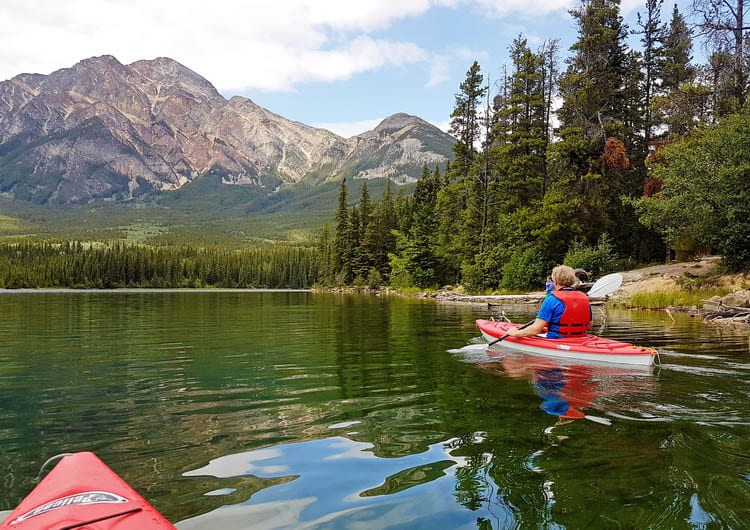 Jasper in 24 Hours: 3 Exceptional Experiences
Don't despair if you're visiting Jasper and you only have 24 hours to see some sights. There's plenty you can accomplish in short order if you're prepared to have a full day. Recently I was in town and did exactly as described below. It was a great day and one I'd recommend to everyone.
3 Exceptional Experiences in Jasper – if you only have 24 hours
Start the day in Jasper with a trip to Bear's Paw Bakery. There are two of them about five blocks apart and both can be insanely busy so be prepared to wait for one of their world-famous pastries and a coffee.
The Jasper SkyTram Adventure
Hit the Jasper SkyTram first thing in the day before the crowds build. Buy your tickets immediately because you may have to wait 20 – 30 minutes for a tram. Then go get your Starbucks if you need another caffeine hit.
My first impression of the Jasper SkyTram was one that screamed tourist trap. I was wrong. Yes there are a lot of people but the whole experience is extremely worthwhile. The tram whips you most of the way up Whistler Mountain in just 7½ minutes. You could climb it but it's 9.5 kilometres one way with 1,216 metres of elevation gain – and most of it is in the trees. There are better hikes in the area that deliver views faster.
Instead revel in the glory of the mountains. This is one of the top places to get a view of not only Jasper but of Mount Robson, the highest mountain in the Canadian Rockies. There are loads of trails heading up from the gondola station. Allow at least an hour so you can meander about, take photographs and see the area from different angles. If you're a hardcore hiker the gondola station is also the starting point for the challenging Indian Peak hike but only attempt it if you're come prepared and you have six hours to do it.
Don't forget to bring a light coat and a pair of shoes suitable for hiking at a minimum. The upper gondola station is no place for high heels and bikini tops. The mountain weather can be fickle and change in a heartbeat.
Prices for the return ride on the Jasper SkyTram are $39.95 for adults, $19.95 for youth aged 6 -15 and $99.85 for a family with two adults and two youth. Should you elect to hike up, you can do a one way trip down for $20.
Kayaking (or canoeing) on Pyramid Lake
Drive six kilometres north of Jasper and you'll find Pyramid Lake Resort. It is here you can rent canoes, kayaks, rowboats and paddleboats on a first come, first served basis. You don't have to have any paddling experience to appreciate Pyramid Lake by boat but if you're new to paddling stay close to shore.
John and I spent several hours paddling the entire lake at a relaxed pace. It was a hot (for Jasper), sunny day and it felt great to be on the water. We certainly weren't alone with all kayaks rented and out on the lake by the time we got back in the mid-afternoon.
On our paddle we saw a family of mergansers and a loon and her baby – though she obviously didn't know that the far end of the lake is strictly off limits to everyone else but loons. We passed a group of young people whooping it up in their voyageur canoes. They'd paddled to a sandy beach for lunch and a swim and appeared to be having a grand old time. Everyone else was just enjoying the day and the feel of being on a lake on a beautiful summer day.
We didn't stop on Pyramid Lake Island but we could have pulled up in our kayaks and enjoyed the view from a park bench. We returned instead on foot to see it from a different angle. The scenic little island was alive with birds and visitors.
Paddling Pyramid Lake gives you a chance to see the mountains from another perspective. And at the end of the paddle, a swim, a beach and an ice cream awaits. That's a pretty sweet way to spend an afternoon.
Soak in the Miette Hot Springs
It's a solid hour's drive – even more with all the bridge construction to get to Miette Hot Springs from Jasper. Fortunately it's a pretty drive though I was surprised at the location – 17 kilometres in from the main highway. John and I planned our visit to coincide with the dinner hour. We figured – incorrectly – that everyone else would be eating. But it was quite the opposite and the hot springs were packed.
I later learned that they are one of the biggest attractions in Jasper National Park. Situated in the beautiful Fiddle Valley, they are a place where you just want to hang out and relax. With a number of pools you can move from hot to cold to warm until your skin looks look a wrinkled prune. We lasted about an hour but never could bring ourselves to get into the cool pool. The water in the warmest pool is the hottest in the Rockies. It's too bad they aren't open in the winter when you really want to luxuriate in their warmth. This year they are closed from Thanksgiving until May 5th, 2017.
You can rent bathing suits and towels at the pool. Prices are a very reasonable $6.05 per adult and $5.15 for youth. In the summer the springs are open from 9 AM until 11 PM.
By the time we got back to Jasper we were ravenous. Immediately we made our way to Fomoso Neopolitan Pizza – because who doesn't like a delicious, thin crust pizza at the end of the day? And that was our day – a full one but a great one.
Click on the photo to bookmark to your Pinterest boards.
Thank you to Travel Alberta for making this post possible.
Other posts related to this Jasper trip you might enjoy:
Leigh McAdam