Do you want to explore a scenic part of Jasper National Park few people ever see? Canyoning in Jasper, the latest and most amazing adventure in the park to be offered as a commercially guided trip is a fun, mentally challenging and an exceptional way to experience the mountains.
Offered by Rocky Mountain Canyoning from early May until late October, depending on weather and conditions, canyoning in Jasper is done in one of three locations – Ogre, Morrow or Two Valley Canyon.
Our guide for the day, Joe Storms – co-owner of the company and a long time Jasper National Park ranger decides he'll take our group of four (John and I and two of his friends – Mark, an RCMP officer and his partner Stacey) to Morrow Canyon, even though Ogre is his personal favourite.
The choice is a function of distance (the trailhead for our hike is 30 minutes east of Jasper), experience, fitness level required and the fact that it's primarily a dry canyon – which we later find out means we won't get our feet soaked until late in the day.
How the day canyoning in Jasper unfolds
The day begins at 9 AM with a scenic drive out of Jasper east along the Athabasca River to a pullover where we park the car. Before we even hit the trail, we get outfitted with a helmet, harness and rappelling device and are patiently reminded of how to use them.
Then we sign the liability form warning of potential rockfall and other nasty 127 hour Aron Ralston sort of experiences and are on our way.
The first part of the adventure involves a stiff 90-minute hike on animal trails to reach the entrance to the canyon. Whenever I can talk and breathe at the same time, I quiz Joe on how he got started with the company.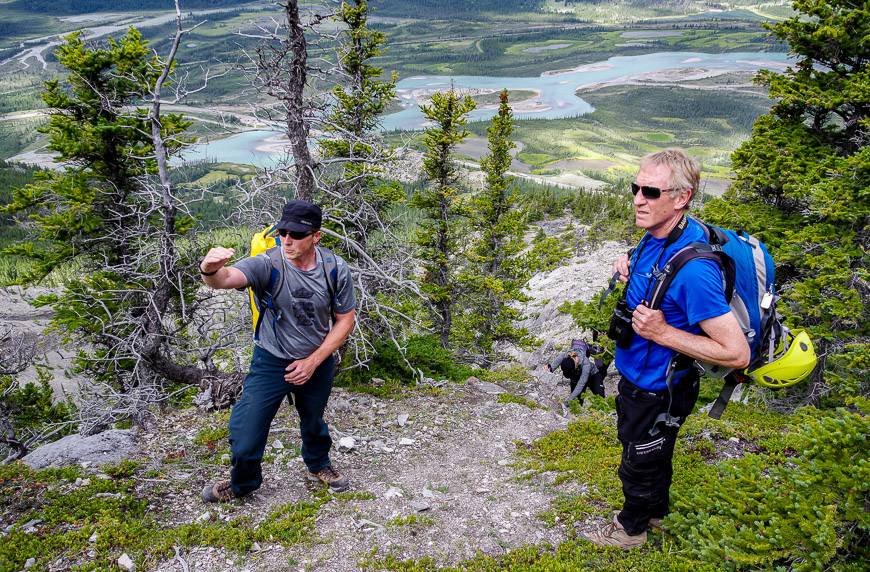 Background to how canyoning in Jasper got started
Joe tells me that his background is adventure travel and his main interest has been search and rescue, especially swiftwater rescue. I am secretly very relieved that he has such experience.
We go on to discuss the trends in the park – which include more policing on the part of the rangers and less adventuring. Eventually he said he could see the writing on the wall and decided he needed to get adventure back into his work life. No company in Jasper National Park was doing canyoning and as the first certified canyon guide in Canada, he felt he could offer a product the adventurous public would embrace.
It took two to three years to get a permit and it was just last year he and his partner got the company off the ground. Now he says they split the guiding duties according to their schedules as park rangers.
I've breathing normally again once we're at the high point of the hike. From the top it's a lovely hike down through woods on a soft, mossy floor to reach Morrow Canyon. First impressions of the area are not good. All I see is rock and it's not pretty. But little did I know that magic was waiting just 10 minutes away.
Into Morrow Canyon, Jasper National Park
Over the next four hours we rappel a total of eight times, scramble over rocks and deal with several "drops" to work our way out of what has become an awe-inspiring canyon – as you'll see in the photos below.
As much as I truly love rappelling, it's not something I do often so the first rappel on any adventure always gets my full attention. Fortunately Joe makes all of us feel at ease with his calm, steady demeanour and his attention to detail and safety.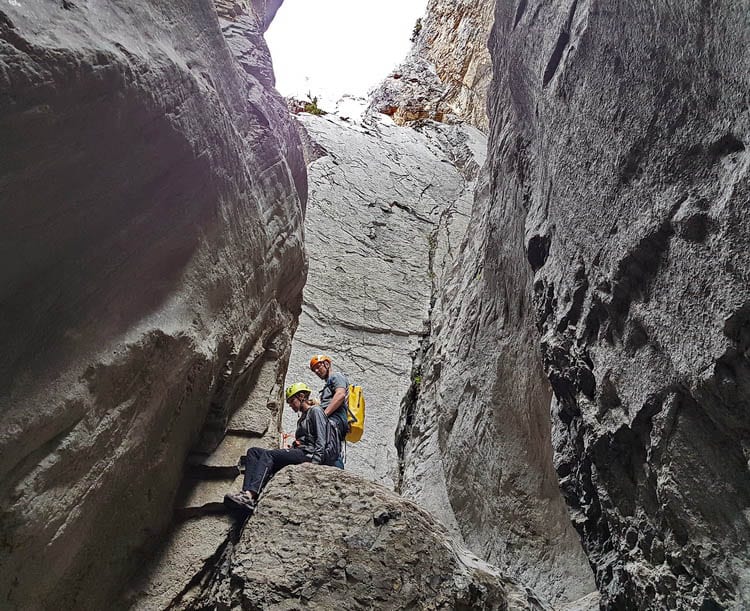 The only way out is down
After the first rappel is over we are committed and the only way out is down. For some this can be mentally challenging. But for me the whole day was fun – even if I had a couple of "moments."
Over and over again I am in a state of wonder in this magnificent canyon. The rock is beautiful, tightly layered in places and the canyon is pristine. Aside from a few bolts if you know where to look, there are no sign of humans. It's a privilege to be in such a breathtaking place.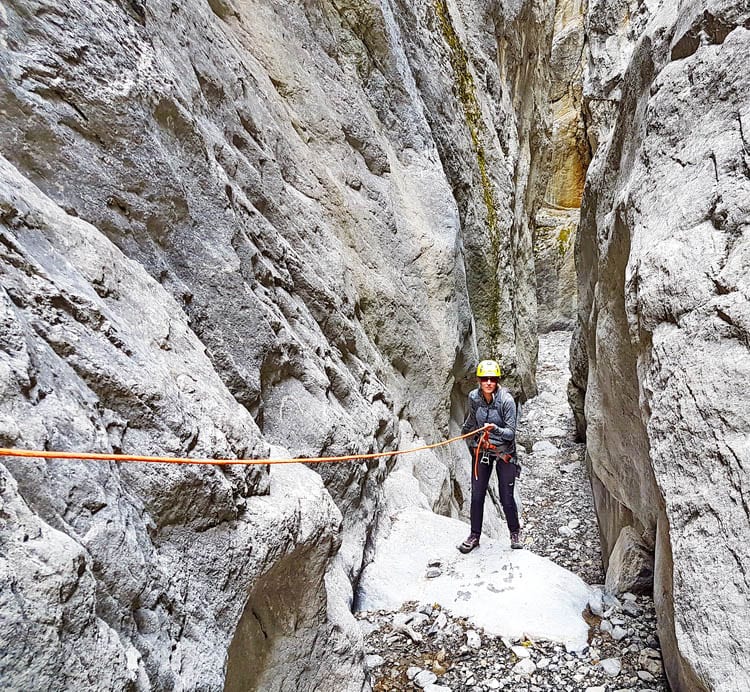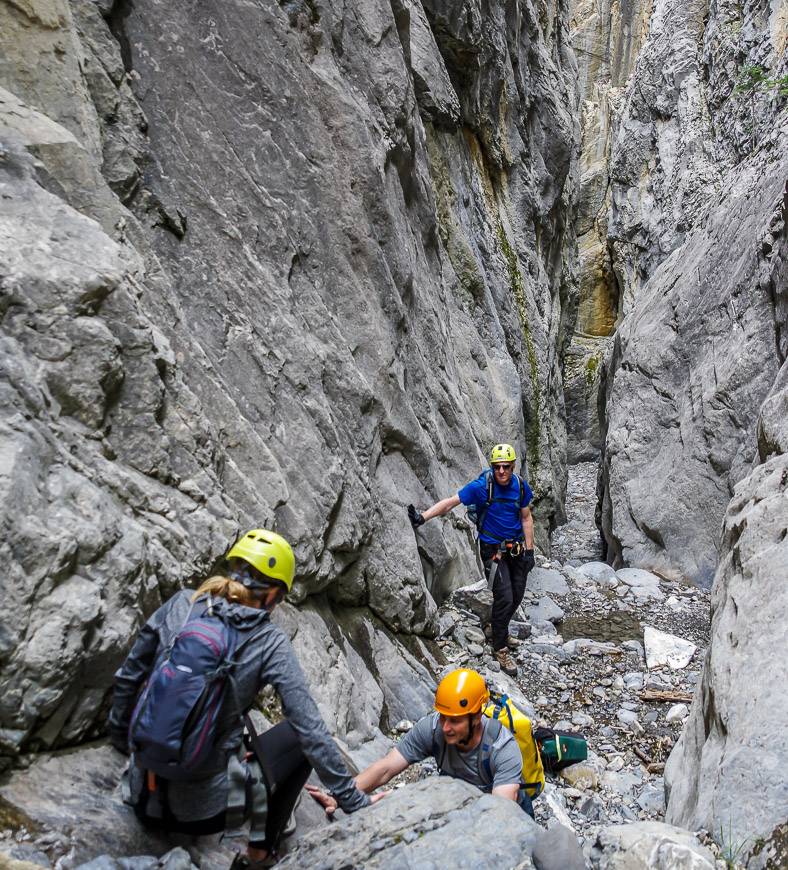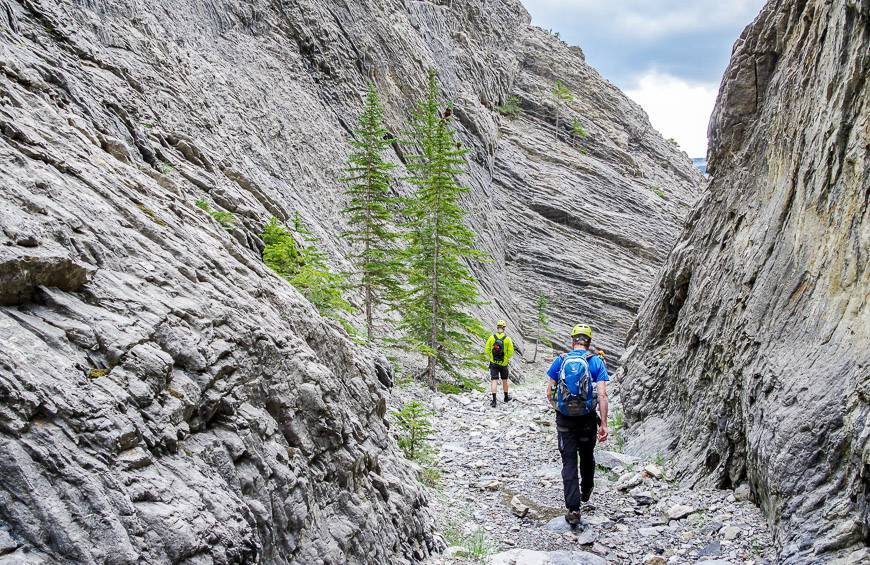 "For many people canyoning will be the most amazing thing they've done in a lifetime" declares Joe Storms. I think he's right. I've done it twice now – once in a slot canyon in Utah and here and both days have been standout days IN MY LIFE. That says a lot and I don't make this statement lightly.
Canyoning is a way to challenge yourself and see what you're made of. I'm ready for more – and hope to do all of the trips offered in the park over the next few years.
Joe and his partner offer a half day experience if you just want a taste of canyoning in Two Valley Canyon.
Further reading on things to do in Banff and Jasper National Park
Click on the photo to bookmark to your Pinterest boards.
A big thank you to Tourism Jasper and Travel Alberta for setting this up and helping me out. I hope every adventurous person tries this canyoning experience. It will be a day to remember!