The city of Leh, located due north of Delhi, via an 80 minute scenic plane ride or a hair raising almost 24 hour drive, is the gateway to the Ladakh region. Trekkers and adventure lovers arrive here to get acclimatized before taking off on multi-week adventures in the Indian Himalayas.
There are lots of worthwhile places to visit in Leh itself if you have a day or two. Just don't push it physically and drink lots of water because of the altitude (3510 m).
Where exactly is Leh?
Leh, the largest city in the Jammu and Kashmir region, is situated in the remote Ladakh region of northern India. Ladakh which means 'land of high passes" (and I climbed 12 of them so I can attest to this fact!) is an awe-inspiring place to visit with dry, desolate mountains in a rainbow of colours, occasional villages and a number of precariously perched monasteries.
Bordered to the west by Pakistan, to the east by Tibet and to the north by China, it's an area crawling with Indian military because of its strategic location. (But it feels safe!)
Leh comes alive from May to September when adventures in the area abound, and both local and foreign tourists make an appearance.
By the end of September, when a large number of hotels and restaurants are shuttered for the winter, a good part of the working population also disappears until the following spring.
This post includes some affiliate links. If you make a qualifying purchase through one of these links, I may receive a small percentage of the sale at no extra cost to you. Thank you for your support.
Leh – a high altitude city in northern India
Leh will quite literally take your breath away. It sits at an altitude of 3,510 m (11,516 feet) so shortness of breath is possible until you're acclimatized along with possible headaches, nausea and full on altitude sickness.
(We started taking Diamox, the drug of choice to combat altitude sickness, on arrival in Leh and kept up with it for almost a week.) You'll notice the altitude the minute you deplane from oxygen rich Delhi.
I was in Leh for a couple of days to get acclimatized before heading off on an 18 day Trans-Himalayan circuit of Ladakh with World Expeditions.
Hotel Omasila – where we stayed, was walking distance to everything, including a great coffee shop that made excellent lattes and apricot cake. Note that it's a simple two star hotel but with beautiful grounds.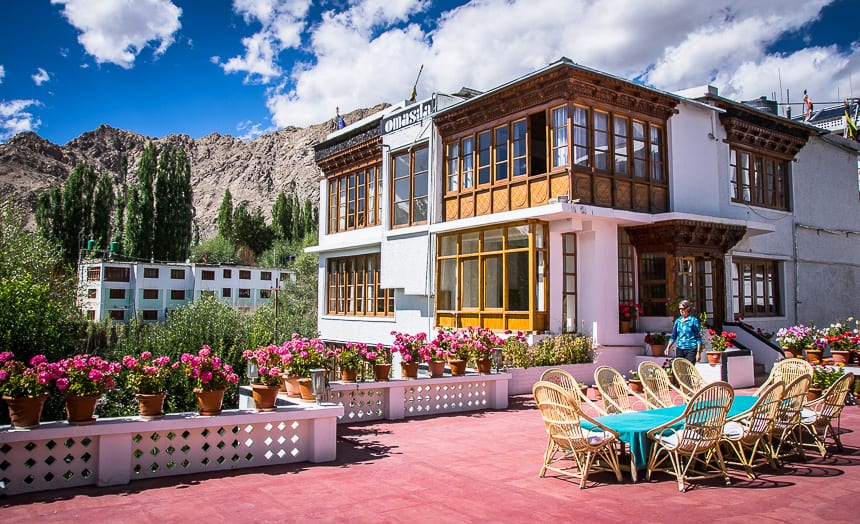 Places to visit in Leh
The area around Leh abounds with adventurous activities like rafting, hiking, trekking, mountain climbing, cycling and riding motorcycles.
Leh itself lends itself to wandering through markets, exploring backstreets, shopping for local wares, lingering over coffee or tea at one of the many cafes as well as a couple of stiff climbs including one to Shanti Stupa – a Buddhist Temple and the other to Namgyl Tsemo Monastery.
Leh's shopping district
At the end of our trip my friend Judy and I spent the better part of an afternoon drinking tea and coffee at local cafes and shopped for Pashmina scarves and colourful hand knitted wool socks. Carpets, Ladakhi jewelry and Buddhist artifacts are also popular items in stores. Bargaining is okay and expected.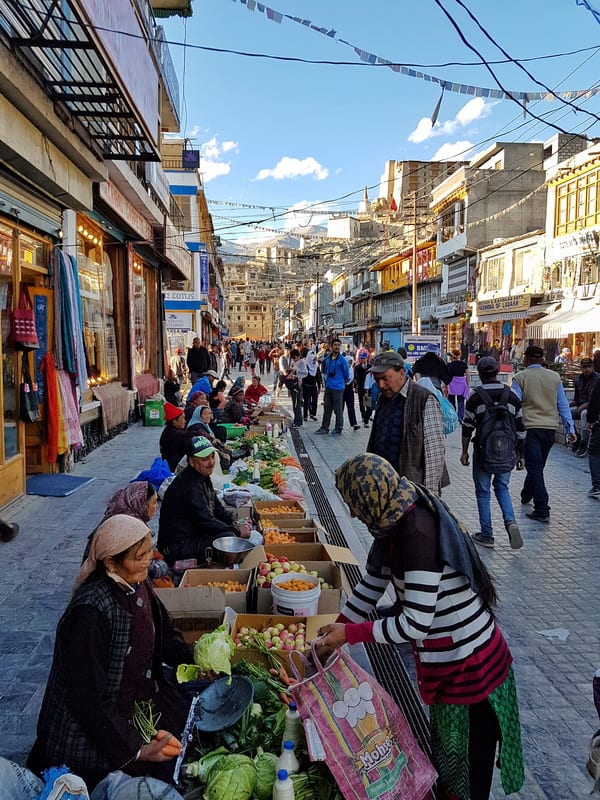 Visit Namgyl Tsemo Monastery
The Namgyl Tsemo Monastery, founded in the early 15th century sits on a mountain top behind the Leh Palace. It's one heck of a climb to the top via uneven stairs but the views make it all worthwhile.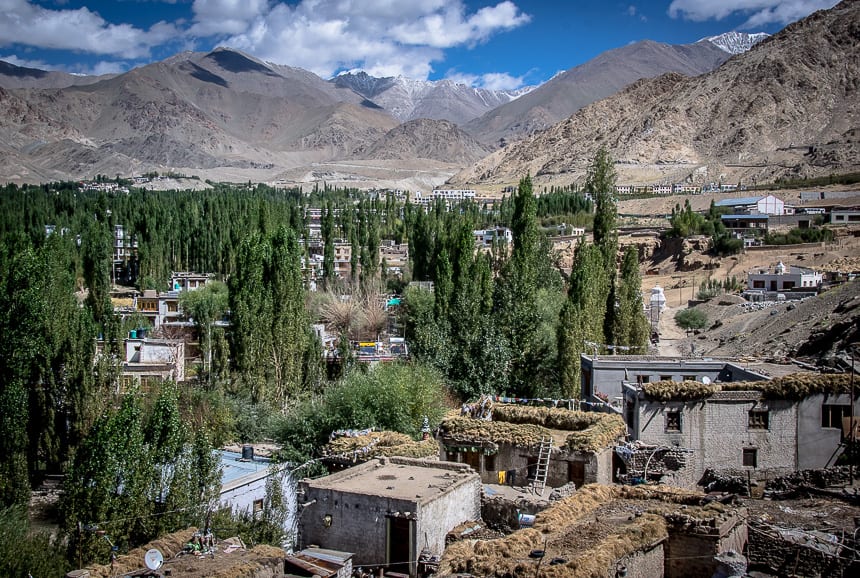 Climb to Shanti Stupa – one of the incredible places to visit in Leh
Chanti Stupa, a white-domed chorten is hard to miss as you drive in from the airport. From the top you can enjoy exceptional panoramic views of the city and its surroundings including the Namgyl Tsemo Monastery.
Built in 1991 by both Ladakh and Japanese Buddhists, it was inaugurated by the current Dalai Lama in the same year. Visit in the late afternoon when the lighting is at its best but prepared for a lung bursting hike to the top. (You can arrange for a drive most of the way up as well.)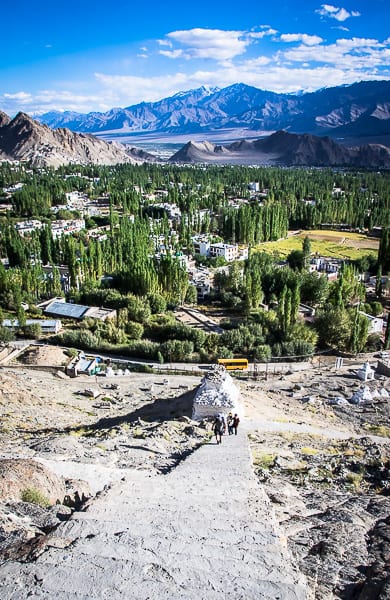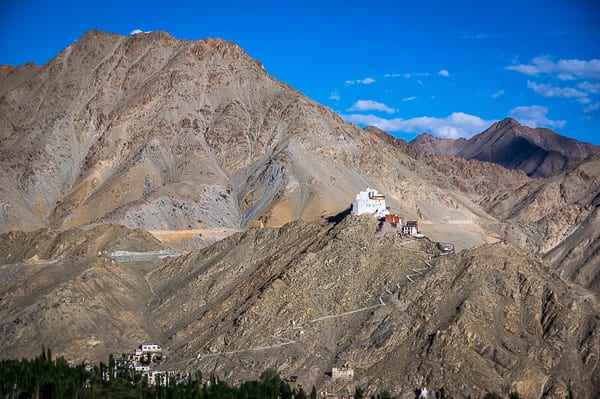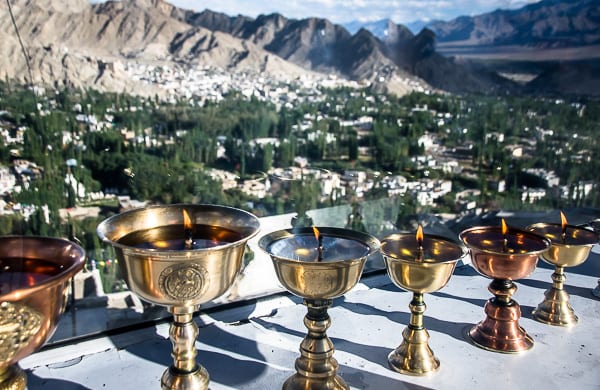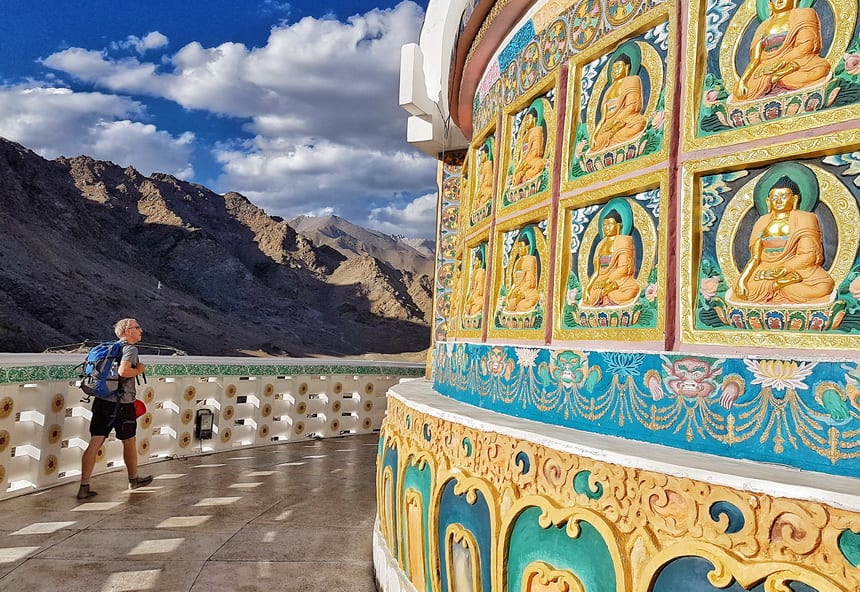 Airlines that service Leh
We flew on Jet Airways for about $300 pp round-trip from Delhi. Air India and GoAir are your other choices. Flights land and leave primarily in the morning when the weather is best. Delays are not uncommon. From Delhi to Leh sit on the left hand side of the plane for some of the best mountain views of your life!
Further reading on India
Click on the photo to bookmark to your Pinterest boards.